Working in the city almost every day of the week can be quite stressful. Sometimes all we need is 36 hours of something new and different to escape the Ho Chi Minh City grind. Fortunately, a staycation in Ho Chi Minh City is not too far away. Others might not find it worth experiencing, but 36 hours in District 1 will allow you to do many different things; especially to those who didn't have much time to discover Ho Chi Minh City as they delved right into work coming here; or for tourists who choose Ho Chi Minh City as their short stopover.
How to get to District 1
From the airport, getting to the heart of the city is quite easy. You can either ride a bus, taxi or hire Grab or Uber. For the bus, keep your eyes peeled for a yellow bus with the number 109 found on the right side of the arrival area. Pay VND20,000 for the whole ride to the bus station at Pham Ngu Lao. If this isn't convenient enough for you then ride the same yellow color, but a smaller bus with the number 49. Price for a ride is doubled, but it's worth it as it drops you off at your hotel. The buses are clean and comfortable. These yellow buses operate from 5:30 am to 1 am. These yellow buses are privately owned. For a more affordable option, you can ride the green public buses with the number 152, although the last trip is at 7 pm.
For taxis, head on to the left side. Make sure to book from trusted companies like Vinasun or Mai Linh. For Grab and Uber cars, it usually costs around VND 120,000 to VND 180,000 depending on the time of your trip or weather conditions.
Where to Stay
There are a lot of places to stay in Ho Chi Minh City from expensive, luxurious hotels, artsy Airbnb rooms, to affordable but still comfortable hostels. It all boils down to your taste and budget. District 1 can get chaotic during peak or rush hours in the morning and in the afternoon, so picking a hotel that is quite tucked away from the noise is a gem.
One standout establishment is The Myst Dong Khoi along Ho Huan Nghiep Street. The white facade of the building is accented with greens resting on the balconies and windows. Rooms are spacious as well perfect for families or group of friends. The whole building celebrates Vietnam with its decors. Some rooms are decked with wooden furniture, which exudes a lot of vintage vibes and makes you feel as if you are not in the city. The location of the hotel is another plus as it is near to Nguyen Hue walking street, which is filled with restaurants, cafes, and souvenir shops. The rooftop pool is yet another feature to love as it gives you quite a view of the Saigon river or the city and is perfect for cooling down after going around several districts.
Source: Facebook/themystdongkhoi
If your budget tells you otherwise, head to Pham Ngu Lao or Bui Vien for affordable hostels. People opt to stay here whenever they have a full schedule ahead of them and do not really intend on doing a lot of resting, but more of exploring. You also get to be at the center of Saigon's nightlife as there are a lot of bars and restaurants here, and booking for tours is made easy as tour agencies are mostly located here.
Eat and Drink in District 1
For tourists, start your day early and grab a cup of ca phe da or ca phe sua da to keep you awake for your activities throughout the day. There is no shortage of cafes or sources of coffee here. You can choose to get coffee how most locals do by buying from sellers on a motorcycle, or cafes by the road with chairs facing the street; or choose among a pool of cafes left and right.
A standout place for whatever style of coffee you'd like is The Workshop on Ngô Đức Kế. Here you can choose how you want your coffee made, and they'll even put on a little show for you.
Source: awol.junkee.com
Grab breakfast at Banh Mi 362. It's perfect for when you have a lot of exploring to do. They have an array of banh mi fillings, from egg, omelet, chicken, pork, and a lot more. Each banh mi is also filled with different vegetables to make you feel less guilty. They also serve drinks, but choices aren't a plenty.
If you still haven't made a decision on what to get for breakfast read, check out our guide on what local Vietnamese eat for breakfast.
For those who are in for a little surprise, drop by The Lunch Lady at Hẻm D Chung Cư Nguyễn Đình C. This street side lunch venue which gained a lot of popularity after being visited by Anthony Bourdain does not have a menu for you to choose from. You just go there, choose or be directed to a seat and wait for your food to be served. The main meal is noodle dish, and they will also serve you with side dishes like fresh or fried spring rolls, and prawn fritters even if you didn't order them. Do remember that anything you consume is to be paid for after your meal. If you didn't eat any of the side dishes, feel free to tell them. For 3 noodle dishes, 4 drinks, and a plate of fried spring rolls, we paid VND300,000.
Credit: Mark Wiens
Narrowing down the food to taste and restaurant to try for lunch can be quite a struggle as Vietnamese dishes are all satisfying. To help you choose, find out what local Vietnamese eat for lunch.
Other Options:
Mountain Retreat Restaurant sits along Lê Lợi street. It may be in the center of the city, but it gives you privacy and it makes you feel like you've gone to the countryside. They serve great Vietnamese cuisines for affordable prices. It's great for couples, families, or group of friends. The restaurant is on the top floor and has roof top seats which offer a view of the city. It is best to be visited towards the evening to give you an awesome view of the sunset behind some of Ho Chi Minh City's skyscrapers.
Secret Garden is another roof top restaurant and is found along Pasteur Street. In contrast to its name, the place isn't that much of a secret since the food they serve here is worthy to be talked or write about. Aside from the delicious Vietnamese food they serve, the restaurant is decorated with local ornaments, and lanterns that get lit at night which makes it.
The Ben Thanh Street Food Market is another worthy choice if you're quite indecisive. It's a food market showcasing both local and international cuisines. You can have a bowl of noodles, a plate of cơm gà, modern baos, and even a Philly cheesesteak sandwich. The place has a lot of food stalls for you to choose from and it's on Thủ Khoa Huân, a walking distance from The Ben Thanh Market.
What to Do in District 1
Ho Chi Minh is progressing quickly, but that doesn't mean it'll forget about its rich culture and story. When in District 1, weave through the traffic, and locate Vietnam History Museum. It's a nicely kept museum along Nguyễn Bỉnh Khiêm that showcases a lot of artifacts, and stories of Vietnam's past. You can spend an hour or two here for a fee of VND 40,000, which allows you to take photos. If you'd also like to watch the water puppet show, pay an additional fee of VND 50,000.
Another way of getting to know this city is by visiting the many picturesque and history-filled buildings. Ho Chi Minh has a lot of them, and with just 36 hours you can visit a lot in District 1. One shouldn't-be-missed building is the Saigon Post Office. Be in awe with this yellow, colonial post office that still works! Sending an email or commenting on a Facebook post may be the norm nowadays, but nothing beats the good old hand written letters and postcards. While here, you also have a chance to meet Ho Chi Minh City's oldest letter-writer, Mr. Duong Van Ngo who has been working at the post office since he was 18 years old.
Source: vietnam-guide.com
When your schedule permits, catching a show at Saigon Opera House is also a must. This eye-catching building that sits between Caravelle Hotel and Hotel Continental Saigon houses shows that give us a glimpse of Vietnamese culture and entertainment like the ongoing À Ố Show. Ticket prices depend on the show and seat you're going to get. For more details, check https://www.luneproduction.com/ao-show
When you don't have the luxury of time but you still want to get to know this district a bit more, see Ho Chi Minh City from the 49th floor of Vietnam's second tallest building, the Bitexco Financial Tower. For VND 200,000, you get a bird's eye view of the city and with the help of binoculars, take a closer look at some of the streets and buildings without the hassle of traffic. The fee also includes a free water bottle, and a small showcase of the Vietnamese traditional clothing, the Ao Dai.
Practice your haggling skills and buy your family and friends some key chains, ref magnets, t-shirts, and whatnots at the night market just outside Bến Thành Market. They also have food stalls where you can have dinner quite late as they are open until around 11 pm.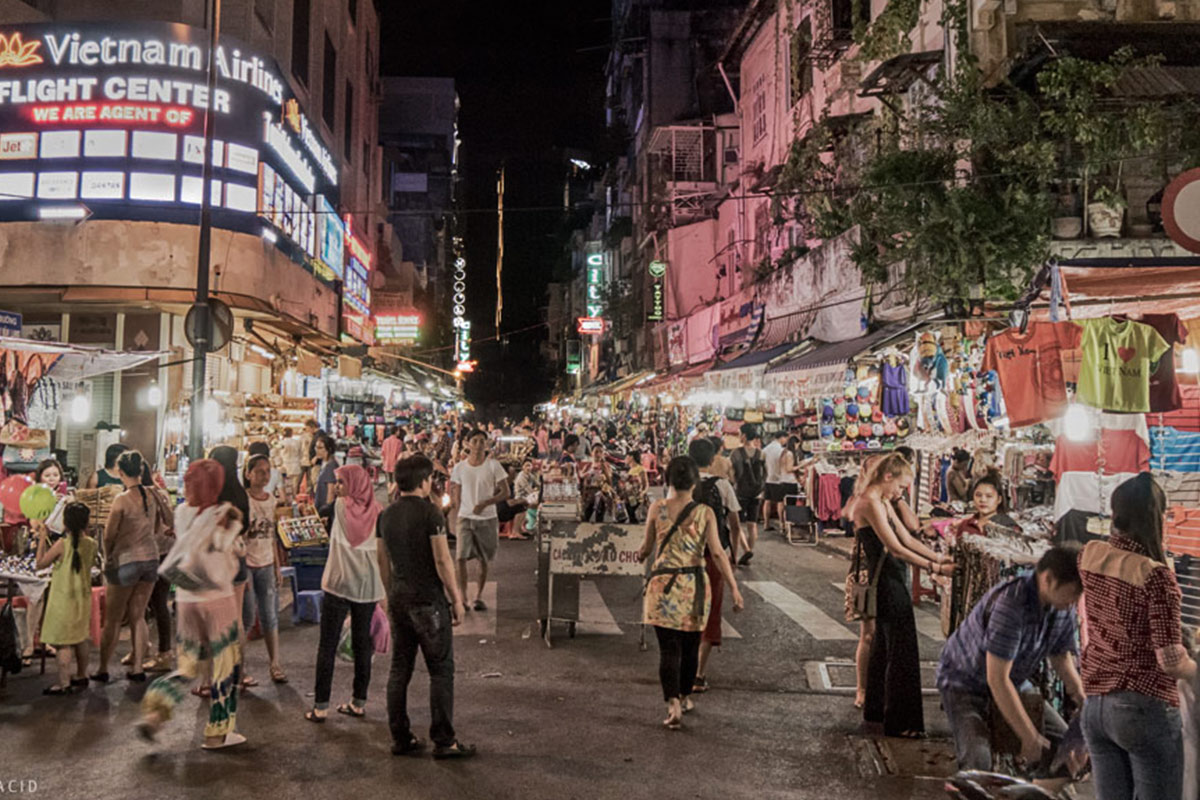 Source: elenacid.net
At night, head on over to Bui Vien street to experience a bit of what Ho Chi Minh City nightlife is. This street is filled with bars and restaurants open until the wee hours of the night. Sit and dine on low chairs and tables while you enjoy a glass or two of bia hơi.
On weekends, do a bit of volunteer work by talking to university students who are keen to practice their English skills who are resting at 23/9 park near the Ben Thanh Market.
What about you? How would you spend 36 hours in District 1? Let us know in the comments below.