Living in the city can be a bit stressful at times. It's a good thing that there are a lot of places worth visiting that aren't as far here in the Southern part of Vietnam. Hop on a bus, train, or book a ticket to get to this Miami or Pattaya-esque kind of environment, Nha Trang. Found in the South Central Coast of Vietnam, here is where you can see and feel the mix of the relax, beach life and the high-energy city and party life. It is a nice blend of the city or town proper on one side, and the beach and islands on the other.
How to get to Nha Trang
Getting to Nha Trang is quite easy as you have a choice of getting there by plane, bus, or train; But traveling last minute on a Tet Holiday could be a test of patience and determination as flights, seats or berths get booked easily. We opted to travel by sleeper bus via The Sinh Tourist, and it took us about 9 hours. Traveling by a sleeper bus at night won't let you witness the change of sights from the city, to the mountain and seaside views, but it would let you have some rest needed for all the activities you can do in Nha Trang. It also cost about 1 million VND for a round trip bus ticket, on a holiday.
Although scouting bus companies and tour agencies a day before the trip worked for us, it isn't quite a good choice. Holiday, night trips cost a lot higher than morning, non-holiday trips; allot a month, or a week or two before your trip to book your tickets for sure and more affordable seats.
Other Options:
If you're looking for the easiest and fastest way to get to the beach, choose to book a flight. It only takes about an hour to get to Nha Trang from Ho Chi Minh by plane (plus another 30-40 minutes car ride) and would cost around 800,000 to 2 million VND depending on the airline and date and time of flight. For a more adventurous experience, you can take the train and it would take you about 7 to 9 hours, and 350,000 to 650,000 VND for a seat or berth.
Where to Stay in Nha Trang
There is no shortage of places to stay in Nha Trang. There are hostels and luxury hotels right at the center of the city, and Airbnb houses or rooms along the beach or near the mountain side. Staying at the center has a lot of advantages as restaurants, cafes, bars, and convenience stores are very easy to access, although it can get a bit noisy at night. We chose to stay at Ccasa Hostel, which was just a 15-20 minutes walk or 8-10 minutes taxi or motorcycle ride away from the center. Ccasa Hostel is one of the unique places to stay at in Nha Trang. It is made up of old, shipping containers turned into rooms and have been designed well to accommodate different types of travelers and personalities. You can choose to book a bed for yourself, or a room for your family and friends. The top floor has huge hammocks which will definitely test your fear of heights; they are also perfect for taking naps or enjoying the breeze while relaxing.
Other Options:
Ha Van Hotel is another hotel worth trying if you're up to meeting fellow travelers and hanging out in their rooftop lounge. It is located right in the center of nightlife and it is just a few minutes walk to the beach. It is also considered as one of the oldest hotels run and favored by expats.
Amiana Resort and Villas is a five-star resort found a bit far from the city center, so it has a lot of privacy. It has 155 rooms with different views, from a garden to the ocean; and it has a huge pool right in the center, a restaurant and cafe, and a spa. This is perfect for travelers willing to splurge and want to have privacy while on vacation.
Eat and Drink in Nha Trang
Being a city along the coastline, Nha Trang offers a wide variety of seafood dishes. Left and right there are seafood restaurants offering set menus, a la carte orders, and buffet style of dining. Breakfast was served in our hostel, so it was not a problem. We had a choice between mi xao bo or mi xao hai san, and banh mi opla to fill us up for the day. Lunch was included in our island-hopping tour, which we booked from Tu Hai Travels. The lunch included was like a feast, they served us nem nurong (pork skewers), nem nuong (fermented pork roll), fish, shrimp, cha gio, vegetables, and fruits for dessert. For dinner and some drinks, we found Pankoff Brewery while walking around the center, and tried their craft beers.
The next day was spent munching on snacks from different cafes. First was Runam Bistro, wherein we tried their pastries platter. It was made of small bites of different pastries filled with pork, shrimp, beef, chicken, and whole other spices. Next, we had a drink at City Fox Cafe, which has the most refreshing chocolate mint frappe. And before heading back to Saigon, we had a snack at Iced Coffee – a quite famous cafe name in Nha Trang.
What to Do in Nha Trang
Nha Trang has become a weekend or holiday getaway destination for both locals, expats, and tourists. Thirty-six hours might not seem enough, but even with just 36 hours, you can do so much.
Beach Tours are one of the go-to activities in Nha Trang. You can opt to hire a boat, which will take you to any nearby island you prefer, or book a tour from several tour agencies. We booked from Tu Hai Tours, and we were satisfied by their service. Most of their customers were foreigners so they made sure that the tour guide spoke English. For 450,000 VND, we were able to visit two islands, and an extra mini-island for lunch stopover and a bit of fishing.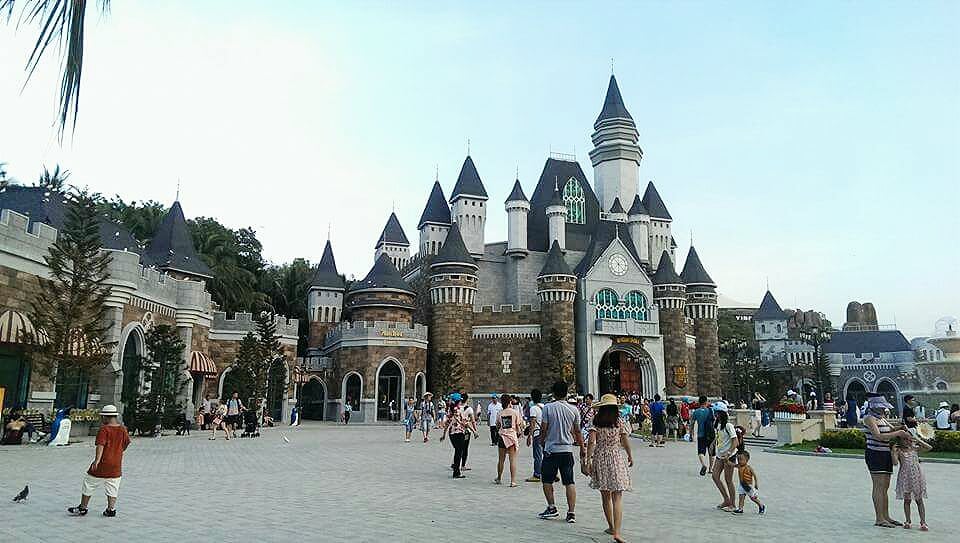 For those traveling with kids, Vinpearl Land is a must. Vinpearl Land is an amusement park with rides, an aquarium, waterpark, and arcade on Hon Tre Island. The cable car ride is also one of the things kids and families look forward to trying here, as it gives a bird's eye view of the city and the nearby beaches. It is also said to be considered as the longest over-water cable car in the world.
For travelers whose purpose is to be informed and to be more immersed in culture, there are several pagodas, temples, and museums around. These sites are situated if not next, near each other so getting around won't be a problem. You can either go on foot or hire a taxi, which will take you to most of the sites.
If you have more than 36 hours, the mud bath is also one of the musts when in Nha Trang. Bathe in mud and other minerals at Thap Ba Spa, which is a 20-30 minutes taxi ride from the city center.