Vietnam might be a small country, but it has a lot of offerings from food to art. The country, in general, has a mix of old traditional Vietnamese culture, classic French, and modern influences, from the tourists all over the globe, which are very much felt in the cities and countrysides. Hence, almost all corners are picture-perfect ready. Some of these often-photographed places are the sand dunes and fairy stream in Mui Ne, the Imperial Palace in Hue, the Ancient town, and Japanese covered bridge in Hoi An, the Marble Mountains in Da Nang, the Crazy House in Da Lat, the Halong Bay in Hanoi, and there is the Notre Dame Basilica of Saigon to name a few.
Aside from these places, and the most common ones photographed here in Saigon, here are five no-fail places for your well-curated Instagram feeds.
1. Bui Vien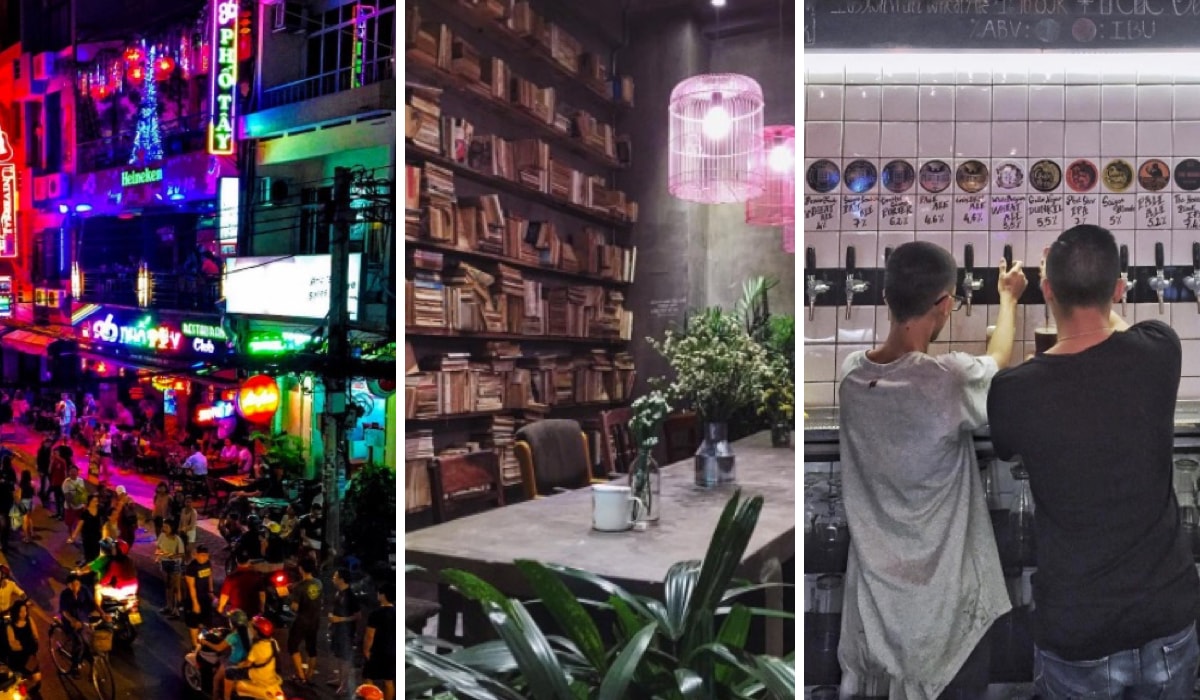 If Bangkok has Khao San, Ho Chi Minh has Bui Vien. It is the center of foreigners, drinking, and a whole lot of fun. Day or night tourists and locals flock this street for good affordable hostels, delicious eats, one of a kind souvenir finds, cheap drinks, and the prominent low tables and chairs to mingle with friends or new acquaintances. The busy street filled with motorcycles and people passing by can serve as a good backdrop for your photos. The different faces of fun and enjoyment are good subjects for different photo projects as well.
Standouts:
Cong Caphe – This cafe has two floors. Aside from their refreshing drinks and satisfying meals, both floors of this cafe have their certain quirks, which make people come, visit, stay, and take pictures. The bookshelf wall is the most instagrammable area of this cafe – perfect for those #selfies or #groufies. It also has a #throwback or #flashback feel to it as the interior is quite old-school. It seems as if you've been transported to the old Saigon.
Ong Cao – A small, yet chill bar along the quieter area of Bui Vien. Have a taste of their well-crafted beers and take photos of the modern design of the two-floored establishment. The place has graffiti walls, and they have their often photographed chalkboard menu and built-in, tiled bar.
Address: Bùi Viện, Quận 1, Hồ Chí Minh
Photo sources: @hgiangtt , @domipix , @koenhameetegram
2. Ho Chi Minh Fine Arts Museum
Taking #OOTDs is somehow part of the normcore when you're traveling, and this place is perfect for them. Aside from looking for perfect backdrops, you'll also be surrounded with art pieces dating from years ago to modern ones. The art pieces are well kept inside a yellow, French colonial villa, which is quite visible all over Saigon, if not Vietnam. The walls of these buildings are always picture-ready, rain or shine. Looking left and right when in the museum is what we usually do, but when inside the HCMC Fine Arts Museum, make sure to look down as well. The museum has well-decorated floors perfect for your #shoefies and #kotds. You just need 20,000VND to go around this art and photography haven, and it is open daily from 9am to 5pm, except Mondays.
Address: 97 Phó Đức Chính, Nguyễn Thái Bình, Quận 1, Hồ Chí Minh
Photo sources: @patthicha , @bnj_ingroyal
3. Bitexco Financial Tower
This lofty building with 68 floors can be easily spotted from many different districts. Aside from its height, the shape of the building also adds to its distinct character. The building is situated in a very convenient place as well, as it is near the Saigon river and Ben Tanh Market in District 1. For the price of 200,000VND, you get to enter the building's Skydeck on the 49th floor, wherein you can get a bird's eye view of the city. It surely is perfect either day or night. During the day, you can capture the contrasts of old locals' homes and high modern commercial buildings. At night, you can see the city light up. The sunset is also a nice and easy to capture subject here.
Address: Bitexco Financial Tower, 2 Hai Trieu, Ho Chi Minh City, Vietnam
Photo sources: @beautvu , @calrgn , @cameraddict2802
4. Nguyen Hue Street
This is the street leading to Ho Chi Minh's French colonial city hall. This street is where you will notice how Ho Chi Minh is indeed a mixture of traditional and modern aesthetics. The buildings leading to the city hall is a mix of high skyscrapers, and old, but well-kept buildings turned into different establishments. There are shops, cafes, and buildings left and right that are perfect backdrops for your travel photos, and places for you to chill at after getting tired from all the walking, shopping, and photo sessions. You get to fill your stomach with satisfying meals and drinks, your eyes for inspirations, and your feed with a number of effortless picturesque corners of their cafes.
Address: Nguyễn Huệ, Bến Nghé, Quận 1, Hồ Chí Minh
Photo sources: @christinexplores
5. Binh Tay Market
From the central bus station, hop on bus 1 and reach Saigon's Chinatown in just about 30 minutes. This market is where some locals shop for fresh fruits and vegetables for their everyday meals; here you'll see the different products Saigon has to offer and the everyday hustle and bustle of locals. These kinds of views are great subjects for photo walks or photo enthusiasts. You get to tell a story, another side of Vietnam that isn't always captured on Instagram, with just a simple snap.
Address: Phường 2, District 6, Ho Chi Minh
Photo sources: @jess_p90 , @pedro.m.crespo , @namnguyen0905