Kale smoothies and strict diets? Not for these Vietnamese fitness influencers who know that staying fit doesn't mean giving up on flavor. They take their workout routines seriously, but they're also up for some cheat days — a chocolate chip cookie or ice cream every once in a while — knowing it's a testament to their inner strength and self-discipline.
Get ready to meet the masters of balance as they spill the beans on their food cravings and the secret to a fulfilling approach to healthy living.
Linn Nguyen
On starting a fitness journey:
I used to be a super skinny girl, and it was like an impossible mission for me to gain weight when I was younger. In 2015, due to health conditions, I started working out and eating non-stop, like 5-6 big meals daily, to gain weight. After a few months, I jumped from 36.5kg to 44-45kg, and that was when I started learning health and nutrition properly. I've gained more muscles during that time and have been maintaining that lifestyle until now. I'm a morning person, so I like to wake up early and finish all my workouts in the morning. It's my daily dose of endorphins to start the day.
On daily diet:
My daily diet primarily consists of granola, which is full of fiber and good for maintaining my sugar level. My eating habits aren't complicated. I'm a mom, a business owner, and an influencer, so I need to stay healthy physically and mentally. I eat according to my body's needs. Every six months, I go for a health check-up to see what vitamins I lack so I can add them to my diet.
But I also have cheat days. I love food so much not to allow myself to enjoy it! But honestly, I don't have a sweet tooth, so I'm not a fan of desserts. But I find durian the only food I can never say no to. The bittersweet taste of durian brings me back to my childhood. My late grandpa used to buy it for me when I was little. It has good taste (at least, for me) and signifies good memories.
Listening to oneself and balancing everything is necessary for a long-term sustainable healthy lifestyle.
Be empowered by Linn's healthy lifestyle by following her on Instagram.
Bui Huu Phat
On staying fit:
Finding the perfect balance between exercise and rest is the secret recipe for my fit physique. I give my body the right amount of time to develop optimal muscles. It's like orchestrating a symphony of intensity and volume to challenge my body without overwhelming it.
My weekly routine consists of four resistance training sessions, with two heavy and two moderate sessions targeting different parts of the body. But it's not just about pumping iron; I also incorporate cardio to keep my cardiovascular health in check and help sculpt my physique. My favorites are compound exercises that engage the entire body, like Squats, Deadlifts, and Pull-ups. They give me that satisfying burn!
On dealing with cravings:
Of course, I have cheat days! Indulging in the foods I love helps alleviate stress and keeps me on track with clean eating for the long haul. Typically, my cheat days fall on weekends every 1-2 weeks. Now, when it comes to the ultimate dessert that I simply can't resist, it's got to be chocolate ice cream. The creamy texture, the gentle sweetness of milk, and that hint of cocoa bitterness create an irresistible combination. It's a taste that lingers in my memory that it's impossible not to give in.
Follow Bui Huu Phat's fitness lessons on his YouTube channel.
Hana Giang Anh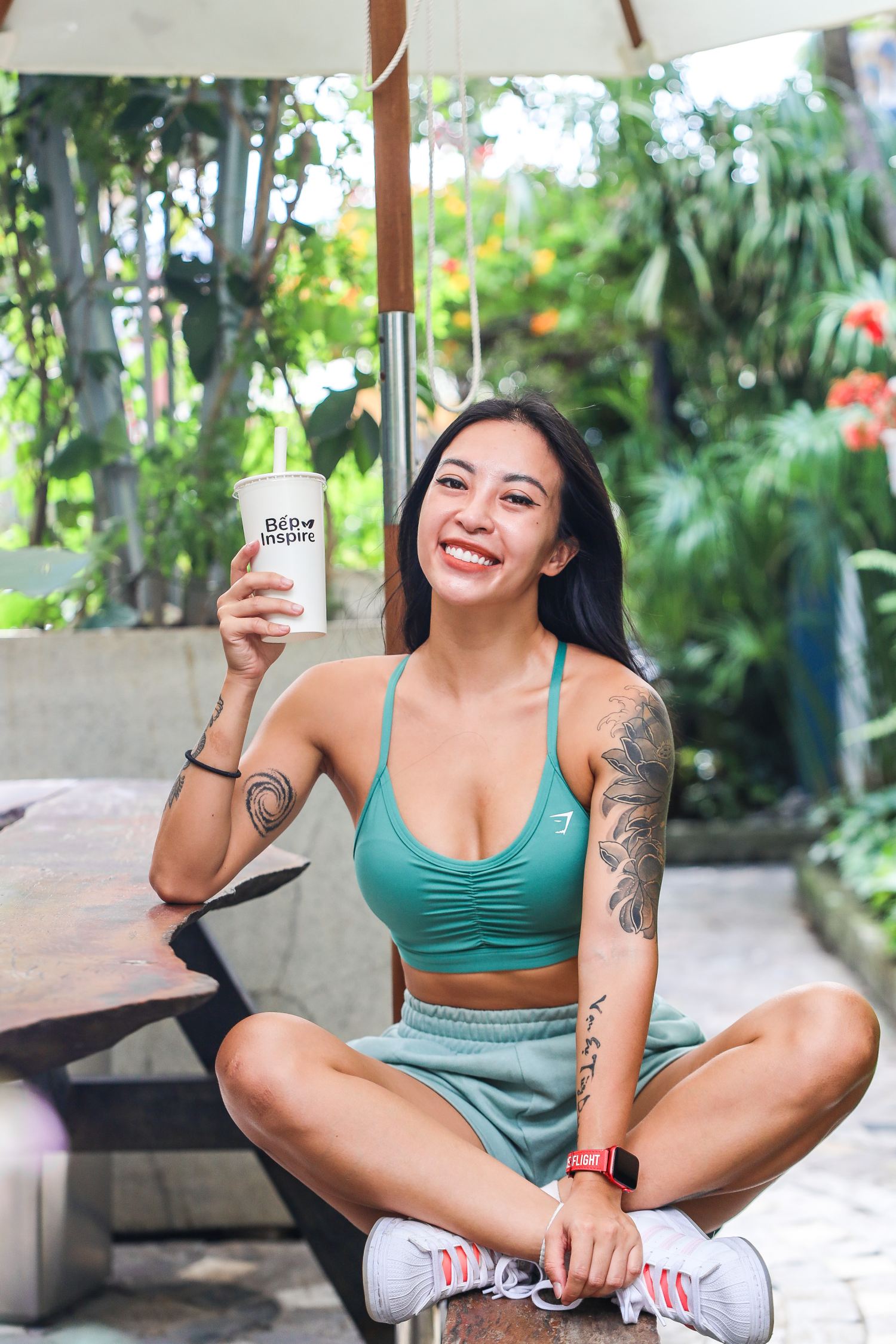 On fitness routine:
I practice yoga and meditate in the morning for 20-30 minutes. I spend about 60 minutes in the gym three times a week. In the evening, I teach group classes for 60-120 minutes. On weekends, I often participate in outdoor sports such as jogging, indoor climbing, cycling, martial arts, and swimming. I love to experience different sports to make my life more active, not just working out in the gym and repeating the same movements over and over.
I pay great attention to keeping in shape because this is my profession. In addition, having a beautiful body is like having more confidence; it is directly related to your psychological health. My biggest inspiration and motivation to keep my body toned is because I have a standard for my body shape and physical health. l feel guilty if I don't maintain healthy habits every day.
On cheat days:
I do have cheat days! I frequently cheat and don't count calories too meticulously. The snack I can't resist is mixed flan. In Vietnam, this is an incredibly delicious dessert. Flan served with longan and coffee. It's the best of the best!
Train with Hana G through Inspire Boutique Fitness.
Tri Phan
On discipline and motivation:
As cliche as it may be, the biggest motivating factor is trying to be better than last time. Be leaner, bigger, stronger, and healthier than yesterday. This also applies to everyday things like being a great boyfriend, cooking, being a content creator, etc. Discipline comes from constantly trying to be better than the last time.
On the ultimate food weakness:
The one dessert I can never say "no" to is the warm, soft interior and crunchy exterior of a big Chocolate Chip Cookie. It's my favorite dessert. More than ice cream. More than brownies. It is my go-to dessert. From the worst-tasting chocolate chip cookie to the best, I don't discriminate. They all taste good (trust me, I've made bad ones and still enjoy them, lol).
Get workout tips from Tri Phan on Instagram.
Jason Marathoner
On maintaining a well-toned physique:
I used to be overweight. It impacted how I looked at myself, so I strived to transform my body. The most important thing that helped me on this journey was having the right mindset. I watched many successful athletes' videos and followed what they were doing. They inspired me a lot, and their experiences served as my guide.
The only way to maintain a well-toned physique is to maintain good habits. I rarely allow myself to skip a workout for any reason. I have a clear training plan for every single week that my personal coach designs.
The more I repeat all tedious actions, the more I realize the benefits I receive for my health. It's a matter of discipline. Since my dad died from lung cancer, I've known health is everything.
On food indulgence:
I have two cheat meals. The first one is dinner on Sunday when I finish all my hard workouts. I usually treat myself to a great beef hotpot. And then I always have a yummy breakfast on Mondays with a hot bowl of phở to have an excellent start to a hectic week. I don't deprive myself of good food, so I have cheat meals. It's how I balance my emotions and reward my soul for my hard work.
Join Jason for a run through his official Facebook page.