It's that time of year when, no matter where you are in Vietnam, boxes of mooncakes can be found in every corner - from convenience stores and local groceries to large supermarkets and even pop-up stalls along almost every main highway.
If you're unfamiliar with mooncakes, they are delightful pastries traditionally savored during the Mid-Autumn Festival, a cherished tradition in many Asian cultures, including Vietnam. These intricately crafted pastries come in various flavors and shapes, symbolizing unity and family togetherness under the luminous full moon. Mooncakes hold deep cultural significance and play an essential role in this special celebration, where families gather to unwind, sing, and revel in the moonlit night.
One of the joys of indulging in mooncakes is the delightful surprise concealed beneath the crust. Once upon a time, Vietnam featured just two varieties: savory and sweet. You could savor the savory fillings of salted egg yolks, meat, and vegetables or delight in the sweetness of lotus seed paste, red bean paste, and a medley of nuts.
Fast forward to today, and you'll discover an extensive array of mooncake flavors to choose from. Whether you're eager to experiment with unconventional options like cheese or durian mooncakes or are intrigued by more unusual selections such as wasabi or ice cream mooncakes, Vietnam has it all.
If you need help deciding which flavors to select and seek guidance from local food influencers, we've reached out to some of Vietnam's most renowned ones. They generously shared their preferred mooncake flavors, recounted the quirkiest ones they've sampled, and offered their recommendations for acquiring the finest mooncakes just in time for Friday's celebration.
Nhi, Lava
Nhan Hien Nhi has a discerning palate when it comes to mooncakes. For her, the ultimate delight is the lava mooncake. She adores how the lava filling brings an enticing texture to the mooncake, rescuing it from any hint of dryness and making each bite a sheer pleasure.
But when it comes to mooncake flavors, Nhi keeps it simple. Have you checked out her Instagram account lately? It's no wonder the unique and unusual mooncake flavors don't faze this influencer. She thinks all the flavors, whether sweet or savory, make sense, and none of them are too strange or weird for her.
As Vietcetera's resident food addict and restaurant reviewer, Nhi found it quite challenging to pick just one favorite among the various mooncake brands and bakeries. "It really depends on your personal preferences, so you can choose based on the type of filling you prefer," she said.
Calvin, Salted Egg Yolk
When it comes to mooncakes, Calvin Bui is over the moon for the salted egg yolk variety (pun intended). He's generally a fan of mooncakes because of their intricate designs and the sweet delight they bring during the Mid-Autumn Festival.
Being Sonny Side's co-host for Best Ever Food Review Show, there's no question whether Calvin has tried quirky mooncake flavors. Of course, he did! "I once dared to try a chili mooncake, and it was truly out of this world," he said. "The unconventional mix of chili and mooncake created a taste sensation that was intriguing and unexpected, pushing the boundaries of traditional mooncake flavors."
Now if you're not mooncake-ready yet, take it from Calvin—Bakes is an excellent choice. He also suggests exploring local markets and street vendors; you might stumble upon hidden gems and homemade mooncakes that capture the authentic flavors and traditions of Vietnam.
Also Read: Calvin Bui's Journey From Chef To Advocate: Empowering The Underdogs Of The F&B Industry
Thanh, Traditional Assorted Mixed Nuts
Thanh Huyn has a soft spot for the classic assorted mixed nuts with salted egg yolk mooncake. This flavor has been with her since she was a kid. Back in the day, Thanh said, options were limited, so it's like a taste of nostalgia for her, representing the true essence of the Mid-Autumn Festival. "The combination of nutty textures and savory goodness makes it truly unique," the food illustrator told Vietcetera. "And, of course, the secret touch of Mui Kwe Lu wine brings all the ingredients together in perfect harmony."
As adventurous as Thanh can be with mooncakes, she bit into some unusual and quirky flavors last year, including Margarita, Italian Coffee, and Raspberry Cheese. According to her, these flavors provided an intriguing experience for her taste buds. However, as enjoyable as it was to explore these new tastes, she always gravitates back to the traditional ones, which evoke the authentic feeling of the Mid-Autumn Festival.
When looking to satisfy her mooncake cravings, Thanh tends to opt for trusted names such as Như Lan or Chinese-owned brands known for their traditional flavors. For those seeking a bakery synonymous with traditional mooncakes since 1985, the Vietnamese artist recommends Phương Diêm Thuân. According to her, this bakery has mastered the art of crafting mooncakes with a timeless taste that never loses appeal.
Also Read: How Thanh Huynh's Passion For Food Inspires Her Illustrations
Culinary Frank, Seafood XO
Frank Pham, or Culinary Frank to his YouTube fans, has a preference for modern and innovative mooncake flavors over traditional ones. He enjoys savory mooncakes with a touch of sweetness to balance the flavors. He enjoys creative combinations like Seafood XO mooncakes from Vagabond and Thập Cẩm Iberico mooncakes from Bakes. Frank appreciates their clever ideas and delicious taste.
The chef and vlog producer finds most mooncakes he's tried to be distinct and quirky. Many feature ingredients from different parts of Vietnam, promoting the country's products. He's also impressed by their creative packaging and designs, which add to their charm.
While he has yet to try many, Frank recommends Vagabond and Bakes for their impressive mooncake offerings this year, showcasing their commitment to exceptional flavors.
Uyen, Traditional Mixed Nuts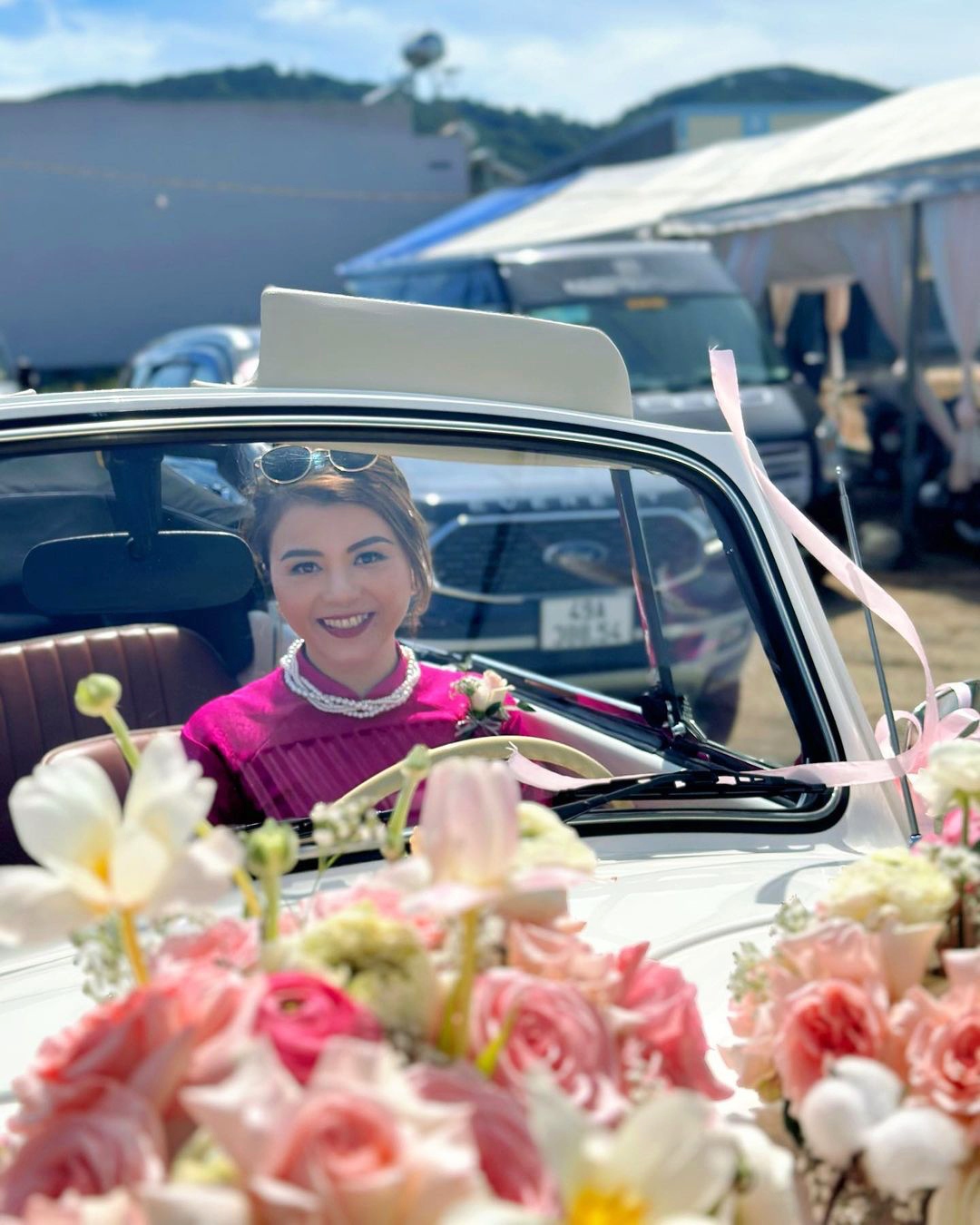 Uyen Dang, a respected figure in Vietnam's food scene, has a deep-rooted love for mooncakes intertwined with her culinary story. Her heart belongs to the traditional mixed nuts mooncake, a delightful blend of ingredients like lotus seeds, pumpkin seeds, watermelon seeds, peanuts, sesame seeds, Chinese sausage, lemon leaves, roast chicken, and salted egg yolk. For Uyen, these mooncakes are more than just a treat; they're a symphony of unique flavors that dance on her palate. Paired with a hot cup of tea, they create a delightful experience.
But Uyen's mooncake journey doesn't stop at tradition. Her adventurous spirit led her to try unconventional flavors like the sour Ô Mai Mooncake in Hanoi and the intriguing Black Sugar Pearl Fresh Milk Mooncake. Despite their uniqueness, these mooncakes won her over, especially if you're a milk tea enthusiast.
When the Mid-Autumn Festival comes, Uyen knows where to find the best mooncakes. She recommends well-known places like Như Lan, The Reverie Saigon, Sheraton Saigon, Mia Saigon, Brodard Bakery, and Windsor Plaza Hotel.
Also Read: Food Influencers Talk About The Most Underrated Vietnamese Dishes
Thuyen, Lava Custard
If you watch Sonny Side and Calvin Bui on YouTube, chances are you're also a fan of the cheerful and candid Thuyen Vo. Talking about mooncakes, Thuyen didn't hold bars and expressed her strong fondness for the Lava Custard Mooncake. These little wonders are filled with a luscious, runny, salted egg yolk center that oozes out invitingly when sliced. For her, "It's a perfect fusion of savory, sweet, and rich flavors that truly tantalize the taste buds."
In her quest for unique flavors, Thuyen ventured into trying a mooncake with an unexpected twist — caviar. She marveled at how caviar, often seen as a luxury ingredient, blended seamlessly into the mooncake experience. Instead of traditional cooking methods, a mochi-like dough was used to house the delicate caviar. As a mochi lover, it was a light and delightful surprise for Thuyen.
When asked about her go-to mooncake destination, Thuyen doesn't hesitate to recommend Runam. What draws her to Runam is their commitment to preserving traditional values associated with mooncakes. They offer not only good quality mooncakes but also impeccable packaging, making for a delightful overall experience.