Nestled in the misty mountains of northern Vietnam, Sapa is a captivating destination renowned for its breathtaking landscapes, rich cultural heritage, and warm local hospitality. With its vibrant hill tribe communities, terraced rice fields, and awe-inspiring mountain vistas, Sapa offers an unforgettable experience for travelers seeking an authentic and immersive adventure.
While May and June may not be the optimal months to visit Sapa due to the rainy season, it's always a good idea to plan ahead to ensure a memorable and well-organized trip. By following this itinerary, you can experience the best that Sapa has to offer at the ideal time of year.
Day 1: Arrival and Introduction to Sapa
Upon arriving in Sapa, settle into your hotel and stroll around town to get acquainted with the charm of the area. Explore the vibrant Sapa Market, where you'll find an array of colorful handicrafts, traditional textiles, and aromatic local produce. For dinner, savor the flavors of Vietnam at a local restaurant, delighting your taste buds with authentic Vietnamese cuisine.
Day 2: Trekking and Cultural Immersion
Embark on a trekking tour of the surrounding mountains to immerse yourself in Sapa's natural beauty. Visit the nearby Cat Cat Village, home to the Hmong ethnic minority, and gain insight into their unique culture and way of life. Marvel at their traditional crafts and learn about their ancient traditions. In the evening, experience the warmth of Hmong hospitality as you enjoy a traditional dinner at a local home.
Day 3: Exploring Ta Van Village and Muong Hoa Valley
Today, venture further into the stunning countryside and visit the Ta Van Village, inhabited by the Dao ethnic group. Engage with the locals, learn about their customs, and appreciate their distinctive clothing and handicrafts – trek through the picturesque Muong Hoa Valley, adorned with terraced rice fields and scenic landscapes. Indulge in a picnic lunch amidst nature, soaking up the tranquility and beauty surrounding you.
Day 4: Conquering Mount Fansipan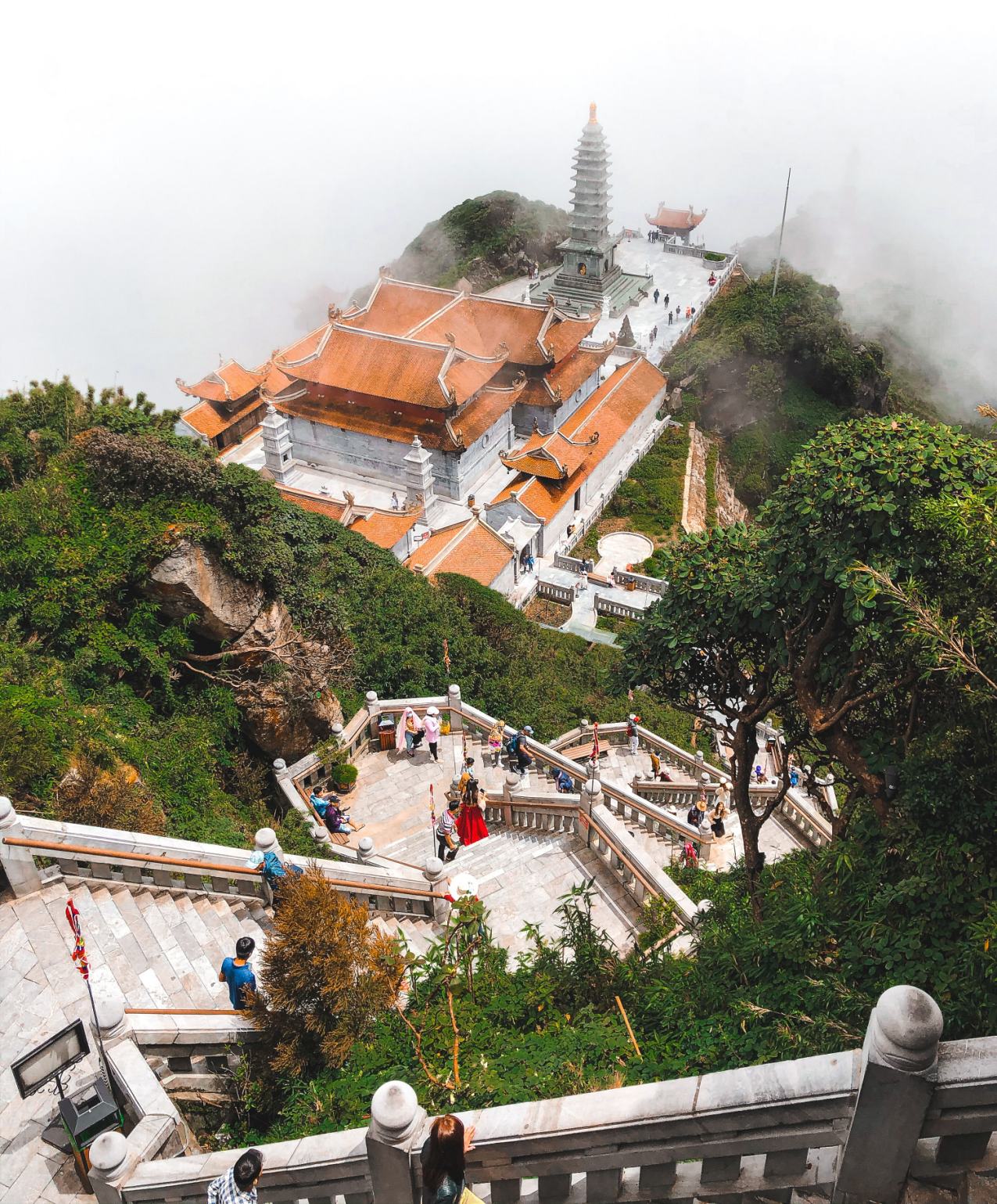 Dedicate this day to conquering Mount Fansipan, the highest peak in Vietnam. Visit the Fansipan Mountain National Park and embark on an exhilarating cable car to the summit. Be awe-inspired by the panoramic views of lush valleys, cascading waterfalls, and mist-shrouded peaks.
Day 5: Culinary Adventures and Market Exploration
Enrich your cultural experience with a Vietnamese cooking class. Learn the secrets of traditional dishes, from vibrant spring rolls to aromatic pho, under the guidance of expert local chefs. Afterward, visit a bustling local market and purchase handicrafts and locally sourced products. Enjoy live music at a restaurant.
Day 6: Discovering Lao Cai Market and Cultural Sites
Embark on a day trip to Lao Cai Market, a bustling commerce and cultural exchange hub. Immerse yourself in the lively atmosphere, where vendors from various ethnic groups gather to trade their wares. Afterward, explore a local temple or pagoda, allowing yourself a moment of tranquility and reflection. Conclude the day with a memorable dinner at a restaurant offering panoramic town views.
Day 7: Pamper yourself with a spa treatment
As your Sapa adventure ends, bid farewell to the misty mountains and vibrant communities. Don't miss out on local wellness centers to treat yourself to a rejuvenating spa session in Sapa. Unwind with a soothing massage or indulge in a traditional herbal bath, allowing yourself to relax and unwind before your departure.
Tips for Planning Your Sapa Adventure:
Optimal Time to Visit: Plan your trip between November and April to avoid the rainy season and enjoy milder temperatures. March and April are particularly beautiful as the terraced rice fields come to life with vibrant green hues.
Getting Around: Sapa is a relatively small town with many attractions within walking distance. Consider renting a bicycle to explore the surrounding areas at your own pace. Alternatively, hire a local guide or join a tour to make the most of your trekking adventures.
Accommodation: Sapa offers a range of accommodation options to suit different budgets and preferences. From cozy guesthouses to luxury resorts, there is something for everyone. It is advisable to book your accommodation in advance, especially during the peak travel season, to secure your desired stay.
Packing Essentials: Sapa's weather can be unpredictable, so it's essential to bring warm clothing, including jackets, sweaters, and walking shoes. Remember to pack a raincoat or umbrella for unexpected showers. A good pair of trekking shoes and sunscreen are recommended for outdoor activities.
Respecting Local Culture: Sapa is home to various ethnic minority communities with their traditions and customs. When interacting with locals, appreciate their culture by dressing modestly and asking for permission before taking photographs. Engage in genuine conversations and be open to learning about their way of life.
Support Local Communities: Sapa's hill tribe communities rely on tourism for their livelihood. Consider supporting them by purchasing handmade crafts and products directly from the artisans. This way, you can contribute to the local economy and take home unique souvenirs.
Stay Hydrated and Mind Altitude: Sapa is situated at a higher altitude, so staying hydrated and taking it easy, especially when engaging in physical activities, is important. Drink plenty of water, rest when needed, and allow time to acclimate to the altitude.
Safety Precautions: Sapa is generally a safe destination, but it's always wise to take precautions. Keep your belongings secure, be mindful of your surroundings, and avoid walking alone late at night. If you plan to engage in adventurous activities, ensure that you follow the guidance of experienced guides and prioritize your safety at all times.