Hanoi's districts are home to an expanding population of 7.82 million. The political center boasts many well-preserved colonial buildings such as Hanoi Opera House, the ancient Tran Quoc Pagoda, and historical sites like the Temple of Literature.
The Hanoi Opera House was built by the French Colonial administration between 1901 and 1911. Today, it remains one of the most popular historical sites in Hanoi.
Many view Vietnam's capital as a city of contrasts. Although it's home to thirty-six historical streets, the nation's oldest national university, and ancient sites like the One Pillar Pagoda, Hanoi's districts are undergoing a noticeable transformation.
The landscape of Vietnam is quickly becoming a vibrant business scene marked by thriving coworking spaces like UP and Moonwork, modern skyscrapers like Landmark 72, and a robust startup culture. And the first quarter of 2017 alone saw the launch of 39,580 entrepreneurial enterprises.
Last year we explored Ho Chi Minh City in a comprehensive guide which covered four buzz wards and eight districts, but this time we traveled more than 1,600 kilometers north to uncover the ins and outs of Hanoi's districts in our next installment of our guide to Vietnam.
Between 2004 and 2015, Vietnam experienced a six-fold influx of foreign workers and remote freelancers giving rise to coworking spaces in Vietnam.
An overview of Hanoi's districts
Hanoi is broken into 12 urban districts, one district-level town, and 17 rural districts. These are further divided into townlets, communes, and wards. Hanoi districts Ba Dinh and Hoan Kiem are dotted with historical relics, while turtle-shaped Dong Da and Hai Ba Trung districts personify modern living. Then there's the quieter enclave of Tay Ho, an area that has developed a thriving international scene of its own.
In this article, take a tour through six primary Hanoi districts and highlight some of the best places to visit in each.
Hanoi is home to an estimated population of 7.8 million residents and covers an area of 3,329 square kilometers.
Ba Dinh District
Ba Dinh is the political epicenter of the city. Many embassies and government offices, including the Central Office of the Communist Party of Vietnam, are located here.
At the heart of this Hanoi district lies Ba Dinh Square—a location revered for its history. Not only is it where president Ho Chi Minh declared independence from France in 1945, but it's also the resting place of the revolutionary leader as his body remains embalmed in a glass case at the Ho Chi Minh Mausoleum.
The Ho Chi Minh Mausoleum is the resting place for the embalmed body of Vietnam's former president Ho Chi Minh.
Within the sprawling green complex of the square, you can see the One Pillar Pagoda, Ho Chi Minh's stilt house, and the Presidential Palace—a building where government meetings still take place today.
The historical significance of this Hanoi district doesn't end here. About 750 meters east of the Square is Thang Long Imperial Citadel—a UNESCO World Heritage Site from the 11th century. Head north and you will find Truc Bach lake where US soldier and politician John McCain landed after his plane was shot down in 1967. Or continue south to alley 55 on Hoang Hoa Tham street to find the wreckage of a B-52 plane in Huu Tiep lake.
The Imperial Citadel of Thang Long became a UNESCO World Heritage Site in 2010. Artifacts date back as far as the 6th century.
But Ba Dinh is not only known for its history. Recent development of high-end, modern residentials like Golden Westlake and Lancaster 9x is giving the Hanoi district a brand new look. And with nearly 50 embassies, this diplomatic area doubles as the place to go for international cuisine. We suggest Foodshop 45 for Indian or Akataiyo—a popular Japanese restaurant.
Location, Size, and Density
Ba Dinh District occupies an area of 9.3 kilometers. The population is roughly estimated at 271,200 and has a density of 29,000 inhabitants per square kilometer. The district is 27 kilometers south of Noi Bai Airport. It borders five of the 12 urban districts including Hoan Kiem, Tay Ho, Cau Giay, Dong Da, and Long Bien.
The Lancaster 9x is located in the heart of Ba Dinh just ten minutes from Hanoi's Central Business District.
Highlights
Ho Chi Minh Mausoleum | Ho Chi Minh Museum | Quan Thanh Temple
Recommendations
Restaurant: Tim Ho Wan
Cafe: Tiny Cafe
Hoan Kiem District
Hoan Kiem is home to major attractions including Hoa Lo Prison, Hoan Kiem Lake, and the Ly Thai To Monument. And there's Hanoi's Old Quarter which is comprised of 36 ancient streets. In the past, each street was devoted to a specific kind of merchandise. There was a shoe street, chicken street, and even bamboo street—many of which still exist today. For a taste of the past, head to Thuoc Bac, a small road that still buys and trades traditional Eastern medicine just like it did hundreds of years ago.
Hanoi's Old Quarter is comprised of 36 ancient streets, many of which are dedicated to selling a specific kind of merchandise.
The Old Quarter's maze of narrow tube-houses and street food vendors attracts visitors and locals alike. Specialty stalls line the pavement and tiny alleyways serving dishes made from recipes passed down from older generations. Try a bowl of bun cha on Hang Than street, or cool off with a few cold ones at Ta Hien, also known as beer street.
Next head south to Hoan Kiem Lake. It's not only the geographical center of Hanoi, but also a site highly regarded for its symbolism. Legend has it that in the mid-15th century, Le Thai To returned his sword—a gift from the Dragon King—to a giant turtle in this lake after defeating the Ming Dynasty invaders. To the locals, Hoan Kiem Lake is representative of Vietnam's fight for independence. And still to this day, any turtle found in the lake sparks excitement as it remains a sign of longevity.
Hoan Kiem Lake translates to the "Lake of the Returned Sword" and serves as the historical focal point for Vietnam's capital.
From the lake, travel south to visit the relics of French-colonial rule that the district has to showcase. Saint Joseph's Cathedral s a fine example of the Neo-Gothic architectural style. Then there's the Hanoi Opera House—a mustard-yellow and creme-white building erected between 1901 and 1911 that's still hosting concerts and events today.
And let us not forget Hotel Metropole—Hanoi's first five-star hotel and the birthplace of egg coffee. This luxurious establishment dates back to 1901 and has since hosted many famous visitors such as comedian Charlie Chaplin and president George W. Bush.
The Hotel Metropole has seen visitors like Charlie Chaplin and George W. Bush, and is also the birthplace of Hanoi's famous egg coffee.
Location, Size, and Density
A 15-minute drive will take you from Hoan Kiem Lake to Ba Dinh Square. Hoan Kiem District covers an area of 5.29 square kilometers and has an estimated population of 187,634 residents. The district is fairly compact, with a density of 35,469 inhabitants per kilometer although it feels even busier during weekends as tourists flood the streets.
Highlights
Hoa Lo Prison | Hoan Kiem Lake | Vietnamese Women's Museum
Recommendations
Dessert: Trang Tien Ice Cream
Bars: Polite & Co | Ne Bar
Tay Ho District
Tay Ho District is a relaxing respite from the crowded city. With Hanoi's biggest lake—West Lake—at its core and the iconic Red River framing its north end, Tay Ho is one of the most scenic districts of the twelve.
Hop onto a motorbike and ride down Trich Sai road, a picturesque lane by the lake. Thanh Nien is another tree-lined street, nestled between West Lake on one side and Truc Bach Lake on the other. On the weekend, head up north to the romantic walking street named after one of Vietnam's most famous musicians—Trinh Cong Son.
West Lake is the largest freshwater lake in Hanoi with 17 kilometers of shoreline.
One of the most well-known neighborhoods in this Hanoi district is the "expatriate hub" of Xuan Dieu street and To Ngoc Van street. While Ba Dinh hosts many embassies and Hoan Kiem is overflowing with tourists, Tay Ho is a hot spot for freelancers and digital nomads. If your work allows you to roam free visit ClickSpace, a villa turned coworking space.
This neighborhood is packed with high-end restaurants such as El Gaucho and Cousin, French bakeries like O'Douceurs and Saint Honore, and luxury hotels like Sheraton and Intercontinental Westlake. If you prefer western food options, lake view cafes, sport pubs, and wine bars, this is the spot for you.
The luxurious Sheraton Hotel overlooks West Lake at Xuan Dieu, 11 Nghi Tam.
A five-minute ride from To Ngoc Van will take you to the famous lotus pond. In summer, this is a popular photoshoot destination. During the spring, the pond transforms into a blossoming flower valley. And when Tet season rolls around, locals from all of Hanoi's districts head here to visit nearby Buddhist pagodas such as Tao Sach, Van Nien, and Hanoi's oldest—Tran Quoc.
Another few minutes travel eastward will bring you to the high-end residential Ciputra International City. Many families live here for the international schools like Hanoi Academy, United Nations International School (UNIS), and Singapore International School (SIS).
Tran Quoc Pagoda is the oldest Buddhist temple in Hanoi and was contructed in the 6th century during the reign of Emperor Ly Nam De.
Location, Size and Density
It's a 25-minute drive from Southeast Asia's largest bridge—Tay Ho's Nhat Tan—to Noi Bai airport. The most recent census puts the population at 164,710 residents and the Hanoi district sprawls over 24 square kilometers. With a density of 6,862 people per square kilometer, Tay Ho is the least populated district in Hanoi.
Highlights
Tran Quoc Pagoda | Nhat Tan Bridge
Recommendations
Bars: Hanoi Rock City | Turtle Lake Brewing Company
Restaurant: Westlake Station
Hai Ba Trung District
South of Hoan Kiem lies the densely populated Hai Ba Trung district. An area well-known for its shopping. It contains two of Hanoi's largest malls, Vincom Center and Vincom Times City. It is also home to commercial streets like Pho Hue and Ba Trieu, both of which are filled with fashion boutiques.
The Vincom Mega Mall Times City is an underground complex featuring hundreds of retail stores and Vietnam's largest aquarium and cinema.
If the shopping wears you down, kick back at this Hanoi district for some local Vietnamese coffee. Traditional cafes line the streets of Trieu Viet Vuong, Le Dai Hanh, and Thai Phien making way for the ultimate coffee experience. And don't forget to take a walk in Thong Nhat park. It is one of the biggest in the city.
The large amount of businesses and office buildings on Hai Ba Trung is why many call this the "working district". And in addition to big business, this Hanoi district is home to a lively restaurant scene and a horde of banks and hospitals.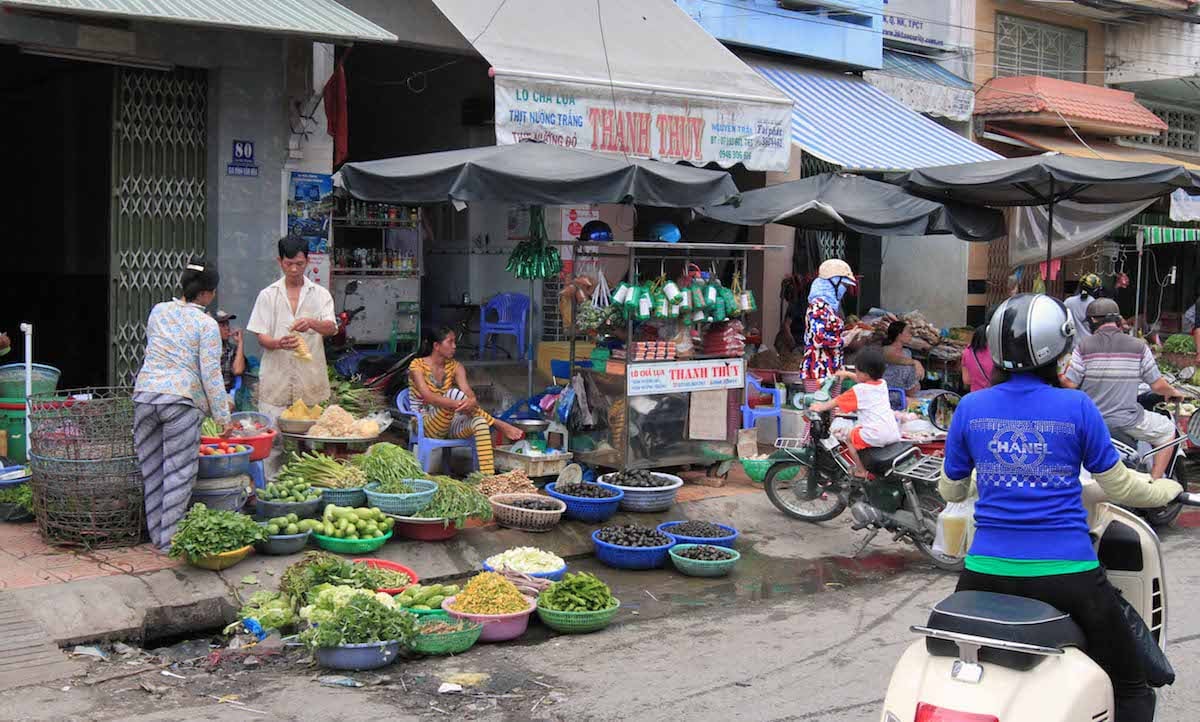 Hai Ba Trung District is often referred to as the "working district" due to its lively business scene.
Location, Size and Density
Hai Ba Trung is just a 15-minute drive from Hoan Kiem lake and covers 9.6 square kilometers. With an estimated population of 491,400, Hai Ba Trung is the most densely populated neighborhoods at 51,187 inhabitants per square kilometer.
Highlights
Recommendations
Restaurants: Bun Cha Huong Lien | Maison Sen Buffet
Cafe: Tho Cafe
Dong Da District
Dong Da is a busy residential neighborhood with an abundance of universities. From Vietnam National Academy of Music and Foreign Trade University as well as Hanoi Law University, Dong Da is an intellectual hub. Cheap rent and affordable food options cater to the district's massive student population and youthful vibes stream out from the trendy bubble tea stores and large movie theaters like the National Cinema Center and CGV Vincom.
The Vietnam National Academy of Music was founded in 1956 and has been the largest music training institution in the country.
By far the most notable university in this area is the Imperial Academy. Built in 1070, this is Vietnam's first national university. The Academy is now a part of the larger Temple Of Literature complex, located at the northern edge of the district. With five spacious green courtyards, clear ponds, and topiary sculptures, this quiet oasis is one of Hanoi's most picturesque sights. Each year, during final season, you can catch flocks of students from schools all over the country, visiting the temple to pray for luck.
The Imperial Academy is Vietnam's first national university, built in 1070 during the reign of Emperor Ly Thanh Tong.
Location, Size, and Density
Dong Da District is a ten-minute drive from Ba Dinh District and a twenty-minute drive from Hoan Kiem District. This Hanoi district covers a space of nearly 10 square kilometers, roughly the same size of Ba Dinh. The population is estimated at 457,600 inhabitants with a density of 45,760 residents per square kilometer.
Highlights
Temple of Literature | Lang Pagoda
Recommendations
Street food area: Chua Lang
Cafes: Yu Tang Tea House | C'est Si Bon
Cau Giay District
Similar to its neighbor Dong Da, Cau Giay district is a densely-concentrated neighborhood. It also boasts a fair share of young intellectuals, as it contains three of the city's most selective high schools—Hanoi Amsterdam, Pedagogical High School and Foreign Language Specialized High School. The abundance of schools as well as new developments of residential and commercial towers such as Indochina Plaza and Landmark 72 have made this Hanoi district an increasingly attractive neighborhood to settle in.
Landmark 72 (far right) is a seventy-two story multi-use structure standing at 350 meters tall. It is joined by two 48-story hotel twin towers.
The Vietnam Museum of Ethnology is one of the most notable sights in Cau Giay District and it's the largest museum in Hanoi. The museum houses an extensive collection on the 54 ethnic groups in Vietnam in a series of well-curated exhibits. The museum's outdoor collection showcases well-preserved traditional dwellings like Ede's Long House, Ba Na's Tall House and Gia Rai's tombs. A visit to this museum is a must for history and culture lovers. It's also a great opportunity to reflect on the nation's grand history.
Vietnam Museum of Ethnology captures the essence of the country's 54 ethnic minority groups.
Location, Size, and Density
Estimates place the population around 189,400 and its total area is 12 square kilometers. The density of this Hanoi district is roughly 5,783 inhabitants per square kilometer. Cau Giay is a 10-minute drive from Ba Dinh District.
Highlights
Vietnam Museum of Ethnology | Cau Giay Park
Recommendations
Street food area: Nghia Tan
Cafe: Cup of Tea
Restaurant: Quan An Ngon
Related Content:
[Article] Travel To Dalat: The Ultimate Guide To A Weekend Getaway
[Video] A Guide To Ho Chi Minh City's Districts: Understanding The City