Recent growth in Vietnam's tourism industry is sparking travelers to seek more authentic experiences during their travels. From exploring hidden gems throughout the country to finding food served the "local way", travelers are surely approaching their visits with bright and whole-hearted enthusiasm. Here at Vietcetera we believe trying out street food is part of this quintessential experience. Nevertheless, we understand that finding the right places can be a bit challenging.

The evolving Vietnam calls for a more modern street food experience. Trang and Fabien, the owners of Bà Bà, hope to share their joy of eating local Vietnamese dishes with a cleaner, safer experience. They dedicate their efforts to perfecting their recipes while providing a clean atmosphere for foodies to enjoy an authentic bowl of Bún Bò Nam Bộ (Southern-style rice noodle with sautéed beef). Join us as we discuss Bà Bà's efforts to modernize street food.
Can you tell us a little bit about Bà Bà?
I am a Vietnamese national and Fabien is a F&B expert as he owned and managed restaurants in France already. When we met, we realized we wanted to merge our expertise and shared love of Vietnamese food. Our first project together was to open a Vietnamese food restaurant in Tanger. But after four years, I felt like returning to my home country. Meanwhile, I knew there was [an opportunity] to re-invent street food here and bring back my grandparent's traditional recipes. I've always been a fan of Bùn Bò Nam Bộ and the funny thing is that it's also actually the preferred Vietnamese dish in France, which they call Bo Bun. With that in mind, we decided that Bùn Bò Nam Bộ would be the main dish of our first restaurant, making sure to use my family's recipe.
Street food is becoming a cultural symbol of Vietnam's tourism and a daily staple for the locals. However, there are still growing concerns regarding the quality of these dishes. What's Bà Bà process in creating quality recipes?
Proudly growing up in Ha Noi, I think cooking is a very sophisticated art form. It's something I hold very dearly like other family members. I still remember how my grandmother cooked each dish and which ingredients she used. Thus, it's important for me to preserve my family's recipes while incorporating sophistication into my cooking. Every time I test out a new recipe for Bà Bà, everyone in my family will come together to taste the food and contribute their opinions.

While Northerners have the habit of using a lot of MSG, Southerners like to use a lot of sugar in their cooking. At Bà Bà, we try our best to reduce MSG and sugar use. In addition, we try to select the best natural ingredients. They range from Australian beef and VietGap pork to vegetables and herbs from Da Lat. Of course, we still want to have a reasonable price for these street food dishes. We want to provide an authentic street food experience with quality dishes that all visitors can enjoy.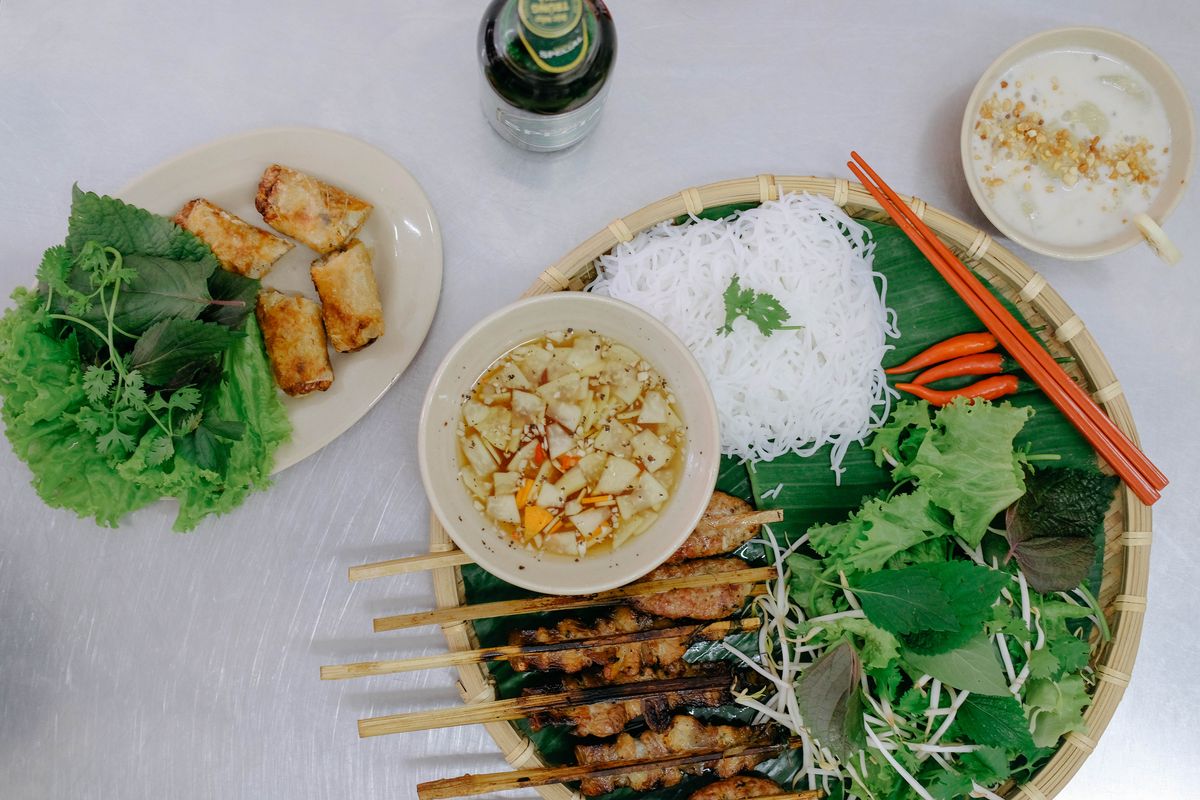 What were some challenges you encountered in perfecting street food recipes when you opened Bà Bà?
[Certainly] our efforts to move away from MSG and to reduce the amount of sugar and palm-oil used in Vietnamese cooking. In doing these things, we believe we are working to re-invent Vietnamese cuisine, making it something that Vietnamese can be proud of. Specifically, we want everyone to view Vietnamese cuisine as one that is healthy and balanced. We try our best to integrate the sweet South Vietnamese palate by balancing sourness, sweetness, and savoriness with quality ingredients.
Can you describe your journey in finding the right ingredients for your restaurants?
We came to Ho Chi Minh city in 2018 with no familiarity of the place. However, both of us love to explore and challenge ourselves. The journey was a little bit less challenging with one of us being Vietnamese. We visited multiple supermarkets and markets, both large and small ones, in Ho Chi Minh City. Our goal was to find the right ingredients that pleased us, from choosing the right condiments for our sauce to the right kind of beef that meets our standards. We even personally selected small things such as onions and peanuts.

One ingredient that was difficult to find was the rice paper, a key component to making our nem rán (spring rolls). We decided to purchase our rice paper directly from Nam Dinh since it met the standards we were looking for. The rice paper was thin enough and had the appropriate consistency. Moreover, we wanted something that was not too fragile and didn't absorb a lot of oil after we fried it. We firmly believe that paying attention to these details will improve the dish immeasurably albeit a subtle detail.
Were there any challenges or anything else you find interesting in this journey?
Our journey in finding the right ingredients helped us quickly familiarize ourselves with the city. It gave us the opportunity to explore the streets and districts of Saigon. We realize that other districts can be just as busy as District 1. The city is very vibrant and developing at a very fast pace.
What's your plan for Bà Bà in the next five years?
Vietnamese cuisine is one of the richest cuisines in the world. Every dish [acts] as Vietnam's national treasure that helps maintain our spirit and history. Every dish deserves to be praised and have their own space to shine. Bà Bà wants to contribute to this effort and help elevate each Vietnamese dish. We want to bring delicious dishes to the Vietnamese while promoting the cuisine to everyone around the world. If Bà Bà is a story, Bùn Bò Nam Bộ (Southern-style rice noodle with sautéed beef) is chapter one, Bún Chả Que Tre (vermicelli with pork skewers on bamboo sticks) is chapter two, and we're hoping to include more chapters in the future.
What do you think the Vietnamese street food scene will be like in the next five years?
Street food will follow the approach that Bà Bà is taking. Our society is changing and everyone is demanding higher quality in all components of life. This forces the street food culture to change with these demands. Our hope is that these changes will move towards a positive direction that can preserve the values of Vietnamese cuisine: delicious, healthy, clean and hospitable.

Written by Phuoc Ho

Related Content:
[Article] Food Courts And Parks In Ho Chi Minh City
[Article] Where Bartenders Eat: A Saigon Foodie Guide