Bags made of fabric are growing in popularity amongst Vietnamese youth today. Among the youth, backpack brands in Vietnam are generating strong appeal because of their ability to offer simplicity, portability, affordability, and easy-to-clean material. Bag brands in Vietnam are constantly improving the material of their products, diversifying their bag designs, and directing efforts to optimize the accessibility of their reliable and stylish products.
Here are the reasons why fabric totes and backpacks have become a must-have accessory for all young people. Join Vietcetera in browsing through five fabric tote and backpack brands in Vietnam that are taking local fashion by storm!
1. Jamlos
After discovering canvas bags in Thailand, Lam Huy Ngan developed a liking to the fabric. Inspired from what she had observed in Thailand, she began to develop and release diverse and reversible designs under the brand Jamlos. Since its creation, Jamlos has emphasized a mission of creating and following its own path. Their current product profile has validated their mission to diverge from industry trends and pressures. With these values, Jamlos has been able to successfully secure a stable position in the market for over five years in the industry.
This Vietnamese canvas bag brand scores big points with its wide selection of designs which include: backpacks, fanny packs, square bags, and round bags. Many customers also enjoy the versatility of the Jamlos bags afford. They can be used for a variety of occasions and purposes. Every Jamlos collection contains and delivers a unique story based on the local community and Vietnamese society. Amongst all the backpack brands in Vietnam, Jamlos might be the most focused on storytelling. When customers purchase a product, they are receiving a impactful piece of Vietnamese history.
Jamlos is also active in protecting the environment. The company often hosts workshops to encourage individuals to donate and recycle old clothes. Additionally, all the proceeds from products sold at the workshops are used to support to children in areas exposed to severe climate change. These workshops have helped to inform, inspire, and connect bright-minded Vietnamese youth who also want to join in the movement to promote sustainability.
Address:
49 Cach Mạng Thang Tam, Phuong Ben Thanh, District 1, Ho Chi Minh City
30 Au Trieu, Hoan Kiem District, Hanoi
2. ĐẬM – Bag and Stuff
ĐẬM – Bag and Stuff is a brand established in Saigon. This Vietnamese bag brand shares convenience, durability, and a sharp care for the environment, a quality which is valued by Vietnamese youth.
The colors yellow and black, representing a passionate and energetic youth, are incorporated into all of ĐẬM's designs. ĐẬM's products are carefully designed with handy pocket compartments large enough to comfortably hold many daily accessories such as notebooks, pens, wallets, charger cables, and headphones.
The atmosphere of this brand's stores is simple and warm. The store strikes a balanced and light look by complementing the yellow found in the product with subtle yellow designs placed throughout the store.
Address:
214/19/34 Nguyen Van Nguyen, Phuong Tan Đinh, Quan 1,
Thanh pho Ho Chi Minh
3. ACOHI
Launched at the end of 2015, ACOHI is the product of Ha Gia Vinh's passion for canvas bags and love of Japanese culture. ACOHI is the abbreviation for AMECOHI which means, "to drink coffee when it's raining". This is also the personality of this Vietnamese canvas bag brand: drinking coffee when it's raining, living life more slowly in order to listen more and experience more. To live presently.
ACOHI designs are simple with their main colors being Brown (Brown Bag) and beige (Latte Bag), but the bag becomes unique when combined with the meaningful Japanese sentence. Just these two features have been enough to help ACOHI canvas bags appear in the wardrobes of many Vietnamese youth.
The atmosphere of this brand's shops is also noteworthy. Found in an old small apartment alley on Ton That Đam street, the ACOHI store stands out with its Japanese inspired aura. ACOHI attracts customers with its unique combination of warm colors and a sophisticated interior design. Amongst backpack brands in Vietnam, this brand is most well known for mixing inspirations from other Asian cultures.
Address:
14G Ton That Đam, Phuong Nguyen Thai Binh, Quan 1, Thanh pho Ho Chi Minh
4. Saigon Swagger
As one of the most influential brands in the field of manufacturing canvas totes and backpacks, Saigon Swagger has brought a new air into the market with modern designs that departs from tradition.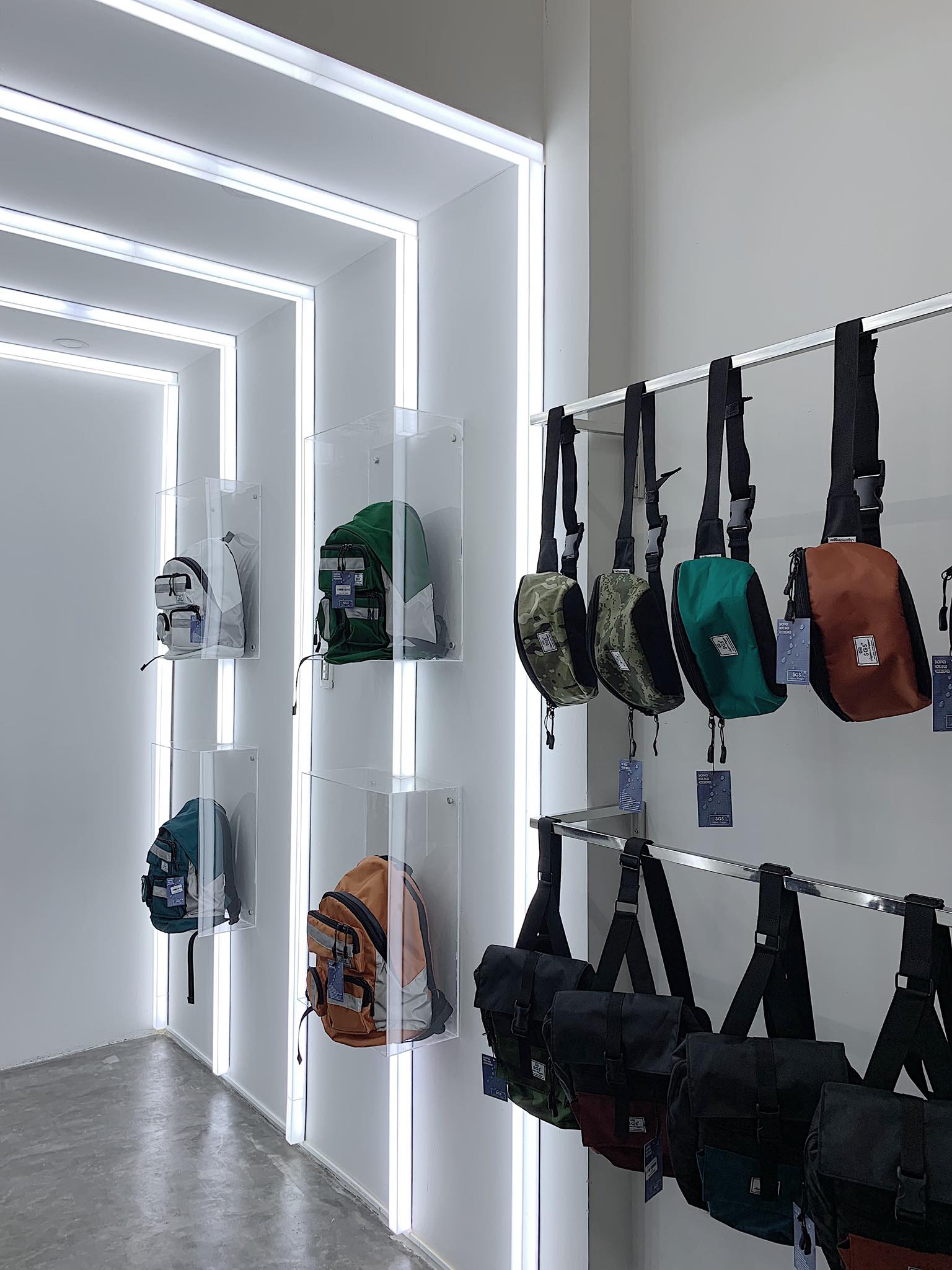 The two founders of Saigon Swagger, Thu Ha and Phuong Uyen started their business with backpacks and totes which were personally designed and produced. From the beginning, they both tested out products to a large measure before releasing them to the public. This youthful and refreshing enthusiasm and attention to detail helped this Vietnamese backpack brand gain support and trust from customers.
If you take a glimpse around the city, it would be very difficult to miss a bag with the logo SGS. Saigon Swagger, a trendy and vibrant backpack brand in Vietnam, has been able to reach many groups of consumers with their waterproof fabric, versatile design, durability, and reasonable pricing.
Address:
40 Tran Huy Lieu, Quan Phu Nhuan, Thanh pho Ho Chi Minh
116 Le Lai, Quan 1, Thanh pho Ho Chi Minh
42/11E2 Ton That Thiep, Quan 1, Thanh pho Ho Chi Minh
26 Ly Tu Trong, Quan 1, Thanh pho Ho Chi Minh
5. MOL Store
If other backpack brands in Vietnam are focused on bright colors with lots of personality, then MOL is focused on offering a variety of colors. Aside from basic colors like black and white, young consumers can find a range of energetic colored bags like red, seaweed green, pink and pastel blue in MOL Stores.
All products are designed and produced by MOL store exclusively to control and ensure quality. In addition to this, MOL Store's products have a fair price and are made of mostly canvas and polyster, making them a perfect option for college and high school students.
Address:
76 Tran Quang Dieu, Phuong 14, Quan 3, Thanh pho. Ho Chi Minh
This article was written by Ngoc Tran.
Related Content
[Article] Cultural Trends In Vietnam: Five Experts Share Their Insights