Many of our Vietnamese readers will fondly remember Bờm , a famous Vietnamese folk icon from their childhood. In this instance, Jon Do, the Founder of Bờm Kitchen & Winebar, imagines a genre where Bờm traveled the world sharing his passion for Vietnamese cuisine while at the same time discovering as many delicious dishes as his savings allowed. In this way, the menu at Bờm is inspired by a tongue-in-cheek interpretation of the best Vietnamese dishes infused with modern European culinary techniques and ingredients.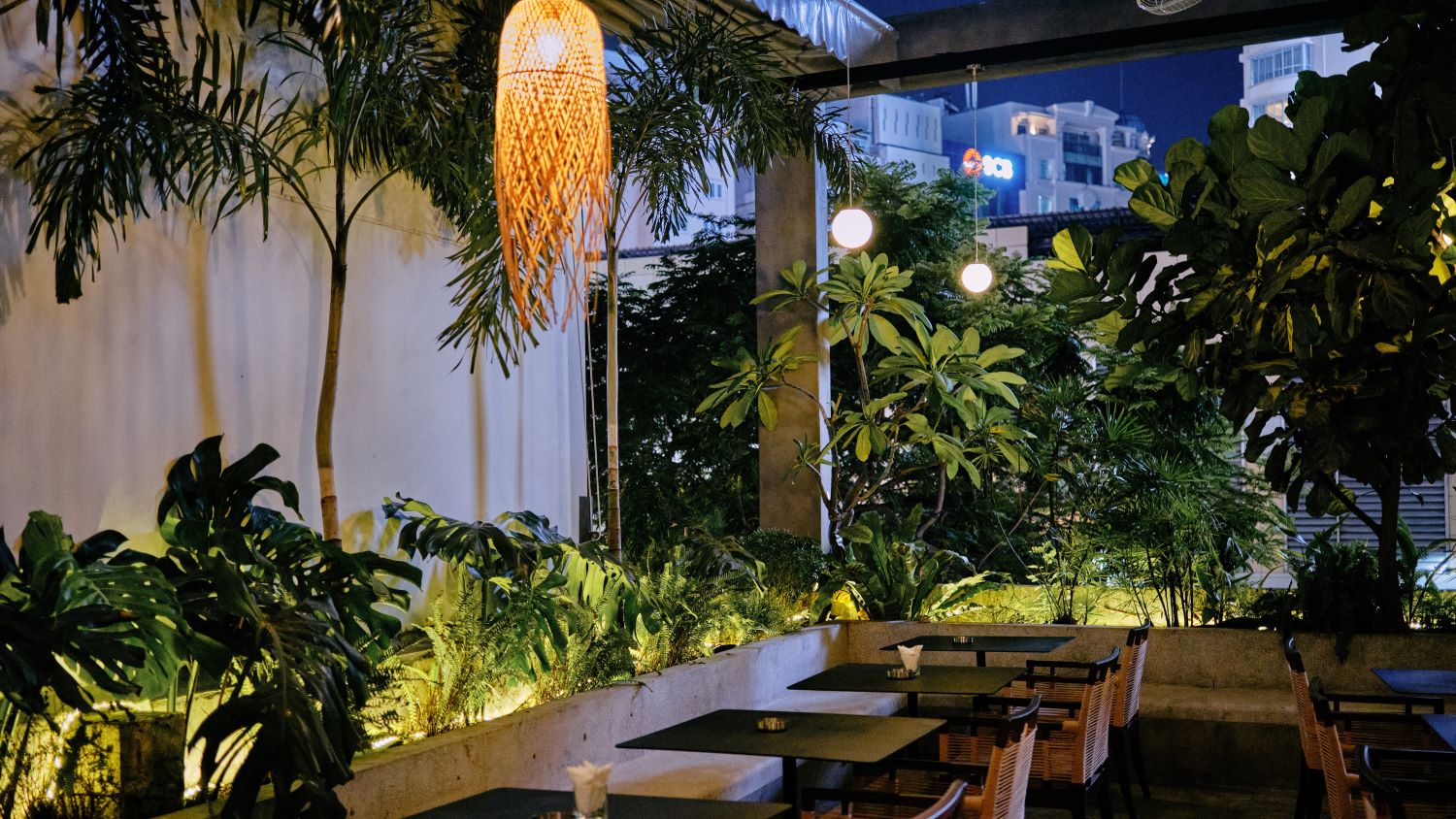 The original Bờm was established two years ago in a quaint, loft-style location on Ngo Duc Ke with then-Executive Chef Alain Pham at the helm. The restaurant opened to positive reviews, but with space for just over 30 guests, it felt inevitable that a larger location would be essential for Jon to realize his mission to connect our foodies to modern Vietnamese cuisine with a unique gastronomical experience at Bờm . Chef Alain has since departed to France to further his culinary repertoire, and Jon has assumed greater operational responsibilities supported by Jen Bui, his ebullient life and business partner.
Jen's influence quickly became apparent as the dynamic double act recently opened their new Bờm concept on 24 Nguyen Thi Nghia. The new Bờm is four times bigger than their original concept, spanning four floors, accommodating over 100 seats, and boasting one of the largest open kitchens in Saigon with two secluded Private Dining Rooms and an atmospheric outside deck on the third floor.
The updated design scape is characterized by a cement color palette representing the modernity of city living blended with rustic concrete walls and splashes of sandalwood, infusing the space with a traditional, warm, yet contemporary feel. Jen intended to create a space juxtaposing the bright lights of a modern metropolis with the traditional features of the Vietnamese rural lifestyle symbolized by a stunning statement piece of a Dong Son drum and copious smatterings of Areca Spathe fans and palm hats. Indeed, the new face of Bờm was unveiled to friends, family, and industry insiders at their recent Grand Opening Party to an overwhelmingly positive response.
At this event, Jon shared with Vietcetera: "it was emotional for us to see the beloved customers we have gained through the journey of Bờm Gastronomy at Ngo Duc Ke. We went from 30-seaters to 100-seaters, and it was fuelled by the support of everyone who supported Bờm! We are thrilled to enter a brand new chapter of Bờm at Nguyen Thi Nghia, where we aim to spread the beauty of fusion cuisine to an even larger group of customers through a relaxing dining experience".
Jon has been especially focused on developing the culinary program. He has recruited a team of Vietnamese chefs with a wide breadth of experience gained from cooking in some of the best restaurants in the city. Executive Chef Thanh Nguyen recently honed his craft at the "Le Terroir" French restaurant, and his personality is showing through in their latest menu.
We asked Jon and Thanh to recommend four dishes that Vietcetera's readers must try, and they suggested the following:
Bờm Set; a canapé platter with a deconstructed interpretation of iconic Vietnamese street food favorites, including shrimp fritters, snail cake, and fishcake.
New Zealand Scallop Risotto, inspired by "xoi xeo" from Northern Vietnam, flavored with turmeric and fried shallot and served with scallion oil, nuoc mam gel, and green bean cracker.
Five-spiced Duck Breast; Pan-seared and marinated in local five spices with the cabbage cooked like German sauerkraut to balance the duck's richness nicely.
Seafood Platter; Cajun-inspired fresh seafood tossed in house chili sauce and served with coriander and sour basil dipping sauce. Sharing really is caring!!
The new and approved Bờm is another example of young, dynamic, and entrepreneurial Vietnamese taking responsibility for driving standards in the hospitality sector and raising expectations for the guest experience in restaurants in Vietnam's major cities. Long may this trend continue. Vietcetera will be watching Bờm 's evolution carefully to find out if this new concept will be limited to a one-of-a-kind venture or the first of much more. We are not sure if Jen and Jon know either, but we'll stay tuned to @Bờm.saigon to find out.