Cooking is an art because the chef needs to be creative and constantly experiment in order to produce a great 'piece'. However, the chef profession hasn't received much recognition in Vietnam. Fine-dining, where a chef can show off his talents, is still quite unfamiliar to the majority because street food is still dominant in today's society.
With globalization, Vietnamese people have more opportunities nowadays to interact with new culinary styles and enrich their culinary experience. This creates a good opportunity for chefs to express themselves and transform the majority's view on this career path.
Following a conversation with Peter Cuong Franklin, the chef who created the concept of 'new Vietnamese cuisine,' Vietcetera has continued the conversation with Chu Quang Luan, the head chef of the French-style restaurant chain Marcel and Cafe Marcel, to hear his story about his journey with food and learn about the current culinary trends in Saigon.
Can you share your process of pursuing French cuisine? Who guided or mentored you in the starting days?
In the past, my grandfather used to be a chef for French officers in Vietnam, so I had the opportunity to interact with French cuisine from a very young age. By the age of 16, I was determined to pursue a career in the culinary field. However, I didn't go to a culinary school. Instead, I worked at large hotels and learned practical experience there. Up until now, I have been in the profession for over 13 years.

Books are my biggest teacher because I taught myself and accumulated my knowledge mostly through them. I often read Le Guide Culinaire by Escoffier, who laid the foundation for French fine dining cuisine. This book by the 'Kitchen King' seems to be a must-have for those who want to learn about this cuisine.

I also follow YouTube channels, The Staff Canteen and Great British Chefs. These two channels often post videos of professional or Michelin-star chefs. Through them, I learn more about culinary thinking and how to run the kitchen.
Not having had any formal training, have you ever received comments like 'these dishes are not true French cuisine'?
Those types of remarks are inevitable. Ingredients play a very important role in creating the cuisine. However, in Vietnam, the ability to access ingredients commonly used in French cuisine is limited.

However, I don't want to be too rigid in combining ingredients and using too many imported products. Instead, I like to take advantage of fresh ingredients available in Vietnam to combine with cooking techniques in French cuisine. This not only helps support Vietnamese agriculture and farmers, but also makes me more comfortable in creating and building a personal culinary style.
What are the stand-out features of the dishes you create?
I place great emphasis on harmony and delicacy from taste to color in each dish. In particular, I always use a lot of vegetables and fruits to make the dishes healthier yet still keep them tasty. In today's world, where the quality of the environment is decreasing, I want my guests to have as many opportunities as possible to enjoy the healthiest food.
What culinary combination do you like best?
Pan-fried scallops and mashed avocado. This combination of sea and land is always my first choice because it brings a harmonious taste.
What is your favorite cooking technique?
It's the slow cook method. Meat cooked under medium heat over a long period of time will become very soft and flavorful, but still juicy while retaining its shape.
Through programs like Master Chef and Hell's Kitchen, the kitchen is portrayed as a stressful environment. What is it like in reality?
These programs dramatize the kitchen to attract viewers but some moments are somewhat correct portrayals. During rush hours, pressure raises in the kitchen. Thus, it's very common for people to lose their temper and be loud to each other. Luckily, everyone empathizes with each other and no one takes it personally.
Having spent more than 13 years working and interacting with many people in the profession, what have you realized is the biggest difference between Vietnamese chefs and foreign chefs?
Vietnamese chefs often lack experience in finance, operations, and management compared to foreign chefs. Perhaps that's one of the reasons why being a chef is not considered a career worth pursuing in Vietnam.
Those areas are also not my strong suits but I am very fortunate to be working with Alexandre Halbers, co-owner of Marcel. He always shares with me the experiences he has gained and helps me operate the kitchen more efficiently.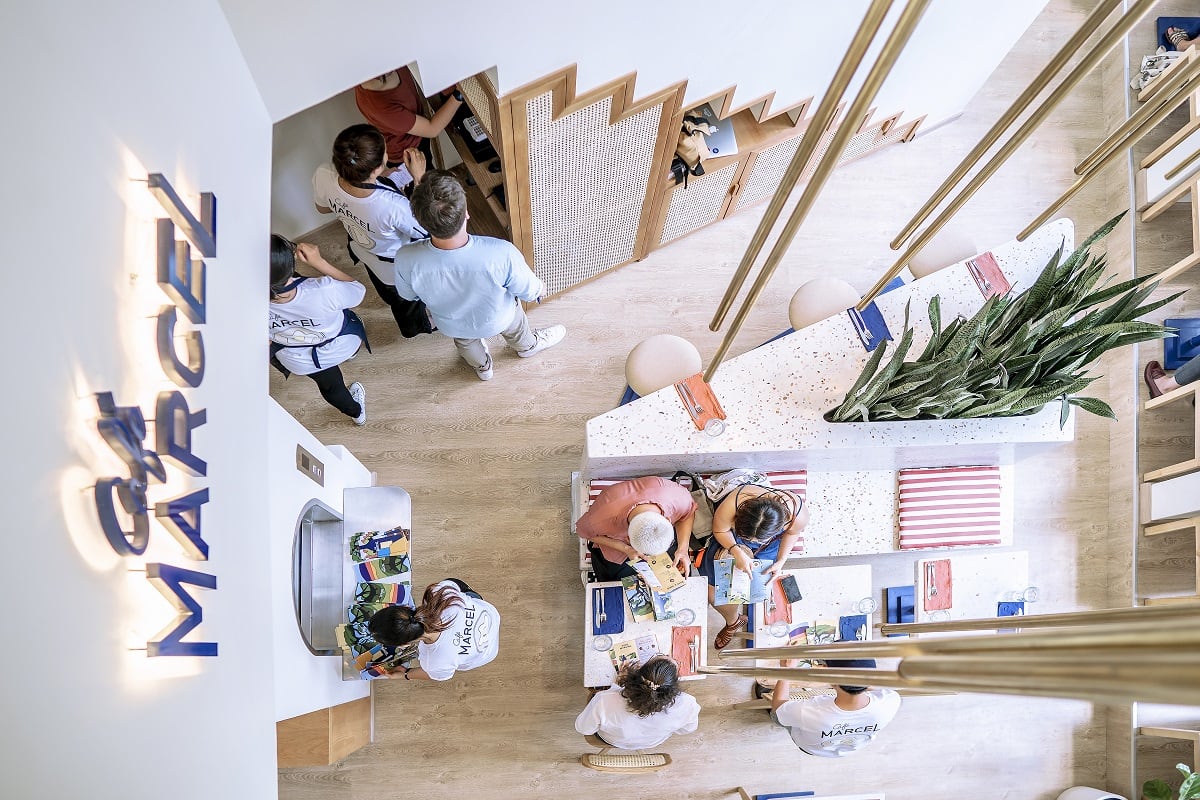 Can you share some culinary trends that you are paying attention to? And what is your favorite restaurant model?
In recent years, Saigon has become more vibrant with new culinary waves, including two very remarkable trends. The first is the modernization of traditional dishes by Vietnamese chefs who have worked abroad for many years. They return to Vietnam and bring new things to the traditional cuisine. The second is dishes from intercultural interferences (fusion dishes).
My favorite restaurant model is still Cafe Marcel. I'm a bit biased but this is a very new restaurant model in Vietnam. During the day, Cafe Marcel is a coffee shop that serves familiar brunch dishes in French cuisine. In the evening, this place becomes a bar space for you to visit, enjoy a cocktail, and relieve stress that has accumulated throughout the day.
Please share with Vietcetera readers some tips to get a great experience when visiting Marcel restaurant.
For a great culinary experience, you need to open your heart to new experiences from other cuisines. For example, the Avocado tartine at Cafe Marcel. Many people are not familiar with sourdough bread (naturally fermented bread) because the shell is quite dry, but it's an indispensable part of a French breakfast.
In addition to food, the atmosphere is also a valuable thing to experience. Ordering a Thyme Tonic cocktail to sip on while enjoying the energetic atmosphere doesn't sound like too bad of an idea.

Adapted by Lauren Nguyen

Related Content:
[Article] Dim Tu Tac: Cantonese Cuisine In Saigon
[Article] Vietnam Guide, The Directory July 2019: Eat and Drink, and See