It was in 1998 when the Premier League and UEFA Champions League were first broadcast live on Vietnam television. In summer of the same year, soccer fans all over the country were immersed in ecstasy when Vietnam's national football team, which consisted of star players Huynh Duc, Hong Son, and Truong Viet Hoang, took a historic 3-0 victory over Thailand at the Tiger Cup. 
Quang Huy, a football commentator, has never missed any of these significant milestones in Vietnam's football history, from Tiger Cup to AFF Cup and from Euro to World Cup. His voice has become a familiar sound to every local soccer fan's memory whenever the TV is on. 
As Vietnamese people's love for football grows - especially with the national team making its mark in the sports - we asked Vu Quang Huy about his life inside the booth as a football commentator.
You couldn't go far in this field without a passion for sports 
To be a football commentator, the first requirement is passion, which is even more important than your natural talent or voice. 
A commentator could not keep the viewers engaged and entertained throughout a game if he/she does not really enjoy it. 
When talking about something with passion, the broadcasters could deliver a more vivid and compelling narrative. The love for their job will spur them to learn more, read more, watch more, and remember more invaluable information.  
Renowned commentators such as Gary Bloom and Tiziano Crudeli are both devoted soccer fans. You could not survive the substantial levels of distress and hardship of this career without passion. 
"I want to spread the spirit of soccer to the audiences like other broadcasters such as Tran Tien Duc and Vu Huy Hung did to my 10-year-old self a long time ago. Maybe somewhere across the country, there are little boys excitedly listening to my play-by-play in front of the TV, dreaming about being a soccer player or a commentator one day."
The more you read, the better you understand
Any social event could have impacts on football, so a commentator should be equipped with general knowledge of sport jargon to readily provide audiences information they may not know. 
When the camera is pointing at a person on the bleacher seats, that person must be somehow related to the game. Does the month of Ramadan affect the performance of Muslim players? Is a particular goal celebration a tribute to someone? 
Why did Jong Tae Se burst into tears when singing North Korea's national anthem in World Cup 2010? Knowledgeable commentators would easily know that there is a deep story behind those tears. Jong Tae Se was born in Japan; his parents are Korean; he chose to play for the North Korean team. 
"Read more and not only about football since the strong appeal of a football game not only lies in the heat on the field but also stems from the stories surrounding it."
Audience experience is the top priority
When broadcasting sports on radio, experienced commentators such as Dinh Khai and Hoai Son have to talk endlessly for 90 minutes. The audiences could only use their ears, so the announcers have to describe the game with great animation to provide audiences a more vivid picture of what's happening on the field.
For TV broadcasting, the commentator is in charge of connecting what audiences see on the screen with the information they get through hearing. 
Therefore, if the commentator accidentally falls for an unnecessarily long narrative, they would probably miss some actions and stay behind the game.  
Until now, the most suitable commentary method for Vietnamese audiences is keeping up with the flow of the game and letting them know who has the ball. When there is not much tension on the field or the ball is out of play, the commentator will fill in with more related information, comments on playstyles or performances of the players from two sides, thereby not letting the atmosphere die down and fueling more energy to the game. 
Handwritten notes for better memory 
"When I started this journey 26 years ago, the Internet was not a popular thing and the only information the commentators could get was from international newspapers ordered overseas."
Information about players, leagues of major tournaments was hand-written carefully, or cut from newspapers and glued in a notebook for later use in the booth. That used to be the only way to store and acquire new knowledge in a time when modern technology and equipment were not available.  
Handwritten notes will help consolidate memory and improve memory recall, which is highly important for a commentator to respond instantly to any situation on the field. 
"Nowadays, despite the availability of Internet-connected laptops, I still keep the old habit of handwriting. I love being alone in the booth with papers scattered around."
Keep a cold head and a warm heart 
Under coach Park, everything seems... unpredictable. Information is also very restricted to the reporters – a method Mr. Park uses to save his surprise for the opponent. 
This is one of the examples proving that a commentator must put himself/herself in a player's shoe, preparing a cold head, a warm heart, and practicing moderation. The commentator should not impose his/her opinion on the performance of players. Apart from the coach, no one could fully understand his tactics. 
The ball could surprise you in any way. Learning to moderate your emotions and remain objective is highly essential for a commentator. If you attempt to prove a personal guess, you may probably feel extremely irritated at guessing how the Vietnam team would play like Indonesian fans feel.  
Don't break the rules at all cost
Each commentator has his/her own unique voice, tone and soul, which is enough to set them apart from others.
Techniques set by older generations such as Mr. Duc and Mr. Hung, who laid the foundation for football broadcasting in Vietnam, are still recognized to this very day, but so many more modern methodologies, as well as terminologies, have been set and used since then.
Commentators could give themselves new perspectives by gaining more knowledge or adopting new "eyes" in watching the game. Making an effort to be unique by shocking, cheesy or abusive speech is absolutely unnecessary. The distinction in style is not built from weird and inappropriate comments. 
Audiences could have their own preference. They may not agree with your opinion or your commentary style, but your knowledge and devotion, basic requirements for acknowledgment, will gain their respect. 
"Football has a huge influence on the social community. I am working hard to be recognized by society, not by social media. Social media could have some particular characteristics, while real-life society is much broader."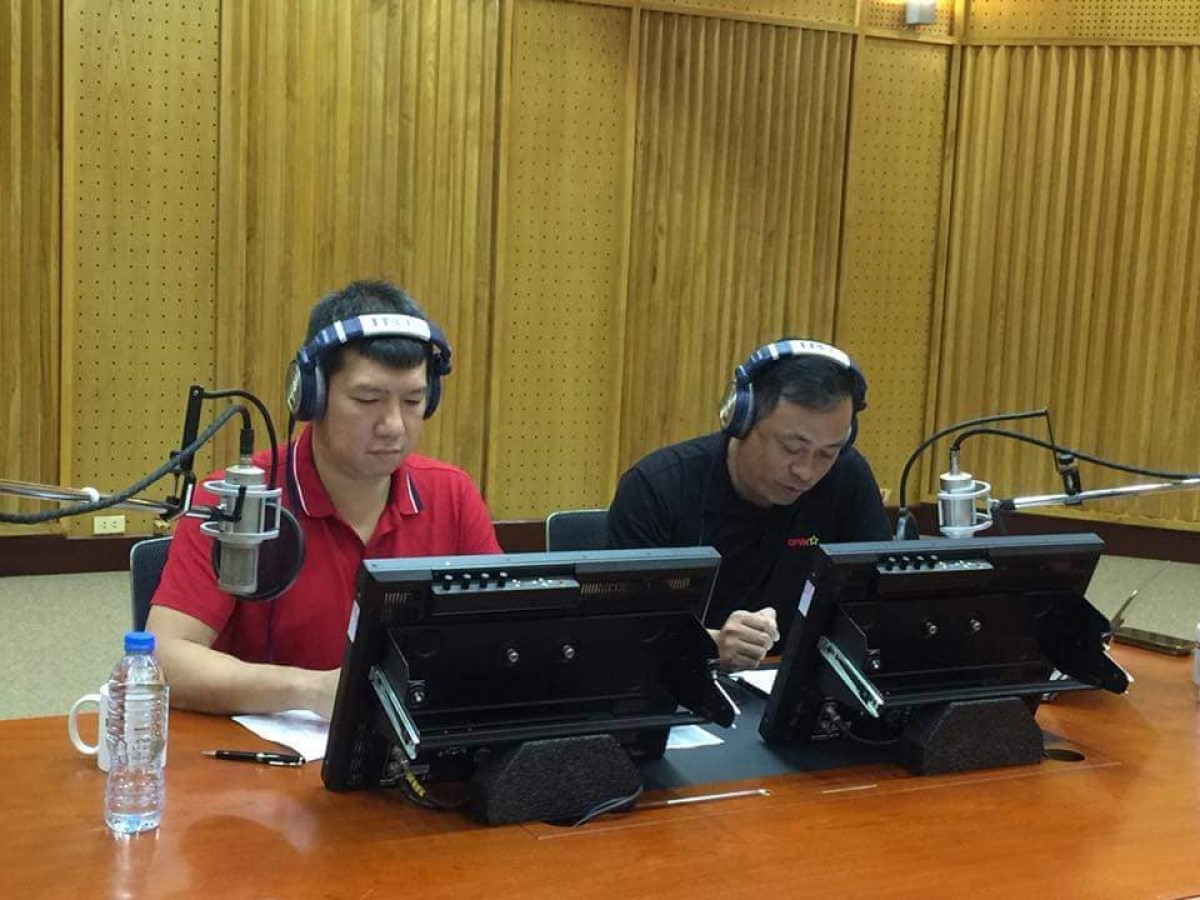 Consider yourself a "hanger"
A match with 22 players on the field is like a beautiful jersey. The commentator's role is to hang it properly. 
A good-quality hanger would empower the beauty of that piece of clothing, displaying it for the audiences to enjoy and appreciate. Your knowledge and passion for the job are materials to produce the best hanger. 
If the commentator falls into showing off knowledge or leaving his/her signature, the focus is not on the game anymore. It is, therefore, a commentator's responsibility to keep everyone's attention to the game.
"The most important thing is to remember where you are and what your role is. I could be an invisible hanger for my whole life in order to display the most beautiful jerseys."
Translated by Bích Trâm