Rating: ⭐⭐⭐⭐☆☆
Imagine this.
You're an office worker who can't find a place to nap at work? Coffee in bed, of course.
Are you a student with some free hours at your university? In desperate need of a nap and a coffee.
You're a backpacker running around all day and don't want to return to your hostel where someone is snoring? Coffee in bed it is.
I think it's genius. This concept from Japan has found its way to Vietnam and is here to stay.
I think we've all seen those pictures of Japanese office workers napping in the street, right? Well, with their working culture, the workers were in desperate need of a place to relax. Back in Japan, it often meant tiny sleeping pods. The founder of Chidori, who is Japanese, wanted to bring this concept to Vietnam and upgrade it into a true hospitality experience. Mostly, they want to bring an oasis of peace in the busy city of Saigon, where the working and studying culture of young people is becoming really hectic.
Below 30 is young, right? Well then, as a young person myself, I feel heard.
Gotta love a little nap and a cute cake after working hard.
Walking into their D1 Pasteur location, which is their signature, you'll get that hospitality feeling. Downstairs, you can find a snug casual café open for everyone. Upstairs, bunk beds fill the whole floor. Behind the curtains, people are enjoying their cocoons of peace in the bustling city.
So what is the experience like?
I tried & tested their bestseller TAKE A BREAK package for 160K VND. It includes 2 hours of private bed, 2 times your choice between a drink or a cake.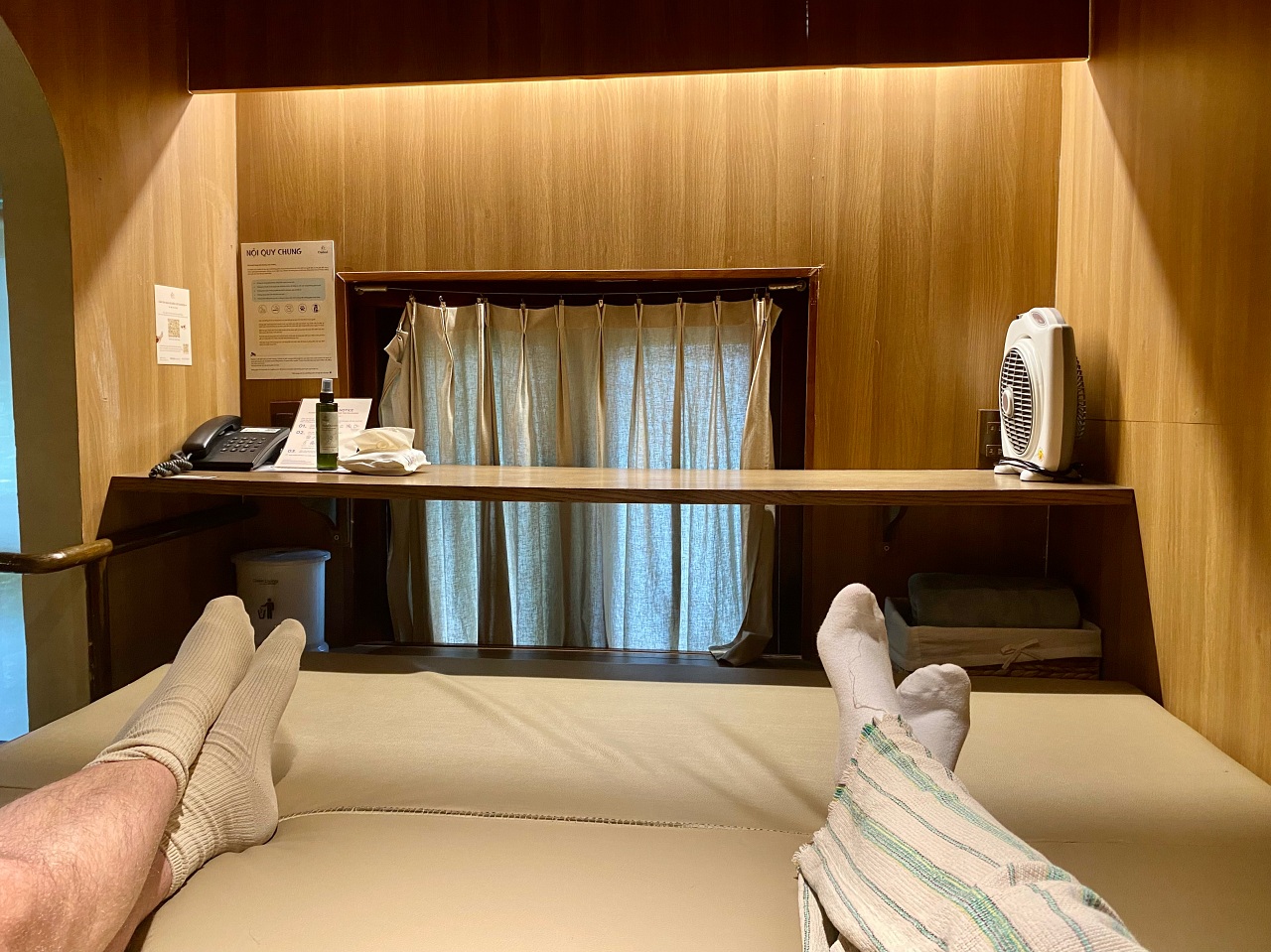 We (gracefully) climbed into our top bunk and got settled. Everything looked clean and prepared for our visit. I immediately noticed how spacious it was! Truly like a little room you have all for yourself.
With the curtains closed, it feels quite safe. Except for the staff coming to bring you your drink or cake, you feel like no one will bother you. Some jazzy music is playing for a relaxed atmosphere. Mind you - the place was fully booked. Still, it was so chill. Guaranteed quality nap material, this place.
Of course, they want to make sure the private spaces are used for the right purpose. That's why you'll spot a little camera in the corner. Don't worry, they are not watching along with your K-drama, you can binge-watch in peace. But to ensure the next person can enjoy the beds just as much, they want to make sure it is properly used.
That brings us to hygiene. I must say, I felt quite comfortable. Like a hotel room, they clean up after every visit. Every 'room' has a leather mattress and pillows, and blankets. They deep clean everything, so you feel comfortable using the blanket & pillows as your own. Go ahead, get snuggled up & comfy there. It's clean, I tested. ;)
The drinks were pretty tasty and lasted throughout our stay. I must add: the packages are more centered around the spaces and less around the food and drinks.
The more expensive you go, the more hours you'll be able to rent the space. Food and drink are always complimentary to the package, but I didn't yet spot a free-flow cake option on their menu, sorry. ;) Boy, can you imagine the food coma for that? You'll for sure need that private bed to sleep it off.
But don't worry for those coffee or cake addicts, you can easily order quite affordable drinks and food on top of your package if you're in the mood for more.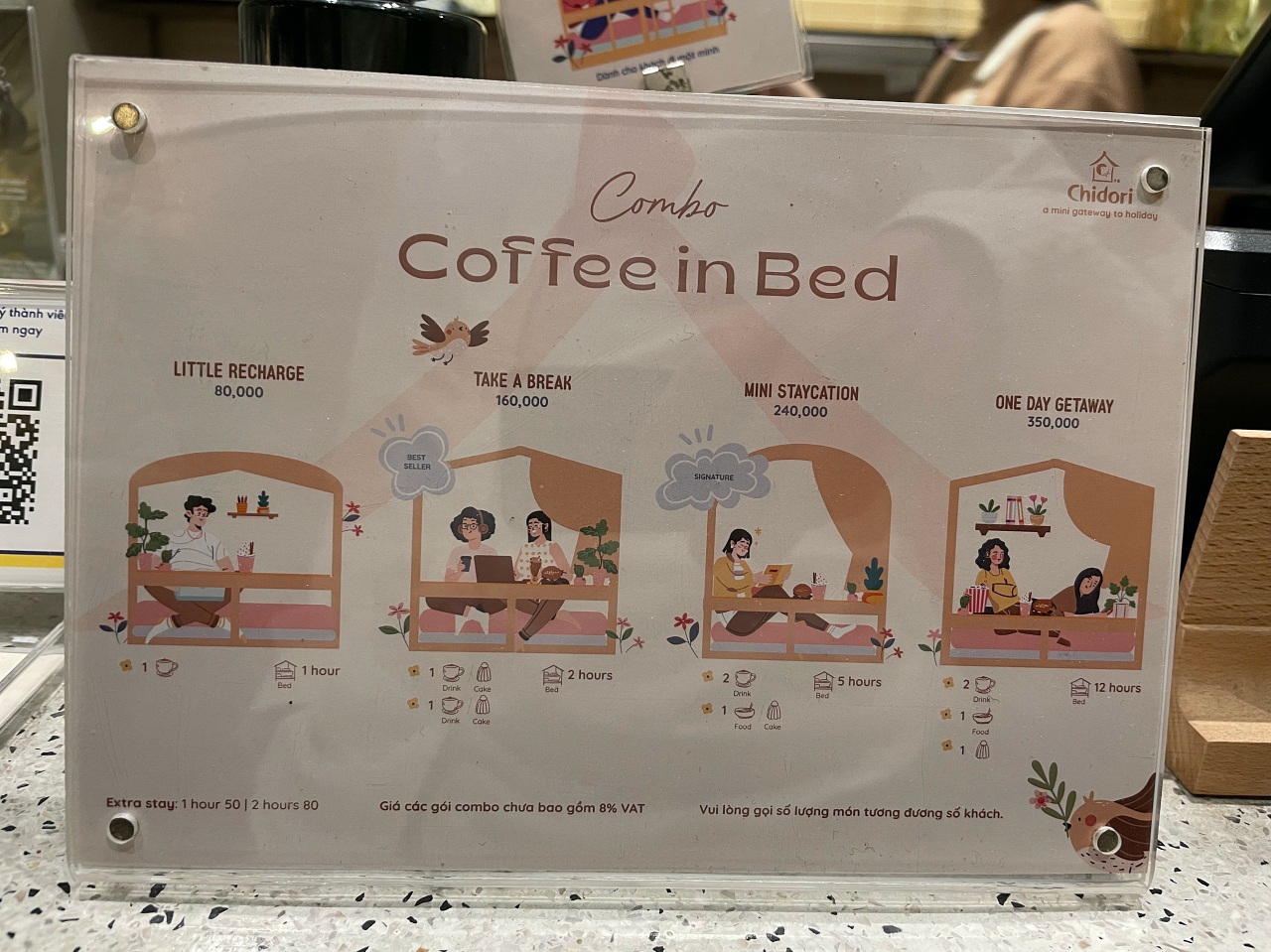 What I love about Chidori is that each of their 7 locations in Saigon is customized to the needs of their neighborhood. Each location has beds to rent and a space that's open to all free of charge.
For example, close to universities and offices, they provide coworking spaces and meeting rooms. If you want to have a private meeting, you can book it for 100K VND per person for 3 hours. They have all the facilities, even free-flow teas, and cold brews. Imagine productivity with unlimited cold brews. The sky's the limit, friends.
So, if you're in need of a nap, a Netflix date, or a private meeting room to get hopped up on cold brews: definitely check out Chidori.
I love the idea of them creating a safe space for young people in Vietnam, who are hustling their butts off. A space where they can relax, work or just enjoy the privacy they might not have at home.
If that speaks to you: definitely treat yourself to this nice cocoon.
Enjooooooy!
Chidori Pasteur Location (Signature)
134 Pasteur, Bến Nghé, Quận 1, Thành phố Hồ Chí Minh 700000
See their other locations here
Opening hours: Every day: 08:00 - 23:00