The top ten of this year's YouGov brand rankings for Vietnam is a showcase of the who is who of the e-commerce industry. The rankings take into account the average consumer's perception of the brand's overall quality, reputation, and value. A legacy brand, Vietnam Airlines, takes the top spot for the second year in a row, despite travel restrictions and border closures due to Covid-19. Where the difference to last year's results is especially pronounced is in the number of e-commerce brands that made it into the top ten, with Tiki.vn coming in sixth, Shopee taking the seventh spot, and digital online retailer Dien May Xanh the tenth.
Continuing to prove its resilience in the face of the pandemic, Vietnam remains energized by e-commerce brands that find meaningful ways to reconnect with consumers. Even during a year of stagnant travel, the fact that Vietnam Airlines landed the top spot indicates the brand's true dedication to maintaining customer satisfaction, despite not being able to offer an immediate product.
17 NOVEMBER 2020 -- Vietnam Airlines remains on top of the YouGov Best Brands list, on YouGov's annual ranking of the healthiest brands in the nation. The rankings are based on the Index score from YouGov BrandIndex, which constantly measures overall brand health. The score takes into account consumers' perception of a brand's overall quality, value, impression, reputation, satisfaction and whether consumers would recommend the brand to others. 
In spite of travel restrictions, the national carrier holds its title as Vietnam's healthiest brand (61.5) for the second year running. The top three remains unchanged from last year's, with South Korean electronics manufacturer Samsung in second (57.1) and mobile device retailer Thế Giới Di Động in third (40.5).
E-commerce brands really shine through in this year's top ten. Local e-commerce site Tiki.vn comes in sixth (37.1), moving up four spots from last year. Southeast Asian e-commerce platform Shopee appears in the top ten for first time in seventh (35.4), and digital device online retailer Điện Máy Xanh in tenth (32.1).
Food brands also fare well in the list. Instant noodle brands Hao Hao appears in fourth (+38.4) and Omachi in eighth (33.7), and snack food brand Kinh Do is in ninth (32.5). The top ten is rounded off with Japanese electronics manufacturer Panasonic in fifth (38.2).
YouGov BrandIndex also reveals the brands that have noted the greatest improvement to their Index score over the past 12 months in Vietnam. In the same vein as the top ten, e-commerce brands populate the improvers list. Shopee is this year's most improved brand, with a +8.0 change in score. Globally, Shopee appears in eighth place. Local e-commerce brands Concung and Tiki.vn come in eigth (up + 4.2) and tenth (up +3.9) respectively.
Digital payment platforms have also risen the ranks this year. Momo comes in third (up +7.0), ViettelPay in fourth (up +6.8) and AirPay in fifth (up +5.4).
The rest of the improvers list is completed with brands from various industries. Personal care brand Lifebuoy in second (up +7.3), supermarket chain Bách Hoá Xanh in sixth (up +5.1), instant noodle brand Hảo Hảo in seventh (up +4.5), and Japanese clothing retailer Uniqlo in ninth (up +4.1).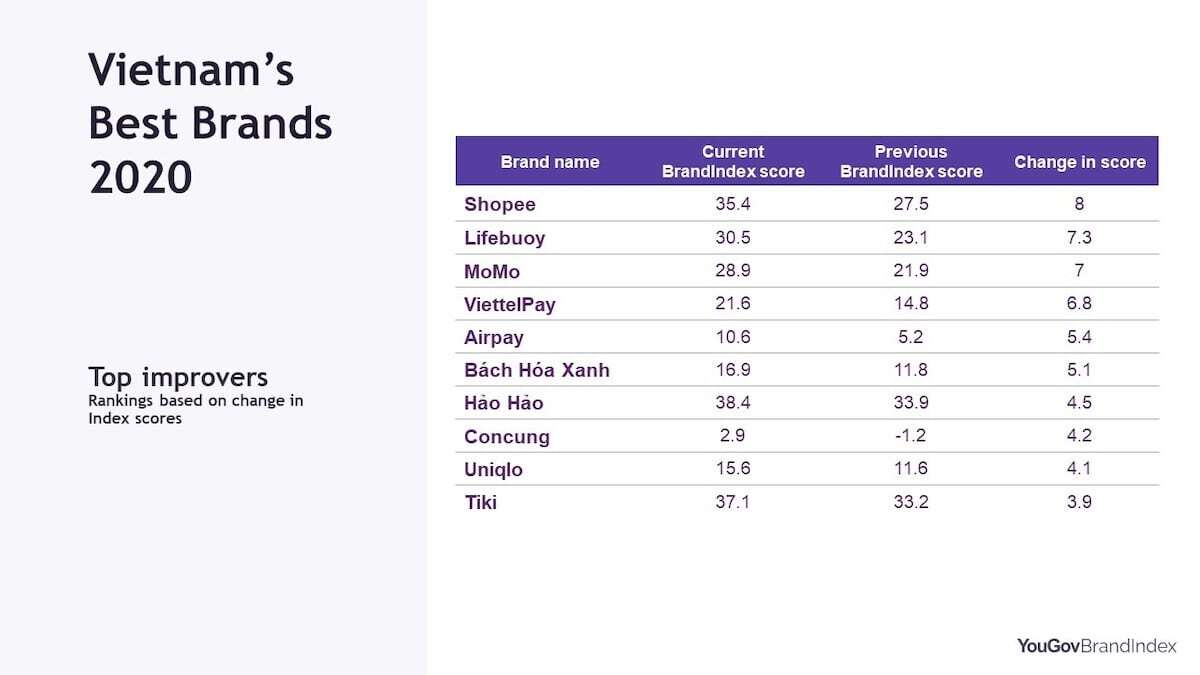 Thue Quist Thomasen, YouGov Vietnam comments: "While others may have struggled with the changing fortunes of 2020, one brand which has benefitted from consumers forced to stay at home is Shopee, indicating a shift for shopping from brick and mortar stores to online. Shopee is not only Vietnam's most improved brand this year, it is also the eighth healthiest brand in the world. Shopee is not an anomaly though, the prominence of local e-commerce sites like Tiki.vn, Điện Máy Xanh and Concung in the rankings prove that 2020 has been the year for online shopping brands to shine."
Global Rankings
Google takes the top spot in YouGov's annual global best brands ranking. Tech brands dominate the top of the list with the search and advertising giant followed by WhatsApp, YouTube, Samsung and Amazon.
With Netflix and Facebook in sixth and seventh respectively, the only non-tech-related brands in the top ten are Singaporean ecommerce platform Shopee (eighth), Swedish retailer IKEA (ninth) and US sportswear titan Nike (tenth).
Methodology
The rankings are drawn from interviews conducted between October 2019 and September 2020. Each day consumers are asked their view on 251 brands in Vietnam, which allows YouGov to build a picture of how different brands are perceived by consumers through comparing Index scores – which is a measure of overall brand health calculated by taking the average of Impression, Quality, Value, Satisfaction, Recommend and Reputation.
Impression – whether someone has a positive or negative impression of a brand.
Quality – a net measure of whether consumers think the brand represents good or poor quality.
Value – a net measure of whether consumers think the brand represents good or poor value for money.
Satisfaction – whether someone is a satisfied or dissatisfied customer.
Recommend – whether someone would recommend a brand to a friend or not.
Reputation – whether someone is proud or embarrassed to work for a brand.
​​​​​​​​For further information visit www.yougov.vn/solution-brandindex
For media enquiries, contact:
Ho Ngoc Linh, Business Development Manager
Email: hnl@yougov.vn
Phone Number: 093 208 1193
Thue Quist Thomasen, CEO
Email: tqt@yougov.vn
Phone Number: 0946 270 280