Vietnam's mango season, which runs from December through May, used to be a merry celebration at the PiTi Farm in Dong Nai Province. Owners Phương and Tuyết have over 1,000 mango trees across their five-hectare farm. The couple and two other full-time workers would harvest four to five different batches of mango, with each batch containing about 20 tons of the tropical fruit.
But for the first time in 30 years, as Vietnam continues to enforce limited movements and with China's "overkill" trade flow restrictions, harvesting their fruits has now become a dispiriting task for Phương and Tuyết. PiTi Farm used to export 95% of their mango fruits to China through dealers that come through the land border trade points in the north. The farm would have already sold at least 20-40 tons of the fruit by this time of the year.
"Most of our harvests are for export, and 5% goes to wet markets. This year, due to the border issue, dealers disappear, we could not sell to the export market," said Tuyết. "The current batch of mangoes we need to harvest is Green Taiwan Mango species — the preferred species for export to China, but not by local markets in Vietnam. The people here prefer Cat Chu or Hoa Loc mangoes."
Tuyết's farm is just one of the hundreds of small- and large-scale fruit plantations in Vietnam bearing the brunt of COVID-induced export constraints — especially those coming out of and going into China, Vietnam's second-largest export market. In late December, over 6,000 trucks carrying industrial goods and agricultural products were queuing at the border gates for over 20 days, following reports that imported COVID-19 cases had been detected in Pingxiang, a border city in Guangxi. Around another 3,000 trucks were stuck on the Chinese side.
Hanoi-based economist Le Dang Doanh told Nikkei Asia that initial estimates showed that Chinese border controls last month have cost Vietnamese trade some $174 million. Vietnam exported agricultural and aquatic products to China worth $8.1 billion in 2020.
The Ministry of Agriculture and Rural Development reported that Vietnam is the 13th biggest mango producer globally with a total planted area of over 87,000 hectares nationwide. In 2020, Vietnam's total mango production reached 893.2 thousand tons, an increase of 6.5% over the same period last year. Mangoes are grown the most in the Mekong Delta, accounting for about 48% of the total mango area in the country. In the same year, Vietnam's mango export turnover reached 180.8 million USD, down 9% compared to 2019, due to the COVID-19 pandemic clogging the global flow of goods. In which, the biggest import market of Vietnam's mango is China with 151.8 million USD, accounting for 83.95% of total export turnover.
But for farms like PiTi that have relied only on product exports for decades and have not been educated to diversify export markets, the absence of Chinese dealers means great financial loss as they sadly stare at their mangoes "naturally fall to the ground."
"As farmers, we only know how to grow mangoes. Usually, dealers come to buy at the farm and do everything from packaging to transporting. We have no connections and no idea about branding, how to sell to online marketplaces like Tiki, Foodmap, or to retailers," Phương admitted.
Luckily for the couple, Quyen Nguyen, owner of eco store Laiday Refill, suggested ways to sell their fruits to consumers in Saigon. Quyen, who lives nearby PiTi farm, arranged everything — from selling the mangoes at Laiday to contacting other retailers and e-commerce platforms like Tiki. Just ten days after Quyen mentioned the plan, PiTi was already preparing their mango harvests to sell on Tiki Deli, the platform's campaign to support local farmers.
About three tons of mangoes have been sold at Laiday stores — accounting for about 12% of what PiTi Farm used to harvest.
"We are very happy to see a way out from this situation. Three tons could be small, but it's a good start for us to learn to step into the domestic market," the farm owners said.
Selling mangoes is not part of Laiday's primary business line. Launched in 2018, Laiday Refill Station became the first bulk store in the country to offer consumers over 400 eco-friendly reusable products and refill non-food products that use less plastic and create less waste.
"This is our community support, free-of-charge to farmers," said Quyen. "Laiday has no mark-up or profits from selling these mangoes even though our team have more work to do to support this campaign."
Aside from Laiday and Tiki, the mangoes are also now on display at Somtum Zaap restaurant in Pasteur Street and Cafe Touch Saigon's District 1 and 3 branches. Some also extended their help by spreading the word to rescue the local mangoes among Japanese communities in the city.
But Quyen admitted that this "rescue" initiative is not sustainable for both farmers and their produce. She urges the government to find better, long-term solutions to align the supply and demands in the market. Because agricultural products that were supposed to be exported are now stuck in the country, there is now an oversupply in local markets. This then results in food waste, a crucial humanitarian and environmental concern globally. One-third of food produced for human consumption is lost or wasted globally, which amounts to about 1.3 billion tonnes per year, according to the United Nations. If foods go to landfills and rot, they produce methane — a greenhouse gas that greatly contributes to global warming, even far worse than carbon dioxide.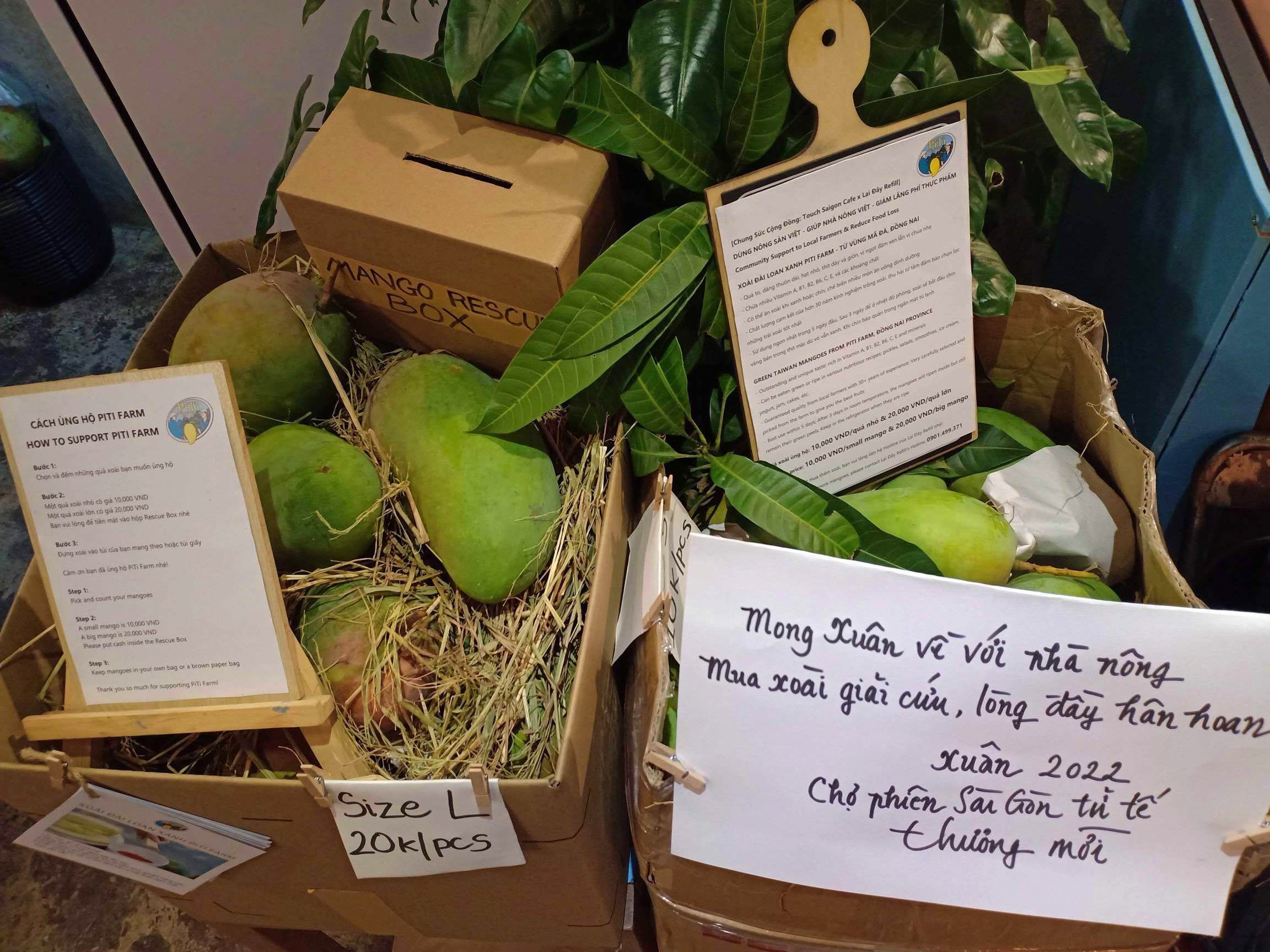 "From the Laiday perspective, why we engage in this mango mission is because we want to help minimize the food loss and waste as much as we can," said Quyen.
With the Tet holiday coming and people going back to their home provinces, sales of mangoes have started to trickle down. The Vietnamese's traditional five-fruit tray tradition comprises green bananas, pomelo, oranges, persimmons, sapodilla plums, and a bunch of kumquats. Recent years have seen the addition of mangoes and grapes, but the demand is not enough to fulfill the market gap.
"I would extend the support to others in the village, too. If there is a good demand for mangoes in HCMC. I started with the farm of Phương and Tuyết as they were the first ones in the area to harvest their fruits. I hope I can do more [for other farms]," said Quyen.