Language is one of the gateways to an authentic cultural experience, no matter the country. It is a way to connect with locals. Oftentimes, non-native speakers indicating an effort to learn locals' language is received with gratitude and dignity. People love it when you greet and communicate with them in their native language. A booming metropolis with a young population, Ho Chi Minh City is an excellent place to learn Vietnamese. It is a bucket list item on tourists' or expats' to-do list. Whether you're living in Vietnam, have the intention to move here, or are just a linguistic enthusiast, check out these five places to learn Vietnamese if you're looking to brush up on your Vietnamese language skills while impressing the locals.
Vietnamese Language Studies
Vietnamese Language Studies (VLS) is one of the leading professional language schools in Ho Chi Minh City, specializing in teaching Vietnamese language and culture to expats and international students with almost 25 years of experience. VLS offers group Vietnamese classes and private lessons for adults of all levels.
At VLS, teachers are the key factor in bringing effective and successful Vietnamese learning experience for thousands of students since 1994. The teachers are knowledgeable and responsive, leading structured lessons in an engaging way. VLS prides themselves on having the top Vietnamese teachers in the world.
Believing in immersion-based education, VLS team hosts Vietnamese Culture and Mentality, with six hours of lecture and four hours on a field trip, incorporating a combination of many cultural aspects from history, religion, family, values, and customs to habits, behaviors, manifestation, etc. VLS devises a short placement test to assess your Vietnamese level before placing you in any classes.
Location: 45 Dinh Tien Hoang, Ben Nghe Ward, D.1, HCMC.
SD-07 Green View Building, 31 Nguyen Luong Bang, Tan Phu Ward, D.7, HCMC.
Contact: (84-28) 39100168 | 39103266 | contact@vlstudies.com
Website | Youtube
Vietnamese Language Garden
If you're searching for one-on-one private lessons taught by well-trained, native speakers, Vietnamese Language Garden (VLG) is here to make it happen. VLG places the main focus on the students. In this light, instructors initially assess you to learn your strengths and pinpoint your weaknesses to customize your lessons accordingly.
VLG typically rotates instructors on a weekly-to-monthly basis as you learn, in order to keep your lessons engaging, adaptive, and challenging. Each instructor will work with you from your abilities at that moment and manufacture a proper learning plan just for you.

Lessons are held at a comfortable and relaxed garden-top and balcony setting, a perfect learning ambiance. Timing and location are flexible, ranging from intensive full-time courses to casual hours and virtual lessons, specially catered for those who prefer the convenience of in-office or in-home lessons.
Location: 135/10 Nguyen Cuu Van, W.17, D.Binh Thanh, HCMC.
Contact: +84 (28) 3840 7078 | 091 667 07 71 | contactus@vietnameselanguagegarden.vn
Website | Facebook | Pricing
123 Vietnamese
123 Vietnamese has different branches across the country including those in Ha Noi, Ho Chi Minh City, Hai Phong City, and Hai Duong City. The flexible hours and locations allow students to choose anytime to study between 7am to 9pm every day of the week.
Classes are offered at three different levels, elementary to intermediate, and are taught by teachers who graduated from top universities in Vietnam with experience in teaching foreign students. These classes are also catered towards students with different nationalities. Adopting an interactive approach to teaching Vietnamese, students can learn the language through songs, films, and catchy phrases all available on their website. There are also online classes for those who can't commit to regular classes.
Location: 91 Nguyen Chi Thanh, W.9, D.5, HCMC
Contact: contact@123vietnamese.com | +84963229475
Website | Facebook | Pricing
Learn Vietnamese in Saigon
Founded in 2016, Learn Vietnamese in Saigon (LVIS) is one of the most active Vietnamese language learning centers in HCMC at the moment. A Vietnamese language tutor group based in HCMC, LVIS offers both individual and small group classes. They also offer online lessons emphasizing interactive teaching methods. Interactive communication allows the learners to enjoy their learning experience as well as achieve their goals faster than classroom learning. At LVIS, you will be taught the minute dialects of South Vietnamese, from vocabulary, grammar, accent, etc. here in the most crowded area of Vietnam.
Vietnamese Speaking Club is one of the most spectacular perks of being a student at LVIS. Not only will you be able to practice your Vietnamese but you will also be introduced to tons of new friends every week.
New classes are offered every month. Check out their social media to sign up the most recent class.
Location: Pham Viet Chanh Condominium, W.19, D.Binh Thanh, HCMC
Contact: learnvietnameseinsaigon@gmail.com | +84 903 88 33 58
Website| Facebook | Pricing
Learn Vietnamese with Annie
Learn Vietnamese with Annie started in 2012 when she created her Youtube Channel and quickly become popular for her video lessons. In 2014, Annie opened her office in District 3 with a team of experienced language-teaching certified teachers. The instructors speak at least two languages fluently.
For those busy bees who are worried about not having time to enroll in a class, Learn Vietnamese with Annie offers different class options that cater to your needs. There are one-to-one online or in person class and group classes for elementary, intermediate, and upper intermediate levels. The class length ranges from 30 to 90 minutes. All you need is the passion for learning Vietnamese.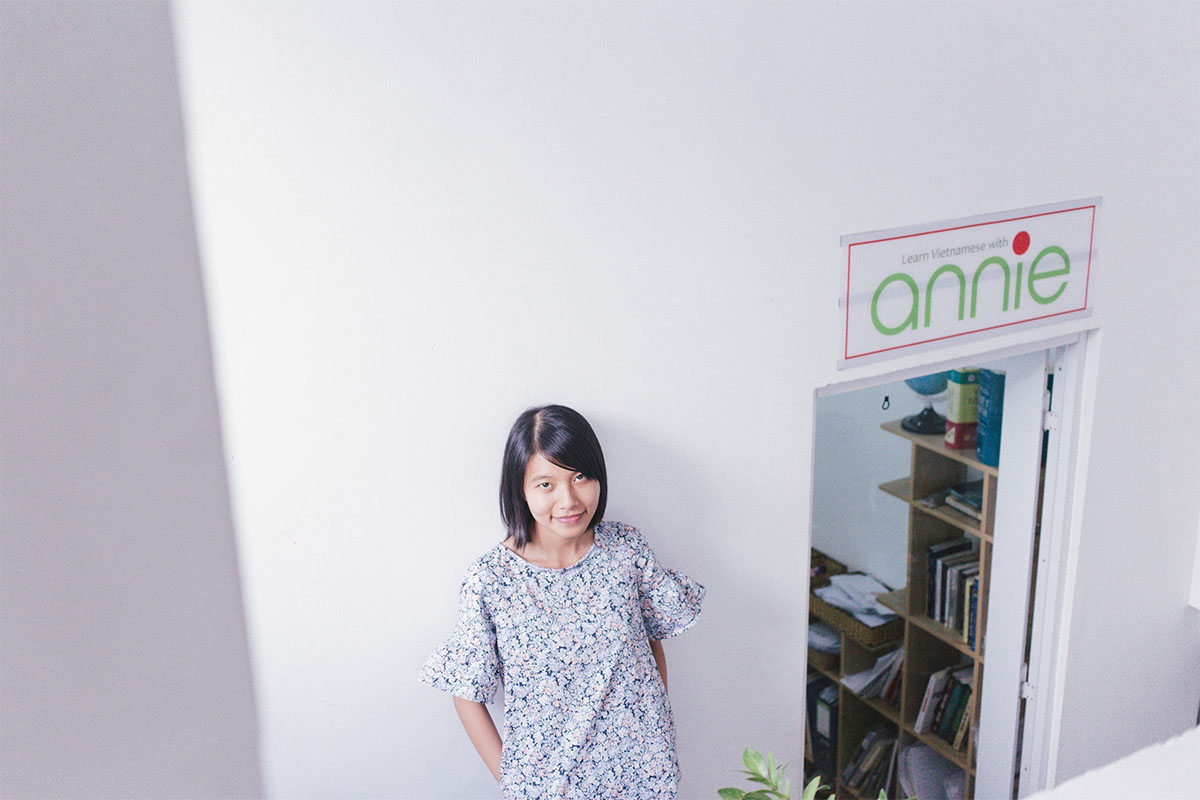 At Learn Vietnamese with Annie, you will be learning mostly in the Southern dialect, but the instructor will also address the differences in word usage between the North and the South. Additional resources are also offered, such as podcasts and videos on the website for those who are keen to learn more, or cannot commit to regular lessons.
Location: 72/7 Tran Quoc Toan, D3, HCMC
25/3 Xuan Thuy, Thao Dien, D2, HCMC
Contact: info@learnvietnamesewithannie.com | 0907104701
Website| Facebook | Pricing
Written by Annie Trieu and Lan Vy Mai

Related Content:
[Article] Cocotte's Curated Guide To French Loanwords In Vietnamese
[Article] Australia-Vietnam Young Leadership Dialogue: Connecting Youth Across Continents