The last few years have seen a burgeoning trend in the luxury travel space – the growth of wellness travel. Earlier this year, Forbes noted the search for wellness as the top luxury travel trend, citing an American Express survey in which 76% of participants said they wished to spend more on travel to improve their well-being.
Vietnam and Southeast Asia at large have long offered travelers plenty in the way of mindfulness, meditation, and yoga retreats, but these kinds of excursions remained, for the most part, disparate from the luxury space.
Of course, relaxation has always been part of the package at high-end resorts, but for the most part, the other important factors that makeup wellness – looking inward, tapping into the mind-body-spirit connection, healing, and exercising – have gone overlooked.
Nestled on the shores of the peaceful Ha My Beach, just a stone's throw north of An Bang in Hoi An, Four Seasons Resort The Nam Hai is pushing the envelope at the intersection of luxury accommodation and personal wellness.
Hailed as a "Wellness Wonderland" by Forbes, Four Seasons The Nam Hai's ethos is largely inspired by the late Vietnamese Buddhist monk Thich Nhat Hanh, one of the world's most prominent zen masters, Nobel Peace Prize nominee and author of "The Miracle of Mindfulness."
Virtually every little detail here is tailored towards more than just slowing down and relaxing, but allowing guests to delve within, explore their inner selves, and experience what the resort dubs, "The great interconnectedness of being."
While one could easily spend a weekend getaway under the shade of palm trees, meandering slowly through the pristine lawns to lay by a private terrace or beachfront pool, the array of mindfulness and wellbeing-focused offerings are what truly sets Four Seasons The Nam Hai apart.
A Mindful Journey at Four Seasons The Nam Hai
Since Buddhist teachings maintain that there are seven factors of awakening; Mindfulness, investigation, energy, joy, concentration, tranquility, and equanimity, it seems fitting to draw up a seven-part itinerary for a stay at Four Seasons The Nam Hai – one that promises peace, discovery, and healing.
In-Villa Wellness
The mindful journey at Four Seasons The Nam Hai begins and ends within the sanctuary of each room and villa. A choice of eight different pillows to curate your own comfort and tranquility is only the beginning.
Every room features a range of mindfulness offerings, inviting guests to invoke calm and softly awaken the internal senses. A small "singing bowl" or "bell of mindfulness" which emits rich tones and deep vibrations to invoke relaxation, and essential oil blends from the in-house Heart of the Earth Spa to try out some aromatherapy and even directions for several bathing rituals.
As well as this, the room's music selection comes with a selection of meditation tracks, too, offering the option of meditating alone as well as in group sessions at the resort.
The Visiting Masters Program
All year round, The Nam Hai welcomes masters in a wide range of disciplines, from meditation to yoga, acupuncture to cupping therapy.
Hosted in the calming sanctuary of The Heart of The Earth Spa, a winner of Condé Nast Traveler's "Best Emotional Recovery" award, these sessions afford guests a rare opportunity to go deeper into inner awareness and mindfulness, guided along the way by masters who have gained true wisdom in their fields.
Treatments Grounded in Mindfulness At The Heart of The Earth Spa
Healing massages, rejuvenating facials, body scrubs and wraps, lotus-pond bathing, and beauty treatments are in abundance at The Heart of The Earth Spa. But the spa goes beyond the usual luxury services, taking a more holistic approach that invites guests to connect to the earth, to mother nature.
Taking its cue once again from the teachings of Thich Nhat Hanh, treatments are grouped into three "well-being virtues": 'Stability' treatments to nourish the physical body; 'Creativity' treatments to release blockages and explore new possibilities, and 'Non-Judgment' treatments to promote inner peace and compassion.
Perhaps The Heart of the Earth's key elements are the constant use of eight synchronized, crystal singing bowls. Each is tuned to 432Hz – considered to be the harmonic intonation of nature and strong enough to be felt throughout the whole resort.
Meditation
While guests are free to follow the meditation tracks and find their inner calm in the peace of their rooms, the resort offers several 45-minute meditation sessions, each focused on improving mental clarity, promoting calm, and encouraging joy.
One of the resort's more restful, healing classes is Cocooning Meditation. Here participants lay at peace, suspended in a yoga Hammock. Comfortably 'cocooned,' they're then gently guided through a series of deep breathing, mental imagery, and body-mind awareness exercises, all ensuring a complete reset of body and mind.
Aerial Yoga
Following such a deep dive into the self and submission to relaxation and peace, the time will be ripe for some physical exercise.
Four Seasons The Nam Hai offers plenty in this regard, from swimming pools to tennis courts, but its range of yoga classes is ideal for a mindful journey, with each taking place in the Thanh Tĩnh Yoga Pavilion: a gorgeous 131-square-meter structure surrounded by bird-song filled gardens and featuring a trio of monk statues in poses that represent peace, respect and wisdom.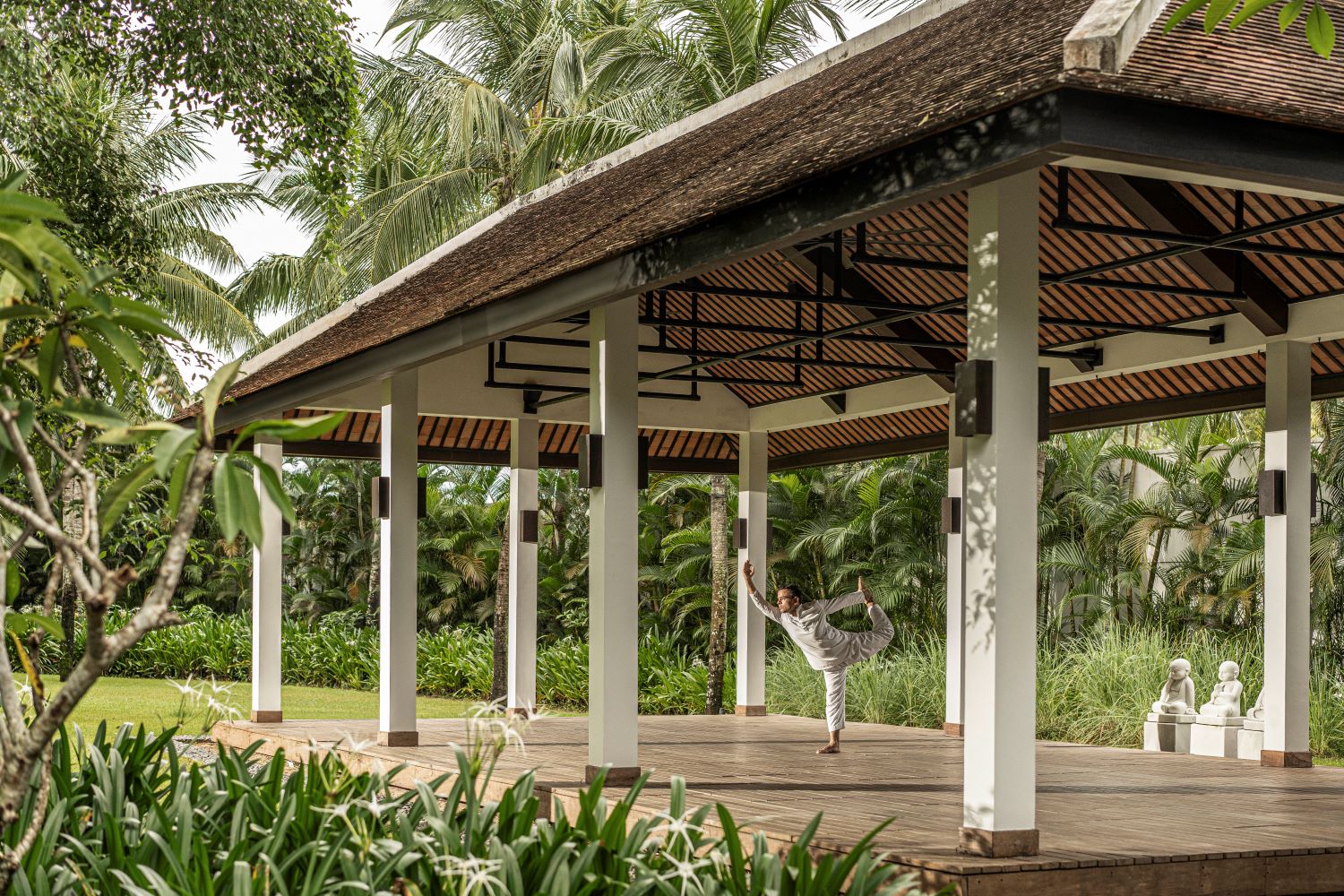 Guests can partake in a number of styles, from Hatha, Yin, and Nidra, but the resort's Aerial Yoga sessions are on another level. Using the same yoga hammocks from the Cocooning Meditation sessions, practitioners are liberated to safely explore and broaden their physical and spiritual limits, going deeper into stretches and becoming more aware of the breath than ever while floating off the ground.
Candlelight Trataka Meditation
Trataka Meditation, or candle-gazing meditation, is one of the most powerful and accessible forms of meditation, with little practice or expertise required to gain incredible, transformative benefits.
Performed by gazing gently and steadily at candlelight in an otherwise dimly lit space, trying to avoid blinking, there's a large and growing body of evidence that backs up Trataka's effects in alleviating anxiety and mental stress, as well as greatly boosting physical health by decreasing heart rate, strengthening eye-to-brain muscles, improving vision, and even helping to aid in sleep quality.
Offered in thirty-minute classes at Four Seasons The Nam Hai, a transformative Trataka Meditation session promises a perfect way to wind down after dinner, following a late afternoon dip in the ocean and walk on the beach.
A Goodnight Kiss To The Earth
The simple concept of ritual is a powerful one, especially within the context of mindfulness and well-being. Indeed, the increasing popularity of mindful practices has led to a huge amount of appreciation for daily rituals – gratitude, intention setting, and of course, practices like yoga and meditation.
Four Seasons The Nam Hai's nightly "Goodnight Kiss To The Earth" ritual is simple, lovely, and beautiful. Guests are invited every evening to write their own private love letter to the earth – a few words of appreciation, gratitude, joy, hopes, wishes, and prayers – which they then float on the lotus pond in The Heart of The Earth Spa.
All the while, the space is filled with the deep music of the singing bowls, creating a perfect moment to pause, reflect, and appreciate the chance they've had to embark on a true mindful journey.