When I first arrived to Ho Chi Minh City a few years ago, there were only two ways to get around: by taxi or by motorbike. Public transportation is almost nonexistent and apps like Uber weren't around yet in Vietnam.
For the average traveler coming to Ho Chi Minh City, handling payment and directions with a cab driver can be challenging.
I've broken down some of the ways to get around the big city so that you're prepared for what to expect.
Taxis and Ridesharing Apps
Uber and Grab
Uber and Grab are the best ways for first time visitors and locals to get around. It's cheaper and safer than a taxi. And paying by debit or credit card allows for seamless payment. Uber and Grab both have the option to select regular cars or motorbike drivers.
Taxis
Taxis are another great way to get around town. It's not as easy as Uber or Grab but still affordable. Even the longest trip within the city center will only cost you about 100,000 ($5) and most will only be equivalent to a dollar or two. There are a few taxi scams out there. Only take a Vinasun (white and green) or Mai Linh (all green) taxi. On average, taxis are 25%-35% more expensive in my experience.
Most of them take card payment, but the process takes a bit longer since you'll need to sign. Tips are appreciated, but not expected.
The drivers are generally more knowledgeable than your average Uber or Grab driver. And if you're in a rush, flagging one down takes only a minute, whereas Uber and Grab cars can take more than a few minutes to get to your pick up spot.
Motorbike Taxis (Xe Om)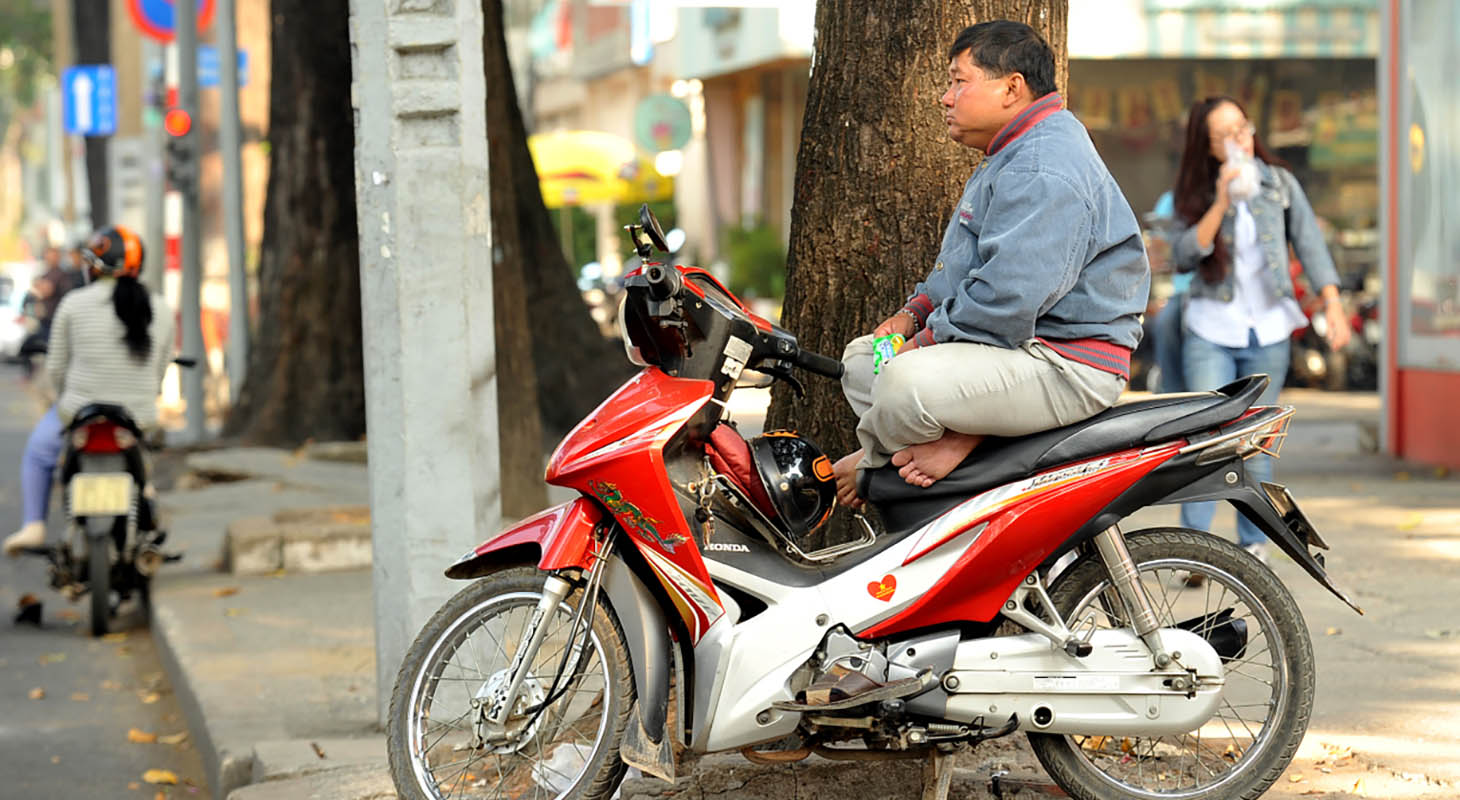 Motorbike taxis are actually more expensive than normal cabs for short trips as their minimum fare is about 30,000. You'll find them on just about any street corner. It's usually a man sitting on his bike waiting for his next fare. However moving through the city on the back of a bike is the best way to experience this town. If you're not taking a bike tour or renting your own scooter, it's definitely worth taking a couple of motorbike taxis around simply for the experience.
If you want to opt for a more reliable and transparent motorbike service, check out the motorbike options on Uber and Grab, known as UberMoto and GrabBike. Both options are at least half the price of a casual motorbike taxi on the sidewalk. The drivers are also more likely to speak English in my experience, since most of them are university students who need a flexible job and are trying to make a side income while studying.
Walking around Ho Chi Minh City
Even locals laugh that walking around the city during the day is literally impossible with the heat. If you're going to walk, keep it to less than a 10-15 minute walk, otherwise you might show up to your destination dripping sweat. Walking around at night can be pleasant if you want to take a stroll around the city.
Here are some general tips:
Keep a slow steady pace when crossing the road. No sudden movements.
You can slow your pace to time your walk with gaps in the traffic. Stop if you really need to but don't walk backwards and never run! ever.
Be seen. Stand tall. Locals wave their hand in a downward direction whilst crossing as if telling drivers to slow down. This works well.
Keep your cool, these people are professionals, they will swerve around you.
The exception to this is buses. Buses don't stop for anything, they are death machines. Never cross a street with a bus in site. Have fun 🙂
Never walk around with your phone hanging out or with a loose handbag on the sidewalk. Motorbike drivers are known for taking it out of your hands before you can even see them coming.
Public Transportation
I have to admit: I've never taken public transportation in Vietnam.
There are bus lines that run major routes within the city, but given the cost and convenience of owning motorbikes or using an app like Uber or Grab, even locals usually don't take them.
Both Hanoi and Ho Chi Minh City are opening metro lines in the next few years, so that will change eventually.
Renting a motorbike
The process of renting a motorbike in Vietnam is straightforward. You can find them just about anywhere in the Pham Ngu Lao area of Ho Chi Minh City or the Old Quarter in Hanoi.
Motorbike rental agencies will usually take your passport as a deposit. Prices usually start at 80,000 VND a day for a manual shift bike. They come with a helmet, which is required in Vietnam.
If you're an experienced rider, motorbiking in a city can be loads of fun. If you're inexperienced or new, I wouldn't recommend it since motorbiking in Ho Chi Minh City or Hanoi can be dangerous. Drivers are unpredictable and the roads can be a mess during rush hour. If you want to learn, I'd recommend going to Da Nang where the roads are wide open and the traffic is not so jam packed.