Vietnam launched a historic vaccination campaign on March 8, inoculating frontline health workers with the first batch of AstraZeneca vaccines that arrived in late February. It was a momentous event, lauded by locals and international communities alike; a record added to the country's successful containment efforts. 
But like any developing nation, Vietnam's vaccination drive was slow to progress. As vaccine manufacturers were hit by production complications and the WHO-led COVAX initiative got overwhelmed by operation and supply constraints, there have been delays in production and shipments.
The Vietnamese government previously announced that it would acquire 150 million jabs, aiming to inoculate at least 70% of its nearly 100 million population to attain herd immunity. But as of July 2, only 3.8 million doses have been distributed to just a little over 200,000 people — that's just roughly 0.2%.
In a bid to secure the much-needed vaccines by the end of the year, the government launched Vietnam Fund Vaccination and Prevention of Coronavirus Disease 2019 (VFVC), asking the public to contribute. While many saw it as a form of begging, more people welcomed the move. In fact, the government has already amassed more than VND8 trillion ($348.9 million) from the campaign, thanks to Vietnamese nationals and private companies that willingly heeded the call.
Worried Viet Kieu
Unlike their families and friends in Vietnam, Viet Kieu (overseas Vietnamese) are fortunate to have access to free vaccines as early as last year.
Germany-based Quynh Anh Nguyen said the rapid distribution of vaccines and availability of testing centers helped her feel at ease despite long periods of strict social distancing measures. She's fully vaccinated now, along with her husband, and is enjoying freedom of going out without fear. But every time she thinks of Vietnam, her anxiety grows.
The current outbreak, and by far Vietnam's worst, has again hampered economic and social activities, especially in Ho Chi Minh City, which is now the worst-hit locality. The southern metropolis alone already surpassed 6,000 cases. As of this writing, the country has recorded 16,544 cases in 52 of its 63 cities and provinces since the fourth wave broke out on April 27.
"[Vietnam] was one of the few countries that maintained a normal lifestyle when people were struggling with lockdown anywhere else in the world. However, isolation was a good option for a while but it's not sustainable for the economy and growth of the country. I hope the government will reconsider loosening up the rule for vaccinated people to enter Vietnam. I believe a combination of speeding up the domestic vaccination program and allowing vaccinated travellers could be a good next step," said Quynh, who regularly communicates with her family in Vietnam to check on their situation. "They are all healthy and they're following the protocols from the government to ensure a safe environment for everyone."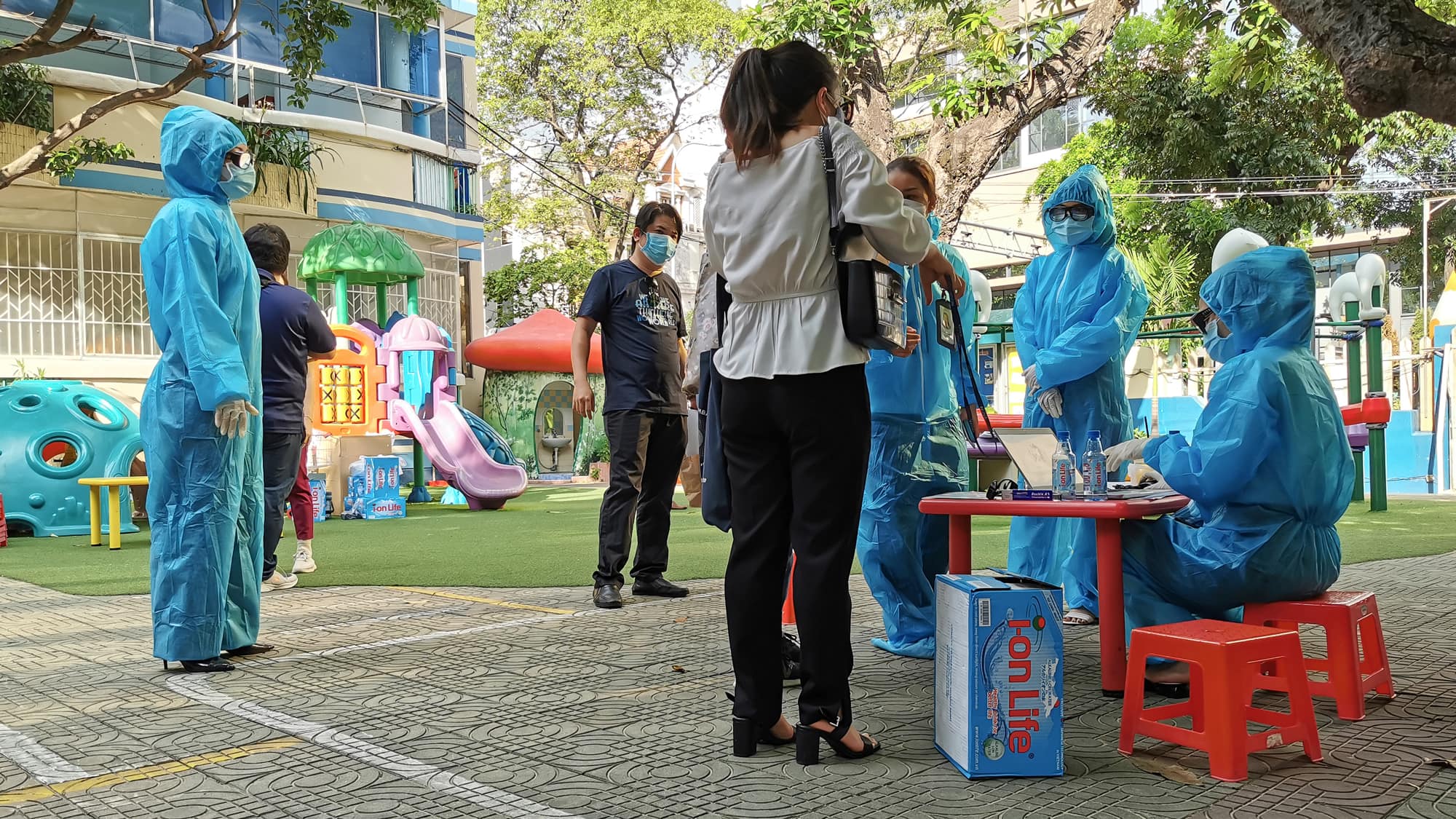 For Minh Anh Le, a student in the UK, a planned summer vacation back to her home country has been cancelled yet again. Hearing the situation in Vietnam from her relatives, she reckoned it's safer to stay where she currently is.
"I'm aware that Vietnam is going through another COVID wave and that is concerning since there is not a wide scale vaccine roll-out like here in the UK," she said. "If it's much safer here than in Vietnam, I would want my family to be here, where it's safe and COVID-free. If they were here, they would be able to get the Pfizer/AstraZeneca vaccines that seem to be the most effective against the virus."
Like Minh, Toronto-based Hong Pham was also forced to cancel her trip to Vietnam earlier this year. The first six months of 2021 has been hard for her, especially because she is not legally allowed to work in Canada just yet. The lack of human interaction and in-person communication have taken a toll on her, as the city grappled with record COVID-19 cases. It was just recently when Toronto sped up its vaccination drive, leading to significant improvements.
"The situation here is still worse than in Vietnam, but it's getting better with the decreasing tendency of community infection, and the government is planning to re-opening borders, businesses, and social gatherings among provinces and even the US, all thanks to the vaccinations," explained Hong. She had her first dose of Pfizer vaccine in June, and hopes her parents and sister in Vietnam will get inoculated soon, too.
"I trust the government and people. Normally people are very united when bad things come to threaten the safety of the community. The Vietnamese government has been handling the pandemic well. For a developing country like us, working strictly on containing the virus is extremely crucial for the sake of socio-economic development and prosperity."
United in time of crisis
Seeing the struggles of their homeland, many Vietnamese living abroad are now actively pushing for the "10,000 doses of COVID-19 Vaccines for Vietnam" campaign. Launched by Support Young Scholars, Unite for Vietnam and dozens more Vietnamese-led organizations across the US and beyond, the movement calls for contributions from individuals and companies in support of the Vietnamese government's fund raising efforts.
To date, the campaign has already raised $40,000, which is equivalent to 2,222 vaccines. The cost of 10,000 doses is $180,000 (approximately VND4.5 billion).
One of the many organizations supporting the campaign is Aspired, a mobile platform that helps individuals and businesses easily connect and partner with non-profit organizations around the world. Its CEO and co-founder, Vietnamese-born Hien Nguyen, said that the platform will help businesses, especially the more than 300,000 enterprises owned by Vietnamese-Americans, easily donate a portion of their sales to this important cause.
"Many individuals and companies have donated to this campaign. An example of a business supporting this endeavor through Aspired is Societea, a bubble tea shop located in Missouri, which is donating 10% of proceeds to the campaign," said Hien. The full list of businesses supporting the campaign through Aspired can be found here: about.aspiredworld.com/organization/supportyoungscholars.
The funds donated through Aspire are transferred automatically to Support Young Scholars, who will then transfer the money to VFVC.
A "phenomenal opportunity for US business owners" to help Vietnam's fight against COVID-19, the campaign highlights the importance of vaccination as the core solution for recovery.
"It is heartbreaking to see the empty streets. I had a humble beginning growing up in the poorest district of Ho Chi Minh City, Vietnam, and know that this is disrupting the lives of many, especially those in my own neighborhood. Although things are seeming to be at its worst, I hope that this will be Vietnam's last outbreak and things will only get better from here as more people are vaccinated," shared Hien.
To donate through Aspired, follow these steps:
Download the Aspired App available on the App Store
Decide the percentage of sales they would like to give back
Display their Aspired QR code where they sell so customers can then scan it and pay for their service/product
Other groups, like Chung tay vì Việt Nam, are also doing talent shows to raise funds for the campaign. Last week, some 60 Vietnamese kids from the US, Europe, Australia and Japan participated in "Live to Love", where they shared their talents in singing, dancing, ballet and even magic, and auctioned off their artworks. The two-night talent show was able to gather over $30,000. For those who want to extend their contribution and help achieve the group's $50,000 goal, check this GoFundMe page: https://gofund.me/aaa8ab22.
"Big things start with small steps. Everyone's contribution is so valuable to help Vietnam push back COVID-19 soon, and then we will all be able to get reunited with our families back home," said Ha Vi, one of the group's prime movers.