Vietnam is home to a host of emerging lifestyle brands setting the tone of the new Vietnam lifestyle. One of those emerging brands is Leinné, a quintessential Saigonese brand made in Vietnam. Set in a light-filled apartment on the top floor of a colonial building, we share bites and cups of tea with local Saigonese designer and brand owner Hai Minh, also known as Mimi Vesper of Leinné to learn more about her experience overseas, her perspective building a business here in Vietnam, and a bit about her own lifestyle in Vietnam.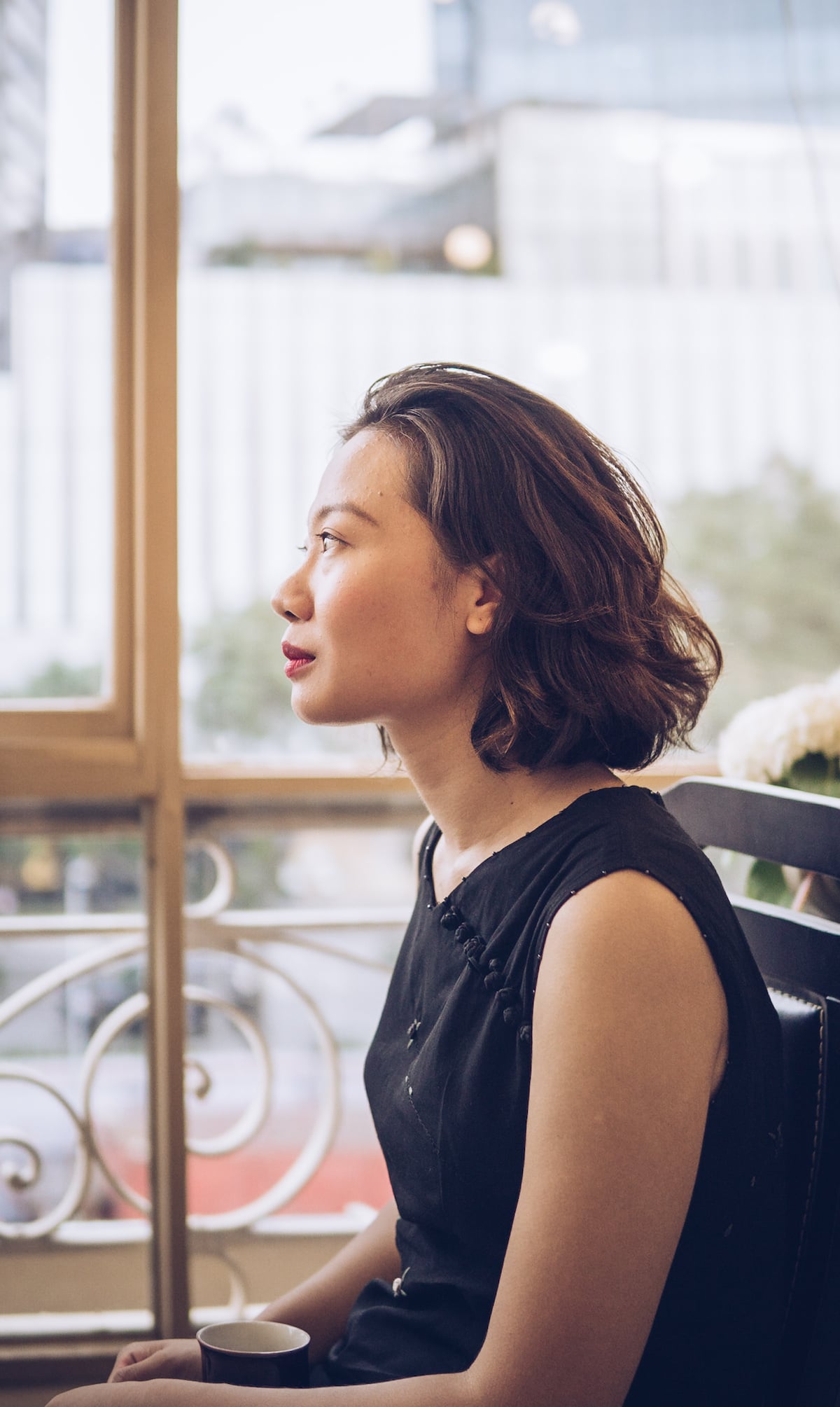 Tell us more about your journey to Europe from Vietnam. What were your first impressions living abroad?
I left Vietnam when I was 15. I received a scholarship to study in London. Being on my own for the first time in a big city is both exciting and challenging. I was first impressed by the work ethic of Londoners. They are very punctual with work no matter the obstacles such as the weather conditions, underground metro strikes. Then I moved to Paris. It is a different style, more relaxed. I love the creative energy in Paris. There is something about the city that pushes people to be more creative, more self-conscious, more liberal.
How have your experiences overseas influenced your fashion tastes?
I think my taste is defined by my travel experience. When I was younger I experimented with different styles and often travelled with a big suitcase. As I have more experience with what I like, what I don't like and what to pack on a trip to several destinations, I know how to keep everything minimal, simple and focus on the essentials. I travel light.
What are your motivations for starting Leinné? Why in Vietnam?
Leinné is the combination of "leisure" in English and "inné" in French. The word Leinné means keeping an adventurer's spirit, fresh eyes and open heart everyday, every moment you can discover something new about the world as well as yourself. Travelling might be going to a faraway land or an afternoon spending time wandering through the city and discovering something you have never seen before.
We make resortwear from natural materials. In Vietnam, there are many fashion brands. What I would like to create is a lifestyle brand. Combining Vietnamese craftsmanship with contemporary, environment-friendly designs.
Can you tell us more about the inspiration and theme about Leinné's apartment? Why is it called an apartment rather than a shop?
It is a place where people can go in and stay a bit longer to have some tea and pick up things for their travel: a straw hat, a bag, some small accessories, comfortable clothes. In a renovated ancient French colonial apartment in District 1, we blend together contemporary and classic atmosphere. The apartment is filled with Leinné designs, as well as books and objects that we collect from our travels.
It's meant to be a warm and cozy space rather than a shop. We have collectibles such as a fan that my grandfather had in the 1930s, custom furniture that was made from hand-drawn sketches. Some books that my family has come to enjoy.
How did you find your start in Vietnam? Who were your earliest supporters?
In December 2016 I went to Vietnam with a small suitcase with clothing for one week and a pair of sneakers and did not know I would open a store. I had my life and work in Paris and I thought that I just came back for a while to help shape the new direction of my family business.
We've been making hats and bags for almost 20 years for export and my family wants to change to a more defined direction which suits us more. My mom is a perfectionist, and I help her to find a direction that she is free to express her eye for detail and the love for high-quality craftsmanship.
Where does the name Mimi Vesper come from?
A few years ago I started blogging in Paris and a friend of mine, who works in publication, suggested I take my nickname Mimi and a name of a "femme fatale" that I like. So I combined Mimi with Vesper. It was a fun experience blogging, collaborating and being invited to fashion weeks, it helped shape my identity and taught me a lot about fashion communication.
What's trending in Vietnam today? What are you most excited about for the millennial and youth culture here?
Saigon is a wonderful place for a startup company. It is a city with a lush combination of old and new. I feel like the city is moving very fast, constantly changing and the people are friendly and open to new ideas.
What are some of your favorite Vietnamese fashion brands? For a casual evening or a fancy night out?
I like to buy clothes then remake them to my shapes. I buy clothes from several brands and I usually look for quality natural materials. I think a Vietnamese brand like Tim Tay is a rare gem. The brand pays attention to materials and details, however it is not considered a "trendy" brand. For a casual evening or fancy night out, I have many tailored trousers that I can wear from work to the evening and I pair them with a t-shirt or an off-shoulder top. Depends on the occasion.
What are some of your favorite date spots in Ho Chi Minh City?
I love if there is something to do or to see together with my date. Like visiting museums, art galleries. Here, we have Dia Project, The Factory Contemporary Arts Centre, the Craig Thomas Gallery. For coffee I like the vibe of L'Usine Dong Khoi, some balcony talk at Au Parc, dinner in a private ambiance like at Shri, drinks on the rooftop at Anan Saigon.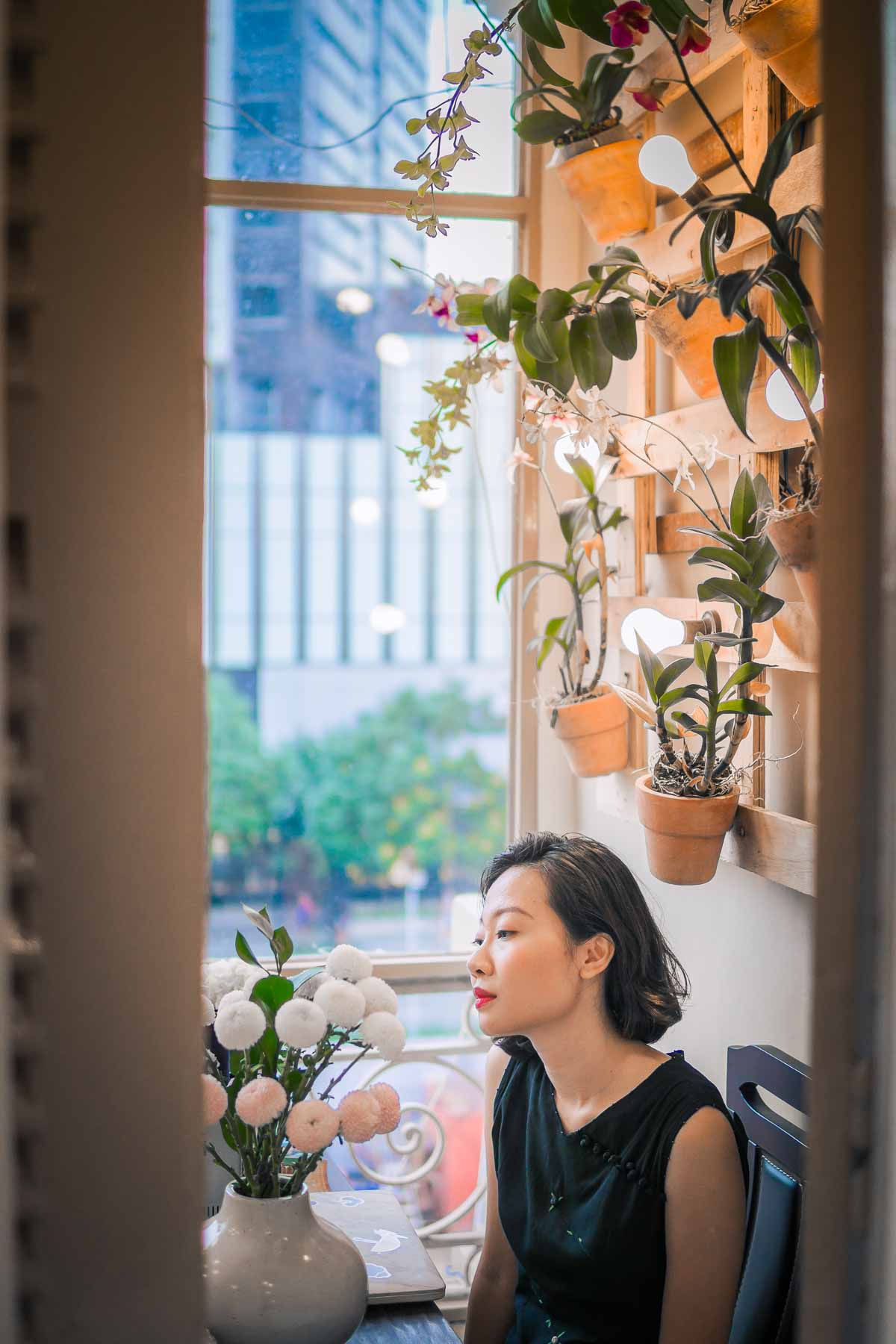 Do you see yourself staying in Vietnam for long? What draws you here and keeps you here?
It is my hometown where I was born so I always see myself belonging here. It is a serene place. A place where I love to go back.
Are there any other Instagram personalities we should speak with next?
I met dyduyen at a shoot for my interview on Elle Vietnam, I love her work, she captures the moments and emotions so well.
Anhhuypham was a photographer who took my shots when I started my blog in Paris, he has his unique romantic view with streetstyle and also couple photography.
And I love nickykhanhngoc for her style and bubbly personality.