It's been more than three months since Ho Chi Minh City, the worst-hit city in Vietnam's fourth outbreak battle, implemented different levels of lockdown measures - from the closure of non-essential businesses in late May to the implementation of Directive 16 on July 9, and a 24/7 curfew that started on  August 23. 
While these mobility restrictions have been tough for residents and businesses, taking a toll on everyone's mental health and causing financial burden, the city's moves the past months have eventually led us to an exciting reopening and business resumptions on October 1. The opening will be gradual, said the government, to test out if Ho Chi Minh City can still effectively enforce pandemic preventive measures while allowing social activities to restart.
Here are the services and activities that will resume on October 1
As we wait for October 1 and continue to hope for better days ahead, we asked Vietcetera readers on what they plan to do first when the lockdown ends.
Vinh Hoang, Product specialist at a travel firm
First place to visit: I would like to visit Phu Quoc. I love beaches there and surely the local seafood and island specialties, too. There are many resorts which have opened recently that I would like to inspect for my work. I would also like to see how Phu Quoc is developing, it's been so long since I last visited the island. Another reason is Phu Quoc will be reopened very soon so I want to see how the people there are preparing.
First food to eat: I would like to have seafood at the secret place in an alley in District 4. Seafood is really my favorite but we can't shop seafood during the lockdown. That's why I'm thinking about eating it first when I can.
First people to meet: I will meet my best friends for coffee, and we'll then wander around the city together. I miss my friends and the street food that we had before lockdown so much, e.g. chicken noodle soup, fresh spring rolls... especially the moon cakes. During the lockdown, I was not able to buy mooncakes for the Mid-Autumn Festival, so it felt strange to miss that important symbol of the occasion.
Cong Le, IT head at a digital media company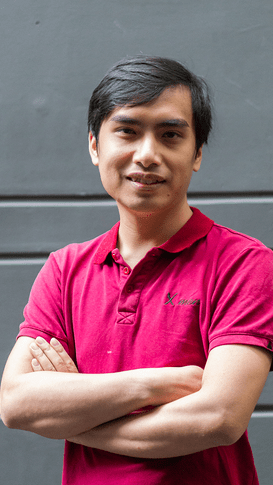 First place to visit: I will go to Da Lat, the hometown of my parents. I used to live there, too, when I was still a student. The weather there is cool, and the fresh air is relaxing, unlike the hot weather in Ho Chi Minh City. It would be nice to go to Da Lat and relieve all the stress.
First food to eat: Bún thịt nướng. This has been my favorite sinceI was a child.
First people to meet: I want to see my parents. One of my friends died because of COVID-19. So I want to spend more time with my family and close friends because we don't really know what's going to happen. To me, being with family is more important than anything, more than money or food. 
Arianne Ponce, English teacher
First place to visit: I'm gonna visit our church. We've been doing online service for months now, and it's really a different feeling when you're in the church and worshipping the Lord. 
First food to eat: I'm gonna eat samgyupsal from Meat & Meet since the last time I went there was like April this year. I've been trying to recreate it at home, but the legit samgyupsal tastes really different. 
First people to meet: I'll definitely be meeting my family and friends here in Ho Chi Minh City. I haven't seen them for more than 100 days due to the lockdown and they are living in another apartment. I wonder how their situation is. I just hope and pray everyone is fine. 
Sofiya Wyn, ESL teacher
First place to visit: I am going to visit the bank, because I need to open a bank account.
First food to eat: I am going to order loads of cheeses, salmon and avocados, and make an avocado salad with salmon and cheese. 
First people to meet: I will be meeting my friends in Hanoi where I am intending to relocate after [the lockdown].
Tu T. Vu, Communications lead at a software company
First place to visit: I always identify myself as an avid traveller. That's why COVID-19 is like a nightmare to me. The first destination I want to go to after the lockdown is Mang Den, a splendid highland town located in Kon Tum province. In spite of the fact that I already visited this place last year, I still desperately want to come back and spend more time at this quiet, peaceful Dalat-like town. Mang Den is my "sitooterie" for enjoying the beauty of nature. It holds a power of healing that reminds me of every little wonderful thing I need to cherish. Therefore, as soon as we are able to fly again, I will definitely go back to Kon Tum, get on the bus to Mang Den and fill my lungs with the fresh air there. 
First food to eat: I've been dreaming of the day we can have dinner out again for months but still cannot choose the dish that I want to eat first since there are too many options! Vietnamese food, Thai cuisine or Korean dishes are all on my list. To me, it doesn't matter what we eat, it is the feeling and people accompanying us that make every meal enjoyable. 
First people to meet: The very first person I'm going to meet is my boyfriend. It's been two months since the last time I saw him. We video call everyday, sometimes for work, most of the time for casual conversations. Even though we've been through a lockdown last year, when Hanoi confirmed the first COVID-19 case, I'm still not used to not talking to him in person. 
Loc Nguyen, Social media manager
First place to visit: My hometown: Long Xuyen City. My grandma is still there, and I miss her a lot.
First food to eat: Phở for Vietnamese food, there's a local vendor that I used to go to everyday and befriended with the owners, I'll go back there once the restrictions are lifted, for the food and also to pay them a visit. 
First people to meet: My best friends. Because I went abroad at the start of the pandemic, and came back when Vietnam was at its worst, I haven't seen them in nearly two years. 
Quynh Anh Phan, International student
First place to visit: Probably a hair salon. My root hair has grown out uncontrollably over the last months, and it's affecting my confidence. Doing my hair and making sure I look good are some of the most effective ways to keep me in the mood, and also so I am always prepared to meet my friends once the movement restrictions are eased. 
First food to eat: Just like the majority of Vietnamese, streetfood is my favorite. It's hard to pick just one because I like a lot of dishes, but if I had to choose, the first thing I would eat is Hu tieu Nam Vang (shrimp and pork chop noodle soup), a signature dish in the southern area. 
First people to meet: Pre-COVID, my parents and I spent our weekends with my grandmother and my uncle's family. I just like that feeling of talking and being surrounded by my loved ones. They live really close by, but unfortunately my family could not meet them not only because of movement restrictions but also to protect my grandmother's health. I miss them a lot and I would like to have a family reunion with them again soon.