Suppose you're a member of an expat group in Vietnam on Facebook. In that case, you must have bumped into posts that sounded like these:
"I need to change my flight ticket because Immigration hasn't approved my visa."
"My visa's stuck because of the photo I uploaded and I have no idea if it's because I was wearing glasses or something else. They wouldn't tell me."
Or something as straightforward as this: "I am canceling my flight to Vietnam. What's the use of reopening when they seem not to want foreign visitors to be in their country."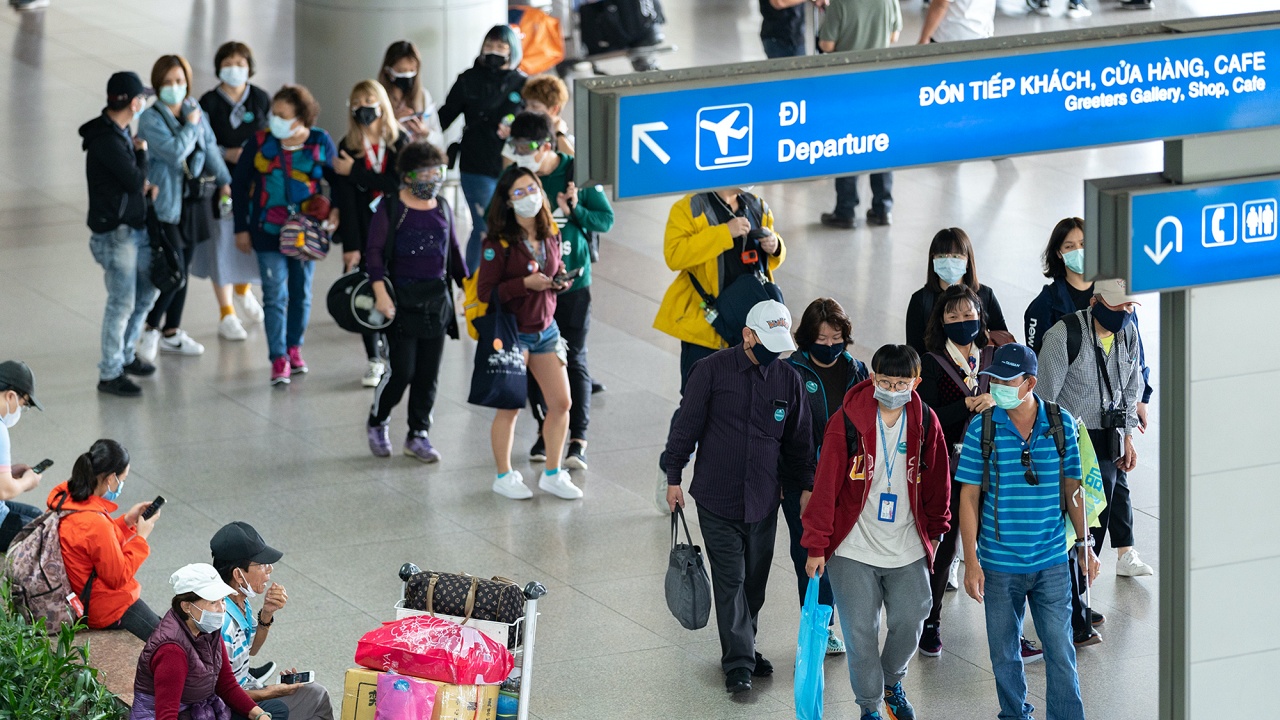 In August, we wrote about how Vietnam's stiff visa policies were slowing tourism recovery. A marketing manager for a travel firm told Vietcetera that Vietnam's visa policies post-COVID are a "nightmare" for businesses relying on inbound travelers.
September came, and the foreign affairs official answered the call of the many international travelers wanting to visit Vietnam. And six months after the country officially reopened its borders to foreign travelers, the Immigration Office implemented policies that are more efficient and simplified, starting with releasing the e-visas within three working days after application.
There's a reason why Vietnam's international arrivals number is falling short of its five million target — slow reopening of key tourism markets, troubles in visa issuance, and limited international flights, according to experts. And yet, Thailand, Malaysia, Indonesia, and Singapore managed to hit theirs earlier than expected.
South Koreans are leading Vietnam's primary tourist source, with 763,900 arrivals representing 26% of the total, followed by Americans at 266,000 and Indians at 27,000 arrivals.
A travel and visa agent who refused to be named told Vietcetera in a text message that they were expecting a higher number of arrivals for Q3 and Q4. "Vietnam could have doubled the number we have now, which means by today, we have already exceeded the Government's target of five million," she said.
While Vietnam struggles with international tourism, its domestic market has surpassed the 60 million target with 100 million as of November, it's even higher compared to the pre-pandemic time's 85 million.
MOFA pledges to make the process easier
At the Ministry of Foreign Affairs (MOFA) press briefing event last week, Deputy Spokesperson Pham Thu Hang, said they would work closely with local agencies to assess and propose solutions to the Government so foreign visitors can enter and leave Vietnam with ease.
The deputy spokesperson said their office is aware of the problems and difficulties many foreign visitors face when applying for visas to enter the country. She said they acknowledge the issues and will do something to address them.
Moving forward, the MOFA spokesperson said their office would assess and propose solutions to the Government to make a more intelligible process in order to meet the country's socioeconomic development requirements.
As directed by Prime Minister Phạm Minh Chính, the ministry is set to recommend more straightforward solutions on entry and exit to the Government.
The Vietnamese leader also instructed the overseas Vietnamese representative agencies to implement his directions to create more favorable conditions for foreigners to enter the country.
However, the MOFA didn't give further and specific details of the solutions they're proposing to the Government.
Vietnam to tap the Halal, Muslim market in 2023
Tourists from Middle East countries spend 6.5 times more than the global average, and 40% of individual tourists from the region spend more than $10,000 per trip, data from the World Tourism Organization (UNWTO).
Before the COVID-19 pandemic halted the travel industry, nearly 60 million tourists from the wealthy member countries of the Gulf Cooperation Council, including Bahrain, Kuwait, Oman, Qatar, Saudi Arabia, and the UAE, went abroad to travel. However, only 0.01% of the 60 million chose Vietnam as their destination.
Doan Van Viet, the Deputy Minister of Culture, Sports and Tourism, strongly suggests "to find solutions to attract tourists from the Middle East in 2023."
Vietnam holds substantial advantages in pulling Middle Eastern tourists. Even the Saudi Arabian Ambassador to Vietnam, Mohammed Ismaeil Al-Dahlwy, affirms Vietnam is a safe country with a stable situation. The ambassador told the local media that the Vietnamese Tourism Ministry should boost tourism promotion campaigns in the Middle East since access to information about traveling to the country is still limited in his home region.
With Vietnam's extensive system of five-star hotels suitable for tourists traveling with their families and destinations ideal for both children and adults, the only issue remains the visa policy.
At present, only tourists from the UAE and Qatar can apply for an e-visa to enter Vietnam, while other countries still have to apply for a paper visa.
Tour operators also said another way to attract tourists from the Middle East is to show Vietnam understands and respects their regional culture — prayer rooms in the airports and hotels and more Halal restaurants in major cities.
By attending to the needs of the Middle Eastern population, Vietnam could also attract Malaysian, Indonesian, and Indian markets and all the other countries that practice Islam.
---
Reader feedback:
A reader named Verona Grajcevci shared that she faced a visa rejection due to photo requirements but successfully reapplied using the guidance provided by this website. She hopes to contribute to a smoother and more successful visa application process for all.