Thanks to an introduction from the Masukos from Pizza 4P's, we were given the opportunity to chat with Shunri Nishizawa, an architect from Japan who has built up a portfolio of work in Vietnam specializing in tropical and contemporary architecture.
We stopped by the office of Shunri's firm, NISHIZAWAARCHITECTS, to get the scoop on what architecture in Vietnam means to him and what his firm is trying to do differently in the ever-changing landscape of urban development here.
Why did you choose to launch your firm here in Ho Chi Minh City?
My Vietnamese friend and classmate from Tokyo University asked me to design some projects with him after we graduated. So after working for Tadao Ando for four years, I started a two-year collaboration with my Vietnamese friend. During those two years, I met many Vietnamese clients and made many more friends. I started to appreciate Vietnamese culture much more during this time. The life and culture are refreshing compared to Japan. Soon after, all this led me to start my own practice here in Vietnam.
Tell us more about NISHIZAWAARCHITECTS. What are its goals? How is it different?
From a general architectural perspective we are focused on tropical and contemporary architecture. Our architecture design team looks at integrating natural expressions and sensibilities. Socially and culturally, we want to contribute to Vietnamese culture and improve people's quality of life through better, more sustainable architecture. We'd also love to help young architects. At the moment, our team is entirely comprised of Vietnamese people. I'm the only Japanese person here. Our team works together using English.
Regarding the projects we work on, 50% are free-standing homes or shophouses. The other 50% are factories, schools, restaurants, farms, and museums. And our clients are 70% Vietnamese, and 30% foreigners.
Can you share with us the vision that you have executed for the Masukos' Pizza 4P's in their Ben Thanh market location?
The core design features of the Ben Thanh market location include the importance of the building envelope and the buffer zone. From an interior and exterior design perspective, our team focused on maintaining the urban feel of the space as well as its historical significance.
Inside the building, we've featured jalousie windows and handcrafted materials to help define the atmosphere. It's required close collaboration with the construction team as the renovation of the building has proven to be difficult.
What was it like working under Tadao Ando? What are the key lessons that you learned from him?
Life in Tadao Ando's office emphasizes design techniques of course, but more importantly mental attitude. Creation starts with creative freedom and respect for human intelligence. Architecture requires us to understand ourselves and to think about sensibilities—humans, animals, and nature. This is because architecture influences many people and involves so many different contexts and environments.
Is there a lot of information about Vietnam in Japan?
There's been a huge flux of information in the last few years. Most of it is travel related content on TV. Generally, there's a good impression about Vietnam. For Japanese people, Vietnam is mysterious. Around 20 years ago, most Japanese people were scared of traveling to Vietnam. Now, more Japanese are able to see the modern Vietnam. More Japanese have access to information about the cool stuff going on.
Brands like Pizza 4P's, owned by a Japanese couple, have helped to elevate the cultural brand and value of Vietnam in Japan. The curtain on Vietnamese culture is being raised, though it's still not as openly recognized as countries like Thailand in the eyes of Japanese people.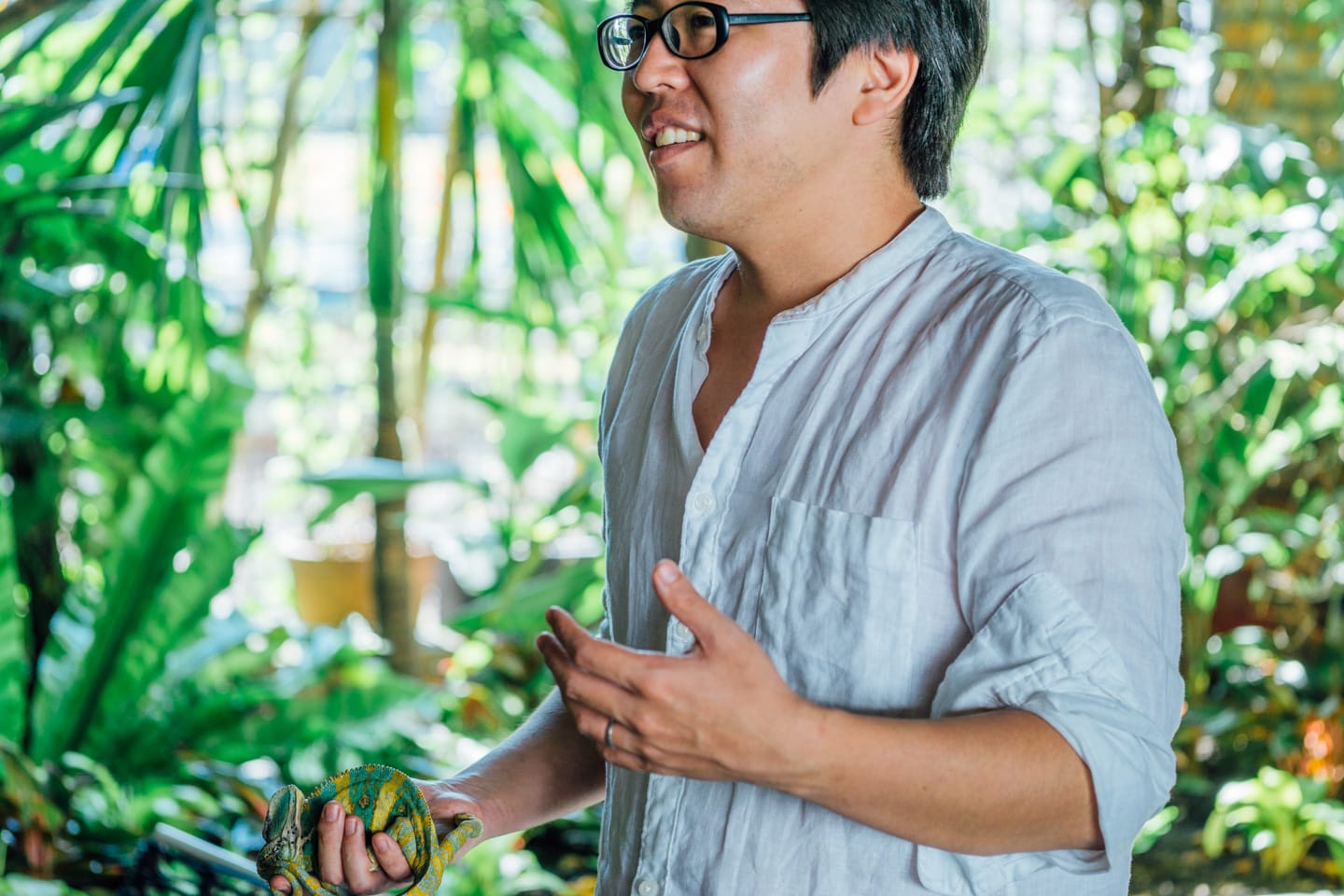 What excites you about Vietnam?
I've found that working with Vietnamese clients has given me more flexibility to design creativity. Japan is quite rigid in its beliefs. It's grounded in tradition and many architects often replicate what has already been created before. Japanese society is more sensitive and careful. A focus on risk management often favors conservatism. Also, many people wouldn't allow young people to take care of big projects. Added to that, overall, the number of projects are smaller in Japan. Most cities in Japan are shrinking, whereas in Vietnam many modern infrastructure projects are only just beginning.
As a young architect, I wanted more experience working on big projects. How many times would I be given that in Japan? It's much more possible in Vietnam at a younger age.
What are the main differences between Japanese and Vietnamese architects?
In Japan, people traditionally had homes and offices built for the summer. These designs required people to wear warmer clothes indoors during the winter. As a result, older architecture in Japan features summer-friendly designs such as longer canopies and consistent air ventilation.
However, Japanese society is becoming more focused on convenience today. Buildings are tightly enclosed by walls and glass, controlling the temperature and humidity with air conditioning systems. And Japanese society, generally, is finding it more difficult to accept unpredictable elements in their life, such as the effects of nature—which was once an important consideration in Japan.
When I arrived in Vietnam, the stable and consistent temperature gave me a lot of ideas about tropical architecture. If you have a big roof and nice ventilation, you can live freely in Vietnam. I felt that designing something innovative and contemporary for tropical living would be a fresh addition to the world of architecture.
Where can someone spot you on a Friday night in Ho Chi Minh City?
At our office? Maybe the construction site of one of our clients.
How is your family adjusting to Vietnam?
I have two daughters here in Saigon. They are five and three years old. My wife, who is a designer by trade, is from Kanazawa, a very cold region in northern Japan. For her, Saigon is an easy place to live because of the heat. For example, when our kids accidentally wet their pants, they can run around naked. It's always so hot, so we don't need to worry about them getting cold.
What was your dream job as a kid?
I have always loved science, art, and nature. I had three dream jobs before I took the leap into architecture. First, I wanted to become a marine biologist. At the same time, under my sister's influence, I wanted to become a music conductor. I also was interested in botany and gardening. But when I enrolled at Tokyo University, I met Tadao Ando and decided to become an architect.
Fortunately, in a way, architecture encompasses science, art and, nature.
Who should we talk to next?
Hiroyuki Oki, a Ho Chi Minh City-based Japanese photographer. He's one of those rare kinds of photographer who can shoot architecture professionally. Over the last 10 years, as Vietnamese architecture has progressed, he has helped to elevate the brand by having his work featured in international magazines and websites.