We're continuing our series on NGO's this week with Pacific Links Foundation, an organization working to end human trafficking through education and economic empowerment. Speaking to Mimi Vu from Pacific Links Foundation in Vietnam, we question what liberties we could be taking for granted. What is the value of a human life in Vietnam? And how is the discrepancy between gender valued in economic terms?
Our conversation led us down the dark paths of human trafficking, an international wholesale of individual lives. But through a recounting of past events, we uncover a new and deeper understanding of family and self-sacrifice in Vietnamese culture. The hopeful efforts of Pacific Links Foundation and quickly-evolving Vietnam provides opportunities and alternatives for vulnerable youths that effectively curb the efforts of traffickers.
When Mimi speaks about the human trafficking in Vietnam and her foundation's work she says "It's very, very complex. That's why you have to look at it from all different angles, from development, from gender, from economics— not just the 'human rights' perspectives because you will never find adequate solutions without a holistic understanding of the situation."
Where does human trafficking in Vietnam take place?
Human trafficking takes place throughout the country as there are channels of internal trafficking from one province to another, and then international trafficking to neighboring countries. Often northern victims are taken across borders to China, and Southern victims are moved to China, Cambodia and Malaysia. Now however, the demand is so great that we see a huge increase of victims from the Mekong Delta, which means that traffickers are taking the risk of transporting the victim from southern and central regions to the north, because of monetary incentives.
It's a trade and a business that does not operate within the confines of governmental regulations and laws. But it does play by market rules, so depending on supply and demand, the value of the trafficked victim goes up and down.
Where are victims of human trafficking taken?
Vietnam is one of the top source countries for human trafficking victims in Asia and in Europe. Within Asia, majority of the victims are women and girls. The main countries they're sold to are Cambodia, China, and Malaysia. On top of that, Vietnam supplies many foreign brides to South Korea and Taiwan. While in this case there is a signed marriage certificate, the women are married off under false pretenses which we and Women's Human Rights Commission of Korea consider a form of trafficking, though it is not legally viewed as such. Often poor blue-collar factory workers or farmers from Korea come to Vietnam to find a bride and promise the family around $500 a month, but in reality, they disappear with the Vietnamese wives. There is a huge amount of domestic violence. Our organization traveled to Korea last year, invited by the US embassy because there was a large upsurge of murders of Vietnamese wives by Korean husbands.
In Europe, Vietnam is the #1 source of child-trafficking victims in the UK and #2 in adults, mostly men and boys. Males and boys are trafficked for labor because the Vietnamese-run organized crime groups control marijuana growth and distribution in the UK, which is a new development in the last decade. Trafficking to the UK is much more organized than operations that go to China or Cambodia. To reach the UK, victims are transported through Hanoi, Russia, Ukraine, former Soviet Bloc countries: Latvia, Poland, Czech Republic, Germany, and then to France where they cross the English Channel.
What are the implications to human trafficking in Vietnam?
We're losing people wholesale. Human trafficking is one the biggest obstacles to Vietnam's development because you are literally losing your future. The majority of people in Vietnam are under the age of 40, and so many future workers are lost to other countries. From a developmental perspective, human trafficking poses one of Vietnam's largest threats to growing economically.
This is looking at trafficking through the lenses of economics and development in an Asian or Confucian-based society. Parents raise their children, and then when they get older it's the child's responsibility to care for them. The investment that the parents, community, and government make in raising and educating the child is lost when the child or young person gets trafficked, because they can no longer be contributing members of society (and later on, caretakers).
How do human traffickers evaluate human lives?
The initial price that a woman is sold for from Vietnam to China is 1 million VND (around $45 USD). She's sold again and again until she reaches an end buyer. The "retail" price of the victim, the price a husband in China pays for a wife is about $1,500 to $3,000 US Dollars. The family that bought her might sell her again after she's given birth to a son. So, they've recouped their initial investment and now they have a son. In some cases, they will sell her to a factory and husband will take her wages, so she has been sold for labor and sex. We've had women and girls who have been sold to entire families of men, who are poor and pool their money together to buy one wife. She'll be rescued pregnant, not knowing who the father is; he could be the uncle, cousin, brother, etc.
By educating impoverished families on the value of education for a girl, we help them understand that it is more worthwhile to invest in your daughter tha­n to have her quit school and work in the fields, where she is vulnerable to tactics of human traffickers.
How does Pacific Links raise awareness about and prevent human trafficking?
We have a scholarship empowerment program for girls in the Mekong Delta. In partnership with local social welfare departments and schools we identify girls who are most at-risk for being trafficked. We provide for their school fees, books, uniforms, tutoring, bikes. This removes the financial obstacle of the girl going to school. Then, we work hand-in-hand with the girl, her family, the community to educate them about the tactics that traffickers use, then about the benefits of our program and the family co-investing in the girl's education.
The education is not only for her but for the family's future. The longer she stays in school, the more her income-earning potential will be. If she is forced to quit school in 5th grade, she'll earn $1 a day in the field for the rest of her life. But if she has a tenth-grade education or a high school diploma, many more vocational and university opportunities open up for her. We work out the economics with the family, and ask them would you rather your daughter earn $1 a day or working salary?
We also run outreach activities in markets and bus stations across the country where potential victims are often recruited, and training programs for migrant workers, social workers, and law enforcement.
Why is human trafficking a prevalent problem in Vietnam more than other countries?
It's run by market forces. Vietnam is different from other countries because of the history, culture and geography. For example, there is a market of for females of childbearing age, around 14-45, in China because of the one-child policy. Since 1979, there are about 40-60 million missing women in China— there's a huge gender imbalance. The demand for females in China creates a market for female trafficking victims. Between China and Vietnam, there's a shared cultural identity and a porous border which has resulted in this pull of Vietnamese women and girls.
How did Pacific Links start?
Pacific Links was founded 17 co-founders in 2001, all Vietnamese-American refugees or students who had re-settled in California. One of the founders, Diep Vuong is the president of Pacific Links Foundation.
Diep came over on a boat with her two siblings, when she was 15 or 16 without knowing a word of English. Just three siblings, the family got split up. Two years later, she was the top of her class in high school with a full ride to Harvard. That kind of survivalist mentality, to know what it's like to lose everything and be in life or death situations, and then climbing out of it. That mentality and experience runs through the work we do and our approach we take on human trafficking and helping victims of human trafficking.
Diep's background is in economics. In the 1990's she worked with the World Bank to gather baseline statistics about Vietnam as it was first starting to open up.
You can see Diep's DNA in that because she's an economist by training. According to research from Mike Dottridge, former Trustee of the UN Slavery Fund and anti-human trafficking expert, there are 5 influencing factors why someone would be vulnerable to being trafficked: education level, poverty, gender, identity (ethnic minority, migrant worker), law enforcement. So all of the work we do is not by chance, how do we develop programs that address these factors. So that's what you'll find in all of our programs. It's all very strategic, because at the end of the day we want to make sure the change happens in society, in the family, at the most grassroots level. The change in thinking, perception of gender, what it means to be rich or poor, and the success of a country.
Why is it important to take note of gender?
In poor families, girls are asked to leave to school to work before boys are. Girls quit school for work and are in the cross hairs of traffickers who pose as labor workers.
The issue of gender inequality is not specific to Vietnam, it's a worldwide problem. We are an Asian society, a Confucian society, a traditionally patriarchal society. So, what we do is identify who is at risk and try to increase their value as a member of society, through education, work opportunities so it's less profitable to sell them overseas.
How else is Pacific Links working to end human trafficking?
We have a program called FACT, Factory Awareness to Counter Trafficking. It is a series of workshops for managers and workers to be aware of tactics traffickers use to deceive factory workers. The program helps companies fulfill California and UK transparency in supply chain laws, and we partner with major companies that source from Vietnam, such as Walmart, LBrands, and Clarks.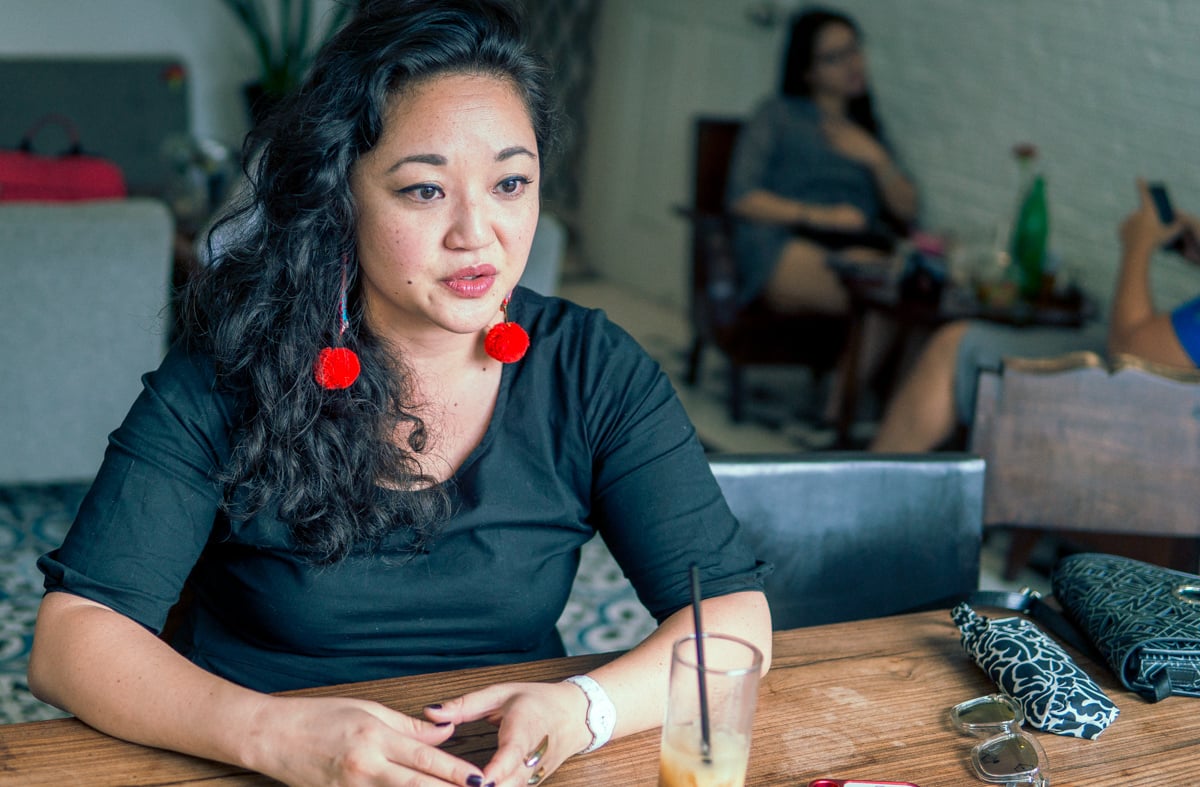 In addition to our prevention programs, we have two re-integration houses that provide housing, emotional support, vocational and academic training, healthcare, job placement for victims who have been rescued. In the beginning, it seemed that vocational training was the best option, but there are girls living with us that show so much promise. One girl in particular, has lived with us for two years and just finished 11th grade at the top of her class. She dreams of becoming a doctor, despite having been kidnapped, raped, and giving birth to a child by 16.
Our projects include: creating course on human trafficking and victim-centric identification and support for the People's Police Academy in Hanoi, vocational training for youths at-risk for trafficking to the UK, and a public service campaign involving Premier League football players.  Everything we do addresses the roots of human trafficking–these societal, institutional, and behavioral changes take longer, but it's the only way to truly stop this problem.