Tucked in the little and quiet Ngo Van Nam street, near the bustling Le Thanh Ton (a.k.a. the "Tokyotown" of Saigon), Quan Bui has a rather unassuming and homely sort of charm. And yet, during both lunchtime and dinnertime, all the floors of the restaurant are almost always jam-packed with both local and foreign diners.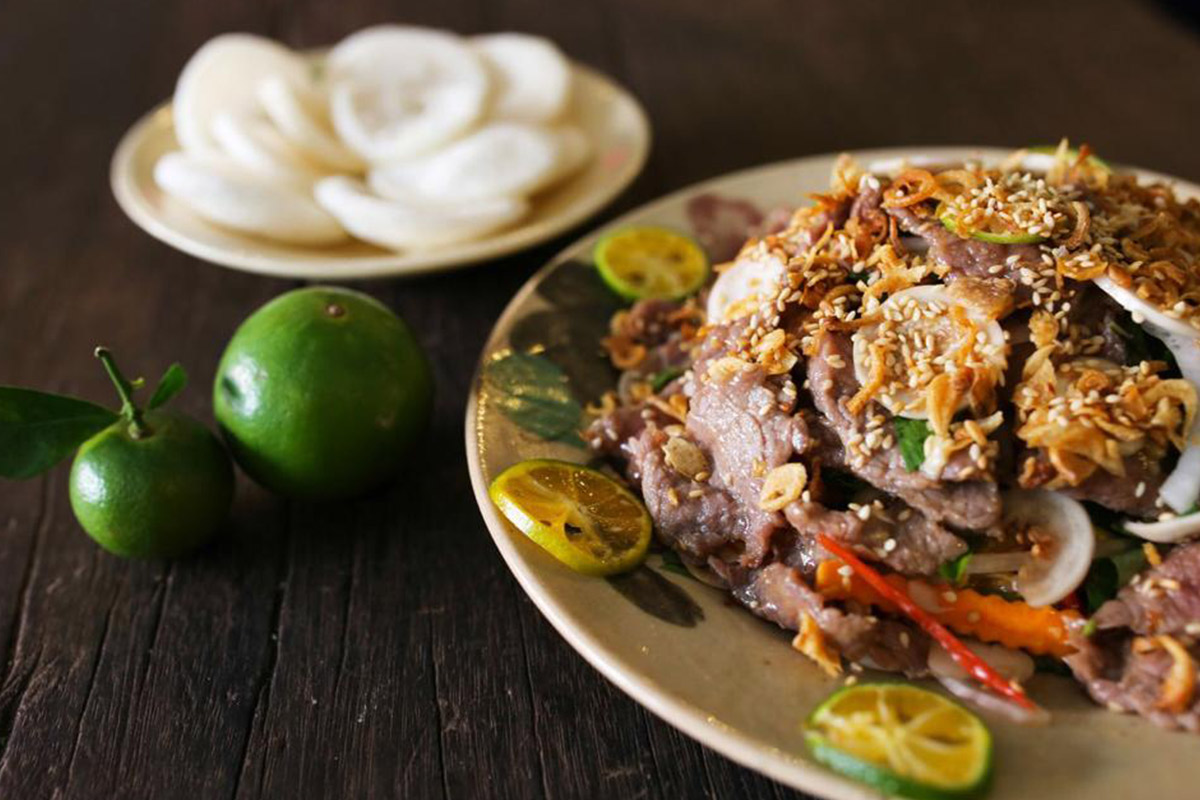 Source: quan-bui.com
There, sometimes you may find a man quietly sitting in a corner, watching everything happening around him with attentive eyes. His name is Danh Tran, and he is the man who built Quan Bui from scratch to where it is today.
A tanned man with an athletic build of a frequent swimmer, Danh is gentle and soft-spoken when talking about his passion for food and the restaurant business. Born and raised in a humble family from the hot and dry Central Vietnam, Danh is a man whose story is so emblematic of Saigon's "rags to riches" spirit.
A fresh newcomer to the city at the age of 18, Danh started his college life here with almost nothing but a determination to make it big someday. He got his first taste in the restaurant industry as a part-time waiter at Au Parc, one of Saigon's premier Western joints. The young man then quickly rose up the ranks and become shift manager thanks to his willingness to learn and an astute observation of his guests.
After graduation, Danh began a rather successful career in marketing for the hospitality and restaurant sector. And yet, the call of the kitchen kept tugging at his heart. And so, after a few years as a marketer, Danh decided to put his savings into a tiny restaurant in the little Nguyen Van Nguyen street in District 1.
Source: quan-bui.com
He chose the name "Quan Bui" (literally meaning "dust restaurant), inspired by the "Com Bui" ("dust rice") streetside stalls that nourish everyday workers and laborers in Saigon. It also laid the basis for the menu: humble, hearty Vietnamese food at relatively affordable prices.
Unlike "Com Bui" stalls, Danh also decided to take Vietnamese food back to its roots, a time when all sauces, broths and soup bases were properly made with vegetables and bones rather than today's cheap MSG and industrial seasoning powder. This meant a lot of time-consuming labor, but the results were simply unmatched by anything else.
Business soon blossomed among both the Vietnamese office crowd and the expat community. Quan Bui kept on growing in spite of its size thanks to a growing takeaway business. And yet, Danh knew that he wanted more than just a takeaway restaurant.
Add in Danh's knowledge and connections from his marketing days, and Quan Bui soon becomes a very well-respected name in the city's dining scene, frequented everyday by guests from Saigon's finest hotels. Driven by success, Danh has been keeping on expanding Quan Bui to a small empire of five restaurants today, including La Mint, his take on Western cuisine.
Source: quan-bui.com
Quan Bui surely knows how to save the best for last: my lunch's pièce de résistance was the passion fruit custard dessert. A hollow half of a passion fruit filled to the brims with creamy homemade custard, the dish's humble look actually accentuates the highly potent mix of both sweetness and slight sourness on my tastebuds. According to Danh, this is a very popular choice among French tourists, which I guess should be the seal of approval for a sweet dessert.
Last but not least, let's say that nowadays the pricing is not very "Bui" by usual Vietnamese standards (expect 150.000-250.000 VND per dish), but definitely a steal for a top-class restaurant, especially when the food comes in pretty generous portions.
Recently, I took an acquaintance of mine, who happens to be a restaurateur in New York, to Quan Bui for dinner. After a three-course meal, she remarked: "This is the kind of restaurant where the food is so good, I can't be bothered to look at the price at all". Couldn't agree more.