In Andrew Fraser's column of Airbnb Superhost Tips, he shares his thoughts on staying safe in Saigon. If you're interested in his other tips, check them out:
Top Picks on Where to Drink in Ho Chi Minh City
Where to Find the Best Vietnamese Food in Ho Chi Minh City
Staying safe in Ho Chi Minh City is a lot easier than people think. As a bustling, cosmopolitan city, Ho Chi Minh City doesn't suffer from the same crime or harassment problems that other cities around the globe deal with.
Having lived here for a few years now, you're only caught out by theft and petty scams if you're careless with your belongings or you interact for too long with the typical tourist traps. It's a city that never sleeps and you'll never feel in danger at night as long as you're with another person and you're in an area that is reasonably central.
To keep your trip and introduction to the big city foolproof though, I've put together a list of common scams to watch, tips on keeping the Vietnamese currency straight so you don't take out the wrong bills, and what looks like a scam but isn't in Vietnam.
Common Scams
Cyclo Riders
Avoid all the cyclo riders that will call to you from on the street. They deliberately mispronounce the amount they will charge for the trip. It's sometimes far more elaborate, costly and potentially dangerous scam than just the fare though. If you really want to take Cyclo ride around town, book through a travel agent.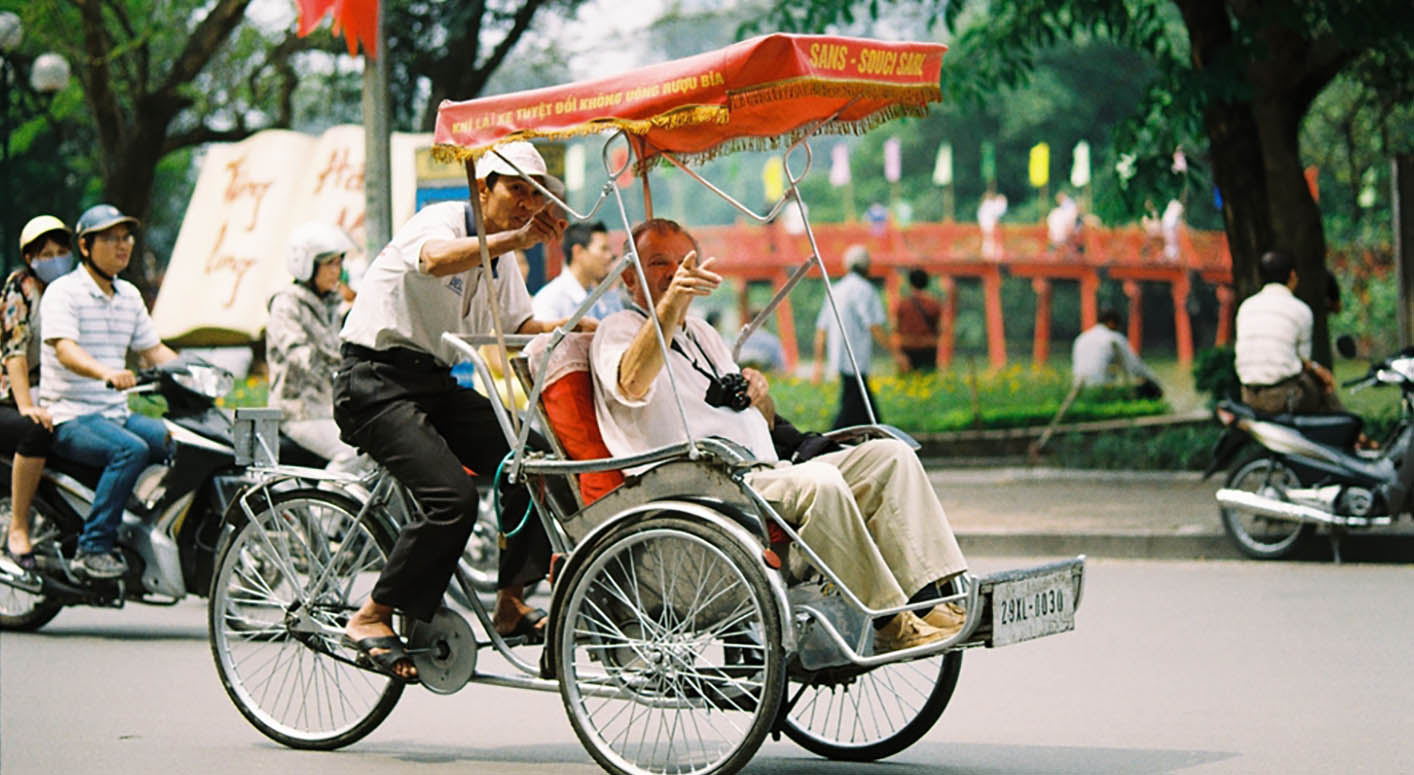 Coconut Vendors
Around the War Museum and other tourist sites coconut vendors with a Đòn Gánh
(traditional carry pole) will call out to you and walk alongside you.
Their English will be quite good. They friendly up quickly: "Hey, where you from.", "New York! Thats cool my brother lives there", "What's your name?", "Man you're so tall!", "This thing is so heavy, want to help me carry it for a minute?" etc.
They will lift the pole onto your shoulder. Which is a kind of cool photo-op. Everyone takes a photo, then they ask you to buy a coconut. At this point most people feel obliged to do so. They will ask for 100,000 – 200,000 VND per coconut. $5-10 might sound semi reasonable at a restaurant in the west. Here in Vietnam the going rate is maybe 10,000-30,000 (.50c – $1.5) on the street and 40,000 ($2) and up in a cafe or restaurant.
If you want a photo or coconut from these guys, negotiate the price of a coconut first. Between 10-30k is fair.
The Currency
When vendors say the price of items, in both Vietnamese and English they will simply cut three zeros from the figure since nothing cost in the hundreds of Vietnamese đong. This is just standard practice. They are not trying to rip you off or confuse you. 100 means 100,000, 50, means 50,000, etc.
The 20,000đ bill is a similar colour to the 500,000đ bill and the 10,000đ can also easily be mistaken for a 200,000đ. It's not common for vendors to try switch the note on you but it does happen and if you give them the wrong note without realising they probably won't say anything.
Crime
There is not really any violent crime at all. You are safe to walk down the scariest looking alleyway without a worry. However, there is a LOT of theft, especially bag and phone snatching from the back of a motorbike. Thieves will drive by at speed and snatch a phone from your hand or grab a handbag and keep driving until the straps snap. Just be a little more cautious, please hold your phone with two hands and preferably away from the curbside and don't carry a handbag.
Not Scams
Moist Towelettes
Every local restaurants around town will provide you with a disposable moist towelette. If you use it, you will be charged 1000-2000 VND for it. It is not a scam, just standard practice in Vietnam. Sometimes restaurants will charge for it even if you don't use it, so it's best to double-check your bill or just use the towelette. It's the same for locals as it is for foreigners.
English Students
If you walk around some of the main parks in the evening, English students might approach you with a few questions. They do this to practice their English. It's not a scam. Chat with them for a bit and they might give you some cool tips on places to see and things to do around town. It's a fun way to meet locals.