Saigon boutique stores are one among many shopping options in Vietnam. With international brands occupying more than 60 percent of the market share, local brands have begun to place more emphasis on design, marketing, and the customer shopping experience.
Nghia Phan, the owner of a boutique store located in an old apartment in Saigon feels, "Many people that go to commercial shopping malls such as Landmark 81 and touristy streets like Bui Vien look for a very different experience compared to those who visit old cafe-apartments. I think boutique stores compensate by providing the best shopping experience for customers which gives them a competitive advantage."
Such efforts can be seen in the emerging pop-up weekend market scene, a boom in local brands showcased at The New Playground, and an embrace of heritage buildings by startups, which house many of Saigon's young, beloved boutiques.
Old apartments are appealing for their low rent. That also makes them perfect experimental spaces for entrepreneurs. There are other reasons why Saigon boutique stores like Libé Workshop keep their shops hidden up dark staircases despite the ability to go streetfront—like Popbirdy or Nosbyn. Nghia Phan believes that old apartment buildings repurposed for local fashion spaces attract a narrower, niche clientele.
So, Vietcetera sat down with the people behind three growing businesses to understand the draw these rejuvenated buildings offer.
Three Saigon boutique stores hidden in heritage buildings
#1 The E.Y.E Saigon: "Love yourself. It's trending…"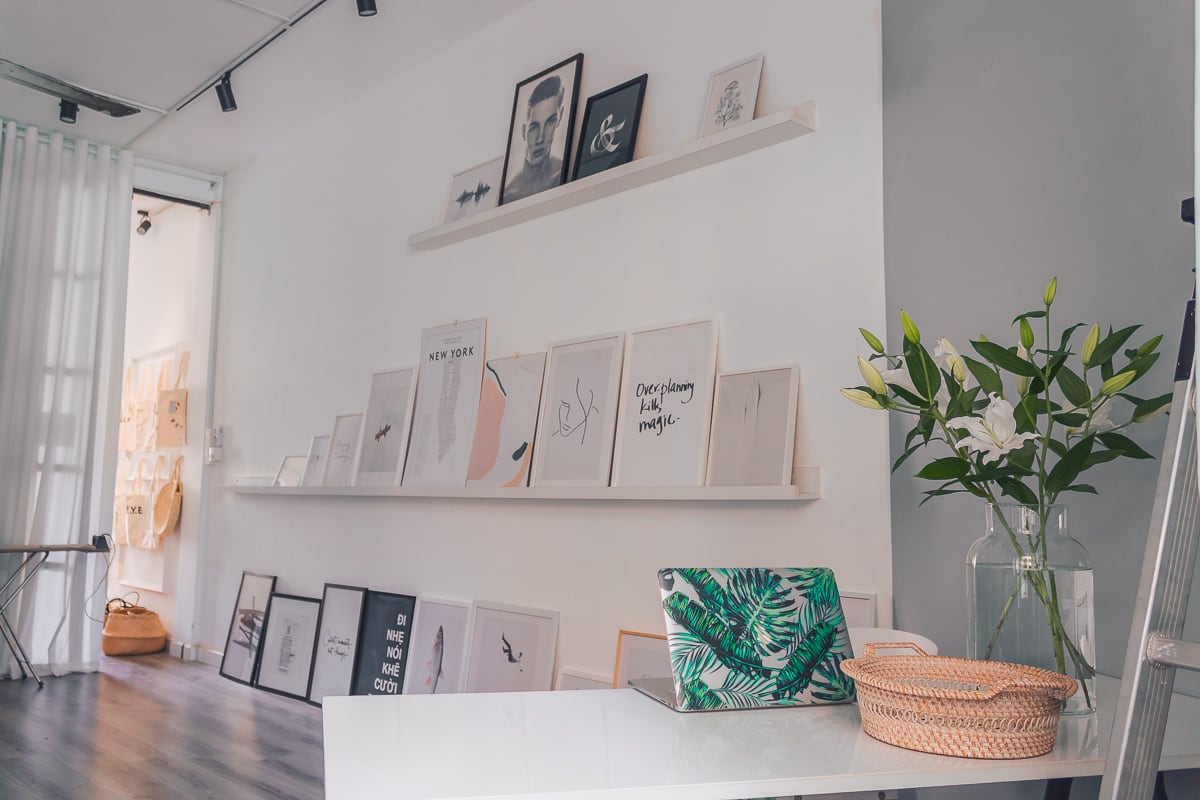 Nghia Phan, the owner of The E.Y.E Saigon, is charmed by old apartments. Nghia stumbled upon a cozy studio while assisting a friend on an apartment hunt. Once he stepped into the space at 42 Nguyen Hue, he immediately decided to rent it.
"I didn't know then what I would do with it. But I knew that I had to do something with this place," says Phan.
Within a month, he converted it into an off-white, Scandinavian-style studio with minimalistic decor and bright flowers to highlight the corners. Complementing the decor are handbags and pieces of wall-art for sale.
"I want tourists to see that Vietnam's beauty is not confined to history. We have modern and developed designs in my shop," Nghia explains.
It's fair to note that part of his brand's mission is to raise awareness about sustainability. He encourages customers to get in the habit of carrying reusable bags rather than wasting plastic ones.
Many of his bags contain printed slogans. One of his most popular bags says "Đi nhẹ, nói khẽ, cười duyên", which translates as "walk gently, speak softly, and smile graciously", a local message that conveys the gentleness of Vietnamese feminity.
"People who go out of their way to find Saigon boutique stores in old apartments are looking for something quintessentially Saigonese, and the inspirations behind my shop caters to that kind of experience," Nghia smiles.
Location: Level 4, 42 Nguyen Hue, HCMC
#2 Eugene: "The Inner Hideaway"
Linh Ho learned from her own ventures that the shopping experience is just as important as the product itself. After deciding to start her own brand, Linh Ho's top priority was finding a location that would deliver a more personal experience when compared to what huge malls or noisy markets could offer.
"My clothing line is subtle and classy. So setting up shop in an old building in Ho Chi Minh City makes for the perfect way to embrace the concept of a more personalized encounter within a more traditional one," says Linh Ho.
While Eugene dresses are assembled from traditional linen fabrics, their seam lines employ modern techniques. Eugene's designs follow the Swedish concept known as "lagom," which means "not too little, not too much".
"Although old apartments have been transformed rapidly within the past few years with the arrivals of boutiques, coffee shops, and incoming streams of visitors, they never quite lose their old vibes and architecture from the colonial era", Linh explains.
Unlike many modern shops which play loud music, Eugene is tranquil. In fact, the store conducted a customer survey and found that visitors appreciate the tranquility that Eugene provides. This is apparent in the way the staff have been trained to communicate softly with the customers.
The Saigon boutique store is decorated with Japanese Noren curtains, wood paneling, and an array of rustic ladders. Customers frequently mingle and have tea at the central table while waiting for their turn to try out some of the clothes.
"In a dynamic city that is filled with motion, Eugene offers temporary serenity and ease," shares Linh Ho.
Location: Level 1, 26 Ly Tu Trong, HCMC
Contact: Facebook
#3 Thinker & Dreamer: "Pour some motivation"
This coffee shop is named after the personalities of its co-owners—model Quang Dai and photographer Thien Minh. Despite their busy schedules working abroad, they founded Thinker & Dreamer as a place to stop and reflect on their journeys when they come home. Little did Quang Dai and Thien Minh realize their Saigon boutique store would soon be a popular rest stop for locals and tourists alike.
Thinker and Dreamer's copy-editor Nguyen Nguyen explains that, "Vietnam's local coffee culture isn't just about the drink—it's also about enjoying the moment, catching up with friends, and people-watching. The shop owners built the space in an old apartment to accommodate modern coffee culture."
The interior of Thinker & Dreamer is a mix of vintage and modern design. Inside the hazel-colored walls, this shop's theme is accentuated with time-worn suitcases, typewriters, and vinyl record players.
"While the indoor space serves as a place to dream about the past and the future, the balcony connects us to the real world outside," manager Ha Uyen says pointing to the nearby Nguyen Hue pedestrian street.
Strings of lightbulbs hang above a long table. Here, tourists watch the bustle of Nguyen Hue street while sipping on signature macchiatos and nibbling homemade croissants.
"At Thinker & Dreamer, some customers come for the 80s and 90s era playlist, while others enjoy writing personal notes for the letterboxes on the wall of our shop. Most people however, come to share and discuss their dreams and ambitions with their friends," says Nguyen Nguyen.
Location: Levels 3 – 4, 42 Nguyen Hue, HCMC
An uncertain future
It's possible that old apartment complexes like the iconic building on 42 Nguyen Hue may not be able to host businesses for much longer.
"I was warned on the day I signed my contract that all the businesses here might have to move out in a year or two to ensure these old apartments are for residents only. That's worrying. But hey, I thought to myself that even with this limited time, I could create something to be proud of," smiles Nghia Phan.
Related Content:
[Article] Vietnamese Fashion Brands: The Future Of Brick And Mortar Retail