"It's about the sake, it's about the food, it's about the experience," Sean Dix tells us about the sake bar which he designed, Sake Central Saigon. There's still a shortage of accessible evening spots in Ho Chi Minh City…especially ones with an eye for Japanese drinks and small-plate cuisine. The team here, who have links to Hong Kong's Yardbird and Ronin, and who share a design philosophy with Belon and Ho Lee Fook in the same city—all of which Sean Dix designed—are filling the gap with Sake Central Saigon.
The sake bar, opposite the Sheraton Hotel and next to Layla, which used to be called Last Call, is the younger sibling to Sake Central Hong Kong. The original is a showcase for Japanese culture in the city's PMQ—the former Police Married Quarters turned cultural hub. At Sake Central Saigon, the focus is on its drinks and food—but with the same ethos around introducing Japanese culture and products.
The Narutotai Ginjo Nama Genshu is served in a rustic silver can and is full-bodied and slightly sweet, with a nutty, fruity flavor.One of the people behind the first location and now Sake Central Saigon is Sake Samurai Elliot Faber. Faber co-authored "Sake: The History, Stories, and Craft of Japan's Artisanal Breweries" with Yokohama-born sake master Hayato Hishinuma. A copy is displayed in Sake Central Saigon's second space—a six-seat private dining room. Now Elliot, who was also part of Sunday's Grocery in Hong Kong, is one of the people to form the Eight Four Collective. This is their first Ho Chi Minh City project. "It's a celebration of Japanese culture through food and beverage but focused on sake," Elliot explains. "We hope it can become a valuable source for promoting Japanese culture and life in Vietnam."
Through the darkly lit staircase with its "shou sugi ban" panels, the main talking point, besides the sake and the cuisine, is the shared table. The carefully lit glass-topped table contains lines of custom-made cedar "masu" boxes. Each box is filled with Japanese rice at different stages of polishing—sake made with highly polished rice is generally more refined and cleaner. "If you notice that, it's great. If you don't, it should still work visually," Sean adds about his discreet design philosophy.
Sake Central Saigon's sake comes in a 60ml glass, a 180ml tokkuri, or a 720ml bottle. "It's a celebration of Japanese culture through food and beverage but focused on sake."Elliot Faber and the Eight Four Collective also worked on an exclusive pilsner with the Heart of Darkness craft brewery that's only available at Sake Central Saigon and their other restaurants. But here, the sake takes center stage. It's stored in two dramatic custom-made floor-to-ceiling refrigerators. The Tatenokawa 'Seiryu' Junmai Daiginjo, served by manager and sake sommelier Jesse Selvagn—that comes, as with most of Sake Central Saigon's sake, in a 60ml glass, a 180ml tokkuri, or a 720ml bottle—is light, at 14%, and fruity with a touch of acidity that precedes its soft finish. The Wakatsuru 'Gen' Karakuchi Junmai is more powerful with a richer taste. And it's served in "marvelously thin" glassware that's made by Kimura glass in Nagano.
Especially interesting is the Narutotai Ginjo Nama Genshu. Nama sake is unpasteurized giving it a much bolder taste. The Narutotai Ginjo Nama Genshu, from Shikkoku Island's Tokushima prefecture that's served in a rustic silver can, has a full-bodied nutty, fruity flavor, without being too sweet.
The "marvelously thin" Kimura glassware.The dusty soul and funk soundtrack comes courtesy of DJ Muro. "DJ Muro scours the world looking for records and creates genre-crossing mixes that keep the right vibe for both the Sake Central guests and staff. And he's a alcohol lover…just like us," Elliot Faber adds. The music is pitched to allow guests' discussions to dwell on their drinks, and the dishes served by chef Jesse Grasso from Vancouver's Supermarine and Toronto's Black Hoof.
The veal tartare with arima sansho and preserved mushrooms that comes with nori rectangles is a velvety, salty bite that's punctuated with Japanese arima sansho pepper. Sake Central Saigon's hiyayakko tofu takes the sometimes underwhelming mix of tofu and umami bonito flakes and melts them together with a rich almond and scallop XO sauce. And the izakaya staple chicken karaage comes dusted with aonori—a green seaweed powder—in succulent bite-sized chunks. "I'd describe the food as modern Japanese. There's such a huge range of sake, but people don't realize how versatile it is. We want to show people that…and make delicious food at the same time," chef Jesse Grasso adds finally.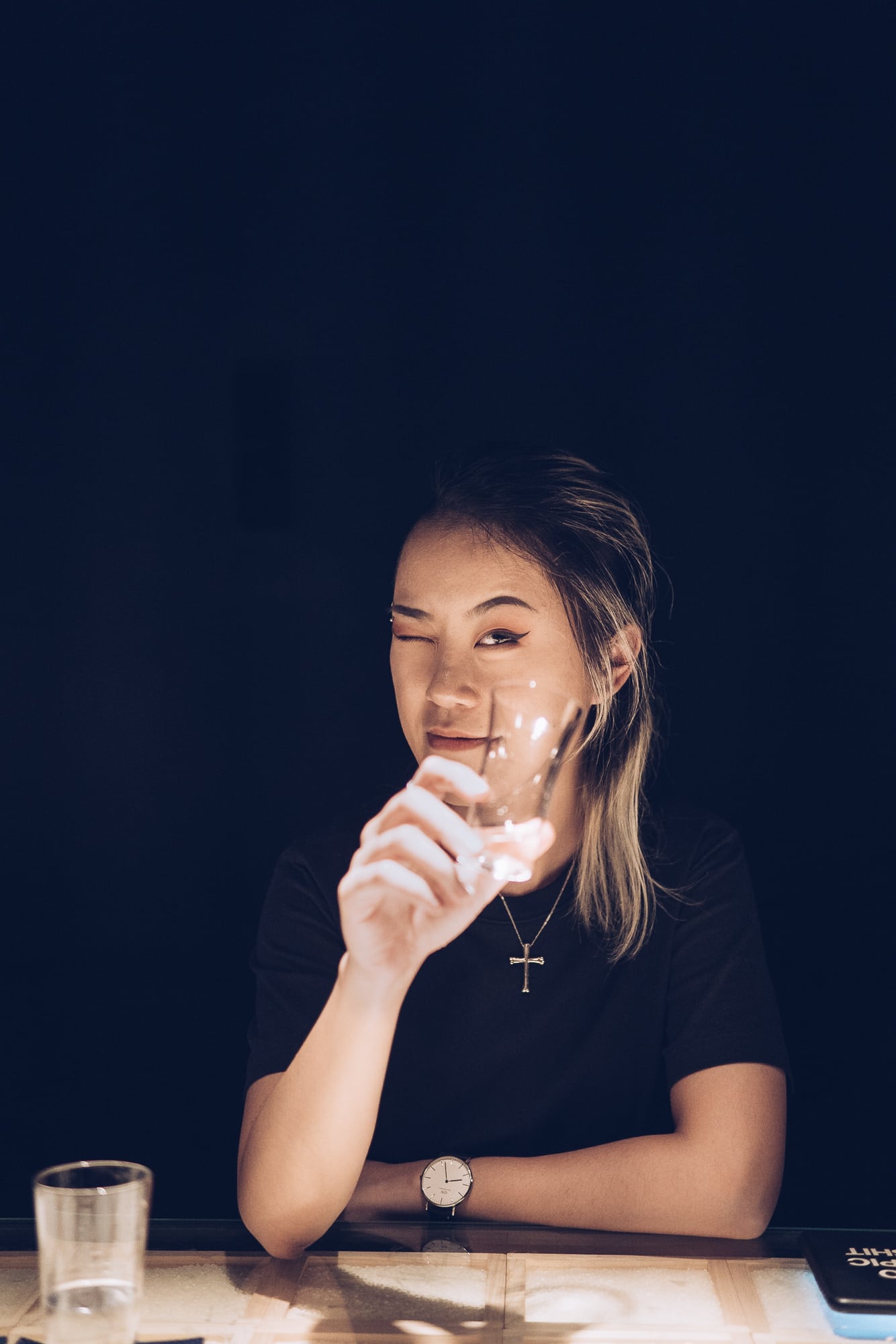 Sake Central Saigon have collaborated with Heart of Darkness on a bespoke pilsner, but here sake takes center stage.Sake Central Saigon In Short
Try: Sake Central Saigon's nama sake. Normally sake for export is pasteurized. Nama sake, on the other hand, is unpasteurized which gives it more body and more intense nuttier flavours. And after dinner, ask for a glass of off-menu Fernet Hunter. The bitter, botanical digestive, handcrafted in Austria, and created by Sake Central lead consultant, Raphael Holzer, comes in a bottle with a drowsy deer on the label. Drink it straight or with a sprig of bruised mint and soda.
Test: The bathroom decorated with custom tiles from Bat Trang ceramic village outside of Hanoi that's fitted with a high-tech Japanese toilet.
Shoot: Beneath Sake Central Saigon's "sugidama"—a cedar ball—outside the front door. Sake breweries hang fresh cedar balls outside their doors when a new batch is being prepared. These days "sugidama" also hang outside restaurants that take particular care over their sake selection.
In Short: A showcase for Japanese culture that's focused on sake, but adds small plates of Japanese-inspired dishes.
Find: 1st Floor, 59 Dong Du, District 1, Ho Chi Minh City
Facebook | Instagram | Website
Related Content:
[Article] Burnt Ends Jake Kellie: The Rising Culinary Star
[Article] Jardin Des Sens: The Pourcel Brothers Growing In Asia