Welcome to our first Techcombank Ho Chi Minh City International Marathon city guide. This installment will focus on District 2 through the lense of storyteller Hoang Le Giang and startup entrepreneur Trang Thuy Dang of Ru9 – The Sleep Company. With Giang and Trang as our eyes and ears on the ground in District 2's Thao Dien and Thu Thiem neighborhoods, they help us navigate this side of Ho Chi Minh City.
This area has something for every type of runner; there are parks, bridges, and waterfront promenades. Whether you want to break records or just run to relieve stress and stay fit, this is the ideal environment. So be inspired, lace up, and hit your stride. "Be Greater Together".
A Look Inside An Expert's Running Kit
What kind of running gear is ideal for the climate in Ho Chi Minh City?
Trang: I keep my kit as minimal as possible. Usually, I just wear my tri-top, running shorts, and athletic shoes.
Giang: For me, it's nothing fancy or particularly special. I often wear normal clothes like running shorts and a simple color jersey. Sometimes I'll rotate the jerseys I collect during races.
What accessories do you bring when running?
Trang: My trip-top has a lot of different pockets. I have room for a house key, a VND 100,000 note for coconut juice after running, my wireless headset, and my mobile phone.
Giang: I have my sport watch and a bit of money to buy water on the way.
Refueling Along The Way
What's your favorite breakfast spot on a run day?
Trang: A local pho shop in Thao Dien.
Giang: Nothing beats a banana from my kitchen pantry.
And your favorite lunch spot?
Trang: On the weekend I like going to Mad House for brunch.
Giang: After a run, I usually go for something heavy…a traditional Vietnamese lunch like com tam does the trick.
Where do you like to go for a quick drink on a run day?
Trang: I usually buy a fresh coconut at a local store with street seating. I like to cool off with my drink as I watch people go about their days.
Giang: After finishing a run, I take a shower then like to relax at a local cafe. Whatever's around the corner.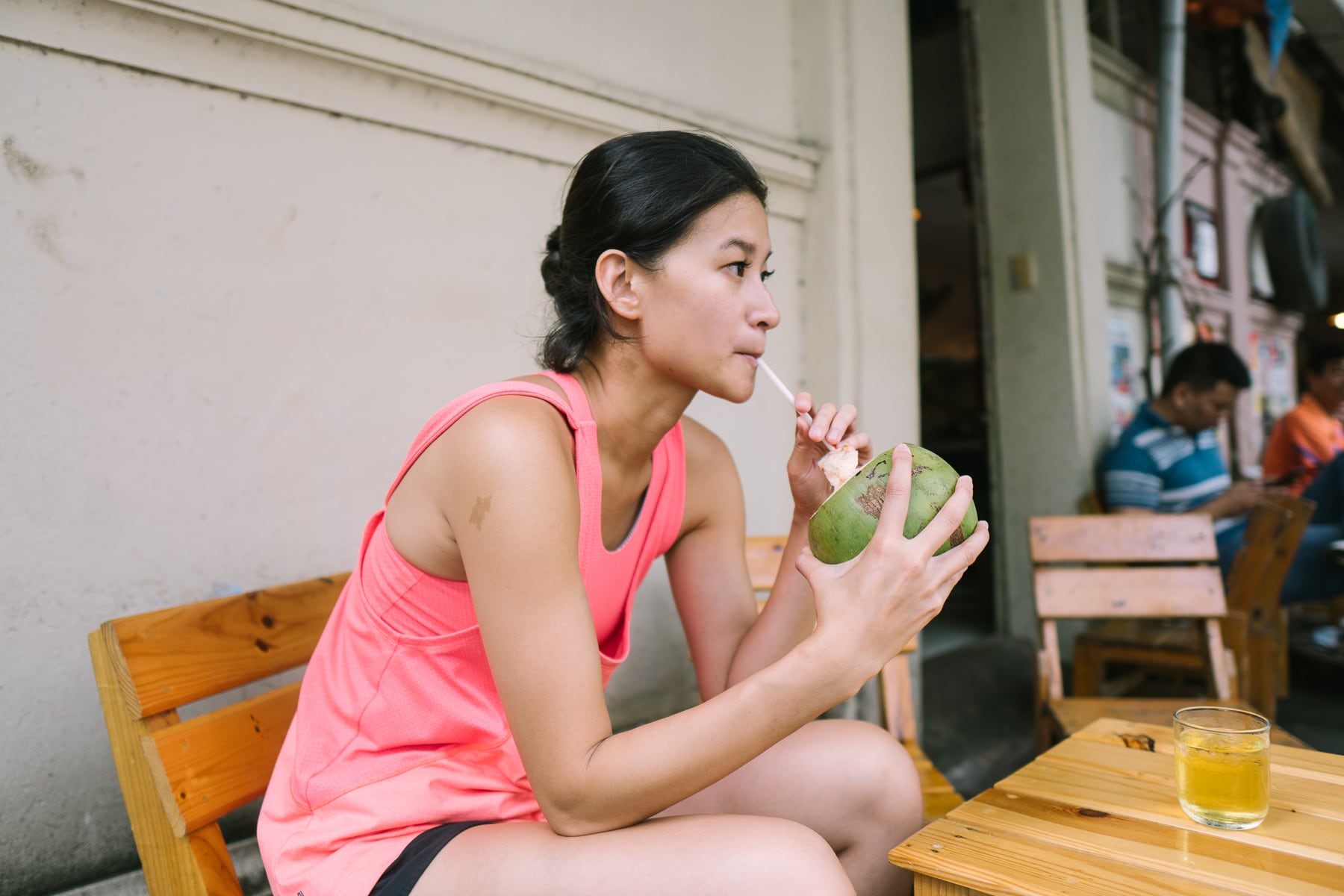 Running, Running, And More Running
Have you always been a runner?
Trang: I started running when I moved to Australia for university. At first, I couldn't seem to avoid the "freshman 15" curse, so I started running to shed that down. I've been doing it ever since!
Giang: I started running about two years ago. It's been a great complement to my travels, helping to keep me fit and improve my endurance.
How often do you run? How long do run for?
Trang: I try to run daily or at least five times a week. Usually short distances, anywhere from five to eight kilometers. There's no set time or distance for when I finish. There is just the feeling that I accomplished my goal for the day.
Giang: I run about two-to-three times a week, each time for about one hour. It's more than enough distance to round the Thu Thiem neighborhood.
Do you run when you travel to other cities?
Trang: I try to go for a run whenever it's possible, even if I'm traveling. My running clothes and sneakers are always in my suitcase!
Giang: If I have time during my travels, I always try to save time for running. It's a great way to see the city and keep fit.
What do you think about when you run?
Trang: During the first 15 minutes of a run, I tend to have a lot of random thoughts in my head. I could be thinking about work, family, food, or anything. But to be honest, after the first fifteen minutes, I don't think at all. I just run.
Giang: Training for the next race day.
What sort of music do you listen to while you're running, if any?
Trang: I don't like wearing tracking wearables and I don't monitor distance or count steps. Instead, I usually use music to guide my running tempo. I have my own Spotify playlists dedicated to different runs and moods.
Giang: While I run, I try not to listen to music as most races do not allow music. I try to imagine myself in race mode each time I run, even if it's just your normal morning jog in the park before work.
Related Content:
[Article] Saigon Guide: Where To Work, Eat, Drink, And See Art In The City
[Video] A Guide To Ho Chi Minh City's Districts: Understanding The City