Canadian chef Jesse Grasso is content. First, Renkon Saigon, the modern izakaya, is open. Second, he's about to add his mazemen to the menu—a kind of no-broth ramen noodle.
"'Maze' means mixed and 'men' are noodles. And there's no broth…just a sauce," he tells us. He's chosen mazemen as his signature dish to present to us because making ramen allows chefs to get more creative than with other Japanese dishes. "All the OG Japanese chefs say that's the reason they cook ramen," he adds.
The Inspiration
Jesse Grasso's connection to Japanese cuisine began at a Vancouver gyoza restaurant. "It was this dirty izakaya that opened till 2am," he laughs. "And it was called Gyoza King."
It was the kind of after-hours spot where off-duty chefs would congregate. "All the chefs would go after work. This was 2005 and I'd barely eaten any Japanese food other than the normal stuff like sushi. I ate tempura for the first time, pork jowl, grilled mackerel. It was the first time I tried a highball too," he adds about the classic cocktail that's popular in Japan and features on the Renkon Saigon menu.
The Chef
Jesse Grasso worked at Bao Bei in Vancouver under the Japanese-French chef Joël Watanabe. The restaurant started the rejuvenation of the city's Chinatown. "Everyone said it wouldn't work," Jesse remembers.
Before that the area was just grocery stores, fish markets, and meat markets. "We did modern Chinese food. People still line-up down the street for two hours every night just to eat there. And today, Vancouver's Chinatown is filled with contemporary Chinese restaurants like Bao Bei and cool little cocktail bars."
There was also Supermarine, "a kind of neighborhood seafood restaurant." Even though Vancouver is a coastal city, catch is either exported or served expensively fine-dining style. Supermarine was a fun, modern place to eat seafood. "We did a platter where you got mussels escabeche and smoked white fish with a bottle of hot sauce and a bottle of crème fraîche on the side. We served house-made saltines, whole fried fish tacos with multiple salsas, and lots of steamed mussel dishes because the Saltspring Island mussels there are so good."
And there was Black Hoof that opened in 2008. The restaurant is famous for using off-cuts of meat like bone marrow and pork liver. "And we made like 20 kinds of charcuterie in-house—salami, hams, capicolas," Jesse continues. "What did I learn? I learned to have patience. First, you're like 'I want it to be ready.' But if it takes six weeks, it takes six weeks. And if it takes six months, it takes six months."
The Philosophy
Jesse's now the chef at Renkon Saigon. "Izakayas are just neighborhood restaurants that someone can come back to over and over and always get their favorite things, and always get the same service." Renkon Saigon's modern version of an izakaya includes Sean Dix interior design and a mural of artist Masami Teraoka's "31 Flavors Invading Japan / Today's Special."
But the food stays true to izakaya traditions. "We're not trying to rethink cuisine. We want dishes that remind people of something and make them smile," Jesse explains. The mazemen is a new dish, but the menu will be consistent. "My philosophy now is to keep improving the dishes that people love. Change with the seasons but don't change just to change…"
The Dish
Jesse brings an Italian pasta machine out front and holds up a pack of dough he made earlier "that's starting to oxidize because of the baking soda." He makes the dough with egg—like pasta. But the chef adds baked baking soda, unlike pasta, to make the noodles alkaline "and give them some bite."
He rolls it out with a rolling-pin first on a sprinkling of rice flour. "Adding wheat flour at this stage would make the noodles dry and flaky, but rice flour doesn't absorb…" he explains switching on the pasta roller.
"It's the same kind of machine I used in Italian restaurants," he says feeding the dough through the press, "I love doing this, man." Then he cuts the flattened dough to length, adjusts the setting on the machine, and feeds it back in to make noodles. "If you can make Italian pasta, you can make ramen," he continues twisting the freshly cut noodles into 110-gram balls.
We go into the kitchen. Jesse drops one of the balls of noodles into boiling water, "we tried two, two-and-a-half, but three minutes is perfect." Then he fills the bottom of a bowl with homemade sticky tare sauce and separates the white from an egg.
"We make this tare sauce from pork bone, soy sauce, sake, sugar cane, ginger, and garlic. Typically chefs make tare with rock sugar, but we use fresh sugar cane which grows in Vietnam," he says about his localization of the Japanese recipe. "And you add some of the old tare into the new one to make the next batch—there's yakitori shops in Japan that are using a hundred-year-old sauce."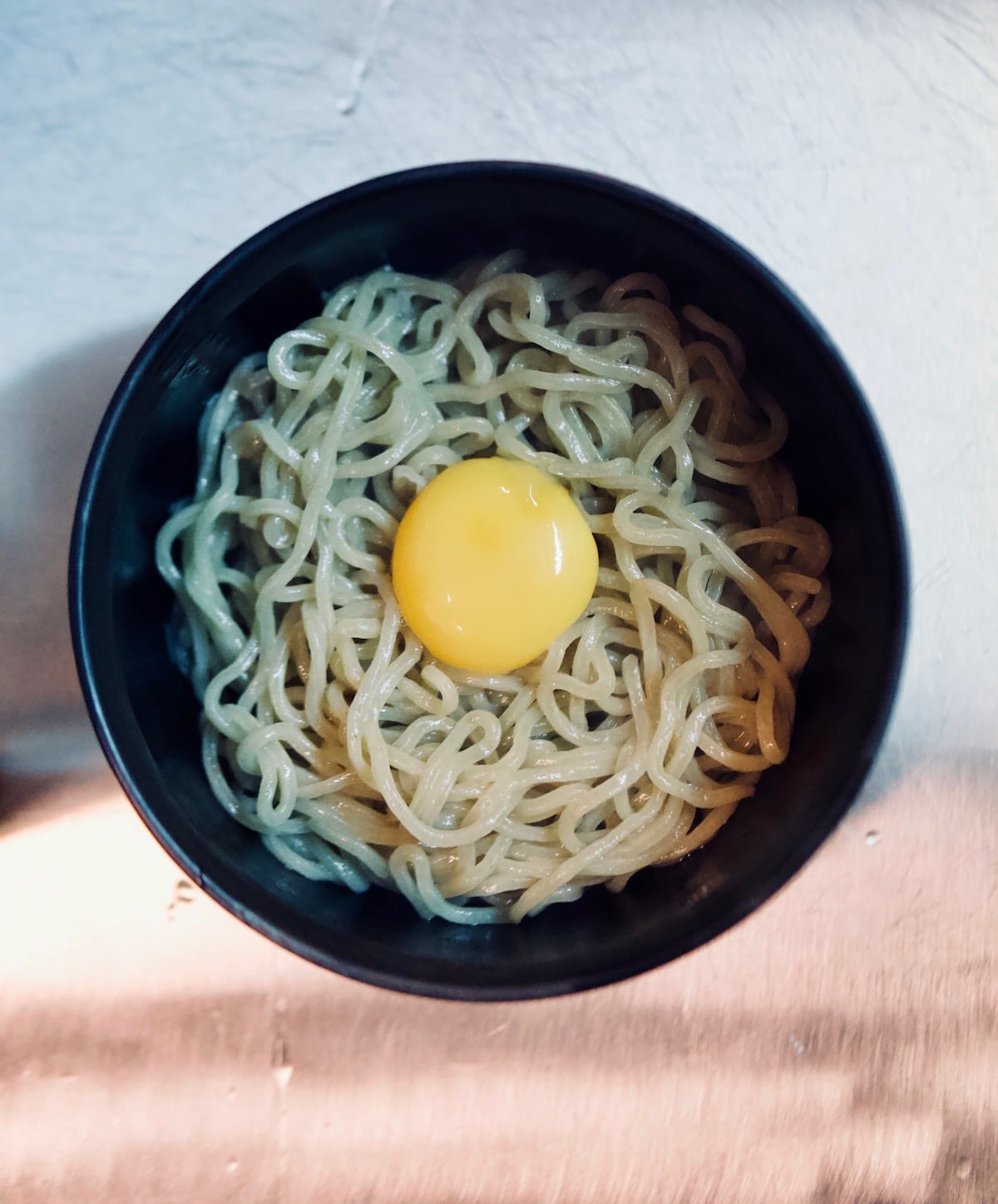 Three minutes are up. He lifts the noodles from the water and swishes them around the bowl of tare sauce. Then he sits the egg yolk on top.
"Next, we add rendered bacon with another touch of tare so it's sweet, salty, and smoky. Then some freshly chopped shiso, and then our house chili shichimi—inside are Korean chills, black pepper from northern Vietnam, wild pepper from southern Vietnam, aonori from Japan, and yuzu peel," Jesse says sprinkling on the powder and holding up the finished bowl of mazemen.
The End
Even though Jesse Grasso is content, he'd rather be here in the kitchen than socializing.
"That formal going table to table shaking hands thing was never for me. I guess I became a chef so I could just be in the kitchen cooking dishes like this," he shrugs handing us the bowl of mazemen as we head back into the restaurant.
Related Content:
[Article] Three Drinks To Beat The Summer Heat At Renkon Saigon: A Modern Izakaya
[Article] Sake Central Saigon's Elliot Faber Presents Three Misconceptions About Sake