You've done your homework and researched the top ten things to do in Saigon. You haggled for durian and ersatz civet coffee at Ben Thanh Market, fired both the M16 rifle and the AK-47 at the Cu Chi shooting range and walked the length of Nguyen Hue pedestrian street. Twice. And you've been eating well. So well, in fact, that the thought of cramming yet more food stalls, roadside che and night markets into your itinerary fills you with mild dread. In other words, you are now looking to diversify from eating.
As you peruse a copy of a travel guide on lease from the concierge for inspiration, spare a thought for Saigon residents who find themselves regularly entertaining jaded out of town visitors. Childhood friends who might concede to a street food tour on the promise of authenticity, but still expect you to spice up the itinerary with meaningful interactions outside of the beer garden. Family who are all for cultural immersion by means of gastronomy, but only up to a point.
Here is our pick of activities to be enjoyed solo or in company that will add depth to your Saigon experience, and not inches to your waist.
Hands-On Ceramics
When Saigon's go-getting attitude and bustling energy get a bit too much as they inevitably do, this is where you go to unwind. Established in 2015, Hey Camel is a quirky ceramics studio and shop hidden at the back of a hem with enough horticultural action to put the RHS Chelsea Flower Show to shame. Leandro Marcelino is the creative force behind a Vietnamese-inspired collection of planters, mugs and plates, while his team runs the popular ceramics workshop on Fridays, Saturdays and Sundays, from 10am to 12:30pm. Join group workshops or book a private class to learn about Vietnamese stoneware and glazes. Your ceramic piece will be ready for pick-up 2-3 weeks after your workshop, so this activity is best suited for an extended stay.
Life Drawing for All
A movable feast, Capturing Form Saigon (CFS) tends to up sticks and decamp to a new location every year or so: easels, models and artists in tow. What never changes is the postal code Thao Dien and a dedicated following among Saigon's creative community. At CFS' new home, the appropriately bohemian Soma Saigon, the classes will follow the tried-and-tested formula combining long and short poses and weekly-changing themes ranging from Geisha and The Big Draw to Wet Drape and Egon Schiele. Art supplies, some guidance and plenty of inspiration courtesy of Soma's rotating artwork are provided. They always welcome new models (no experience required), so if you are feeling adventurous, put your hand up by messaging CFS Facebook.
Theater, Music and Pies
A new kid on the block, Lang Thang ('wanderer' in Vietnamese) was established in 2019 and functions as a creative community space. Housing a trifecta of individual projects (Wintercearig Project, Dragonfly Theatre Education and Theatre Hang), Lang Thang hosts monthly theater hangouts, a delicious program of live music nights (with homemade pies and wine), contemporary dance performances and regular surprise appearances from Saigon musicians. Impromptu jam sessions at the venue's scenic courtyard are not unheard of and Tricia Nguyen, Wintercearig Project's founder, will give you a tour of the house and of her impressive contemporary art collection, if you ask nicely.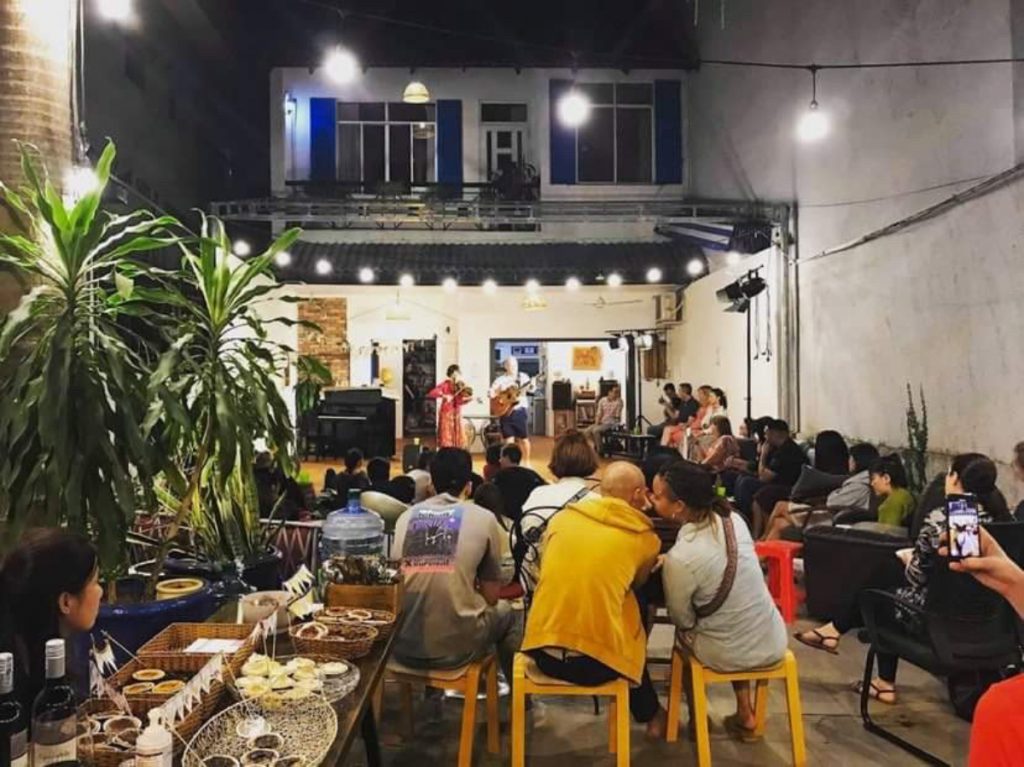 Culture-Centered Tours
If you're pressed for time and happy to submit to an expert, you could do worse than book one of Hidden Saigon tours and see where the road takes you. Linh Phan, a Vietnamese-Canadian creative producer, started her company after multiple requests from friends to do a tour of Saigon that offered more than "phở, bánh mì and conical hats". She obliged and Hidden Saigon was born. Whether you have a fascination for the artisans (you'll be granted behind-the-scenes access to artist studios, craft breweries and gin houses) or the culture makers (think nightclub owners, DJs and dancers), Hidden Saigon delivers on both fronts.
Swing Dancing
The first thing that strikes you as you walk into a Saigon Swing Cats dance session, is how exuberantly happy and friendly everyone is. Though not exactly as easy as one-two-three, swing dance is novice-friendly and learning the moves is a lot of fun. A nerve-settling glass of wine will have you getting into the swing of things in no time. Combining partnered and solo dancing, Saigon Swing Cats teaches mostly Lindy Hop and Charleston, with some Blues and Balboa thrown in. The biweekly swing dance socials include a 30-minute free taster class for beginners.
Vietnamese Cinema
Vietnamese cinema has gone from strength to strength in the past years, vying for attention with Hollywood blockbusters, Japanese horror films and Korean rom-coms. At the same time, the quality of the screening experience has improved drastically and the widespread use of English subtitles means local releases are accessible to a wider audience. At CGV's Gold Class, high-tech home cinema experience meets business class airline cabin, complete with La-Z-Boy-style recliners and refreshments delivered seat-side. A hedonistic pleasure with a side of culture, the experience is well worth the VND 300,000 (USD 12) price tag.
Feature Image Source: citypassguide.com
Related Content:
[Article] Vietnam Travel Trends 2019: Two Experts Weigh In