Born in Russia to a father who is a nuclear physicist, Dao Chi Anh had the opportunity to explore the world at a young age becoming fluent in four languages in the process. After Russia, she moved to Germany and then Taiwan while still in her primary school years. Later Dao Chi Anh enrolled at university in Singapore, where she continued to work after graduation until she returned to Vietnam in 2010.
Not long after coming back, she founded one of Vietnam's most dynamic and scalable food and beverage brands. But The KAfe, despite receiving heavy funding, recently closed. And so we spoke to Dao Chi Anh at her Hanoi office about The KAfe's sudden closure, what projects are taking up her time now, and how she sees the future of Vietnamese food and beverage brands.
The KAfe Group was one of first Vietnamese lifestyle companies. What sort of vision did you have for it?
Inspired by cafe brands in the US and across Europe, The KAfe's interior had to be welcoming and the food tasty. It was about building something different from the rest of the market. Our focus was on a young urban crowd looking for new experiences. At the time, Western food options in Hanoi were limited to the likes of Pizza Hut, KFC, and a few other smaller fast-food operations. I felt like there should be more diversity and quality. At the same time, we wanted to craft an approachable, casual, all-day dining experience. Ho Chi Minh City already had L'Usine and other similar places, but Hanoi didn't have anything.
The KAfe started with an easygoing, colorful menu. It wasn't confined to any particular cuisine. It included a wide range of flavors including Asian, Italian and French—anything really. It also featured a healthy dose of my own personality. I grew up all over the world and our menu reflected that. As for the space itself, we weren't trying to be anything in particular. It was just designed according to my taste.
Luckily, younger customers responded incredibly positively. I didn't expect it to be such a sensation when we first opened. We were constantly full and this indicated there was a significant gap in the market that we were helping to fill. Because of that, I knew we could grow. So we opened a second location and it resonated well with the white-collar crowd—we had both local and expat customers coming in. People didn't want to sit outside eating street food every day. But they also didn't want to spend US $15 each time they ate, just to be able to sit in comfort.
To this day, I still don't see any Vietnamese brands like The KAfe in Hanoi. My friends and family are always telling me that they miss it. But right now, I'm focused on my work with DCA Holdings which is a creative marketing agency in the culinary industry. But if someone wants to build a concept similar to The KAfe, I would gladly help set it up.
What led to The KAfe's closure?
It wasn't a positive experience after a lot of parties became involved. Some only wanted to crank up the company's valuation to make a quick buck. The whole experience, on the business side, became very different from how I wanted it to be. It became too stressful. I prefer building something on my own—organically and gradually. I want to be able to enjoy the process and not just make a profit so someone else can reach their financial goals.
What are some new industry trends to watch out for in Hanoi?
The biggest trend right now is bubble and milk tea. However, the big guys are now noticing the trend and of course, they want a piece of the pie too. I myself grew up in Taiwan and loved it, but the scene is really oversaturated here. Despite that fact, everyone still wants to hop on the bubble tea train. Unfortunately, this trend is frustrating for most business owners. All the prime real estate locations and popular street corners are being snatched up by bubble tea shops. Due to this craze, many Vietnamese brands are struggling to find ideal sites for their businesses.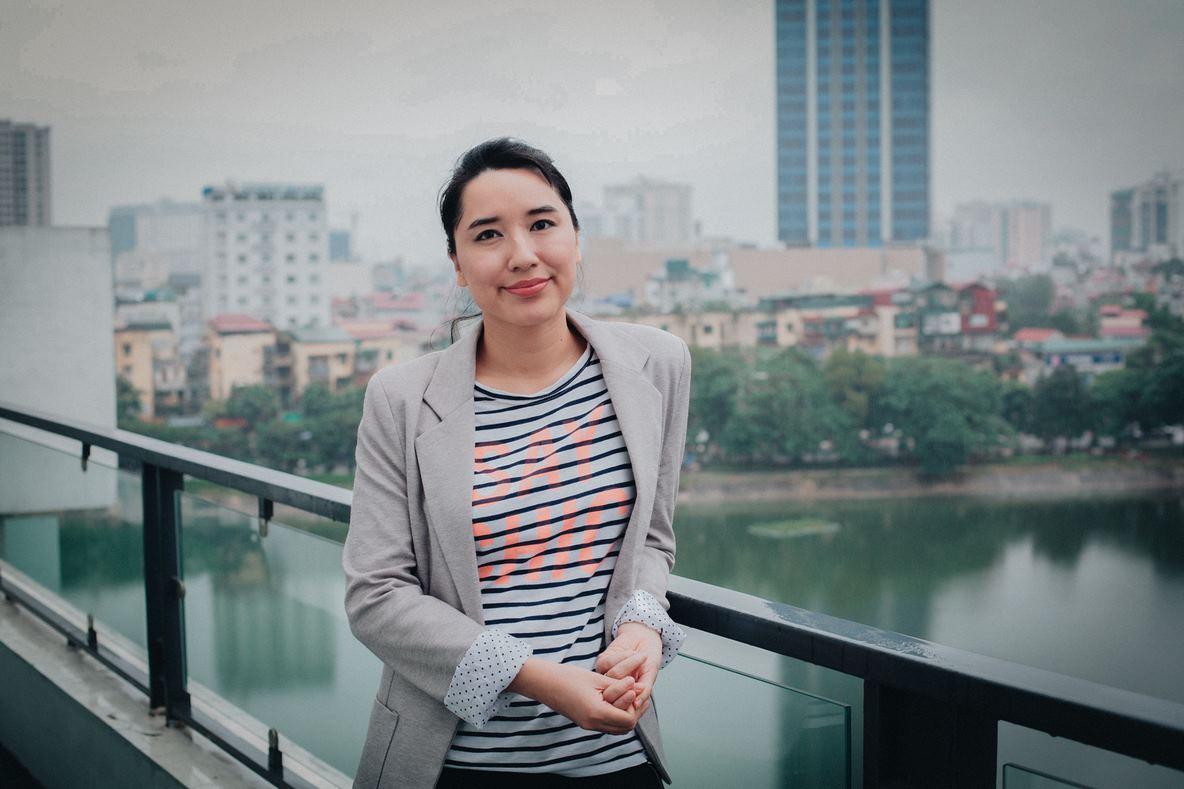 Everyone thinks that opening a bubble tea brand is guaranteed to be profitable. Wrong. I would like to see this trend reduce leaving some key players in the market. I truly hope I get to see the day when the fast-cash players are out of business. That'll free up space for sustainable ventures that are more meaningful for the market and the consumer alike.
It's also worth mentioning that bubble tea is extremely unhealthy—who knows where the ingredients are coming from. We have no idea what's inside these drinks, especially from the newer unknown brands. Even Taiwan doesn't have as many drink-only bubble tea shops as Vietnam. The scene is just taking up way too much space that could be used for better things.
If you were to open your own bubble tea shop, what did you do differently?
In fact, we recently worked on a project with a Taiwanese tea house to launch a Vietnamese brand of Taiwanese-style bubble tea. There's no colorful additions or fancy toppings like cheese; just classic pure tea with milk. The menu also features traditional Taiwanese ingredients and street food snacks.
What are some other new initiatives that you're launching?
My main focus now is on DCA Holdings. We are a business development agency that supports brand owners in the food and beverage industry. Having worked in this sector before, our team knows that there are many entry barriers. Industry know-how isn't always shared and not everyone wants to go to hospitality school to learn the trade, and that's where we come in.
Most of our partners are people that come from different industries that now have capital and are looking to enter the market. But many don't know where to begin. DCA was started as a way to help new and existing Vietnamese brands roll out an effective market engagement strategy—everything from the menu to the interior design. We want to work with brand owners who are keen to work on their projects together with us. Right now we're working with mostly domestic partners, though we're starting to do some outreach to international franchises that want to enter the Vietnamese market.
We offer full agency solutions from conceptualization to brand creation and menu development. That includes plating, photography, interior design and even content. We can help set the tone for marketing strategies and standard operating procedures. We're with them all the way to the grand opening for both full-service restaurants and casual eateries. Our specialty is working with a younger urban market that is interested in diving into new trends and flavors—a lot like our early customers at The KAfe. Once the business is up and running then our work is done. Depending on the project, we could take a percentage of the profits, but usually, we work within a client-partnership framework.
I also own T·pot Journal and Nep Magazine which are lifestyle publications about design and food.
https://www.instagram.com/p/BX6tgDqFSFU/?taken-by=tpot.journal
What sort of client base is your team building?
So far it's domestic clients that trust my name and already know my work. They come to us with a business idea and a dream. We help make it happen and we see each partnership as a long-term relationship. We don't necessarily view it as agency work where we try to take on as many clients as possible. Instead, locally, we focus on Vietnamese brands that are looking to create something special.
Everything we do is in-house so the vision and style is consistent and communicated in the right way. When you work with different vendors and agencies, there's miscommunication which can cause a mismatch between goals and priorities. With us, I want to instill a culture and reputation where everything is done by the same team. The clients we work with are composed of serious brand owners—those that are ready to commit.
As a side project, I'm also thinking of creating a more accessible program for those that are thinking of getting into the food and beverage business but can't afford an agency package. That includes a "style kit" that we can distribute to such clients. We're also thinking of developing workshops or even an entire course. Generally speaking, I want to work with anyone that is coachable; I like to teach and help others to grow.
What's the future of the food and beverage industry in Vietnam? What does the future hold for Vietnamese brands?
Since I started my agency, our team has already had the opportunity to represent 90 foreign franchises in Vietnam. I think that we'll continue to see more foreign brands coming in before we see any iconic Vietnamese brands emerging. Since The KAfe and L'Usine, I still haven't seen a Vietnamese food and beverage brand develop that people talk about.
Where do you see Vietnam in ten years?
Vietnam has yet to reach the rate of modernization that Thailand, Malaysia, and Indonesia have gone through. I think it will get there in the next ten years, and when it does that will mean more opportunities for brand owners like me. It will also allow consumers to have more options. Right now, retail and business is limited. Brands like Zara are just now opening in Hanoi but there are still so many products and brands that aren't in Vietnam yet. Ultimately, I would like to see Vietnam get to the same stage as the other countries I mentioned. It's already starting to happen. I can, for example, already see foreign businesses creating production hubs here working with their Vietnamese teams. Also, this means that the talent here is now being exposed to international standards and ethics.
Who should we speak with next?
Yenly Tran. She has been candid about her experiences with her business, Etik Academy. We share ideas quite a bit and she's definitely someone to keep an eye on.