In Vietnam, there's a little bit of everything for everyone. Relax on the islands of Phú Quốc or the beaches of Nha Trang. Partake in retail therapy in Hồ Chí Minh City or Hà Nội. Get in touch with ancient culture in Hội An or Huế. For those of you lusting for some outdoor adventure, we've put together a list of our favorite destinations. From caves to rivers to rice paddies, the country has you covered if you're ready for extreme adrenaline and spectacular views.
Caves
Phong Nha-Kẻ Bàng National Park
Phong Nha-Kẻ Bàng National Park is considered the cave kingdom of Vietnam. This national park is also an UNESCO World Heritage Site. It houses some pretty dope flora and fauna, ancient hieroglyphics of Cham ethnic minorities, and a ridiculous amount of caves.
The largest known cave passage in the world, Sơn Đoòng Cave is considered by many as the most beautiful cave in Vietnam. Located near the Lao-Vietnam border, it was discovered in 1991 and became internationally known in 2009. Permits are seasonal and limited, and the tour will cost you a pretty penny.
Thiên Đường Cave, also known as Paradise Cave, was discovered in 2005 and opened to tourism in only 2010. It's the longest cave in Phong Nha-Kẻ Bàng National Park.
The park also houses the third largest cave in the world, Én Cave. Shoutout to Tú Làn Cave, Tối Cave (Dark Cave), and Va Cave.
Passes are hard to snag, spelunking gear isn't readily available in Vietnam, and only one tour group calls the shots, so plan ahead so you don't miss out.
Cát Bà National Park
If you're heading to Hạ Long Bay, take some time to visit Cát Bà Island and kayak through the caves. The park is a World Heritage Site with plenty of nature to immerse yourself in. The town is quaint and quiet.
On the island, you'll find Thiên Long Cave, Động Trung Trang, and Hospital Cave. Each have their own beauty, but some find the price and volume of tourists unattractive for what you get to experience.
Hạ Long Bay
Hạ Long Bay is another UNESCO World Heritage Site with thousands of limestone karsts and isles that litter the bay. It also has caves. Get yourself on a boat cruise, then hit up some of these treasures
Sửng Sốt Cave is the most popular cave in Hạ Long Bay, which features buddhas, tortoises, and phallus (bet you've never seen those three in a sentence before). Sửng Sốt requires a different ticket to Thiên Cung Cave and Đầu Gỗ Cave.
Tunnels
Cu Chi Tunnels
Just at the edge of Ho Chi Minh City are the Cu Chi tunnels, a network of underground tunnels that were used during the Vietnam War. A 121 km complex has been preserved by the government with a war memorial on two different sites. In the safer parts of the system, you can crawl in and get a taste of what it was like to use these tunnels during war for hiding and supply delivery.
Vịnh Mốc Tunnels
Vịnh Mốc Tunnels is another complex located on the border of what used to be North Vietnam and South Vietnam in the Vietnamese Demilitarized Zone. These tunnels were built to shelter people from bombings and were a success as no villagers lost their lives. You can tour all three levels and peek at what life was like over 45 years ago for around 60 families (and 17 newborns).
Hikes
There are plenty of places you can slip on some boots and go trekking (or your $2 dép tổ ong if you want to try to local way).
Cúc Phương National Park
The park is Vietnam's largest national park. The amount of flora and fauna is insane. There are a couple of caves, a botanical garden, and dozens of hiking trails that'll last you a couple hours up to a couple of days. Stay in the resort, go camping, and don't forget the bug spray.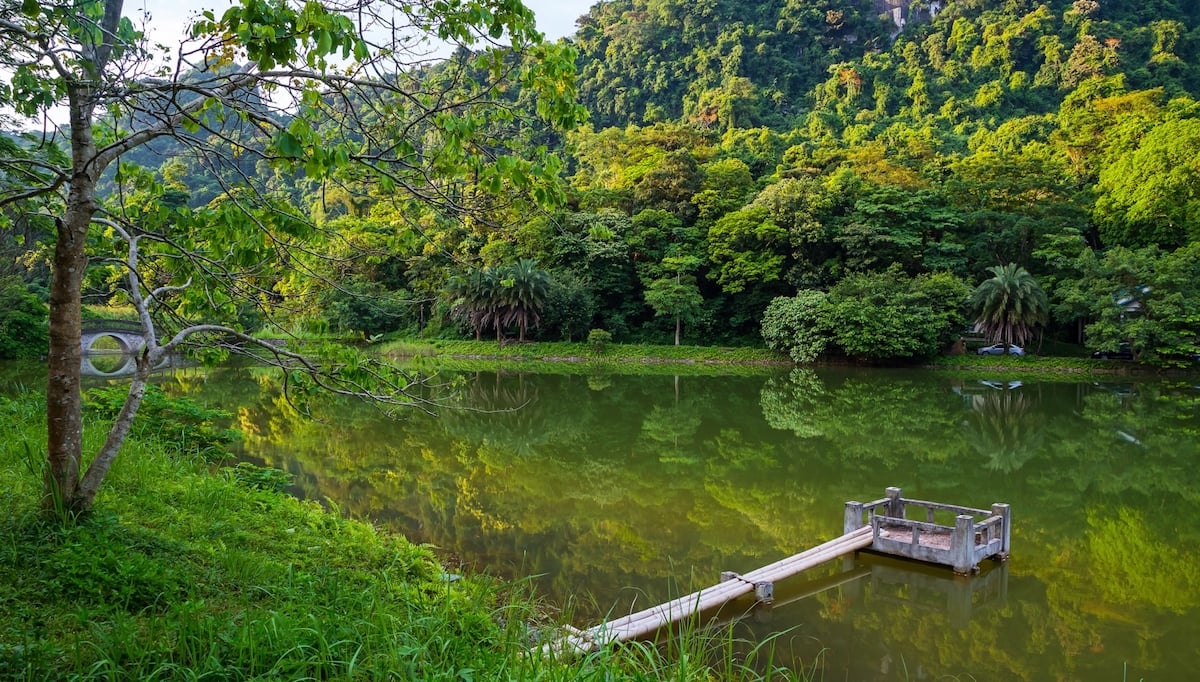 Sơn Trà Mountain (Monkey Mountain)
Rent a motorbike and ride up this mountain. Check out the temple. Take a break at the epic view of the Đà Nẵng Bay and East Sea. It'll have you breathless and in awe that such nature exists on this earth. The hikes can be challenging, so don't forget to prepare your gear. Oh, and watch out for the monkeys.
Ngũ Hành Sơn (Marble Mountains)
Marble Mountain holds the perfect blend of nature, architecture, and temples. It's a range of five mountains that represent the five elements. The trek up is pretty rigorous, but don't give up or you'll miss the awesome view from the top. The caves here aren't all that impressive, so skip it if you're pressed for time.
Ngũ Hành Sơn
Múa Caves
Despite the name, we wouldn't recommend Múa Caves for its caves. Instead, the moderate trail of 500 steps has a stunning view from the top, with a Quan m temple to get your good vibes on.
Mua Cave – Credit: Funny Travel Vietnam
Water
Bái Tử Long National Park
Everyone talks about Hạ Long Bay, but there are a total of seven amphibian national parks with both land and water zones. Bái Tử Long National Park has less traffic than Hạ Long but is just as breathtaking. Take a boat or kayak around the bay, spend some time on the white sandy beaches, and stop by the little islands to check out the mangrove forest, coral reef, and tropical forests. And yes, there are caves here.
Bai Tu Long National Park – Credit: Halong Holiday
Đồng bằng Sông Cửu Long (Mekong Delta)
Hop in a boat and check out what the floating villages, flora, and fauna have to offer. We'd recommend booking a tour to get the best insights into what life on the delta is like.
mekong delta
Mũi Né
Head to Mũi Né if you want to relax by some white sand dunes, get a little tan, and hop on the water for some kitesurfing lessons. Chill, eat, surf, repeat.
Đà Lạt
Abseil down a waterfall. Enough said.
Nha Trang
Interested in getting your scuba certification? Perhaps you just want to do some diving. Head to Nha Trang to get some of that underwater adventure. You can also dive below the surface in Hội An and Phú Quốc.
Wheels
On wheels, you can choose your own adventure. We'd recommend taking a motorbike trip across the parts of Vietnam that interest you. Or better yet, take a slow and steady ride by bicycle to get a more in depth view of the country.
We'd recommend the motorbike ride from Sài Gòn to Đà Lạt and a bicycle trip through the rice paddies of Mai Châu.
If you're looking for something with a lot more speed, head to Mũi Né to race over sand dunes on quad bikes or dune buggies.