One of Hanoi's most prominent family-run restaurants, Bun Cha Huong Lien, had no idea that one day, they'll be hosting US President and a celebrity chef in one table and would be making headlines on the largest American news channel the next day.
Tucked in an unassuming street just south of the French Quarter in the capital city of Hanoi, Nguyen Thi Lien, one of two proud owners of Bun Cha Huong Lien delightfully prepares the meat that they're going to serve for the rest of the day.
"We had been informed days before by the government officials that there would be a lot of reporters and journalists from famous international media that are coming over to check our place out," Nguyen claims. "But of course, we had no idea that the US President himself will be heading over here for dinner. That was definitely a big surprise for us," she continues.
Before the big night, the government warned the family to pay very high attention to the food hygiene and safety as they were told that VIPs would be coming over for a meal. For Nguyen and her team, it didn't really bother them as they've done it probably a million times already. The owners claimed that they don't need any special events to prepare the freshest ingredients and cook everything with the utmost love and care.
It's been part of their everyday routine for decades.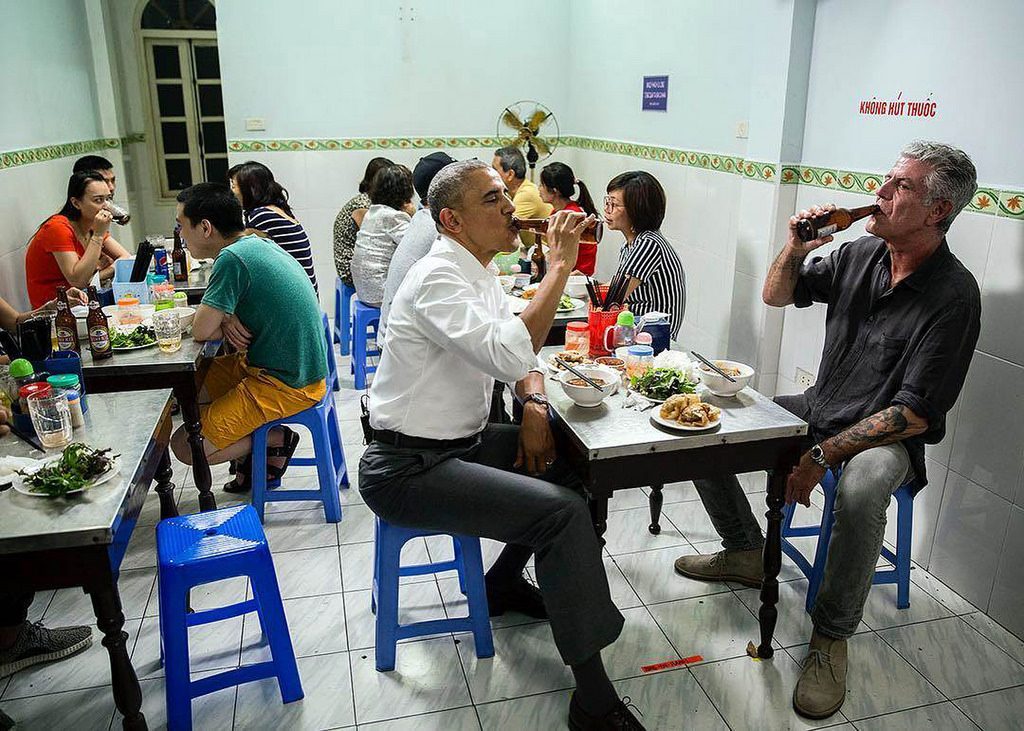 Sources from the BBC to the CNN however, have made varying claims about how the dinner between celebrity chef Anthony Bourdain and President Obama was staged. According to my conversation with the owner, this is how it played out:
1- Celebrity chef Anthony Bourdain was already planning to be in town for an episode shoot of CNN: Parts Unknown (he's been to Vietnam many times and has publically said that it's his favorite country for food)
2- The President agreed to join him for dinner and to film their dinner for the show
3- The whole dinner scene was setup for them and the people around them were paid/commissioned to act normal (the scene just outside the restaurant was not so normal in comparison)
4- The President knew what was going to happen and where they were going to eat, so he didn't really have any surprises when he got there
5-Anthony Bourdain did in fact pay for the dinner
After making headlines all over the globe in multiple media channels and news platforms within less than 24 hours, Nguyen's restaurant became a big hit and became included in many of the tour operators' travel itineraries around Hanoi. Heaps of tourists have been flocking to the restaurant as well on a daily basis from different parts of the globe, excited to try out the now famous Obama Combo, which is basically a bowl of traditional Bun Cha paired with some deep-fried Hanoi-style spring rolls and a bottle of Hanoi beer.