Walking through the doors of CTY Kitchen + Bar, one is greeted by a lush profusion of potted tropical plants fluttering in the sunlight as overhead fans and misters keep the otherwise minimalist space cool. In the background, mellow tunes playing over the ice-filled oyster bar offer more clues as to where Jay Moir and Vicky Lam, the operators of CTY, got the original spark of inspiration for their latest creation.
It was long walks along the coast of Australia, listening to the crashing waves, while enjoying the salty treasures of the ocean in those pre-covid days, that the Australian duo dreamt up an Aussie-inspired concept with Vietnamese sensibilities: an alfresco all-day dining venue acting as a melting pot of ideas, languages, cuisines, and cultures.
Contrary to popular lore, not all creatives are night owls. Quite a few admen (and women), branding gurus, and media types pop in right when the doors to CTY open at 7.30 AM to grab a coffee and croissant to go, while others make good use of the well-designed workstations and cozy collaborative spaces.
By 11 AM, the place is positively buzzing, with cultish dishes such as their Chicken Katsu Sando, the fan-favorite Tonkotsu Carbonara, and Sydney's Black Star Pastry's Insta-famous Watermelon Cake. From 5pm onwards, Strawbtinis, artisanal G&Ts and other tantalizing concoctions are consumed by the Happy Hour crowd merrily huddled around the koi pond.
While the lunch menu highlights contemporary dishes, busy bodies can take a break from their paperwork and enjoy comfort served on a plate on weekends with CTY's brunch menu featuring the original Tom Yum Instant Noodle 'Gnocchi,' an ode to cosmopolitan dining.

But the talk of the town is CTY's newly launched dinner menu, available from 5 PM to 11 PM. This carefully crafted, tapas-style selection of seafood dishes celebrates a marriage between the modern, multicultural spirit of Australia and the fresh ingredient abundance of Vietnam.
Day and night service
What distinguishes CTY from other restaurants around the city is the dynamic nature of the menu. The team's ability to make a seamless transition between lunch, dinner, and weekend food reflects the same high-energy and holistic hospitality Jay and Vicky want to emphasize in their service. From greeting the guests as they walk through the door, showing them to their seats, and carefully guiding them through the different flavor elements on the menu, the service is genuine, attentive, and professional, with none of the stuffiness.
Hats off to the chef
Recreating the laid-back atmosphere of an ocean-facing Sydney eatery amid the hustle and bustle of Saigon meant finding a head chef who understands Australia's cross-cultural experimental nature as well as Vietnam's traditional flavors and underrated abundance of local seafood. Son Nguyen, the head chef who fully embraces this cooking style and philosophy, has made a distinctive mark on CTY's dinner menu.
Son deliberately breaks away from the traditional "Vietnamese chef mold" but remains committed to treating local produce and the original flavor profiles with utmost respect — cooking "to enhance, not replace."
The kitchen is his oyster and the ingredients are there to mix and match. For the dinner menu, you will be able to see Son's style of cooking much clearer - he's given full freedom to create dishes that taste both familiar and foreign at the same time. When asked to describe his approach, he tells me it's inventive and playful, yet uncompromising when it comes to preserving the essence of the ingredients.
Bigger fish to fry
Though much more delicate and difficult to master, Son was eager to take on this opportunity because to him, seafood is full of mystery and the expedition into this little known territory is 'high risk, high rewards'. When cooked using appropriate techniques, fish and shellfish give poultry and livestock a run for their money. So when he found like-minded partners, Son jumped at the opportunity to expand his knowledge in seafood as well as different use of spices to create interesting flavor profiles.
This young chef believes that every dish should have a main character and as its 'handler', he feels that it is his duty to put it in the spotlight it deserves. Everything else — the cooking method, spices, seasonings, and presentation — are supporting actors and the stage for the real star of the show.
Son's selection
Son's inclusive, borderless approach and mastery in the kitchen are on full display in CTY's new dinner menu that spotlights the bounty of the sea.
Start with the BBQ Bonnet Snails — a true labor of love. Think of abalone, except much more affordable. Snails are subtle in flavor yet punch well above their weight because "they meet that sweet spot where 'chewiness' and 'tenderness' exist simultaneously." The dish is served in the impossibly rich Tonkotsu broth, simmered for 72 hours with house-cured lardo and pickled kohlrabi.
Throughout his career, Son has re-interpreted his country's traditional chả cá lã vọng dish more times than he can remember, always featuring a different fish and a different sauce. For CTY, Son opted for the Spiced Sturgeon — a firmer fish that is more familiar to the local palate. To preserve the essence of the traditional recipe, Son puts mắm tôm in butter form, so it's bursting with the same deep umami flavor as the original, but much easier on the nose.
Another contemporary take on a local classic is CTY's Grilled Prawns inspired by tôm muối tiêu chanh – a quintessential, no-frills Vietnamese seafood dish often enjoyed at home in front of the TV. While the flavor of fresh prawns speaks for itself, the 'harissa' sauce brings an added Middle Eastern touch and a pop of color. Familiar in taste, yet somehow foreign to the tongue – each bite brings about the same sense of nostalgia as the original.
The emphasis at CTY is placed on experience. It's not just about how great the food is or the space itself, but the feeling you get altogether. It's fresh, it's new, it's young. There are no boundaries at CTY.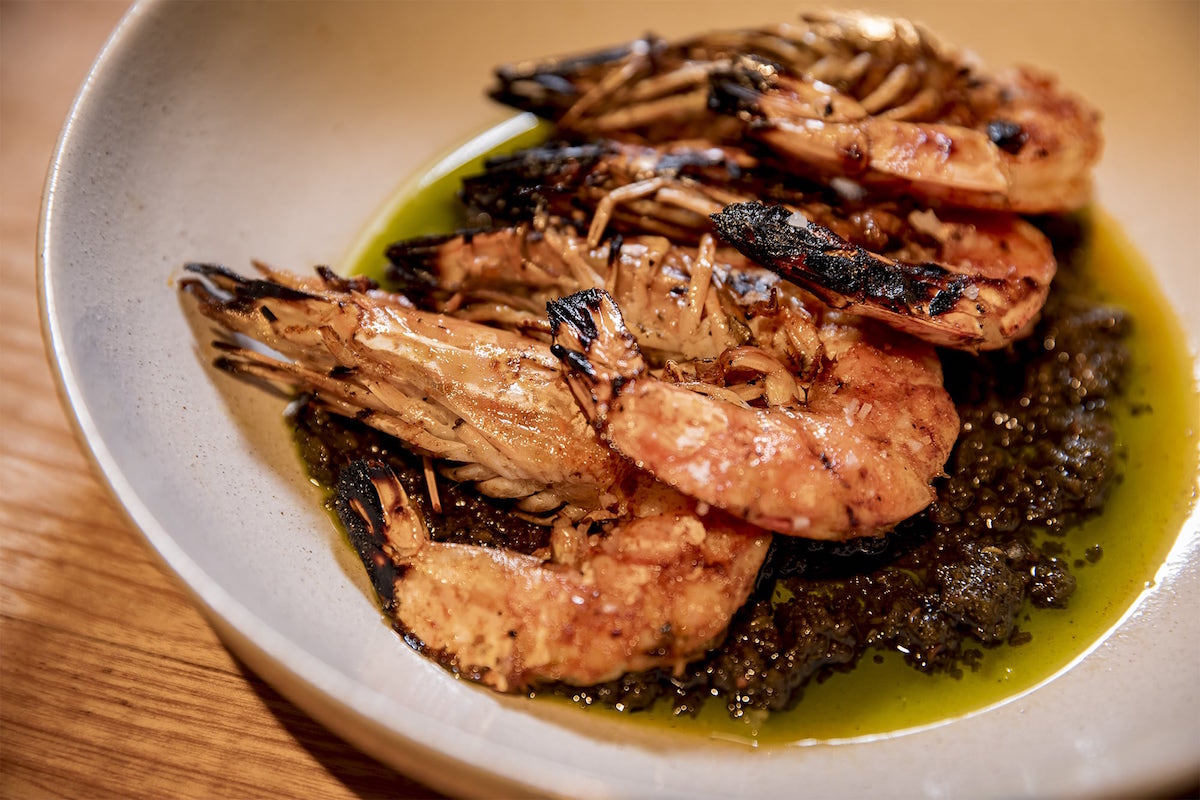 ---
CTY Kitchen + Bar is open 7.30 AM till late, daily. 'Early Bird' breakfast deal is 7.30 AM - 10 AM. 'Shuck Hour' with oysters and prosecco 4 PM -7 PM, Monday through Friday. Dinner, 5 PM till late, daily.