Tet is just around the corner and the festive season is in full swing at Ubisoft. And not only at Ubisoft Da Nang, where the French videogame company has recently opened its first Vietnam studio, but at the company's locations worldwide.
To celebrate cultural diversity, Ubisoft has invited all offices, from Europe to Asia, to join in the vibrant and colorful celebrations marking the arrival of the Lunar New Year (or Tet, as it is known in Vietnam).
At Ubisoft Da Nang, festooned with paper lanterns and garlands, a troupe of múa lân (lion) dancers are warming up before treating the team to a raucous performance – a tradition that is believed to bring luck and prosperity for the year ahead. For the members of the multinational team representing Vietnam and nine other countries, this is their first time celebrating Tet together after opening the Da Nang studio in April 2020.
As the studio is approaching its first anniversary, we asked HR Manager Pham Thi Hien Thu, Product Manager Luu Minh Duc, and Content Director Alexis Denance, to share their experience of the last 10 months and to give us a sneak peek at what lies ahead for Ubisoft in Vietnam.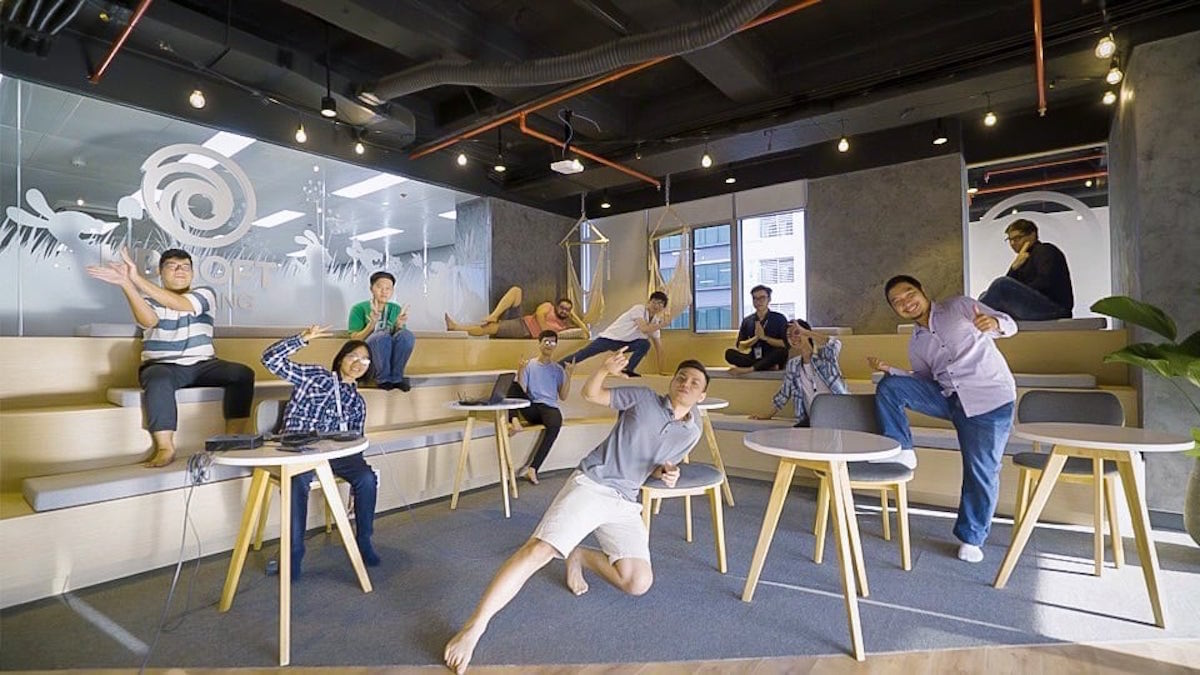 Happy New year! Since the opening of Ubisoft Da Nang, what feedback from the Vietnamese talents have you received so far?
Thu: Chúc mừng năm mới! Vietnam is a young and dynamic country with an abundance of creative and technical talent. A lot of studios in creative industries have opened and flourished here in the last few years, and Ubisoft has arrived at the right moment. With a fully staffed in-house team, there is no need to outsource.
And talents from all over the country have welcomed us with open arms – we received more than 2,000 resumes organically! Many even chose to relocate to Da Nang from Hanoi and Ho Chi Minh City because of a superior quality of life. For many, working for Ubisoft is a life-long aspiration, both among industry experts and promising young talents. Especially to new graduates and millennials, we are a very attractive employer as they know and love our brands.
And we were able to build the studio and ramp up the output even through the challenges of the pandemic, which was remarkably well managed by the local authorities.
What kind of profiles are you looking for and how do you find these talents in Vietnam?
Thu: Vietnam has a young population and sees around 50,000 fresh graduates in IT every year. To reach them, we are working with universities, job fairs, local authorities and the media who've been all very supportive as we share the goal of developing Vietnam's tech sector.
Whereas finding skilled engineers and artists is relatively easy, recruiting specialists in game design or live operations is more challenging as the gaming industry is still in its early stages in Vietnam. So we bring international experts in for knowledge exchange when it comes to work on full game creation.
Currently, we already have 10 different nationalities in the studio, and we are looking for over 20 junior and senior talents to join our multinational team: game designers, artists, developers. If you are a team player who loves the challenge and enjoys creating the unknown together - join us in Da Dang. As a bonus, the city itself offers plenty to explore.
Since its opening, Ubisoft Da Nang's focus has been on developing a new segment – HTML5 Social Gaming - with Ubisoft Nano. How is the project going?
Duc: It's a really exciting challenge! The social gaming segment is booming and HTML5 allows us to develop games for an incredibly broad crowd. The big idea is accessibility. HTML5 games can be embedded in any native app or website allowing us to reach large, previously untapped audiences (of both PC and mobile players) as well as introducing online gamers who congregate on growing web portal such as Poki or Crazygames to Ubisoft Worlds and franchises. Eventually, we will be able to run our games everywhere, even on in-flight entertainment systems!
The three games we developed and already deployed – Rabbids Wild Race, Trackmania Blitz and Hungry Shark Arenna – are being played by 5 million people, on the web and on apps. We are already on dozens of major platforms such as Douyin (TikTok in China) and VK (a Russian social network), and will soon be playable on the Western platforms (Facebook, Snapchat, etc.)
Distribution takes place through the HTML 5 stores of Huawei, Xiaomi, Samsung and through the telecom operators who are making a comeback, thanks to the recent boom of subscription-based entertainment services.
It's really rewarding for a development studio to be able to directly interact with the players and the gamer community around the world. Once we've successfully brought our games to all kinds of devices, making sure they are playable and universally enjoyable, we've succeeded.
What is your current focus?
Duc: The HTML5 games segment has a strong growth potential and it's up to us to create the unknown. During season one, we were focused on finding the right people and building teams that are willing to really make a difference.
Now we're focused on building our pipelines of deployment, cross-games features and tools to support the release of about 10 Ubisoft Nano games a year – all social multiplayer games, monetized via advertising and are based on Ubisoft's IPs. By the end of March, season two of Ubisoft Nano with new games leveraging some of our most iconic franchises will be soft-launching on nano.ubisoft.com across the globe.
Watch this space to stay up-to-date on our future announcements, like the new system of real prize, we are about to reveal – a native "Ubisoft Nano" app for the App Store – and a brand new website.
Our little finger told us that you too might be working on an ambitious Console/PC project (OK, we saw job offerings…). Care to tell us more?
Alexis: I can't reveal much as we are in the early stages of the conception phase, but we are indeed recruiting for our core team and the project is indeed very ambitious.
For any talented dreamers out there, it's a great opportunity to be part of something big. As Thu mentioned, Vietnam has many talented artists after decades of providing outsourced work for AAA franchises as well as top-notch engineers after the opening of more universities and tech schools. And between us, Da Nang is just a very attractive destination for talents from all over the world! That being said, it's way too early to confirm if this project is going to happen since project on their early stage are more likely to turn into something else among it's conception cycle.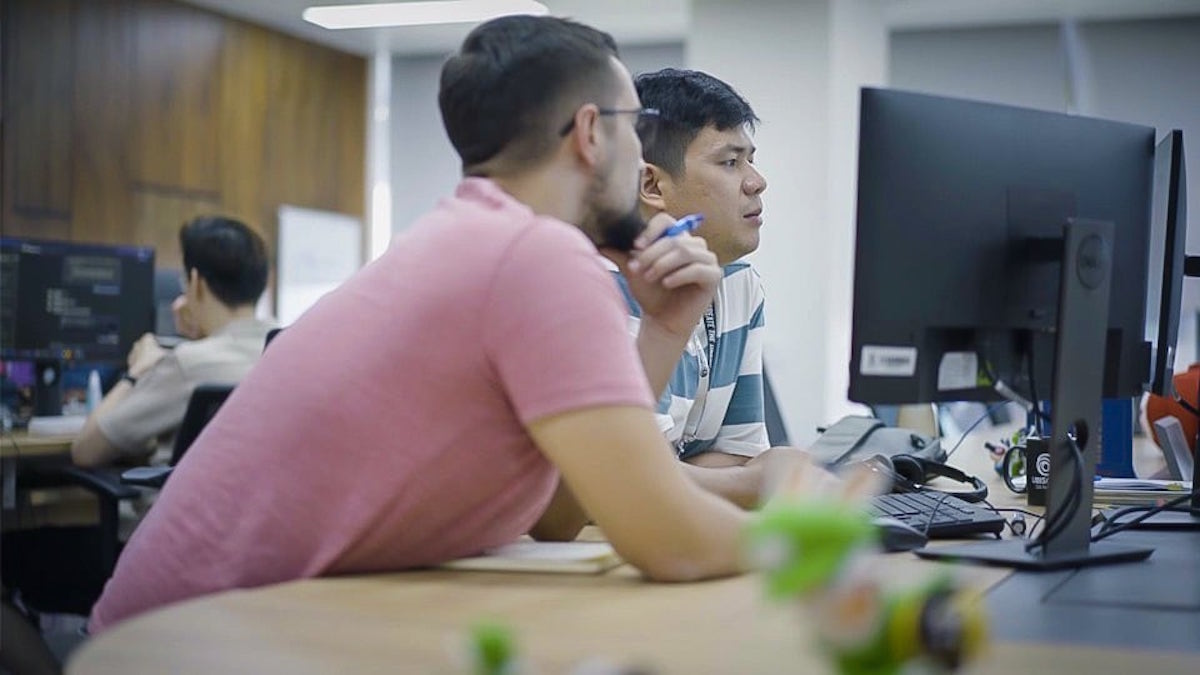 What's the ambition for this new studio?
Alexis: Through our presence here we want to contribute to shaping Vietnam's video game landscape as well as bringing the industry to the next level. We're very proud to have been able to set up an innovative studio performing in a booming segment, and we want to keep the energy up to remain at the vanguard of the industry. We also see ourselves as a training ground for Vietnam's incredibly talented creatives and we foresee an great potential on the upcoming years to come.
We really hope that carrying out such ambitious projects while maintaining the high standards Ubisoft is known for will give Vietnam's industry a leg up and will put the country on the world map of video games.
We hope to make it a significant year for both Vietnam's video game industry and for Ubisoft ...Chúc mừng năm mới!