California's Viet Film Fest is a showcase for films by and about Vietnamese people shot anywhere in the world. This year Viet Film Fest have curated some of the best Vietnamese films of 2018 including one made in the festival's hometown of Orange County—namely "Actress Wanted" by director Minh Duc Nguyen. It's a film that's being shown alongside works shot as far away as Japan—like "Summer With Closed Eyes" (Nhắm Mắt Thấy Mùa Hè) that stars Phuong Anh Dao who also recently featured in Charlie Nguyen's "My Mr. Wife."
https://vimeo.com/289023658
"Another Charlie Nguyen film, 'The Rebel,' is probably my favorite Vietnamese film of all time," Yvonne Tran, who is on the festival's committee this year, says. "It might have been the first Vietnamese film I ever saw and it had the right mix of history, love, humor, and action."
Yvonne was the festival's director in 2016 after originally joining in 2014 as a volunteer. "I went away to college and came back wanting to learn more about where I came from. That prompted me to join VAALA (the Vietnamese American Arts and Letters Association) which is the organization that runs the Viet Film Fest," Yvonne remembers. "And from that point, I haven't stopped working with them."
Vietnamese film is relatively unknown internationally compared to films from nearby countries like Hong Kong and even Thailand. "I think Vietnamese filmmakers are still finding their voice," Yvonne muses. The domestic market has a fast turnover of films, many of which are remakes. There have been well-publicized issues with censorship. And many of the biggest actors, like Thai Hoa, and even directors, like Charlie Nguyen, have a background in comedic theatre—a style that often doesn't appeal to international audiences.
"I also think talented filmmakers are under a lot of commercial pressure—they have to make a profit," Yvonne continues, "but they really want money to finance the small, weird indie films they've always dreamed of making." By also promoting short films—often a stepping stone towards feature-length filmmaking—Viet Film Fest are playing their part in nurturing young Vietnamese film directors.
However, the organizers are already noting some positive developments in the industry including the increasing number of female directors and producers. "In our 2018 festival lineup, more than 50% of the films were directed or produced by women compared to three years ago when I could count the number of women directors in our festival on one hand," Yvonne says proudly.
There's also a more diverse Vietnamese film landscape to draw upon. "Last year we had our first entry from Norway, and this year we had our first film from the Czech Republic which not only shows the expansiveness of the Vietnamese diaspora but also its engagement in the creative industries," Yvonne adds.
Viet Film Fest presents the best Vietnamese films of 2018
In February, Vietcetera spoke to the filmmakers behind "First Generation." The short film, which explores the Vietnamese-American coming-of-age experience, is one of 30 films at this year's Viet Film Fest. Among other films showing is Tuan Andrew Nguyen's "The Island." And there are more feature-length films like Philadelphia-set romantic comedy "Hanh, Solo."
Here, Yvonne Tran helps us sift through the films on show as she tells us about her own favorite Vietnamese films of 2018 featuring at the festival.
The best Vietnamese film of 2018
Although not quite feature-length at 42 minutes, Yvonne's favorite film of the year was Tuan Andrew Nguyen's "The Island." Or at least the most haunting Vietnamese film of the year.
Tuan Andrew spent time on Pulau Bidong as a refugee. Between 1978 and 1991, 250,000 other people were also there too, which made the tiny Malaysian island one of the most densely populated places in the world. The film explores "history, trauma, nationhood, and displacement."
"And it does so by integrating archival footage into the narrative to create this dystopian future that's indebted to the past," Yvonne says. "The visuals are already breathtaking, but when that's coupled with Khanh Ly's ethereal voice on the soundtrack it becomes completely entrancing."
The best Vietnamese short film of 2018
In the German-Vietnamese "Apples and Oranges (Obst & Gemüse)" Hanoi-born director Duc Ngo Ngoc has crafted a semi-autobiographical tale. The film recreates his parents' Berlin fruit and vegetable shop that they opened in the 1990s—named "Obst & Gemüse."
https://vimeo.com/213428914
When Duc Ngo Ngoc went away to study, his parents hired a Berliner, Ronny, to help out. The film tells the story of the ensuing culture clash—with Ronny renamed in the film as Harry—"to raise awareness of integration on the one hand humorously and on the other hand maybe in some other [more serious] way," according to the director.
Best Vietnamese actress of 2018
"I think Hanh Nguyen has created such a relatable character in the film 'Hanh, Solo,'" Yvonne Tran says. Her character, also called Hanh, "has had a rough year."
And so the film, directed by Jason Taylor, explores Hanh's reinvention while touching on her "worries, fears, anxieties and experiences as a twenty-something Asian woman at a crossroads in her life," as the director describes it.
"In 'Hanh, Solo,' she's a little wacky, but she's funny, and she keeps it real in her struggle to find love and purpose in this day and age," Yvonne adds. "It's refreshing to see a new talent like her."
Best Vietnamese actor of 2018
The moodily-lit "The Way Station" has been compared to the work of Wong Kar-Wai. It's also well-known Vietnamese actor Hong Anh's debut directorial project.
Centered around a hundred-year-old house, the film portrays a Vietnam in transition during the "thought-provoking and unstable time" between 1995 and 2000. Already, it's won Best Film at the ASEAN International Film Festival & Awards and the Special Jury Award at the Eurasia International Film Festival.
https://www.youtube.com/watch?v=X9k7VHuvHtk
The leading actor, Pham Hong Phuoc, plays a newly hired member of staff at a family-run goat meat restaurant who becomes embroiled in the passions and conflicts among the family and his other co-workers. "He's a fresh new face," Yvonne Tran nods, "with a layered but complicated character who delivers his performance subtly but effectively."
Most surprising or unusual Vietnamese film of 2018
In the most surprising or unusual film category, Yvonne goes for "Footfalls".
The 3-minute-long film, produced in the UK by Leeds-based filmmaker Hai Di Nguyen, is "loosely based on a tragic true story of a nine-year-old girl," according to its director.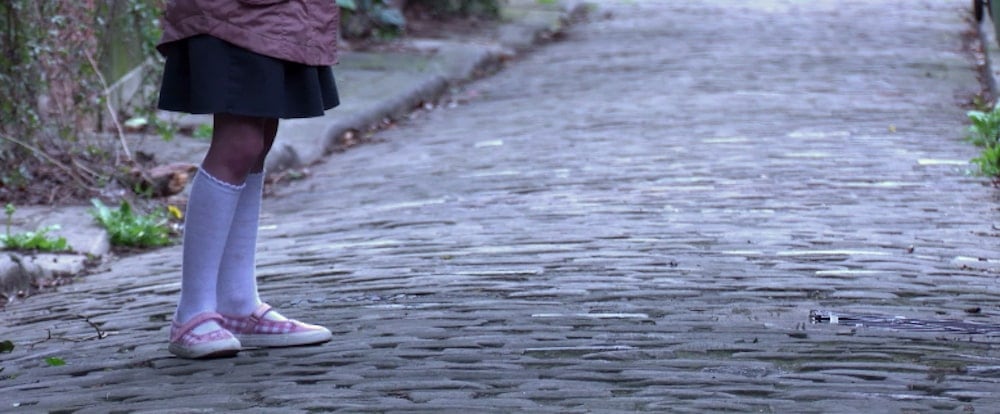 And all you see are feet. "You don't see a single face or body," Yvonne confirms, "but with some innovative storytelling, the director keeps you captivated on the disturbing events unfolding on-screen."
Photos of Yvonne Tran by Nathan Dang for Vietcetera
Related Content:
[Article] Charlie Nguyen In Five Films According To The Vietnamese Director
[Article] "Song Lang" By Leon Le Is A Film About Cassette Tapes, Cai Luong, And Love