Information about the novel coronavirus is rapidly changing. As a result, some of the information or advice in this article may be out-of-date.
As cities and whole countries are hunkering down against the virus, it is becoming increasingly obvious that the crisis will reshape society in lasting ways; similar to how the world changed overnight after 9/11 or the 2008 financial crisis.
We don't know exactly what the new normal will look like, but we can imagine, with some degree of certainty, some of it. The trends that were already underway hit the fast-forward button. Forced to quickly adapt to the new reality, people (and businesses) who were stuck in the rut are discovering new ways of doing things.
Digital is the new way to interact, do business and survive. Vietcetera looks at the areas of life in Vietnam most affected by this transition.
The appliance of science
It took an unprecedented healthcare crisis to force people back to accepting that expertise matters. Looking for factual information and confronted with denial of science promoted as justified scepticism or opinions passed along as facts, people want to hear from the medical professionals directly.
Making it easier for experts to reach global audiences, Twitter has announced a new purpose for its blue-check verification mark. The badge aims to reassure that the account is providing credible updates on the topic of the coronavirus. Similarly, Google has launched an updated search experience that includes a carousel of verified information related to the pandemic. Media companies like the New York Times and Wall Street Journal are seeing exponential readership growth as more readers turn to trusted generational content sites to receive live updates about the coronavirus outbreak.
If this newfound appetite for scientific knowledge is here to stay remains to be seen. But the changes being rolled out by the social media platforms will make dispelling untruths easier, and not only those related to health care.
Groceries at a click
Unlike shopping for electronics and ordering take-away meals through delivery apps, purchasing fresh foods is still mostly done at the store. But due to social distancing measures, the switch to online grocery shopping is happening at an accelerated rate — a development that could have a lasting effect on the supermarket industry.
According to a March survey by Ipsos MORI, 57% of Vietnamese consumers say they've switched to shopping online to purchase some of the products they'd usually buy in-store. As a result, the already stiff competition between Vietnam's shopping apps has gone into overdrive in the past weeks. But until now no one has really cornered the market.
As online grocery buying gathers momentum, the changing consumer habits will shape the landscape for the months and years to come. Once life goes back to normal, the new habit of filling the carts with clicks might very well stick.
Hygienic payments
Amid advice to regularly disinfect high-touch surfaces, many are growing wary of using cash, a particularly germy surface.
Some societies like China are well on the way to becoming cashless with customers relying on mobile and QR code payment platforms, such as WeChat and AliPay. The US is also ahead of the curve with high mobile and contactless payment penetration.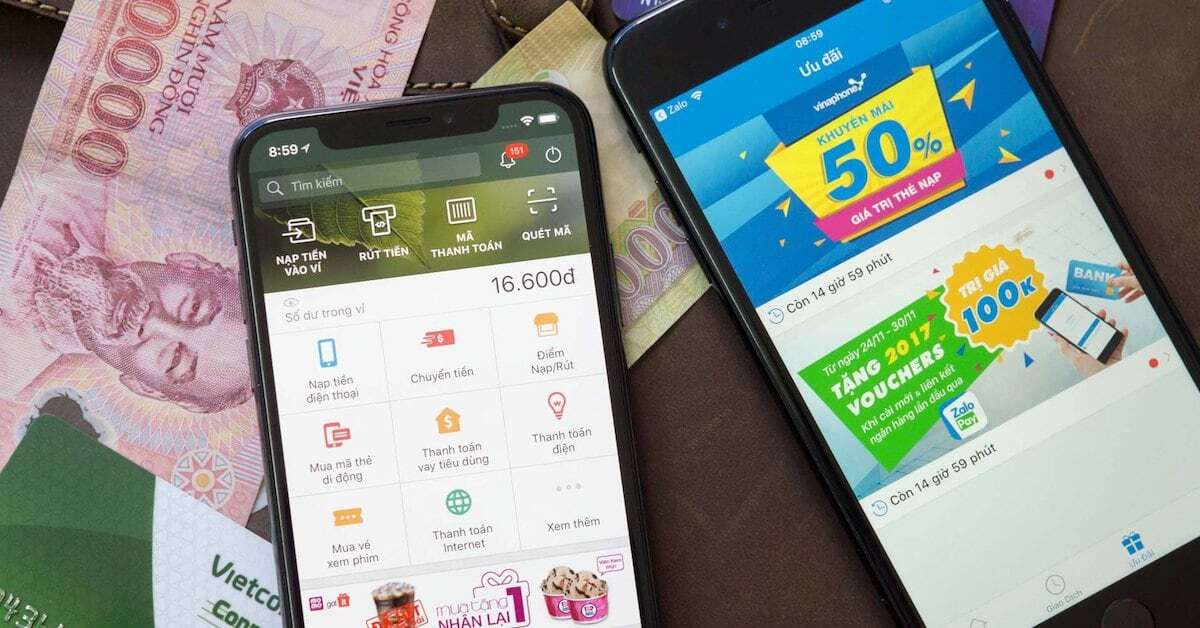 In Vietnam, on the other hand, cash is king. The e-wallet market is in its infancy, with MoMo, Zalopay, Airpay, SenPay, Moca and other industry leaders playing the long game.
The virus, however, may end up serving as a "trigger event" for wider acceptance of contactless payments, finally kicking "cash on delivery" off the pedestal as the payment method of choice.
Work-from-home warriors
The remote working experiment in white-collar industries is seen by some as an inflection point. Perhaps not surprisingly, the loudest advocates for wider acceptance of telecommuting are the makers of Slack, Zoom, Teams and other workplace apps.
As companies are scrambling to smooth out the wrinkles and have the necessary systems in place, employees discover the upsides and downsides of working from the kitchen table. Not everyone has the luxury of a home office or a quiet corner where to work undisturbed, so the next weeks and months might prove more challenging than rewarding, but the lessons learned in this trial-by-fire will certainly benefit the post-lockdown work life.
Provided the experience is largely positive, many workers will find it hard to go back to lengthy commutes when the economy is back to full force. And some employers will see the benefits of giving them their wish.
Remote healthcare
Another fledgling industry that has received a boost this year is telemedicine. As overstretched hospitals are turning away patients with chronic conditions, the public is increasingly turning to digital healthcare providers for remote consultations.
From routine inquiries to treating the chronically ill to comforting people who are anxious about the outbreak, telemedicine is proving effective. Companies like Jio Health, a full stack, omnichannel healthcare startup for consumers in Southeast Asia starting in Vietnam, are in pole position to grow their market share.
Healthcare providers in China and the US are seeing a 180-degree change in how primary care medicine has been practiced in just a week or two. Countries around the world are fast tracking digital regulations and passing laws to support and further accelerate the digitalization of their healthcare systems. Health care behavior is hard to change. But millions of people confined to their homes were told to steer clear of clinics for fear of infection and it is not unreasonable to believe that the awareness created by the coronavirus will last long after the pandemic fades.
Digital Community-Building
Amid the collective isolation, the communities have found a way to come together: in digital space. Offering a break from the doom and gloom of the news cycle, individuals and organizations have come up with creative ways to bring culture, art and beauty to our digital devices through platforms such as TikTok, Twitter, and Facebook which are all hitting record usage.
With concerts cancelled, pop stars are live-streaming mini-concerts from their bedrooms. Theaters are commissioning major online programs of work, while opera lovers can tune in for nightly live streams of world-class performances. There are free yoga classes and guided meditation.
Museums and art galleries are getting creative with virtual tours and digital exhibitions. As global audiences are going into full screen mode to tour the Vatican Museums or to practice Vinyasa yoga with world's leading practitioners, our digital lives are getting a powerful reboot.
Featured Image: New York Times
Related Content:
[Article] Eat Well: Your Home Delivery Guide
[Article] Vietnam Remote Workforce: Teleworking In The Time Of COVID-19