To celebrate the collaboration between Dat Bike Weaver and Vietcetera, anyone who orders through Vietcetera's exclusive order link will get a FREE helmet designed by our friends at Rice Creative. Please fill in the form to order a Dat Bike Weaver.
Most development plans for sustainable cities of tomorrow feature alternative means of commuting. Swap your heavy-polluting car for a bicycle, embrace public transport or start walking more, the thinking goes, and we can all breathe again.
Vietnam's undying love affair with two-wheelers offers a different path to cleaner air — electric scooters, electric bikes and electric motorcycles.
Silent, odorless and eco-friendly, they have all the trappings of the aspirational metro lifestyle. Yet the adoption has been slow. Befuddled, we reached out to Son Nguyen, the CEO and founder of Vietnam-based Dat Bike, to pick his brain about the roadblocks e-motorbikes are facing in Vietnam and how his young company is tackling the underlying issues.
The Journey Begins
A Da Nang native, Son studied in the U.S. before coming back to Vietnam and launching Dat Bike. First headquartered in Da Nang, Son's team has since moved to Binh Duong, just north of Saigon, where they are setting up a new, bigger factory to increase production capacity.
Before launching their first model, the Weaver, the team had spent countless days and nights finding ways to remove all unnecessary details that are typical of traditional motorbikes. The resulting waterproof, aerodynamic design allows the bike to achieve the highest on performance, speed and range, as well as allowing the riders to show off some serious style creds.
In his interview with Vietcetera, Son argues that the future is electric and explains why Dat Bike is poised to become Vietnam's leading e-motorbike manufacturer for a consumer with a green conscience.
What challenge is your product trying to solve?
We want to drive the mass adoption of electric motorbikes in Vietnam. Right now, there are just too many compromises that you have to make in order to go electric. First, your average e-bike is two times slower than a gas bike, which means that sometimes you just can't keep up with traffic. There is also the challenge of the battery degrading super fast and needing total replacement after just two years. And you can't go for a full day without constant range anxiety.
Dat Bike solves all of these problems. It is faster than a gas bike. Period. Oh, and you can ride for more than ten years before having to worry about battery replacement. Charging takes only three hours and the charge will last multiple days.
Who is your customer and what need of theirs are you aiming to meet?
Our customers are Vietnamese and expats living in Vietnam who want to go green but can't because all current electric bikes suck.
What are your top 5 USPs? What's the one thing that truly sets you apart?
How about three instead:
Dat Bike is faster than gas bikes.
Dat Bike's 72V battery is the most advanced battery pack on the market, by a big margin. It takes only three hours to charge, lasts over ten years before it needs to be replaced and allows you to go 100 kilometers on one charge.
Dat Bike is the only electric bike that is truly made in Vietnam, according to the Ministry of Transportation.
But I think what really sets us apart is that we *are* our customers. We grew up here on motorbikes, just like any other Vietnamese. And we have experienced the same problems as all of our customers. We wanted to take part in making our cities less polluted but there just wasn't anything good that we could use. All current electric bikes are designed and made in China or some other foreign country where bikes are used in a much different way. And so these bikes just don't fit our lifestyle in Vietnam.
Design-wise, what inspired you?
It bothers us that all modern city bikes share the same scooter design. There is no identity anymore. So we decided that we had to build something unique and it had to be as simple as possible. Like life without the daily worries. That reminded me of the best time I had, in middle school, when I would ride a bicycle with my friends around the city. So we took a classic bicycle design and engineered it to be able to take on more power and speed. This became the Dat Bike Weaver.
What are the product's eco credentials?
Dat Bike Weaver has zero emissions. The coronavirus is bad, but it has also given us a glimpse of how clean the air could be if there were no gas bikes polluting our cities every day. Lithium-ion batteries used in Dat Bikes are considered non-toxic by the U.S. Government and are up to 80% recyclable. Our supply chain is rooted deeply in Vietnam to reduce carbon footprint from logistics.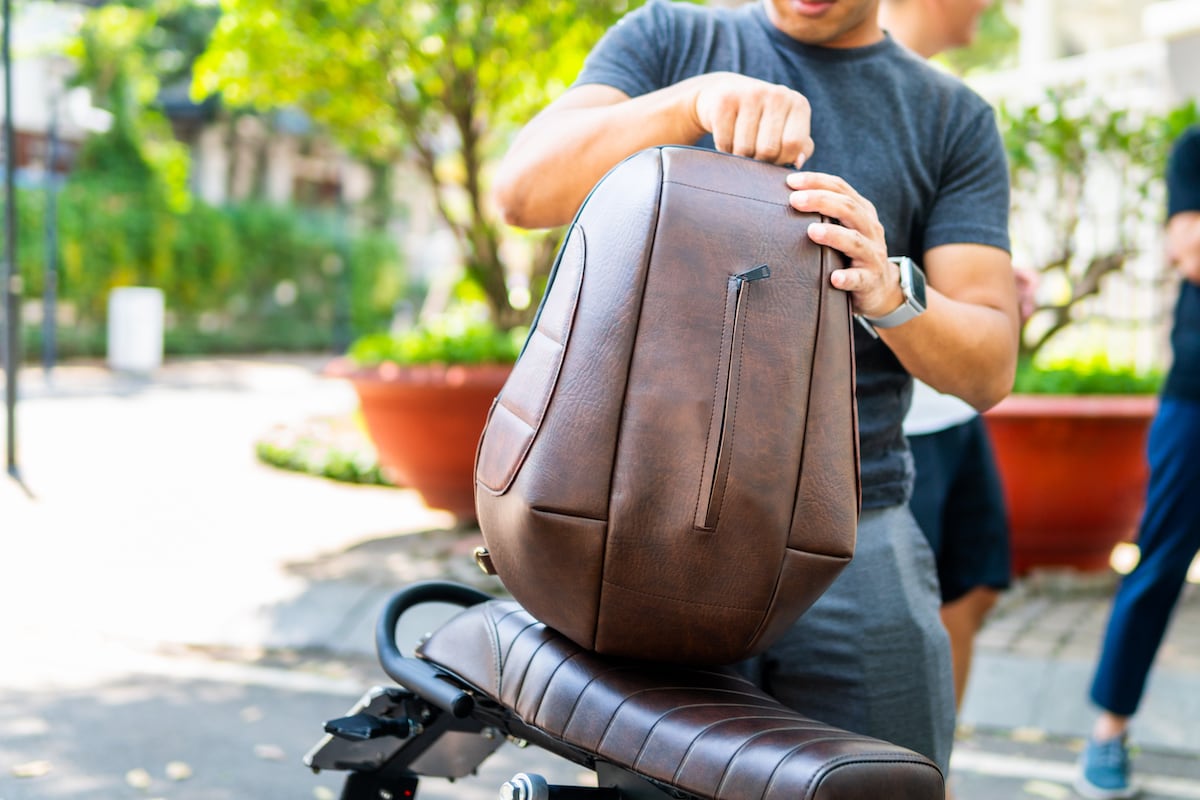 Vietnam's cities are lacking public charging stations for electric vehicles. How does this affect wide-scale adoption of electric bikes?
In order to solve this problem, e-bikes need to be always compatible with home charging outlets. Then we can see the future where everyone can make their home outlets available for other people to charge and get paid for it. Some manufacturers currently want to make charging proprietary where the bike maker is also the charging supplier. This encourages segmentation and would not help large-scale electric bike adoption at all. Imagine if a Honda Rider could only fill up at particular Honda stations.
Dat Bike Weaver takes only three hours to charge using a standard home outlet. You can plug it in literally anywhere and a single charge lasts a long time. In the near future, it will take less than one hour to fully charge the bike. I mean at home, of course.
First user reviews are coming in. What are they saying?
Most people are super impressed with the acceleration, which surpasses any 150cc gas bike. The design is so unique that some Dat Bike customers get asked over twenty times a day about their Weaver bike. I would say that it exceeded their expectations, because no one knew electric could be this good.
In terms of value, where do you sit on the pricing scale?
Currently, in Vietnam, comparable spend gets you 1/3 the power and 1/2 the range of the Dat Bike Weaver.
Given the current economic climate, what will be your focus in the next few years?
We are focusing on two things this year: adding more usability and making manufacturing more efficient. Then we are also thinking about new models to gradually go more mainstream and make the bike more accessible to the public. We have some ideas of a "dream bike" but there are some technical issues we need to iron out first in order to get there.
To celebrate the collaboration between Dat Bike Weaver and Vietcetera, anyone who orders through Vietcetera's exclusive order link will get a FREE helmet designed by our friends at Rice Creative. Please fill in the form to order a Dat Bike Weaver.
Related Content:
[Article] Vietnam Innovator: Thuocsi.vn Is Set To Shake Up Pharma Distribution With New Investor Sequoia Capital
[Article] Vietnam Innovator: Society Pass On Redefining Loyalty And Use Of Data In The F&B Ecosystem