Listen and subscribe to "Vietnam Innovators" in English: Apple Podcasts | Spotify | Google Podcasts | YouTube.
Listen and subscribe to "Vietnam Innovators" in Vietnamese: Apple Podcasts | Spotify | Google Podcasts | YouTube.
Good morning guys, it's Friday here at the Vietcetera office. We're super excited to welcome a very good friend of ours, Greg Ohan. Greg is the director of Sonatus and also at The Sentry, where he is the co-founder as well, although from what I understand, your titles are a little bit different, so instead of me making assumptions, how about Greg, you introduce yourself to our readers.
Hey guys! How's everything going? Hao, it's good to see you this Friday. So a little bit about myself, I've been in Vietnam over 10 years. My latest venture is pretty exciting. It's mainly real-estate related. We've recently founded a new management agency called 'The Sentry,' an asset and real-estate management firm' It basically means "the guardian." We partnered with a local partner and as you mentioned. Our first project is a building called Sonatus. In terms of title, I'm kind of a jack-of-all-trades at the moment, but I'd like to call myself a property concierge.
What does 'property concierge' mean for the vision of the project? What is the vibe you want to give off at Sonatus and The Sentry?
This whole idea was sort-of demand-driven. Real-estate is so stale if you look at the types of offices in the market in Vietnam. Because we're focused on the commercial sector, our biggest drivers are the fact that we don't have any big banking sector or a big finance sector like Singapore and Hong Kong. Most people are coming to work in three-piece suits and the average age of a person is under 25 or 30. In our project, we've got tenants like Tik Tok and Shopee, Foody. So there's kind of a two-prong approach in what we're trying to do. We're trying to be innovative and disruptive in terms of service, quality, technology, but we're also bringing a bit more of a human element and experience to the management side of a property, which is something that's lacking. And so far, it's going well.
Can you share more about your experience that led you to where you are now? What did you learn that informed starting your new ventures today?
My career journey is an interesting one. I've always worked in real-estate. I started in Sydney, Australia (where I'm from), then transferred to Hong Kong and worked there for a while. When I came backpacking here in Vietnam in my early 20s, I thought to myself, if I can find a real job, I would come back to this country in a heartbeat.
Back when the Vietnam market was toxic, no one really wanted to come here. It was still very frontier and wasn't a place that a senior executive and their family would want to move. So, naturally I put my hand up and came here in 2010 with CBRB and worked for them for 10 years. It was a very different game. Real-estate in terms of innovation was pretty spartan, low-priority, build-it-and-they-will-come. Vietnam and especially Ho Chi Minh City is still one of the best performing office markets, not because of the extremely high demand and big space users, but because of supply and demand. Developers haven't really had to be innovative and agencies haven't had to think outside the box because the market is still rather immature. That's when I started off.
I moved into development work for a PE fund with Becamex and Warburg Pincus for a short time. I moved back to Australia last year and realized that wasn't a good move. I had huge FOMO (fear of missing out) because I kept seeing Vietnam in the headlines. In January, I came back to work with some good friends of mine, a family I had worked with in the past. They owned a building called Sonatus. They developed an amazing project, one of the newest premium grade office buildings downtown that finished in December. They managed to commit some great tenants like We Work Headquarters, Friesland Campina, and other big local champions like ACFC and IPP.
What we saw was there was a need to provide. There's this misconception that foreign brands and foreigners in general tend to do a better job because of experience. So a lot of developers would hire an agency to provide a brand to give the tenants confidence when they move in, which is great! But, when it came to delivery, we saw gaps and working with the developer, we realized that there was a big focus in commercial real-estate on bringing tenants into the building.
What we realized was that there was a missing link in the asset management piece: adding value to the asset, taking care of the asset, looking after it technically commercially. That's probably the least sexiest part of real-estate. I'm talking about complaints, cleaning toilets, making sure security guards have their hat on straight, making sure people pay rent on time. These are critical pieces in regards to adding value, managing a building, and maintaining tenants.
We saw a need for that and decided that we could actually do this. My business partner, being a developer, had that experience in terms of managing assets from the technical and operational side. I could bring the commercial and tenant- experience side. I had opportunities to run some fortune 500 agencies here, but I wanted to create something because I really feel that there's an opportunity here in Vietnam. You've got dynamic young locals coming back, taking over family businesses that need direction. The younger workforce, if you give them an idea, they do it better than most senior people will. So we decided to try and build a brand that focuses purely on international standard property management. Similar to HSBC, which is known as the world's local bank-- that idea of 'international' and to 'local'. We're currently working on one project and a couple more to come and it's an exciting ride.
What are those key objectives that you guys have and what are the results you imagine to have for these projects in 5 years?
That's a good question. Initially, our idea was to take what a big machine will typically do and make it more adaptable to the local market. What people don't realize moving forward , especially in downtown Ho Chi Minh city, is this is a completely localized real-estate developer market. Land availability is scarce.The available land is largely controlled by local groups or are state-owned. You're not going to see big Asian corporate brands developing office buildings downtown unless they've acquired it from someone. The vision we have is to cater for that market. We understand that a lot of developers here in Vietnam need someone that understands how to operate a building, not a brand that's built around solely attracting tenants which is the first step. The second step, and the most difficult step, is the management and the continuity. Not just talking the talk but walking the walk. That's what's really been lacking and that's a lot of pain that developers have in the market
The biggest developers in the next 3-5 years are going to be people who are building buildings for the first or second time. So they need real, hands-on support: someone that's representing them and is on their side. Unlike other agencies, we're not here to sell space, or to make money off leasing. We focus on purely the management side. We act as their in-house team. And our point of difference moving forward is really the prop tech aspect. It's top secret so I can't get into too much of it, but that's going to be a real disrupter element.
What are your thoughts on prop-tech in general and specifically in Vietnam? What kind of potential for disruption is out there?
At the moment, there isn't much out there. We're seeing a lot of residential real estate where you have a portal and an app. For a lot of people, that's a big step. If you're over 40, downloading an app is probably the most high tech thing you're going to do for a long time. A lot of the people who the market caters to is in that demographic. Moving forward, the decision makers aren't going to be the people who are satisfied with an app and a simple procedure that just merely involves logging into a website. So what we're trying to do is to automate things.
Currently, I don't see much of it in our space purely because it's such a monopolized service provider market where there's only one to two operators running it. And so, they don't really necessarily need to think outside the box. Our goal is to disrupt that. We want to provide a product that systematizes things, has everything in one place, and gives developers the opportunity to not just see the technical operations, but also the commercial side.
Tell us about the Orbital. What is the project all about?
It's something we're really excited about. The developers and the group I work for and represent have really found a niche. We saw a growing, e-commerce, tech-platform driven occupier office-user market. And on their current project in Sonatus, we saw major drivers from this sector. For a long time, the same group had an office building, which was actually built for HP as a campus ten years ago in the Quang Trung software city (QTSC). This place is amazing. You wouldn't even know it if you weren't looking for it, but it's a campus that's been around for 10 years, the largest IT park in Ho Chi Minh City. The idea was to make it a Silicon Valley of Ho Chi Minh CityCity.
It's been a bit of a sleeping giant. The IT sector and the BPO sector in Vietnam has kind of lost out to the Philippines and India, but we're expecting a big drive forward. Recently, there was a building which they built and we're refurbishing and rebranding into Orbital. Orbital is a brand that the developer created focused purely on the business park sector. Sonatus is their premium brand, Orbital is more business park, secondary market brand. What we're looking to do is to create an alternative destination to people who don't need to be in the CBD; an ecosystem of tech based companies who are looking for cost-sensitive real-estate solutions. Somewhere people can live, work, and entertain clients. We're also looking to potentially develop some other housing concepts close by. It's a large, tech-based BPO IT outsourcing companies looking for space outside the CBD, but more importantly, looking for a place where they can secure good, young, talent. We're trying to make it a bit more open to commercial organizations-- less government feeling and more commercial.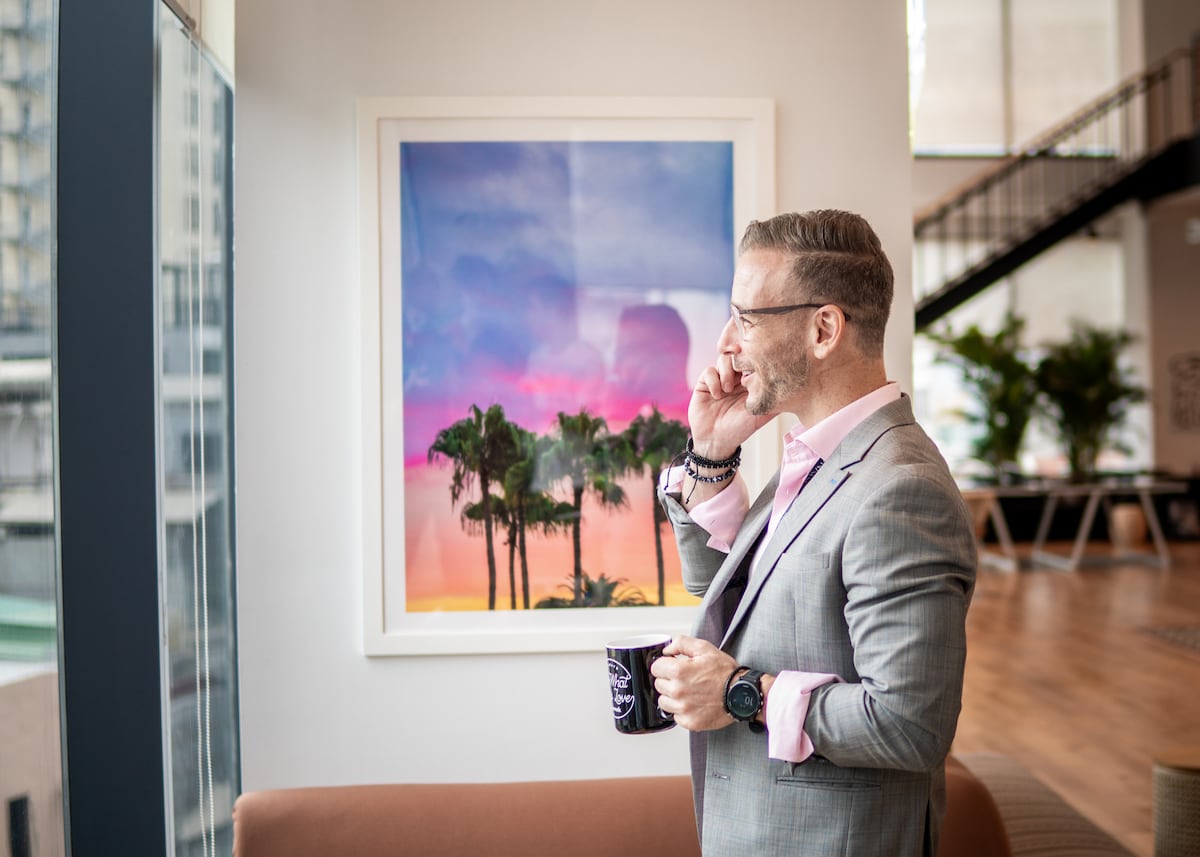 You mentioned a housing project. Aside from what's on the horizon in the next one or two years, what's that housing project you're thinking of?
There are a few things going on because of what we try to do at orbital. Co-working and co-living are big concepts we're looking to do in our building. As the market opens up again, people want to be close to where they work; they want to work in an environment where they're not just stimulated work-wise, but also have entertainment and can congregate with like-minded people. That's something we might look into later as well. We've got big plans and are taking it step by step. For anyone, it's an exciting time regardless of the fact that COVID-19 is happening, this is a great time for people to innovate, for people to step backback, plan, and strategize, and take advantage of this opportunity. A down market is where you can really take the next step and position yourself when things pick up. This is a better time than any to start being innovative.
Thanks for coming on the show today, Greg. It's been a pleasure to learn more about real-estate and all things that are going on in that space and I'm sure our readers will be hungry for more. If you guys are interested in learning more about Sonatus, we've got a ton of content on Vietcetera. Greg and his team, they're out there in the community and always eager to share and we hope to hear from them more. Thanks for tuning in to our most recent episode of Vietnam Innovators.