Bi To is a Vietnamese makeup artist who also works part-time as a catwalk coach and a clothing stylist. He's worked with models featured in Vietnamese fashion magazines like VStyle, Phunu, Mot, and RSVP.
His work for high-profile celebrities like Miss Ao Dai 2013, Miss Universe Vietnam 2015, and Vietnamese fashion model Hoang Thuy has earned him sponsorships and annual contracts from brands like MAC Cosmetics. This year, he will take part in The Face Vietnam, a modeling-themed reality television series and one of several editions in the international franchise.
Bi To's presence on social media is that of an LGBTQ artist who is unapologetically himself, inspiring confidence and changing others' perceptions of the LGBTQ community in Vietnam. We sat down with Bi To to ask about makeup artistry, gender identity, and the perception of the LGBTQ community in Vietnam.
How did you end up becoming a Vietnamese makeup artist?
I started out studying fashion design. But I wasn't able to complete my courses because it cost too much. Then in 2009, I participated in a casting day hosted by Yeah1. That's where I met my mentor, Mr. Viet Hung—a fashion designer and makeup artist who has worked for top celebrities like Mai Phuong Thuy.
As an alternative to fashion, he suggested that I study makeup instead. As a token of sincerity, he even bought me my own starter kit of makeup products. After that, I kept shadowing Mr. Viet Hung and it provided me with opportunities to meet celebrities and improve my makeup skills.
What's a typical makeup look that you often do for clients?
In Vietnam, people prefer the Latino and Thai beauty makeup trends, where the main colors used are brown, nude, and orange. I modify these trends a bit because I find that many people in Vietnam like makeup styles that help them appear more youthful and somewhat doll-like.
To cater to that preference, I'll typically start with just a thin layer of foundation, and then add a light sweep of powder. I'll shape the eyebrows into a straight line using a light shade of brown eyebrow powder.
For the eyes, I'll brush light orange eyeshadow onto the eyelid and onto the outer edge of the lower lid. To help open and lengthen the eyes, I'll add a little bit of glitter onto the inner corners; use eyeliner to draw a thin line over the eyelashes, ending in a small wing that flicks upward toward the outer edge of the eyebrow; and add on some natural-looking fake eyelashes.
For the cheeks, I'll use light peachy-orangey tones that compliment the orange eyeshadow. Then I'll use a slightly darker-tinted red-orange color on the lips.
How would you label your style?
Many of my customers say that my makeup style is more Western. I like smokey eyes, but many Vietnamese feel that it makes them look too mature.
Personally, I think that there's no such thing as an "eastern" or "western" style. It's just all about how you combine the colors, and how you use the colors to convey a client's personality. I love it when the eyes and the lips match. By that I mean you can do dark, heavy eye makeup with a light lip color; lighter eye makeup with a bold lip; or, for people with strong personalities, you can emphasize both the eyes and the lips to make them look more fierce.
Of course, it also depends on the event and what kind of makeup is needed for it. Makeup for a creative fashion magazine photoshoot is a lot different from the makeup style needed for a wedding.
Who are some of your favorite people to work with?
I really enjoy working with professional models, like Hoang Yen or Thanh Hang, because they are friendly and let me do my job. The fact that they trust what I'm doing and are comfortable putting their beauty in my hands means a lot. Working with them fuels my wish to stay in this line of work. Relationships like this make me a better makeup artist.
What advice would you give to an aspiring Vietnamese makeup artist?
Young artists should know that it's a very competitive industry and there are a lot of emerging Vietnamese makeup artists. The key to success is learning. If you stand still you'll get left behind.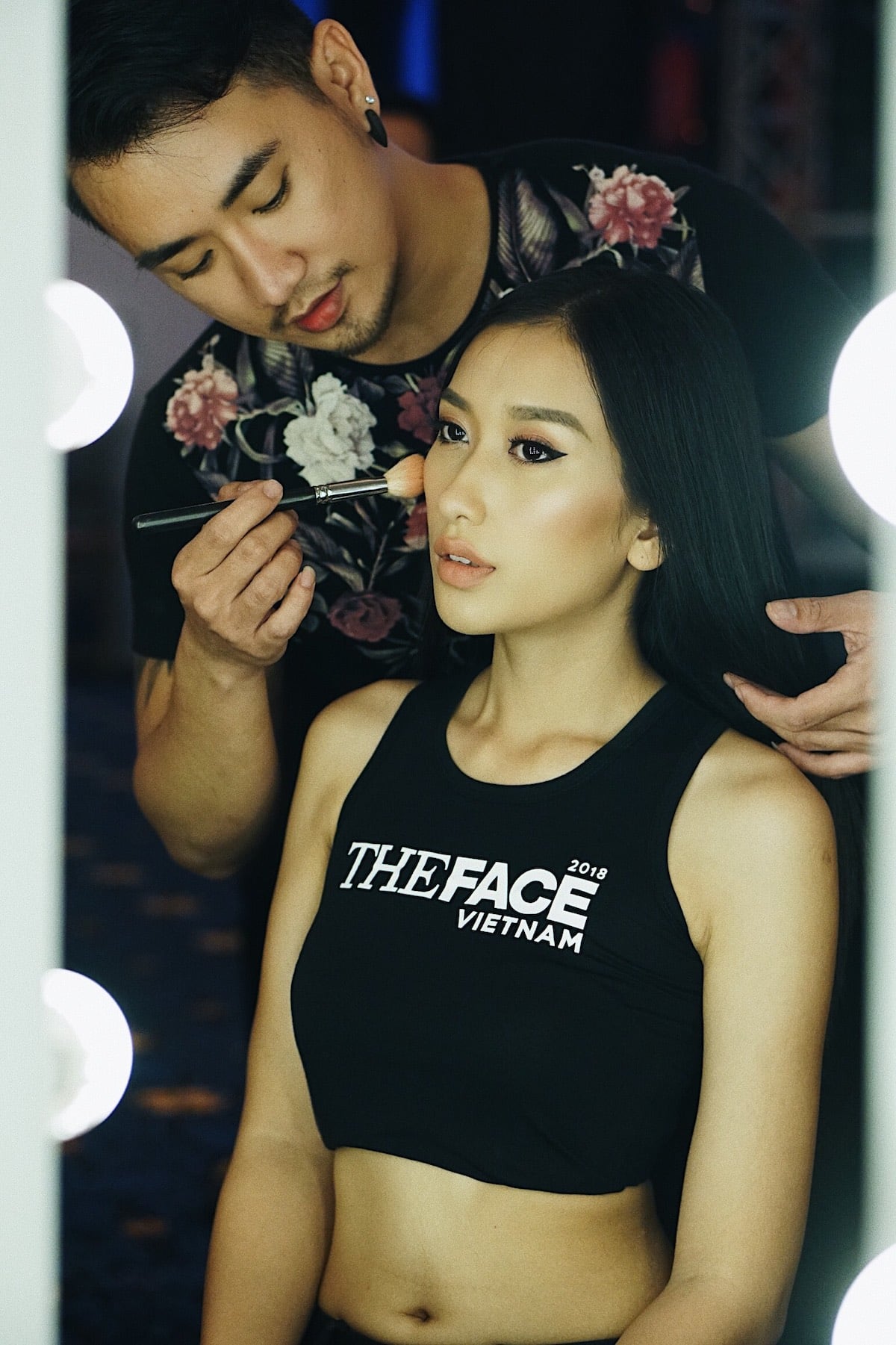 In your opinion, what is Vietnamese society's perception toward makeup artistry as a career path?
I think society in Vietnam today has a more respectful view towards makeup artistry as a career. Vietnamese makeup artists are constantly learning about developments in global beauty trends, helping the Vietnamese beauty industry match other countries' worldwide. Right now, for example, there's a specific type of "glam" look and a specific type of "natural" look that's really popular.
The glam look uses contour, especially around the cheekbones, to make the face look more sculpted. There's also highlight, often on the high points of the cheekbones, on the brow bone, bridge of the nose, cupid's bow, and center of the forehead. Highlight helps to sculpt the face, but it also gives the skin a dewy glow. You can do halo smokey eyes, or just accentuate the eyes with dramatic winged eyeliner. This look uses super long lashes which really help to open up the eyes. And lastly, matte lipstick that's either nude or bold red completes the look.
With the natural look, the eyebrows look a lot less airbrushed. Little to no contour is used. You can use a peachy shade for the eyeshadow just to add a little more depth to the eyes, and add on either natural-looking fake eyelashes or just mascara. For the lips, it's a nude shade with a finish that's either glossy or more satiny.
Like I mentioned earlier though, I take trends and change them to better fit client preferences. My clients often share their makeup photos on social media, which I feel is the best way to raise awareness about some of the more global beauty trends.
How do you believe your gender identity impacts your work as a Vietnamese makeup artist?
The dynamic between male artists and female subjects can take a more cautious path. They can't get too close. Since I identify as the third gender, I'm able to bend the roles a little more. Brides, for example, can feel more comfortable around me as I style their clothes, and do their hair and makeup.
How do you think public perceptions of the LGBT community in Vietnam have changed over the past decade?
Ten years ago, the LGBTQ community in Vietnam was put under a microscope. Public expressions of affection, like holding hands or hugging, were heavily judged. There were a lot of misconceptions in the past. The general public wasn't very well-informed. They didn't know the difference between gay and transgender for example, and media portrayals of LGBTQ characters were one-dimensional.
Now, thanks to better LGBTQ representation in movies and social media, people are less judgmental, and they've definitely become more open and accepting toward the LGBTQ community. It's a lot better now than in the past. LGBTQ people here feel confident, and they feel like they don't have to hide anymore.
What are your personal thoughts on Vietnam's LGBTQ community?
Overall, I think that the community is very supportive. For example, many people now tell each other where to get PrEP to prevent HIV. Last September, we had our 6th annual VietPride march on the Nguyen Hue walking street. Ted Osius, the American ambassador, even gave a speech during the march's opening ceremony. These actions and events help unite the community.
Besides that, we are all still advocating for equal rights. Take a look at marriage. Although same-sex couples can get married, the marriage itself is not officially recognized by the law.