Popular solutions to plastic waste such as drinking straws made from grass and beach clean-ups are a good place to start but they offer only a temporary solution. Bolder thinking was needed to address the root causes of the problem, agreed the experts at ReThink Plastic Vietnam. This led to the creation of the Design Factory, an academically-focused program looking for practical, design-led solutions to turn the tide on plastic waste.
Students from Ho Chi Minh's RMIT, UEH/ISB, TDT and HCMUT universities were invited to enter the Design Factory competition under the umbrella goal of "designing plastic waste out of the environment". Over the course of six months, the 16 teams who reached the finals were coached by experts in a variety of disciplines and by university representatives. The winners were announced at the Grande Finale on 18 March where the teams had the chance to first pitch their ideas to a panel of judges, fellow students and the public.
The organizers looked to The Netherlands — a nation that saw the potential of the circular economy earlier than most — for inspiration and policy direction. Before giving the floor to the teams, Dr. Carel Richter, Consul General of the Kingdom of the Netherlands in Vietnam and one of the judges at the competition, spoke of the urgency of the issue and the role design plays in his country's pledge to make the economy 100% circular by 2050.
The next step for the winners is prepping for the bootcamp-style workshop where their ideas will be transformed into viable business models.
Top of the class
The audience voted online in real time with 31% of the votes going to "Infinity Rollers Plastic Savior" — an ambitious and impactful project from the Tensai team (TDT). The experts, who considered such factors as feasibility and market readiness, seconded that decision by awarding one of the three jury prizes to Tesai as well.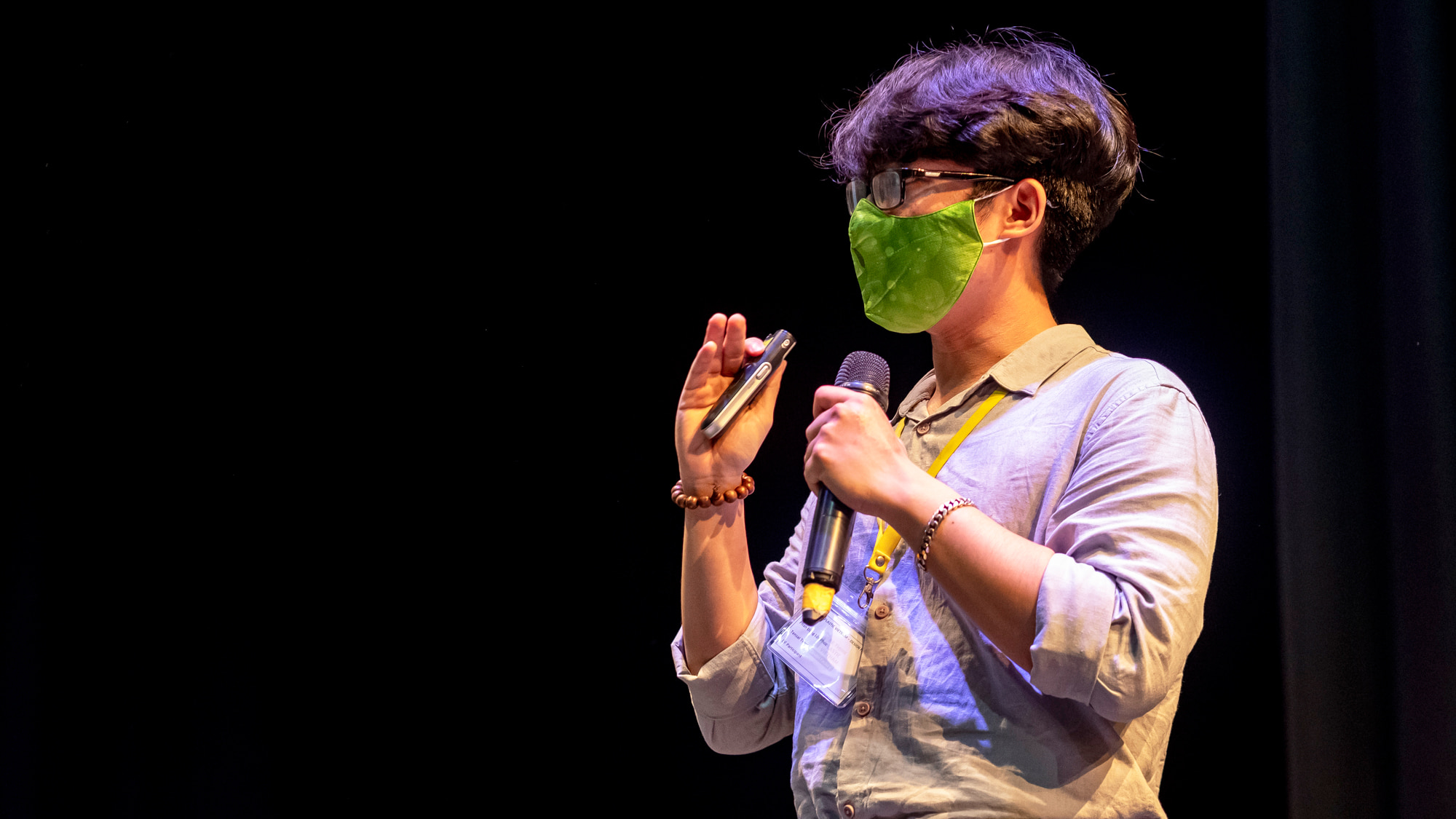 Tensai suggested turning recycled HDPE and EPDM rubber into shock-absorbing rotating cylinders that safely return a moving vehicle back to the road in case of collision. With road traffic injuries being the leading cause of death for those aged 15-29 years in Vietnam, not only was Tensai's idea viable, but it was addressing another pressing social issue. Lai Day Refill Station's Quynh Nguyen, a jury member, applauded the breadth of the project's ambition when presenting the award.
The other two jury prizes went to 'Solve the Pen-demic' by 3T (UEH) who proposed to install plastic pen collecting and sorting points at schools, offices and other public places and melt them into durable and colorful tables and chairs for underfunded schools in Vietnam's provinces.
Green Dreamer's (UEH) idea to turn polystyrene waste (EPS) into oil and dye adsorbent to address oil spills and as a wastewater treatment solution became the third winner. Jury member Alex Huynh of Phoenix Holdings, an investment firm with business interests in Vietnam's McDonald's restaurants and 7-11 convenience stores, praised the efforts of the team and envisioned the possibility of a future collaboration.
Everyone's a winner
Among the entries that made it to the finals were many noteworthy innovations: magnetizing plastic bottles with metal parts to help sanitation workers separate them from other trash (HCMUT); shopping bags made from cassava (UEH); an event company employing low-skilled workers to manufacture party supplies from recycled plastic (RMIT); eco boots with replaceable plastic heels (RMIT) and re-LED light bulbs made from recycled components that users can replace themselves with ease (HCMUT). One team (RMIT) looked at reducing plastic waste at convenience stores: their eco-friendly washing service included 'green' incentives for the customers.
Other teams focused on the garment industry, another big polluter. Re:clothes' business plan (UEH) envisioned a company managing everything from collecting used clothes from households and sorting them to operating a chain of secondhand stores. While the "Bag in Black" project (TDT) featured non-woven totes from PP bags for fashion and everyday use.
Many students were drawn to tackling social issues like homelessness and addressing climate change: building social housing from recycled water bottles (RMIT); fighting riverbank erosion with puzzle-like plastic composite blocks (HCMUT); and making eco rafts and floating houses from 20 litre bottles to benefit flood-prone provinces (TDT).
Calling tech to the rescue, the Garbage Station mobile app introduced by another TDT team aims to centralize collecting, sorting and auctioning off household waste; while SWIPE (Society Without Plastic Explosion, UEH), another app, targets Vietnam's 18-30-year-olds in a bid to change their behavior and attitude to waste with notifications and incentives.
RPV hopes that all project's ideas will have a follow-up and will be 'adopted' by organizations which will support their practical implementation. If any organization is interested in supporting the implementation of one of these innovative ideas, please contact RPV at hello@rethinkplasticvietnam.com.
To join other activities by ReThink Plastic Vietnam, such as the upcoming clean-up event on World Earth Day on 22 April and RVP Ambassadors Day, visit the organization's website: https://www.rethinkplasticvietnam.com/
----------------------------------------------------
Design Factory judges: Dr. Carel Richter, Consul General of the Netherlands in Vietnam; Peter Heber Percy of Wardhaven Capital Limited; Ngo Nguyen Ngoc Thanh - Vice Head, HCMC Environmental Protection Agency (HEPA); Quynh Nguyen of Lai Day Refill Station; Alex Huynh of Phoenix Holdings.
Design Factory business coaches: Linn Grahl and Karin Blennow Diependaele, both in product development with IKEA; Binh Dinh Thai with BASF, a leading chemical company; Bui Duc Trung with An Phat Holdings, one of the leading companies in the field of advanced technology and environment-friendly plastic production in Southeast Asia; Jean-Michel Huet, Senior Key Account Manager at Annam Professional; Jeroen Roomer, New Business Manager at Royal De Heus, a nutritional supplier producing compound feed, premixes, concentrates and feed specialties.
ReThink Plastic Vietnam:
Madeleine van Hasselt, Behavioral Psychologist (Co-Founder)
Karen Smit, Chemical and Process Engineer (Co-Founder)
Raffy Luik, Business Sustainability Manager (Co-Founder)
Nika Salvetti, Phd CSR & Sustainability (Co-Founder)
Co-organizers of the Design Factory:
Annemiek van der Heijden, User Experience Designer
Laura Ceyssens, Facility Manager