Presented by our partners, Speed POS and Beervana International.
Earlier this year, we dug around the basement of TripAdvisor to find the worst restaurants in Saigon. Now it's time to celebrate the best. This year, restaurateurs began to realize they could no longer get by delivering on food alone—Saigon's diners are demanding the whole package of service, decor, food and drinks. And lots of restaurants are rising to the challenge. Collaborations were another trend for 2018 with a healthy number of pop-ups appearing across the city as Saigon's chefs invited each other into their kitchens. Plus a growing design-consciousness inspired a number of exciting new openings.
All this makes putting together a shortlist for Vietcetera's Saigon Restaurant of 2018 People's Choice Award hard—just like it was with Saigon's bar of 2018 list.
You can vote for Saigon's bar of 2018 here.
So, after a lot of deliberation, and heated conversations, here's our final selection in no particular order. Instead of ten we've shortlisted twelve of our favorites. Vote below and learn more after the poll. Polling closes at 5pm Saigon local time on Wednesday December 19th. Also note, the system will only recognize your first vote.
The results will be disclosed when we announce the full range of winners of our Restaurant & Bar Awards 2018 in mid-January 2019.
The shortlist of the best restaurants in Saigon in 2018
Quince
Quince brought casual fine dining to the industrial end of Ky Con street this year. Becoming a destination restaurant is a challenge—but it's one Quince rose to. It might have helped that they'd had some practice in the Thai capital before this with their Quince Bangkok.
Quince's smokey, textural BBQ octopus with earthy sour and sweet Jerusalem artichoke, with creamy chili butter—a dish typical of the casual fine dining restaurant's chef's style.
Here the team, led by Chef Julien Perraudin, committed themselves to finding local ingredients and delivering them in a playful manner with punchy flavors. And because they've hosted some stylish events like their "No bull Wagyu wine and dinner" and Julien has been popping up around town at places like Renkon—with the Chefs of Saigon crew— it's no question that they make our list.
Chef Julien Perraudin in Quince's open kitchen.
What: Casual fine dining at the industrial end of Ky Con.
Where: 37bis Ky Con, District 1
Why: Local ingredients and punchy flavor-filled dishes, and some interesting pop-ups and collaborations.
Anan Saigon
Anan Saigon has come to define new Vietnamese cuisine. The tacos are tasty, the Dalat pizza addictive, and main dishes like the lemongrass pork chop—an elevated version of the streetside com tam—endlessly pleasurable.
Chef and founder Peter Cuong Franklin and team.
Peter Cuong Franklin and the Anan Saigon team have also started to pay more attention to their drinks and service, and it's deservedly earning them international attention. Esquire recently placed Anan among the world's best restaurants—and with Vietnamese cuisine taking the world by storm, this restaurant is the one everyone is looking to emulate both locally and overseas.
Anan Saigon's Imperial Rolls with Foie Gras are based on cha gio fried spring rolls—a modern twist on the traditional dish that preserves the dish's light crispy texture and pork flavour.
What: A modern Vietnamese restaurant in District 1's last wet market on Ton That Dam.
Where: 89 Ton That Dam, District 1
Why: Elevated Vietnamese street food that doesn't sacrifice flavor, Anan is deservedly getting international attention.
Tomatito
Vietnam is no stranger to small sharing plates of flavorsome cuisine, but eating never felt this sexy…until Tomatito arrived.
Tomatito took tapas in Saigon in a very sexy direction this year.
With staff encouraging us to take their Salmon TNT with "two fingers and one bite," and Tomatito Chef Julio Gomez amply filling in for Chef Willy when he's on his travels, Tomatito made us fall in love with tapas again.
Chef Julio Gomez kept up the levels of sexiness in Chef Willy's absence.
What: A tapas restaurant that came to Saigon via Spain…and Shanghai.
Where: 171 Calmette Street, District 1
Why: Sexy sharing plates in a stylish space.
Jardin des Sens
Jardin des Sens helped Saigon understand what it takes to win three Michelin stars. Twin brothers Jack and Laurent Pourcel confidently rolled out their first restaurant in Vietnam (with more to come) and they did it with the kind of obsession to detail you'd expect from these two culinary sensations.
Jack Pourcel presiding over a stock in the kitchen of Jardin des Sens Saigon.
Of course, the heritage building helps, and the intimacy of having only 38 seats. And the service is impeccable too. But the star is the cuisine which is typically playful from "les freres" Pourcel.
Dishes at Jardin des Sens Saigon introduced diners to the Pourcel brother's playful fine French cuisine.
What: Three-star Michelin standard fine dining.
Where: 251 Dien Bien Phu, District 3
Why: Intimate and playful, Jardin des Sens upped the standard this year.
Octo Tapas Restobar
There's been a buzz about Octo Tapas Restobar since it opened. And Octo Tapas Restobar's wild grand opening only amplified the excitement. Julien Thabault, the executive chef and owner, has big plans for the concept, but for now, at this top-floor hideaway on Ho Tung Mau, he's content to innovate with head chef Pedro Goizueta.
Octo Tapas Restobar's mussels with chorizo.
The specials present a constant surprise and the classics like the braised octopus pulpo a l'OCTO are worth coming back for alone. Plus the cocktails are better than at most bars—another reason to call in during either of Octo Tapas Resobar's two daily happy hours.
Head chef and founder Julien Thabault in the open kitchen at Octo Tapas Restobar.
What: The mollusc-themed restaurant and bar.
Where: Level 2, 75 Ho Tung Mau, District 1
Why: Exciting specials, creative core cuisine, and some cool cocktails.
Pizza 4P's
People say Pizza 4P's serve the best pizzas in Asia. And we're inclined to agree. Not bad for a concept that began as a Tokyo garden pizza party. Pizza 4P's make our shortlist not just for that reason, but also because they've expanded while doubling down on what makes them great—super service and farm-fresh ingredients, or as they put it, "delivering wow, sharing happiness."
The Pizza 4P's Ben Thanh designed by Shunri Nishizawa.
Their restaurants' designs are always interesting too; each restaurant the result of a collaboration with a Japanese architect from Joe Chikamori's original off Le Thanh Ton to Shunri Nishizawa's borderless Ben Thanh design which we've selected for our shortlist ahead of his design for the Pizza 4P's Hai Ba Trung.
One of Pizza 4P's creative pizzas. Credit: www.vanghe.blogspot.com
What: A Japanese-owned pizza chain that began in a Tokyo back garden.
Where: 8 Thu Khoa Huan, District 1 (and other locations)
Why: Some of the region's best pizza with farm fresh ingredients from Dalat.
Sushi Rei
Saigon's Japanese community is so large it's started to spill from its original base on Le Thanh Ton into Binh Thanh. With such a broad core customer base the quality of Japanese cuisine city-wide is very high. And no-one does it better than Takaaki Uemura's Sushi Rei.
Sushi Rei's chef Tomo handing over uni in seaweed.
Thanks to the support of Masuda Rei, who used to work at Sukiyabashi Jiro, Sushi Rei have access to the quality of fish Tsukiji market's vendors only offer to an apprentice from the world's most famous sushi restaurant.
Sushi Rei has also has five-star service and more Joe Chikamori design, and although the prices are high, we haven't heard anyone complaining.
Chef Tomo in front of the wall of hinoki-wood fishscales at Sushi Rei.
What: Sushi masters hiding out in an alley off Nguyen Thi Minh Khai.
Where: 10E1 Nguyen Thi Minh Khai, District 1
Why: Joe Chikamori design and the best fish from Tsukiji market.
Quan Ut Ut
Sure, it's not fine-dining, but Quan Ut Ut make the list based on the sheer addictiveness of their ribs and the fun, tongue-in-cheek style of their restaurants. We're also including them because this was the year of the pitmaster rockstar.
Quan Ut Ut's pitmaster rockstar Mark Gustafson.
Mark Gustafson and Quan Ut Ut made some bold moves in 2018—opening in District 7 with a Korean take on their dishes and in District 2 along buzzing Xuan Thuy all in the space of a few months…and they pulled it off with the same effortlessness that their low and slow cooked pork eases off the bone.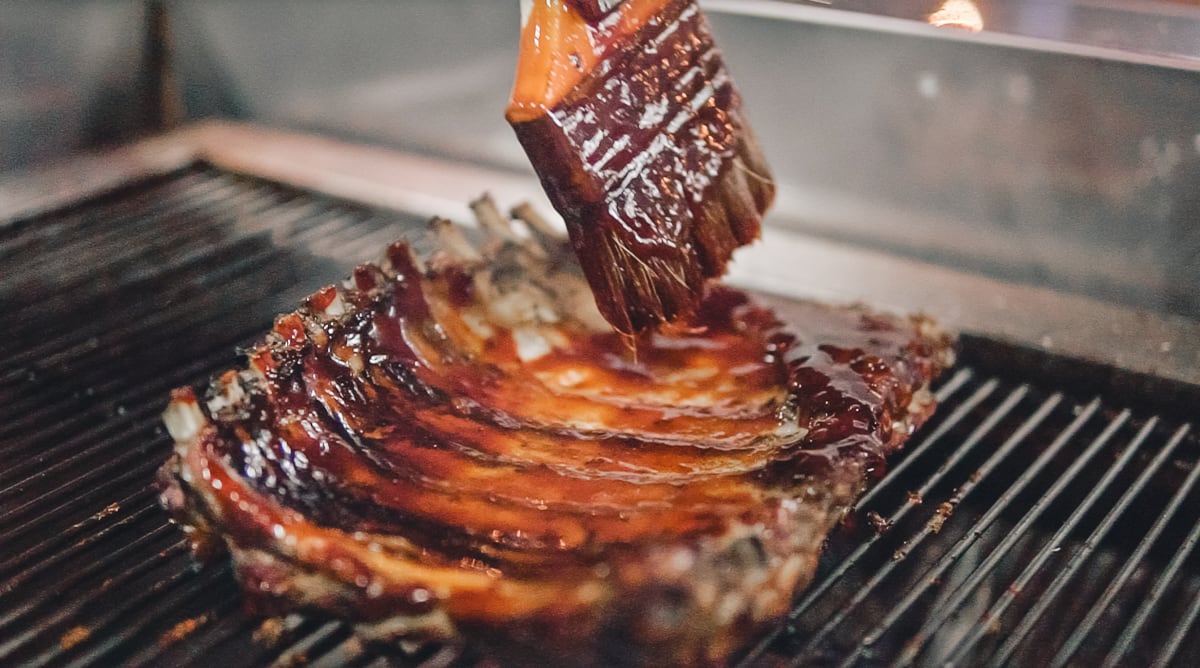 Quan Ut Ut's ribs are cooked low and slow and then finished on the grill.
What: A BBQ chain from the masters of "low and slow."
Where: The original at 168 Vo Van Kiet, District 1
Why: A big year for Quan Ut Ut as they entered District 2 and District 7 with some localization for each new district.
Noir
Constantly hovering among the upper echelons of TripAdvisor's best restaurants in Saigon is Noir. The global trend for dining-in-the-dark restaurants may have died down, but Noir remain a must visit for both locals and visitors.
Noir have continued to innovate at their dining-in-the-dark restaurant. | Credit: www.pismember.vn
It's heartwarming that the restaurant has built itself on a collaboration with Saigon's Blind Association Centre, but Noir also keep innovating with the menu in what is one of the city's most interactive and evolving dining experiences.
Noir's owners Germ Doornbos and Anh Tu Vu.
What: A dining-in-the-dark restaurant.
Where: Lane 178/180D Hai Ba Trung, Dakao, District 1
Why: The restaurant goes beyond novelty by regularly switching-up the menu.
Stoker Woodfired Grill & Bar
Tribe Hospitality were among the first to create concepts as creative as their cuisine. The Racha Room—which almost made this list too—featured a graffiti elephant behind one of Saigon's most imposing doorways.
Stoker Woodfired Bar & Grill on Mac Thi Buoi street's grass-fed Cape Grim rib on the Bone that's dry aged 35+ days.
But we're choosing Stoker Woodfired Grill & Bar as it's going through a renaissance thanks to chef George Bloomfield. And the cocktails, like Stoker Woodfired Grill & Bar Four Pillars shiraz Down 'Bloody' Under, aren't bad either.
Stoker's chef George Bloomfield in the country club-style restaurant.
What: A meaty restaurant along Mac Thi Muoi.
Where: 44 Mac Thi Buoi, District 1
Why: Confidently prepared cuts of meat from a restaurant with lots of character.
Renkon
Renkon's founders, the Eight Four Collective, started with Sake Central—which also makes our bars of 2018 list—and they're opening their third place, Irusu, but Renkon is arguably the most exciting of the three.
Renkon's inviting bar area designed by Sean Dix. | Image: Justin Mott
Their bumping block parties have been unmissable, but on any night the mixtape music in on-point, as is the kushiyaki and the shochu cocktails. Plus Sake Central and Irusu's designer Sean Dix really had free reign here creating the city's most iconic stairwell and some of its most welcoming counter seating too.
Renkon's kushiyaki includes these pork meatballs.
What: A modern izakaya in the old-school 74 Hai Ba Trung courtyard.
Where: 74/10 Hai Ba Trung, District 1
Why: Block parties, brilliant design, welcoming counter seating, kushiyaki, and creative shochu cocktails.
Related Content:
[Article] Saigon Guide: Where To Work, Eat, Drink And See Art In The City
[Video] A Guide To Ho Chi Minh City's Districts: Understanding The City