The longest Tet holiday in history is finally behind us and so are the restrictions on domestic travel. The entire country, it seems, is logging back into their favorite hotel booking sites in search of staycation deals, of which there are plenty.
While the Hangover-style weekend in Bangkok has to wait, Vietnam's established and emerging destinations are all rolling out their red carpets to welcome the cabin-fevered residents. In fact, many locations more than hold their own in terms of natural beauty and man-made attractions on offer. Take Vung Tau, for example.
Admittedly, until recently the resort town had little to offer the discerning urbanites other than sun, sand and sea. But things have changed quite a bit in Vung Tau, as recent developments in tourism and entertainment infrastructure attest.
Blessed with a great location and infrastructure
Located a mere 100 kilometers southeast of Saigon, Vung Tau's reputation as the default seaside getaway for the Saigonese is hardly surprising. Ever since the opening of the Ho Chi Minh City – Long Thanh – Dau Day expressway, the sun-kissed beaches of Vung Tau have been thronged by beachcombers, festival-goers and sunset worshippers.
One of Vung Tau's main attractions, for the Saigonese, is that getting there doesn't require much advance planning. Hop on a bike or buy a bus ticket and about 90 minutes later you are enjoying a chilled margarita on the beach. Another option is to travel by ferry.
Leaving the concrete jungle for a few days, one is welcomed to a bougainvillea and frangipani upon arrival. Local authorities have cottoned on to the fact and have embarked on a large-scale greening campaign. Since the start of the initiative back in 2015 (running alongside regular beach cleanup drives), Vung Tau beaches (and tourists) have hugely benefited from the return of native flora.
Lodging facilities have received a major facelift too. Seeing the destination as a strategic location, investors have been pouring money in developing mid-range and luxury resorts, while budget travelers and those who want a more residential experience have a host of affordable homestays and apartments to choose from. All just a few clicks away thanks to Airbnb and Luxstay.
The rise of nightlife entertainment and shopping spots
This development trend is occurring in the recreation sector too, with a slew of new shopping malls, night clubs and karaoke parlors popping up along the strip. At sunset, the popular public beaches are buzzing with day trippers, while the private beaches at luxury resorts offer a less rowdy sundown experience. Another popular sunset spot is Nghinh Phong, on the southernmost tip of Vung Tau, at a confluence of two beaches: Vong Nguyet Beach and Huong Phong Beach.
Gorgeous mountain ranges are another natural attraction. If you want a bird's eye view of the coastal city and the turquoise sea, Nui Lon is hard to beat. At 254 meters above sea level, the world literally lies at your feet. Historical sites such as the White Palace, the statue of Sakyamuni Buddha and Our Lady church are spotted through Nui Lon.
Better still – stay the night. Watch the sun sink into the bubble-gum pink sea, framed by lush wilderness. As darkness falls, get on the cable car connecting Nui Lon and Nui Nho and take in the sea of shimmering lights stretching as far as the eye can see.
If you fancy a spot of shopping, the Ba Cu shopping street with its countless fashion stores representing domestic and international brands puts Saigon retail experience to shame.
A sea of dining options
Being a coastal town, seafood is abundant, fresh and affordable, and there is no shortage of street food joints and no-frills eateries. If you are looking for an elevated dining experience, however, Marina Club is the place to visit with a refined selection of seafood and the decor deliberately paired-back and minimal so as to not to compete with the stunning views.
To Vung Tau locals, the Marina Club is known under its original name — Lan Rung. After ten years in operation and following a renovation, the iconic restaurant reopened as Marina Club and gradually transformed itself to offer one of the finest dining experiences in Vung Tau.
Nestled within a sprawling 2,500-square meter site adjacent to Bai Dua beach, Marina Club is modern, open and built to be in harmony with nature. The setting is extremely romantic too, especially at sunset when the venue fills up with holidaying couples enjoying excellent seafood and cocktails against a spectacular backdrop.
Dining options are not limited to dinner, however. Marina Club's Cafe & Lounge serves excellent breakfast and lunch, with specials including steamed Alaskan crab, chili crab, chili and garlic shrimp, roasted salted crab, oyster grilled with cheese, fried squid with fish sauce and seafood guava salad. Marina Club's talented chefs put a creative twist on the familiar dishes, all while keeping the flavors fresh and vibrant.
At cocktail o'clock, treat yourself to Marina Club's signature Mermaid or Back Beach cocktail — perfect long drinks to sip on while watching the sun slip away. If there is a better way to while away a Sunday afternoon, we are yet to discover it.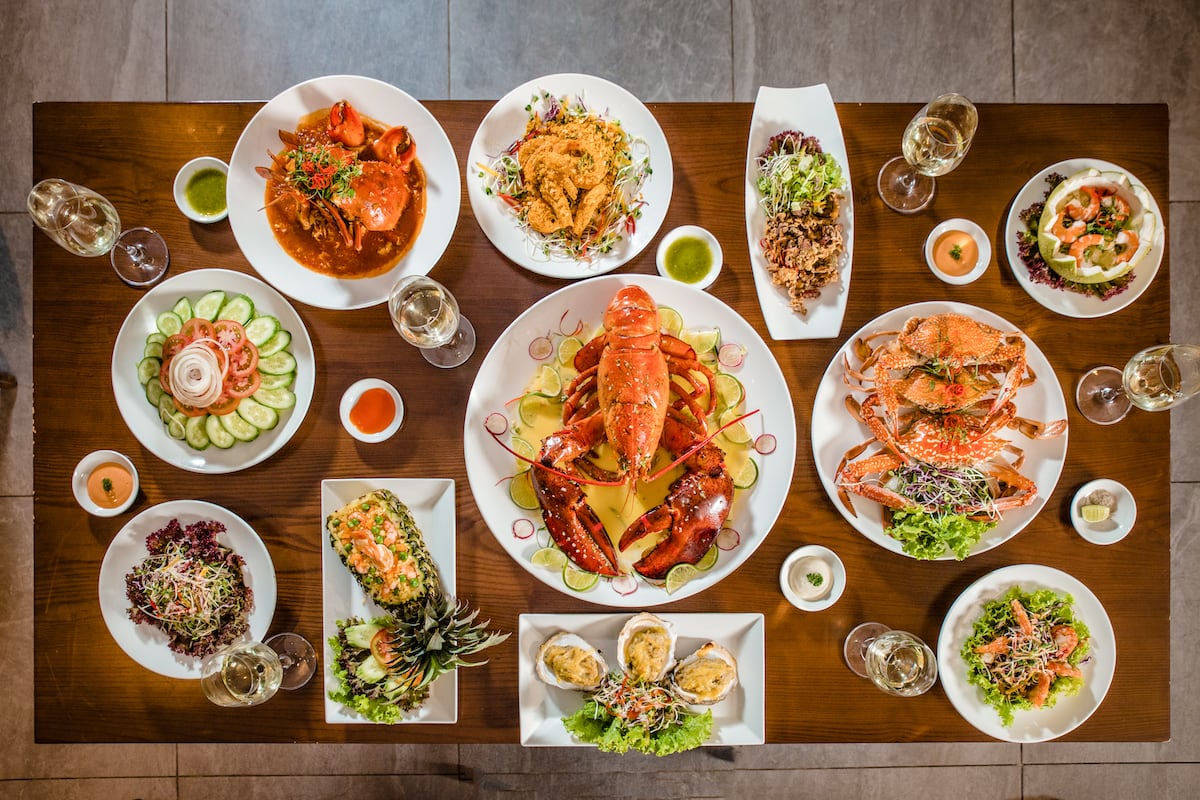 Nightlife at Marina Club, Vung Tau is also a completely different experience from nightlife in Saigon. It's tranquil and serene, to be savored with the ones you love the most.
Is this enough for you to come to Vung Tau?
Related Content:
[Article] The Hamptons Ho Tram: New Luxuries In A Seaside Community
[Article] Vietcetera Visits: A Modernist House In Hoi An's Countryside