It wasn't always easy to make Vietnamese food at home — especially if you lived in America. For decades, it was difficult to find real Vietnamese ingredients — even basic fish sauce, the mother sauce — in American supermarkets. But early Vietnamese immigrants in America during the 70s and 80s persisted in creating familiar flavors in a foreign land. Longing for a taste of home, they opened restaurants, launched brands, and passed on the heritage coded within the knowledge of flavors and recipes.
Thanks to these immigrants and their first-generation kids, Vietnamese food has never been as popular as it is today. In America, restaurants like Chicago's HaiSous and Houston's Crawfish & Noodles have been recognized James Beard Awards — one of the highest culinary honors a restaurant can receive. Meanwhile, in Vietnam, the beloved Anan Saigon, led by Vietnamese-American chef Peter Cuong Franklin, recently became the first Vietnamese restaurant on Asia's 50 Best list in many years.
With new interest in Vietnamese food, more and more people are likewise trying their hand at making Vietnamese food at home. And the ingredients are more available than ever before: today, supermarket shelves are lined with high-end fish sauce brands like Red Boat and Son Fish Sauce.
It makes sense then that today, there are also tons of amazing cookbooks penned by Vietnamese chefs and authors from all over the world, each unique in their perspective on Vietnamese cuisine — which is as diverse, nuanced, and regionally-specific as any other. If you want to impress family and friends at the next dinner party, we've rounded up the 7 best cookbooks for you to start making Vietnamese food at home today.
Vietnamese Food Any Day by Andrea Nguyen (2019)
Known as "the Julia Child of Vietnamese food," Andrea Nguyen is America's leading Vietnamese cookbook author — some of her most acclaimed titles include The Pho Cookbook, The Banh Mi Handbook, and Into the Vietnamese Kitchen. One of our recent favorites is Vietnamese Food Any Day, a collection of 80 easy Vietnamese recipes that you could make at any night of the week. Buy it here.
The Food of Vietnam by Luke Nguyen (2013)
Luke Nguyen is the Vietnamese-Australian chef and restaurateur behind Sydney's Red Lantern and Saigon's Vietnam House. You might also know him as the beloved host of the popular TV series, Luke Nguyen's Vietnam, or as a judge on MasterChef Vietnam. His gorgeously-photographed hard-cover cookbook doubles as a great coffee table book. That said, you'll probably want to keep it in the kitchen. With iconic Vietnamese dishes like Green Papaya Salad, Steamed Mudfish Rolls, or Chargrilled Pork Neck with Vermicelli Noodles, you'll find plenty of classic favors and time-honored techniques in this book. Buy it here.
The Slanted Door: Modern Vietnamese Food by Charles Phan (2014)
In 1995, Charles Phan opened The Slanted Door in San Francisco. Since then, it's become one of America's most applauded destinations for modern Vietnamese dining. In this book inspired by the restaurant's menu and legacy, the award-winning chef and restaurateur shares the secret behind some of his most iconic dishes, including Seared Scallops with Vietnamese Beurre Blanc, Wok-Seared Eggplant with Satay Sauce, and Rack of Lamb with Tamarind Sauce. Though the book is ambitious, it's certainly worth it. Buy it here.
Simply Pho by Helen Le (2017)
Pho is by far the most popular Vietnamese dish in America. Get familiar with the in's and out's of the noodle soup in the capable hands of Helen Le, best known as the creator of the wildly popular YouTube channel, Helen's Recipes. Le was one of the earliest influencers creating content around Vietnamese food, and it's refreshing to see her expert recipes in print. The book will help you craft your perfect Vietnamese bowl, whether it's chicken or beef pho, as well as other warming comfort foods like Chicken Curry with Vermicelli Noodles. Buy it here.
Wild, Wild East: Recipes and Stories from Vietnam by Bobby Chinn (2007)
When Egyptian-Chinese chef Bobby Chinn wrote Wild, Wild East, the late television host and Vietnam enthusiast Anthony Bourdain penned the forward: "Bobby Chinn, chef, long time resident of Southeast Asia, television personality, hustler, International Man of Mystery, and now author, is the first guy you want to know in Hanoi if you want to find where to get the good stuff to eat." In this adventurous book, Chinn references his travels across Southeast Asia in both traditional and modern dishes. Highlights include Minced Prawns on Sugarcane Chicken Wings Cooked in Caramel Sauce, Ginger Braised Banana Blossoms, and a Pork Crepe. Buy it here.
Authentic Vietnamese Cooking by Corinne Trang (1999)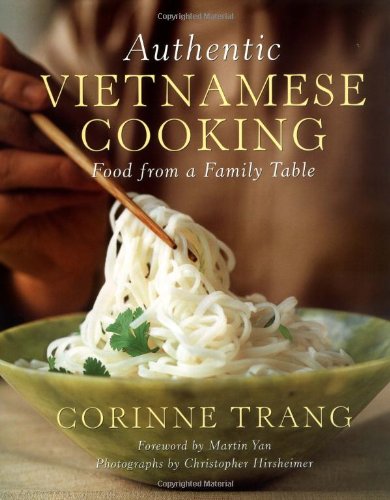 Born to a French mother and a Cambodian-born Chinese father, Corinne Trang's time-honored cookbook illustrates how French and Chinese culinary traditions came into contact and fused with the foods of Vietnam. The book features dishes that represent the three distinct culinary regions of Vietnam: as Trang explains, the "Simple North," the "Sophisticated Center," and the "Spicy South." In the book, find classic recipes like Sup Cua Mang Tay (Crab and Asparagus Soup), Ga Nuong Toi (Garlic-Roasted Baby Chicken), and Banh Gan (Coconut Creme Caramel). Buy it here.
Pleasures of the Vietnamese Table by Mai Pham (2001)
Born and raised in Saigon before emigrating to the United States, chef and restaurateur Mai Pham finds inspiration in the food of her homeland Vietnam. Pleasures of the Vietnamese Table offers more than 100 recipes of the traditional flavors of Vietnam that can be created in any home kitchen. You will find simple and classic dishes in the book, such as, Green Mango Salad with Grilled Beef, Stir-Fried Chicken with Lemongrass and Chilies, and Caramelized Garlic Shrimp. Buy it here.