Hailed by many as a long-overdue recognition of the country's fine-dining prowess, Vietnam's inclusion in the influential Asia's 50 Best Restaurants list is a win for the entire industry, believes Peter Franklin, chef-owner of Anan Saigon that took home the prestigious award for Vietnam at number 39.
Based on the votes from 300 industry insiders — from food writers and critics to chefs and restaurateurs — the closely-watched list last featured a restaurant from Vietnam in 2013.
"It is an incredible honor for Anan Saigon to be included on the prestigious Asia's 50 Best Restaurants List," said chef Franklin after Anan's win was announced at the virtual awards ceremony held on 25th March.
"Our purpose since we opened Anan four years ago has been to reimagine, redefine and elevate Vietnamese cuisine and we are delighted to accept this recognition for Cuisine Mới, our modern Vietnamese style of cooking. We would like to thank all of our staff, suppliers and customers for putting us in this position and we pledge our commitment to work even harder to continue to serve you to the very best of our ability."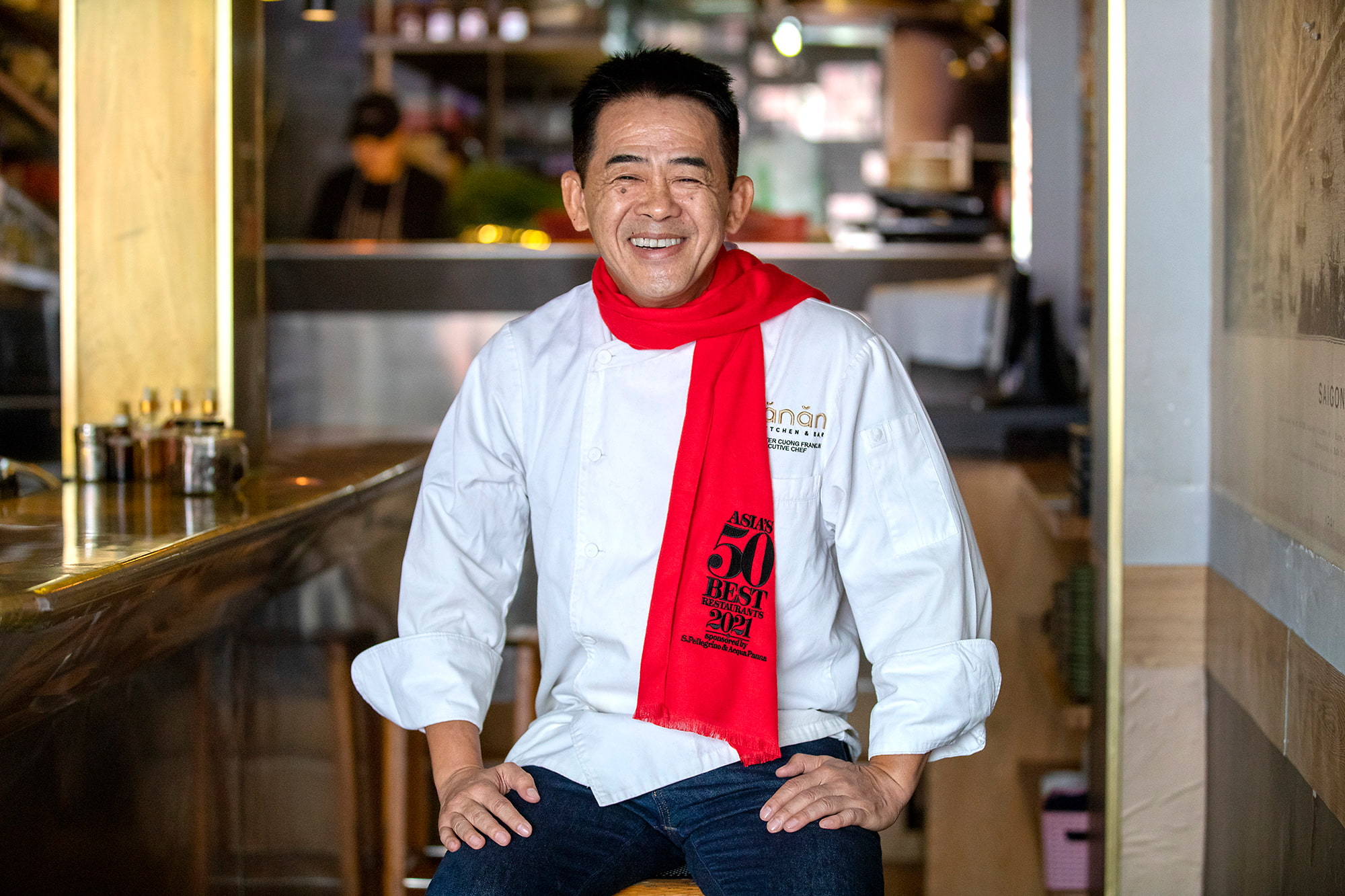 Ahead of the announcement, for the first time the 50 Best team also unveiled the restaurants that have been voted between 51st and 100th, with TUNG Dining in Hanoi making the list at number 98. In another first for Asia's 50 Best, the unranked Essence of Asia collection revealed last week featured several familiar faces from Vietnam, including Pizza 4P's and Madam Khanh, Hoi An's Banh Mi Queen.
We ask Peter Franklin of Anan Saigon (reviewed by Vietcetera shortly after its opening in 2017) what the win means for him personally and for Vietnam's F&B industry as a whole.
Congratulations on the win! What does it feel like to bag an Oscar of fine dining in Asia?
Wow, amazing! This has been a dream come true and I still can't believe that we have done it. On behalf of the Anan Saigon team, I am very proud and honored to be voted as one of Asia's 50 Best Restaurants 2021, sponsored by S.Pellegrino and Acqua Panna. This award is even more significant and more meaningful in the context of a very challenging year for our industry and the world.
Vietnamese cuisine had to wait a long time to get Asia's 50 Best attention and get included in the list. Why is that?
I think Vietnamese cuisine is one of the best in the world but unfortunately most people associate it with delicious value-for-money street food rather than sophisticated fine dining. This recognition by Asia's 50 Best is a sign that perceptions are finally changing. At Anan Saigon our mission from the beginning has been to challenge perceptions, push boundaries and elevate Vietnamese cuisine to the same fine dining level demonstrated by our Italian, French and Japanese counterparts.
Is it too early to ask for your 2022 predictions? Will we be seeing more Vietnamese restaurants on Asia's 50 Best moving forward?
For sure. I have seen the Vietnam dining scene develop tremendously since I returned to my home country to open Anan Saigon four years ago. We now have an extremely vibrant dining scene and a number of world-class chefs and restaurants. I hope to see more Vietnamese restaurants recognized on Asia's 50 Best list in 2022 and over the coming years. Moreover, with Saigon being such an exciting, vibrant and dynamic city, I believe that it has the potential to become one of Asia's preeminent fine dining destinations, once people can travel again.
When can we expect the Michelin Guide to come to Vietnam?
Now that our inclusion in Asia's 50 Best has helped to put Vietnam on the global culinary map, I really hope that the arrival of the Michelin Guide is not far behind. I think this will turn the spotlight on Vietnamese fine dining and inspire not only organizations such as Michelin but also more world-class chefs and restaurant groups to seriously consider Vietnam.
Does your ambition go as far as seeing Anan at the top of the list, up there with the finest?
It is not only our team at Anan Saigon but I believe that Vietnam as a country is extremely ambitious and optimistic about our future as an economic, cultural and also culinary leader in South East Asia. At Anan, we are still just 4 years into our journey to be the best we can be and I am so excited about how much growth there is yet to come from us.
We've recently established the Anan Lab as an R&D center to push boundaries and drive innovation and I'm also proud to see how our mixology program at Nhau Nhau focused around foraging for local ingredients has been developing. The experience we can offer to our guests at Anan will surely improve and if this is reflected in the rankings, then we'll be very grateful to accept this.
The Asia's 50 Best Restaurants list is evaluated based on the votes from 318 industry insiders equally divided by gender and split evenly between chefs and restaurateurs, food writers and well-travelled gourmets. The process is independently adjudicated by Deloitte.