2022 has been a good year for Vietnam, all things considered. From the solid economic growth to the steady flow of domestic and foreign travelers discovering that the pandemic failed to taint Vietnam's beauty and grandeur.
The country has already recorded 100 million domestic tourists and has so far welcomed 2.95 million international visitors, dominated by Asian tourists. Data from the Ministry of Culture, Sports and Tourism revealed the tourism sector generated VND456.7 trillion (over $19 billion) from January to November, that's 70% of the same period in 2019 before the COVID-19 pandemic changed how we travel.
While many are eager to fly abroad next year for a well-deserved vacation, traveling within Vietnam's borders isn't a bad option. As this year's most-awarded country at the 29th World Travel Awards, there's definitely something worth exploring and experiencing here.
"Amazing natural beauty combined with world-class levels of hospitality earned Vietnam the title of Asia's Leading Destination," said the World Travel Awards committee.
From dominating the World Travel Awards to getting voted by international travel magazines, these award-winning destinations wowed the world this year.
Phu Quoc
Ranked 14th, Best Island in the World, Travel + Leisure
Even if you're not a beach person, you'll love Phu Quoc the moment you set foot on the gorgeous island. With a score of 90.25, Phu Quoc was in 14th place on the list of the world's 25 best islands by the US magazine Travel + Leisure. Phu Quoc, which belongs to Kien Giang province, is Vietnam's biggest island.
Thanks to its location surrounded by the sea, the weather at Phu Quoc is relatively cool with dry and wet seasons. It is recommended to visit Phu Quoc from November to April as it doesn't rain much, the sea is calm, and the weather is warm but not too hot, perfect for outdoor activities.
In November 2021, Phu Quoc welcomed its first international visitors, 204 South Koreans, who enjoyed a quarantine-free holiday.
According to Travel + Leisure, the island is beloved by its readers for its white sand beaches and delectable food. "The island is renowned for its production of fish sauce and peppercorns, as well as its coral reefs and dense tropical forest," Rebecca Ascher-Walsh from Travel+Leisure wrote.
Ho Chi Minh City
Ranked 8th, Top 10 Best Cities In SEA list, Travel + Leisure Magazine
Asia's Leading Business Travel Destination, World Travel Awards 2022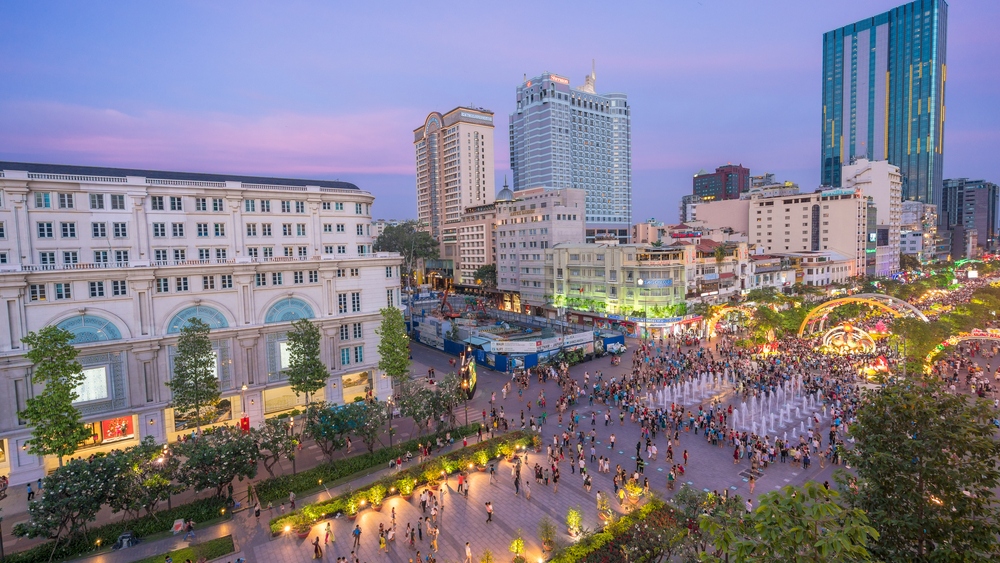 Ho Chi Minh City is the commercial capital of Vietnam and where the old meets the new. As they say, when in Rome, do what the Romans do. So, if you're in Ho Chi Minh City (or anywhere in Vietnam), hop on a motorcycle to get a first-hand experience of the vibrant city. Or find a driver who can take you around if the streets terrify you.
Whether you're a history buff or a lover of modern life, the city's architecture, food, museums, and art scenes will not disappoint. And yes, you can enjoy both worlds.
Besides leading the tourism pull, HCMC is also an economic driver of the country. By 2030, HCMC is set to become a modern city, leading the nation in digitalization and an economic, financial, trade, science and technology, and cultural hub of Southeast Asia within the decade.
Da Nang
Ranked 3rd, Top 10 Best Cities In SEA list, Travel + Leisure Magazine
Asia's Leading Festival & Event Destination, World Travel Awards 2022
Da Nang, the city of bridges, is now considered a modern tourist magnet for its world-class theme parks and high-end resorts, all while still keeping the majestic natural sights and local street food. The coastal city in central Vietnam boasts stunning beaches, colorful festivals, timeless charm, and friendly locals.
This year, the long overdue spotlight finally shone on Da Nang when it hosted Routes Asia 2022, where hundreds of travel and airline operators from around the globe gathered and witnessed the city's charm and potential.
Hanoi
Ranked 5th, Top 10 Best Cities In SEA list, Travel + Leisure Magazine
Asia's Leading City Break Destination, World Travel Awards 2022
Whether you're about reliving history or seeking adventures, don't underestimate Vietnam's charming capital city. If you're up for a weekend trip or can stay for longer holidays, traveling alone or with friends, you shouldn't miss Hanoi when visiting the country.
Enough of sightseeing; for an authentic taste of the city, look to the street kitchens of the Old Quarter — where steaming pots of star anise-infused Phở broth simmer on every corner and the scent of bún chả fills the air as barbecued pork sizzles over hot coals every single day.
Hoi An
Asia's Leading Cultural City Destination, World Travel Awards 2022
You've seen the photos and may have watched YouTube vlogs of what it's like visiting the 'Venice of the East,' but nothing compares to seeing and experiencing it in real life.
Hoi An's Ancient Town is one of UNESCO's World Heritage Sites and a must-see destination in Vietnam. Surrounded by architecture as old as the 15th century and classic paper lanterns, Hoi An is both historical and scenic.
Hoi An's old town is exceptionally well-preserved and composed of architecture dating back several centuries. It is a great place to learn about history, visit handicraft artisan shops, and take a boat ride on the river. It is a top-rated tourist destination. Fortunately, scars and motorbikes are not allowed into the town, giving it a more peaceful atmosphere than bustling Vietnamese cities like Hanoi or Saigon.
Moc Chau
Asia's Leading Regional Nature Destination, World Travel Awards 2022
The mountainous district of the Son La province earned Asia's Leading Regional Nature Destination award for a reason. Unfortunately, we can't describe how magnificent the place is, but we'll try.
About 200 kilometers west of Hanoi, it is ideal for traveling to Moc Chau from the capital. Thanks to the cool climate, it is home to around 3,000 hectares of tea plantations, and these vast green tea plantations extend as far as the eye can see and spread over many green hills.
Moc Chau is a real off-the-beaten-track destination in the country. From exploring caves and trekking to chasing waterfalls and staying in local homestays, this is a call for all the nature-loving thrill seekers out there.
Red River Delta
'52 Places For A Changed World' List, New York Times
Vietnamese capital city Hanoi and the port of Haiphong form the delta, together with eight other provinces. China, Laos, and Vietnam share the Red River basin. The main Red River is approximately 1,140 km in length and covers over 500 km of the country. The coastal areas of the Red River Delta support a complex system of natural, semi-natural, and agricultural vegetation types.
Locally known as Châu thổ sông Hồng, Vietnam's Red River Delta is among the "52 places for a Changed World" collated by the New York Times.
Along with Italy's ancient town Chioggia and Mozambique's Chimanimani National Park (which rank first and second, respectively), the Red River Delta is one of the "places around the globe where travelers can be part of the solution" to problems like climate change and over-tourism.
The Red River Delta is a flat, low-lying plain formed by the Red River and its tributaries merging with the Thai Binh River in northern Vietnam. It's the second largest river in Vietnam, next to the Mekong, and one of the five largest rivers on the East Asia Coast. It has the smallest area but the highest population density of all regions — with nearly 30% of the country's population living there.