For Mai Huong Tran it took relocating to New York to find fulfillment in life. An already established entrepreneur in Vietnam (Huong is the co-founder of fast-fashion brand Cocosin and handicrafts exporter Fiber), it wasn't until she moved to the US in 2016 to finish a Master's degree in Retail Management that she was able to fully realize her potential.
When Vietcetera interviewed Huong on the phone in May, the entrepreneur was showing no signs of slowing down, despite sweeping lockdowns. If anything, it was a chance to double down, with a single-minded focus on the future of food and retail. She has just recently joined a direct-to-consumer AI startup as an executive, and is simultaneously incubating new businesses alongside venture capitalists. 
Having seen the potential of the fast-growing consumer sector in Asia, Huong believes that the pandemic has created great opportunities for Asia's social commerce culture and North America's tech-heavy industries to fuse.
In this interview we ask Huong about her motivation to leave Vietnam at the peak of her career and if the grass proved to be greener on the other side of the world.
3 values that you won't compromise on.
Credibility, responsibility and gratitude.
Please share your career trajectory from early days till now.
In 2012, I founded Coco Sin, a fast-fashion brand, with a friend from high school. We enjoyed an exhilarating ride together before I sold my shares and went on to start a home decor brand called Fiber. In 2016, I moved to New York for my Master's degree in Retail Management and two years later, I co-founded 8870 Link, a consulting firm that helps companies expand to new markets. Recently, I've joined an direct-to-consumer AI startup as their Chief of Staff, and starting this fall, I'll be teaching an entrepreneurship class at St. Francis College — one of the oldest colleges in New York City.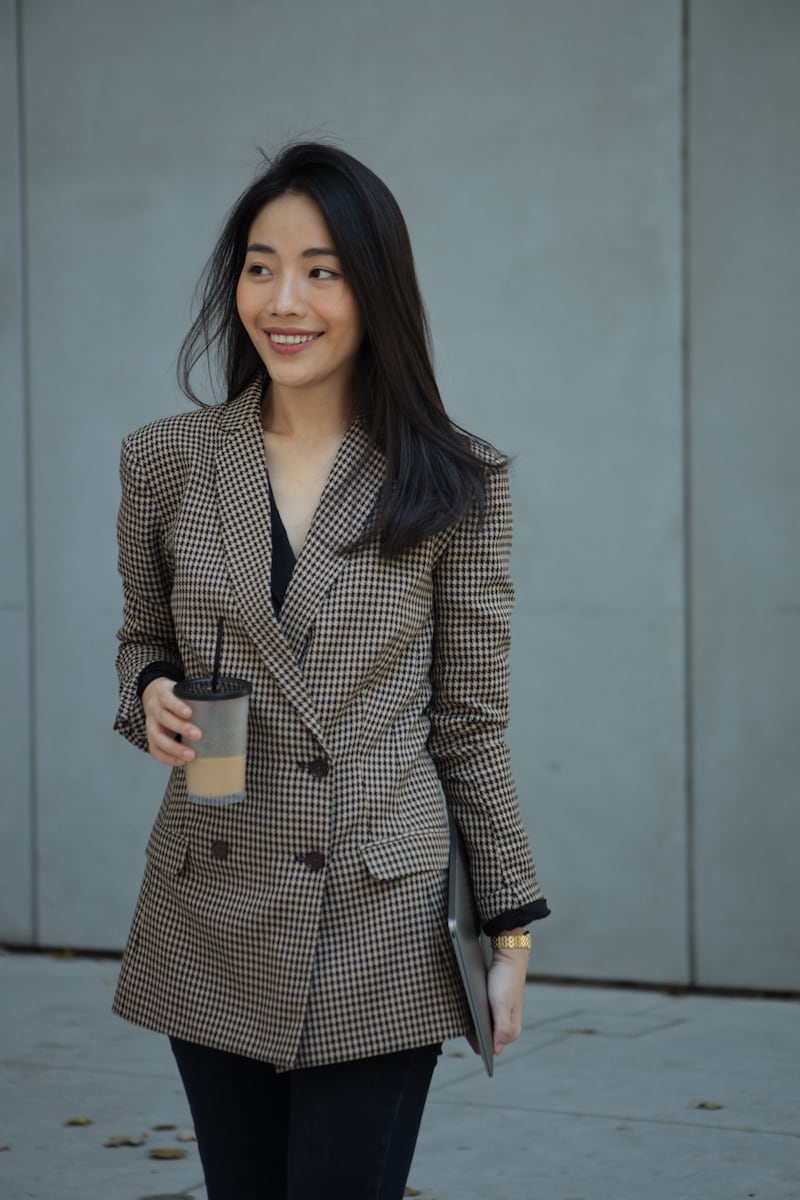 With two successful startups under your belt, why did you decide to leave Vietnam? Did you go through any internal struggles to arrive at that decision?
I hit a wall when I was 25, almost like an existential crisis. All my definitions of success from my early 20s were suddenly no longer relevant. I just generally felt unhappy. When you're in your twenties, you should feel invincible. Yet despite looking my best, enjoying an amazing career and having a wonderful partner, I felt unhappy. 
Figuring out what was eating me took time. I felt my way down a long tunnel, in the dark, taking many wrong turns, before I finally saw the light. I came to realize that I needed a different set of values and perspectives. It's fascinating how the way we look at life is mostly colored by the society we live in. We think the values we hold are shaped by us but they are not. I wanted to see which values are truly mine. So I left Vietnam. 
What's the difference between NYC's and Vietnam's startup ecosystems?
In a mature ecosystem like New York's, the startup lifecycle is well established. It is a multi-billion-dollar ecosystem organized around incubating ideas, turning them into businesses, pushing those businesses to grow and orchestrating billion-dollar exits. Capital is abundant, but everyone is after a limited number of startups with a promise of a big exit, and therefore looking for aggressive founders and putting them under immense pressure to create higher valuations. 
To use an analogy, it's like an industrialized farm where cows are bred and then force-fed to bulk up quickly. Of course, it's an amazing environment for the founders to be in but the expectations and stakes are very high.
In Vietnam, ideas are still somewhat more organically incubated. There are a lot of blank spaces and big problems to be solved to transform millions of lives. However, in an infant-stage ecosystem, founders face a broad range of challenges in everything from supply chains to software solutions. This makes it much more challenging to scale. But once startups overcome that hurdle and grow, the value created is most apparent in the meaningful benefits for customers rather than in producing returns for investors.
What skill sets and mindsets first-time founders need to have? 
First, you don't have to know everything to start. I believe there are certain things we don't need to know, at least in the beginning.  
Second, learn to trust your team and work on quashing your micromanaging habit. When you first start, you know the vision and you have your fingers in every pie. Once you have teams of experts, trust them to do the figuring out. Even if it means stumbling and making mistakes (just like you did!). They have to walk before they can run. Carrying the whole company on your back won't get you very far. 
What business model is more likely to become dominant in Vietnam?
The Vietnamese are very entrepreneurial. It could well be in our nature, but I think it's mostly because our social contract is not as well established as North America's. We're responsible for our safety net, from healthcare to financial support. Therefore, the future of our economy, I believe, is in helping people gain more security through monetizing their unique skill sets and being their own bosses. 
While platforms like Uber and Grab allow workers to be their own bosses, they don't give them an opportunity to highlight their unique skills. With this gig economy, the only way to make more money is to work longer hours – an approach suitable for low-skilled workers, but hardly a smart way to build one's career. I believe marketplaces that provide people with tools to sell their unique skills and differentiate themselves from the competition will fuel the new internet-powered entrepreneurship.
I'll give an example. In Asia, education is one of the largest household expenditures. Whether you look at families who want their kids to get better at math or professionals who want to learn more about accounting, there are many skilled tutors in the market to meet that demand. Consequently, there are also many ways for an individual tutor to stand out from the crowd. Platforms that enable teachers to design their own online courses would not only create thousands of jobs but would also empower a new crop of entrepreneurs.

Source: Duke Winn.
How does the current situation in the US affect your business? What actions are you taking to keep you business and your clients afloat?
The pandemic has upset many of the plans I had for 2020. After almost five months of lockdown in the US, many projects are still on hold.
Nonetheless, I think this is a great time to rethink the future of food and retail. The supply chain is overdue a re-organization and optimization, and technology shall be the fuel to make that happen. To that end, I've been exploring new ideas and new businesses with my partners and investors.
On the other hand, 8870 Link also recognizes that our current partners and industry fellows are struggling. That's why we've partnered with organizations like Moosh NYC, James Beard Foundation and Michelin-starred chefs to advocate on behalf of restaurant owners, consult them on debt restructuring, and help them with fundraising to keep them afloat during these difficult times.
This is the time to look out for one another. Life is long, and it's the relationships we build today that will become our life-long partnerships, customers and advocates and who will have our backs when we find ourselves in choppy waters.
What advice would you give to aspiring startup founders?
It's okay to be wrong. You make hundreds of decisions on a daily, weekly and monthly basis. I've gotten comfortable with the fact that being wrong is okay. It's self-centered to think that the universe will punish or reward you for a single decision. Life is made up of a multitude of decisions that shape our path.
What are your short-term plans?
We are living in unprecedented times. The pandemic has upended everything in our lives and has affected everyone. It reminds me of the part of the movie "Titanic", when the ship is sinking. Some passengers succumbed to panic and jumped into the icy water. Others locked themselves in their cabins and prayed. And leading the evacuation efforts were the altruists and the optimists. Similarly, today, amid the uncertainty and panic, there are people who are unabashedly optimistic and who will find a way to make an impact, no matter what. Find these people and partner with them, because they will be the force that shapes our future.