Hitting the gym is usually associated with a "no pain, no gain" mentality, hardcore workout and building big muscles. But at Primal, the ultimate goal of working out is to help you improve posture, avoid sprains, move well, and have long-lasting health by putting more emphasis on proper mechanics.
To take a closer look at the innovative concept of fitness and advanced technologies in elevating one's fitness journey, Vietcetera talked with the three founders of Primal Performance Lab Thao Dien — Anthony Geurds (Strength Director), Aurelien Mayers (Combat Director) and Quyen Dang (Movement Director) — who cumulatively have over 20 years of client training experience.
The best parts about working out
Each fitness buff has a different approach to training. Aurelien Mayer, a 2-time French champion in kickboxing, names the best three parts of developing a personal movement practice, or "working out" as many often call it:
Physical and mental longevity: Working out will build up your resilience physically and mentally, thus giving positive effects on your daily activities.
Making new friendships: Finding and joining a fitness community where members share similar interests and goals will empower you to work harder and strive toward your healthy lifestyle.
Helping others improve their lifestyle: When you're being energetic, authentic and your best self, you will make a positive impact on others and the world surrounding you.
For Anthony Geurds, one of the best parts of fitness is awareness of the body, the education you gain, and the energy and freedom you have in your own body to do more of the things that light up your soul, whether it's a sport, being active with your kids and going on adventures.
More than just a workout
Balanced mental health
Like two sides of the same coin, mental and physical health are closely linked and equally contribute to a person's overall well-being.
In the modern era of extreme conveniences and sedentary lifestyles, a return to nature is much needed. This is also where Primal's name was inspired from. When you think of Primal, you think of all the fundamental human qualities that were seen as most essential before we all got hooked up to a modern lifestyle. Primal wants to inspire others to fitness through strength, movement, and combat.
Learning from his past experiences as a coach, Aurelien Mayer believes that gym shouldn't be a lonely place and should offer a motivating space where people can unload the stresses of the day and be around positive-minded people. That's why Primal is team-oriented and focused on coach training. The sense of community is of utmost importance for Primal's business to be successful.
After being fully equipped with relevant fitness knowledge, members can process the Primal Methodology designed by the founders. Primal Methodology combines the three fitness disciplines of Strength, Combat, and Movement to help improve power, mobility, and agility.
Creative training sessions inspired by animal locomotion
Primal classes have the 3-in-1 offering which follows Animal Flow core techniques:
Strength: Primal Strength is geared towards improving and instilling proper biomechanics which will provide you the foundation you need to perform well.
Movement: Primal Movement invites you to find a different form of freedom in your body by exploring the connection between Yoga, Animal Locomotion, Calisthenics, and Flowbility.
Combat: Primal Combat works your legs, and tones your arms, back, and shoulders with punching and kicking exercises.
As you improve your power with Strength training sessions, you may lose attention to your mobility and would want to rebalance your body through a Movement class. As you gain more agility through Primal Movement training, you may want to test out your body through a kickboxing session on the Combat floor to see if you are able to perform that high kick more accurately.
With these three disciplines, Primal can give a balanced approach to your practice; hence addressing the needs your body requires for physical and mental longevity.
Primal's focus on wearable technology brings something new that you never experienced before. Their heart rate monitoring trackers help bring real-time awareness to customers during their sessions. In the Aqua Bag Boxing class of Combat training, customers can track the number of jabs, uppercuts, and hooks they've thrown, as well as the speed and power metrics with a wearable punching tracker, giving customers a competitively fun and motivating gym experience.
Pain is unavoidable after an intense workout, and it may get worse as you grow older. That's why Primal also offers Infrared Panels that emit centralized penetrating heat. This infrared heat is the favorite of many Primal customers as it helps them ease the pain in their joints and muscles, and improve their sleep.
Balanced training is a shortcut to fitness goals
At Primal, you don't have time to get bored and stay sedentary as each training session is full of fun activities combined with modern facilities and technologies to keep you motivated and enhance the results of training.
Gamifying your fitness experience: Get your burned calories, heartbeats, and other fitness data metrics recorded with wearable trackers. This way, your coaches can know when you need to be pushed and when you need to rest, thus getting the most out of your training session.
Ice barrel Plunge & Sauna Recovery: Let your body cool down and recover after an intense workout with ice-therapy through Primal's ice barrels. A Sauna room is also available next to their ice barrels for maximized recovery.
Personalized report assessments: Your data metrics are recorded and reported monthly to help members keep track of their fitness improvement.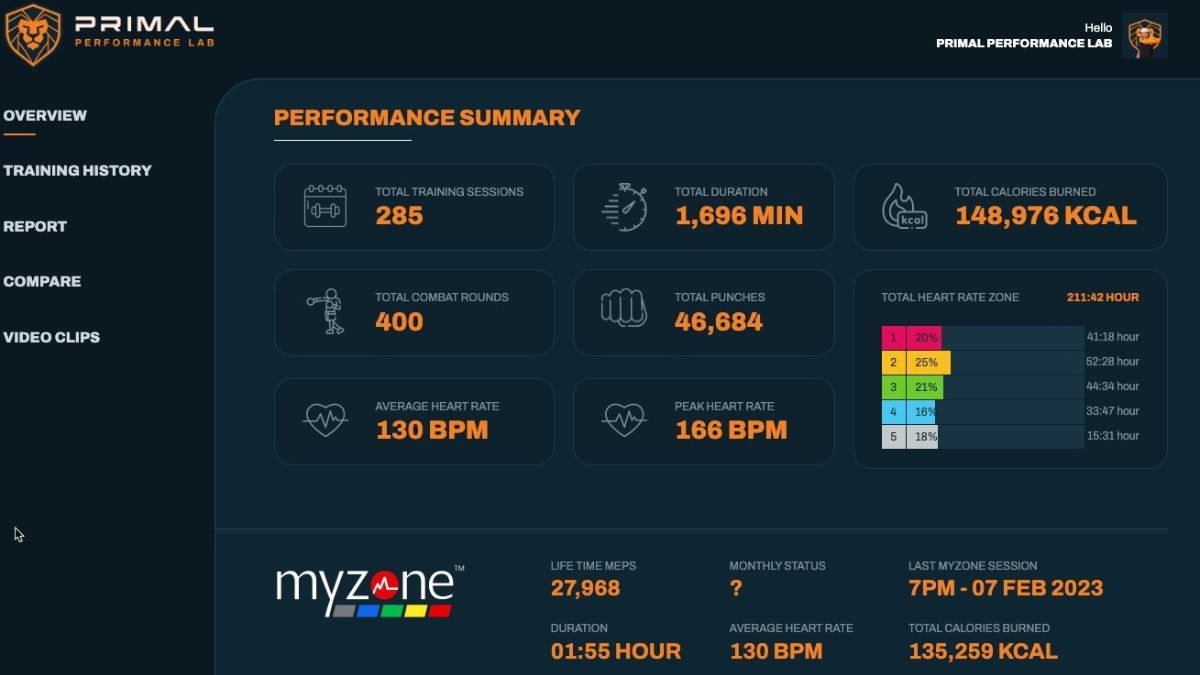 Primal held their grand opening just this past weekend at 13 Nguyen Duy Hieu, Thao Dien District 2 from the 11th to the 12th of this February. The grand opening included a Sunday lunchtime BBQ, special workshops such as Introduction to Kettlebell training and Infrared Yoga for Back Pain. There were other special physical challenges set throughout the grand opening weekend with prizes for top performers.
Guests were also able to join and experience special live DJs spinning during Primal's highly popular Aqua Bag Boxing class, which exudes a nightclub ambiance with water-filled bags you can punch until you pass out — or until you've released all your stress away.
Primal Performance Lab

Address: 13 Nguyen Duy Hieu, Thao Dien Ward, District 2, HCMC

Website | Instagram | Facebook
Translated by Bich Tram