Since kindergarten, I've been obsessed with Sailor Moon, scribbling Luna cat and collecting hundreds of stickers of the sailors. After entering 1st grade, I read every comic book available in the bookstore. There was a vague but nagging premonition throughout my childhood, that one day, I will live in Japan.
A decade later, even though I no longer liked comic books, that premonition had come true. I went to Japan to study.
1. First time doing "market research" with one billion Vietnamese dong
Ever since I was a kid, I often told my mother that I wanted to study abroad. So my mother and I made a deal: I had to study well and get a scholarship, and my mom would work hard to support me going to school.
When I was in 10th grade, my mother told me that she had saved up one billion Vietnamese dongs, and I could choose to go anywhere and study anything I wanted, within that budget.
My mother was an accountant. My house was in the suburbs, and my mother had to ride the motorbike for 30 kilometers to go to work every day. To save up this amount, she had traveled more than one hundred thousand kilometers.
With the fixed budget, I started to do some "market research" on Google at the age of 15. I've looked through over 400 schools. Before daydreaming about any of them, I had to go straight to the page showing information about the tuition and scholarship/financial aid to see if my family's savings would be enough for me to study there.
In the end, I chose Ritsumeikan Asia Pacific University (APU), as they offered a high-paid scholarship, almost no tuition fees.
If your family is as average as mine, your parents will directly tell you how much they have saved for their children to choose and follow their dream. If your family is wealthy, then they could assure you to just focus on studying well for the exam, and they will take care of the fees. Some of my friends who attended renowned universities were all scratching their heads, not knowing how much their parents had spent to support their university life.
But I could instantly figure it out after chatting with them: around 6 billion Vietnamese dongs.
2. Is being surrounded by many Vietnamese students while studying abroad a good or a bad thing?
There are many oddities about APU: it's a university, but it's located on top of a hill like a resort (like Ba Na Hills). International students often pay the same or less tuition fees as local students - in sharp contrast to universities in the US, Canada, and Singapore. While I attended APU, the university had 6000 students, and up to 500 were Vietnamese.
Vietnamese were everywhere.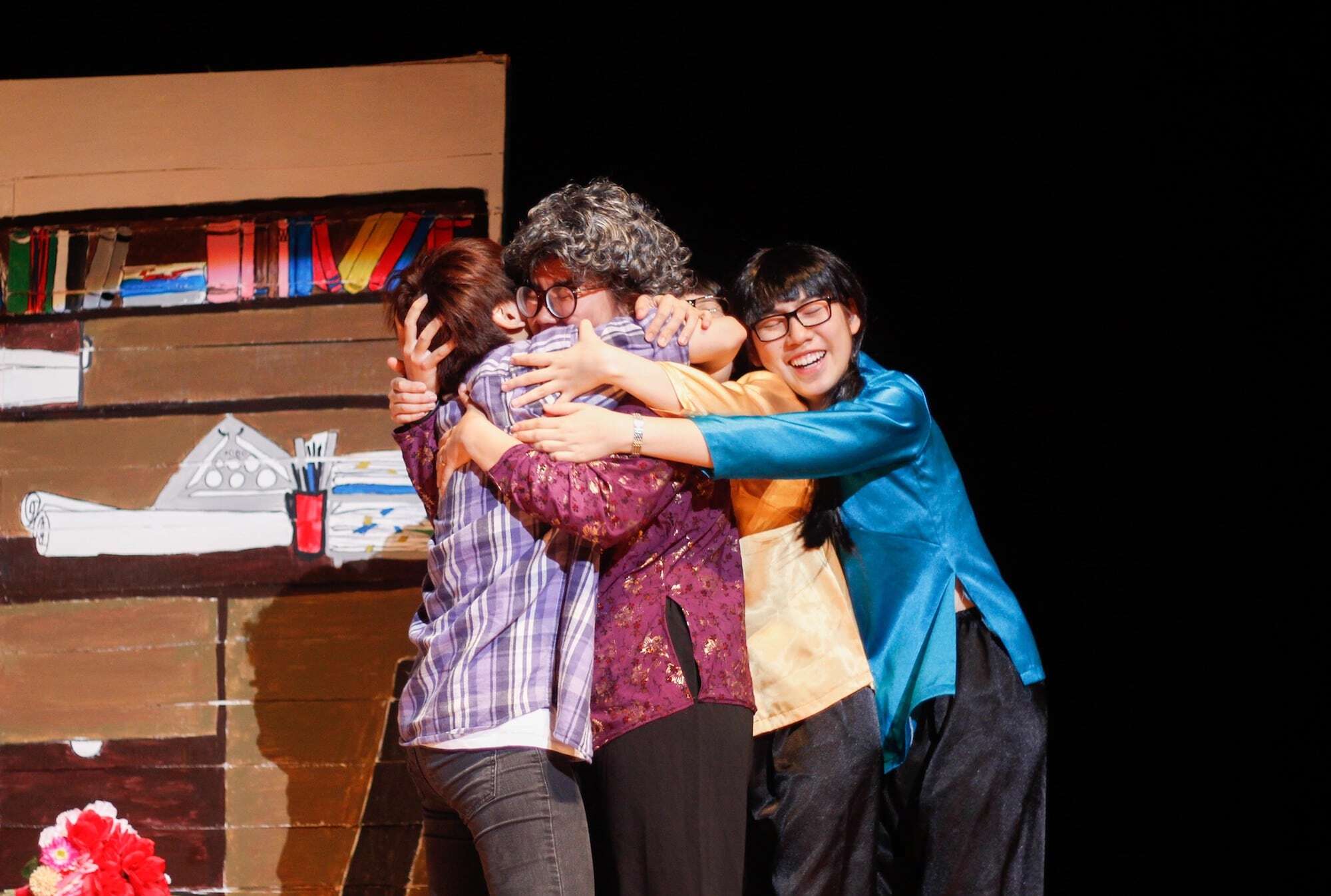 "It's like studying in Vietnam, so uninteresting!", I once heard a friend's feedback. And I sympathized with that comment. Surrounded by Vietnamese in a foreign university, I once again felt the "familiar" characteristics of our community: the collectivist culture, passionate about gossip, always ready to help each other, but also easily quarreled and splitted up into different groups.
But there was one positive thing that many people forgot: when the sea is full of fish, you have more options. One of my friends went to study in the UK, and there were only 12 Vietnamese students studying in that university. So, like it or not, there were still times when they had to rely on each other. As for me, if I could not match with someone, then I totally could find someone else to have a chat with.
Most of my friends were foreigners, but my close friends were Vietnamese. Living in an unfamiliar society, being taken care of by Vietnamese people was a comfort. At least we could understand each other's background and sympathize with each other's stories of growing up in Vietnam.
3. Studying abroad in the countryside, what do we gain and lose?
APU is located in Beppu, a city surrounded by mountains and sea, with only 120,000 inhabitants, less than the population of District 2 in Saigon. Beppu, therefore, is very quiet.
If you live in a big city, the "sounds" of economy, technology, and entertainment may overwhelm every emotion in you. You also have more choices, maybe go to the cinema if you feel sad, or go shopping if you are bored. But in Beppu, when you're bored or sad, you can only go to the sea and listen to… the sound of your heart.
You thought you were going to study abroad. Turns out, you actually went back to nature and (were forced to) face yourself.
During my four years of studying here, I have witnessed many young people from New York, Shanghai, or Saigon struggle to adjust to this quietness. They suffered from existential crisis, and some were so severe that they fell into depression and dropped out of school. Being isolated in Beppu, despite its beauty, was a torture for them.
If they were lucky, they could encounter their companions or a group of soul mates when attending university. When the city was too silent, they could shout together to let the frustration out. Heartbreak in the winter could somehow become bearable, as they had their friends beside them.
As it turns out, our mental health somehow relies on our relationships with people. The stronger these relationships are, the better and faster we overcome obstacles. If we hadn't gone to school in a remote area, we probably wouldn't have realized this.
4. Studying abroad: "Academia" may not go hand in hand with "practice"
I graduated with a "Bachelor of Social Science in Culture, Society & Media". My profession is now a content producer. It sounds related, but I actually learned those content producing skills myself from YouTube, Coursera, and some projects that we spawned in our free time.
Also studying in my major, my housemate at that time is now a recruiter, one of my seniors is now a sales manager, and another is… the head of technical department for a startup.
Wait a minute, is working in a field totally different from your university major not only happening in Vietnam?
Actually, most of the courses taught at my university are liberal arts education (LAE). This educational philosophy focuses on teaching background knowledge and developing thinking skills rather than teaching hard skills, or what is called "vocational training".
There is a never-ending debate about LAE not only in Vietnam but also all over the world. Those who believe in LAE argue that it is precisely because times change so quickly that young people must prepare a thinking foundation for many professions. Thinking must be cultivated early, skills can be learned later.
Those who do not believe in LAE think that studying in general without aiming for a specific career is a waste of money.
I lean more towards the first group. Although I do not directly apply the knowledge gained at school in my profession, my worldview was enriched after each lecture. Everyday I was reminded that I knew so little, the earth was so vast, and the potential was everywhere.
This made me feel small and free, like skydiving! And I think I'll study for the rest of my life - just to bathe in that feeling.
5. Is there any chance to stay in Japan after graduation?
If you graduate from APU and want to stay in Japan, the good news is that the job search success rate in recent years has always been more than 90%. There is a Japanese language learning program at APU which is quite difficult, but if you study hard, the future for you to stay in Japan is quite bright.
Japan lacks young workers, and the students at my university are considered dynamic and know many foreign languages. Although not everyone can find a job they like, I don't know of anyone who tried to stay in Japan that was not offered a job (but this actually was before the pandemic). Most of my friends have moved to big cities like Tokyo and Osaka to start their careers.
As for me, after sending out 82 job applications (phew!), I received 11 offers from Singapore, Ireland, Japan, and Vietnam. One of them was from… a blog dedicated to writing about Vietnam in English.
Before graduation day, I suddenly felt a strong desire to write. So I accepted that offer, and became an editor.
That blog is now a rising startup. Although it has more readers now, sometimes people still confuse its name as Vietceteria.
Adapted by Thao Van